Commentary
Parkour is growing by leaps and bounds
Originally Published:
June 3, 2010
By
Kelley Carter
| Special to Page 2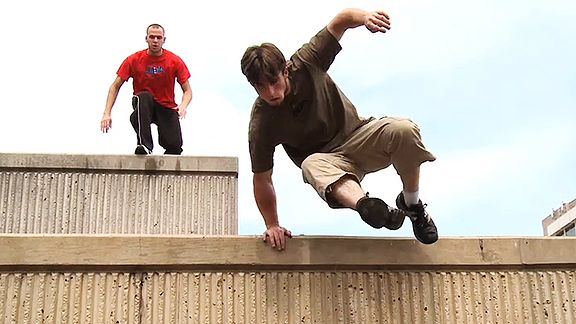 AP Photo/Charles Dharapak
The boys laugh and shoot one another knowing side glances when they're reminded of an episode of NBC's wildly popular "The Office."
In the opening of Season 6, characters Michael Scott (Steve Carell), Andy Bernard (Ed Helms) and Dwight Schrute (Rainn Wilson) are obsessed with Internet parkour videos. The three guys attempt to do it themselves inside the office and around the complex, yelling "hard-core parkour!" while jumping off boxes and trying to scale walls.
The characters fail miserably, but it was nevertheless hilarious, and the type of thing that is helping to catapult parkour into the pop culture consciousness. That episode of "The Office" was an indicator that this hybrid sport -- a non-competitive series of jumping and climbing movements mixed with mental toughness -- had hit the mainstream.
There were other signs, too: Janet Jackson uses a form of it in a music video. In "Cop Out," Seann William Scott's character is a drug-addicted petty thief who also is in love with parkour. In "Iron Man 2," sexy starlet Scarlett Johansson uses a few parkour moves, and most recently in "Prince of Persia: The Sands of Time," Jake Gyllenhaal uses parkour movements to escape and move about in the film.
Daniel Arroyo, Ryan Doyle, Tim Shieff, Pip Andersen and King David star in MTV's newest series, "Ultimate Parkour Challenge," which features the athletes of the World Freerunning and Parkour Federation. The series airs every Thursday at midnight ET.
In each episode, they travel to different Los Angeles locations and challenge each another to test their parkour skills in various environments. At the end of each show, after jumping, rolling, leaping, sprinting and flipping over walls, cars and stairs and scaling rooftop gaps between five-story buildings, they're awarded a prize.
It's incredibly physical and crazy in the best possible way, yet the guys err on the side of ethereal when it comes to talking about the sport.
[+] Enlarge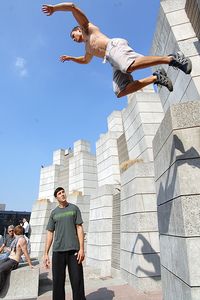 AP Photo/Henny Ray AbramsWe'd like to see Dwight Schrute
try to pull off this parkour move.
"Parkour is such a broad thing. People try and put a definition on it. But we like it to be broad because it can be anything to anybody," says 23-year-old Arroyo, of Tampa, Fla. "It's physical obstacles -- it's a discipline and an art; by definition it's getting from A to B as fast as possible. But it helps you overcome things mentally. It's self-therapy for me. But for someone else, it could just be physical enjoyment."
It's the kind of swift movements we've seen on video games for years, the type of stuff that looks as if only characters designed by CGI could master. Apparently, that's not the case. The parkour participants say this is a mental thing -- instead of walking through a door to leave a room, for instance, they'd figure out other, more efficient ways to exit.
"Everyone's grown up with a different background. We're all different shapes and sizes, and the way we see the world is different. We wouldn't teach someone how to do it our way, we just encourage them to do it their own way," says Doyle, 25, from Liverpool, England. "There's no right or wrong way to do it. It's just your way. It doesn't have to be efficient movements, either. It can be creative movements. You can have fun along the way."
The movements are so popular that they're being taught in sports clubs in New York City, with possible expansion later this summer into gyms in Los Angeles and Washington, D.C. In these classes, experts teach parkour to students who range in age from teens to 80-year-old grandmothers.
"It's hot now because it takes you back to the complete fundamentals of why we move. We've always moved and done things as kids. When you're a kid climbing trees and exploring things, you get to get out and do stuff. It was fun back then. And everybody can do it to a certain extent," Arroyo says. "It's really all about being able to explore your body's capabilities and learning from your mistakes."
Kelley L. Carter is a freelance entertainment reporter. She can be reached at Kelley@thekelleylcarter.com.