Commentary
Lance Armstrong unveils Colorado tour
Just when he thought he was out, Lance Armstrong gets pulled back in.
The 38-year-old cyclist says he feels all of his years these days and notices how long it takes him to recover from a big crash, much unlike when he was, say, in his 20s. That said, he's still on the fence about whether or not he'll ultimately jump back on a bike in any competitive sense.
But you better believe he's thinking about it.
[+] Enlarge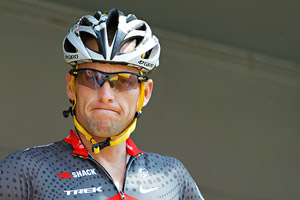 AP Photo/Christophe EnaLance Armstrong is one of the forces behind the Quiznos Pro Challenge cycling tour. Will he compete?
On Wednesday, the seven-time Tour de France champion announced plans to hold an international pro-cycling competition in Colorado, scheduled for August 22-28, 2011. The Quiznos Pro Challenge will bring back competitive cycling to the state; formerly there was the Colorado-based Coors International Bicycle Classic, which ran from 1979-1988. The big question: Will Armstrong get on a bike himself and go the distance? He laughs before answering.
"I'm undecided on that," he chuckles. "I don't know what my future holds in terms of competitive races. I just finished a tour a week ago, and I went for four hours on the mountain bike earlier [Tuesday] just because I felt like it. We'll see."
But why the hesitation? In spite of it all, Armstrong continues to come back, much like 40-year-old Brett Favre, who may or may not be retiring from the NFL. Armstrong, who retired from cycling in 2005, returned to the Tour de France in 2009, finishing third. This year, he finished 23rd and announced he was retiring for the second time on Twitter before the race began.
"You cannot ignore the day you were born, and that's the one thing: I don't feel like a rider who's close to 40 years old until something happens like earlier this year when I had a couple of big crashes," Armstrong said. "I couldn't recover from those crashes like I did when I was 30. I feel it every day. I'm sure it's the same thing for Brett. The body just doesn't recover the same. Otherwise, I'd love to keep going forever. The other part of it, too, is my kids. They've had enough of their dad traveling all over racing bikes."
This new Colorado-based tour might be a different thing, though. Armstrong says it all started as a daydream on a bike ride about a year and a half ago, and he wondered why there wasn't a major cycling event in the state.
"I kicked it around in my head for a couple of days, and then my next call was to the governor," Armstrong said. "Little did I know that he was a cyclist himself. He'd been to the old Coors Classic back in the day. He was telling me all of this and I said, 'Here's what I think should happen.' And he said, 'That's a great idea; let's get to work.'"
Plus, it helps to bring the sport he's excelled in to the States in another capacity. He says it's important because it helps to get more young people into it.
"I'm indebted to the sport," he said. "I think I owe the sport a lot. It's done a lot of great things for me; it's done a lot of great things for my foundation. We've used cycling all around the world in order to spread our message, too. The bike has given me a lot. This is one little way to try and give back a little bit. I think we have a good crop of young guys coming up. If they don't have American events and American teams, we'll lose them to European teams. We have to keep these events coming on."
Kelley L. Carter is an entertainment freelance journalist based in Los Angeles. She can be reached at Kelley@thekelleylcarter.com