A father's gift, a father's hope
Tyson Montoyo is just like any other 5-year-old. He loves to play his Wii and says Super Mario Galaxy is his favorite game. He just finished his first year of pre-K near his family's home in Tucson, Ariz., and hopes he'll get to see his "girlfriend," 6-year-old Emily, sometime this summer. Both their dads are in baseball -- Emily's dad, Jeff Ridgway, is a pitcher with the Triple-A Richmond Braves. Tyson's father, Charlie, is the manager of the Triple-A Durham Bulls.
But Tyson is also different. While he's spent many hours at the ballpark with his father, he's spent more hours at hospitals with his baby brother, Alex. Charlie tells the story of going to Best Buy one day last fall while at UCLA Hospitals when Tyson told the employee at the checkout counter, "Hi. My brother Alex just had open-heart surgery."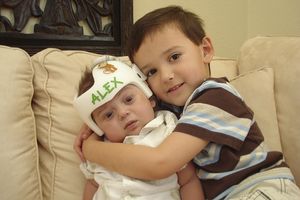 Courtesy Montoyo family
Alex and big brother Tyson. Alex must wear a protective helmet.
Alex will be 8 months old on June 17. He's had two open-heart surgeries, a balloon placed inside his heart, his ribs split open and a shunt insertion. He's had IVs, ventilators and feeding tubes hooked onto his body since birth. More than once, his parents have been told Alex's chances of survival aren't good.
Though Alex has overcome incredible odds, his health is still precarious. He is too sick to fly long distances, meaning Charlie lives apart from his wife and two sons during baseball season. "I cry every day, but nobody sees me," Charlie says. "The longer he can stay alive, the more hope that we have."
---
The name Alexander is of Greek origin, meaning "man's defender, warrior." The Montoyos chose this name for their second son because "after looking through an entire baby book, it was the only one we could agree on," Samantha Montoyo laughs.
Alexander was born at 1 p.m. in Tucson on Oct. 17, his father's birthday. The delivery was so quick Charlie was getting lunch with Tyson when Samantha gave birth. Holding her apparently healthy son, she was taken to a triage room to rest. But then, "They came in and told me they were calling a cardiologist," Samantha says. "That's when I knew something was wrong."
Half an hour later, with Charlie back from lunch, the cardiologist told the Montoyos that Alex had a serious condition known as Ebstein's anomaly, a congenital heart defect that affects one in 25,000 newborns. With Ebstein's, only one chamber of the heart is functioning, so blood isn't pumped in the proper quantity or direction. Afflicted with the most severe level, Alex would need major heart surgery. Immediately.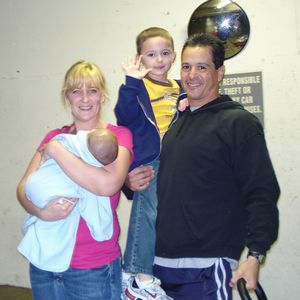 Courtesy Montoyo family
Samantha and Charlie Montoyo with sons Tyson and Alex, after Alex finally left the hospital.
At 1:30 a.m., Alex was airlifted to Phoenix Children's Hospital. Samantha demanded she be discharged early so she and Charlie could join their son. Less than a week later, Alex had open-heart surgery. Afterward, when Samantha was looking over her son's charts, she froze. In a message from the Tucson cardiologist to Alex's transport crew, the doctor had written at the bottom that Alex was not expected to survive the trip. "That was hard to hear," Charlie says, shaking his head as his eyes well up. The Montoyos stayed in Phoenix another month because doctors feared Alex would need a heart transplant. While at Children's, Alex had a balloon inserted in his heart. Not long after, doctors cut open his chest, split his ribs and inserted a shunt in his heart to redirect blood flow. The Montoyos weren't allowed to hold their son for fear of interrupting the IVs; they could only touch his hands, feet or head.
In mid-November, Alex flew in a helicopter again, this time to UCLA, where he would endure several more procedures, including a second open-heart surgery. "My wife was telling me how bad it was in the ICU," Charlie says. "We just had curtains, not even our own room like in Phoenix. And this was right before Thanksgiving. But if they could help him, it was worth it."
---
Jose Carlos "Charlie" Montoyo was born Oct. 17, 1964, in Manati, Puerto Rico. He loved baseball from an early age and moved to the U.S. in 1982 to play second base for Louisiana Tech University. Xavier Hernandez, the Bulls' pitching coach, remembers talking shop with Charlie the first time they met. "He told me that when he played at La. Tech and I was at Southwestern Louisiana, he hit a home run off of me," Hernandez laughs. "It was practically the first thing he said."
The Milwaukee Brewers drafted Montoyo in the sixth round of the 1987 draft. He reached the big leagues with Montreal on Sept. 7, 1993, and in his first at-bat delivered a pinch-hit RBI single that delivered the game's go-ahead run. He spent 27 days in the majors, appearing in four games and going 2-for-5 with a run scored.
Where Montoyo truly found baseball success is managing. He began his career with the Tampa Bay organization in 1997 with rookie-level Princeton, before moving to the Hudson Valley Renegades, Charleston RiverDogs, Bakersfield Blaze and Orlando Rays. In 2006, he led the Double-A Montgomery Biscuits to the Southern League title. After his move to Durham last season, the Bulls went 80-63 and reached the Interleague League championship. Though he'd positioned himself a mere phone call away from the big leagues, the year's highlight came in January when he learned Samantha, whom he met in Charleston and married in 2001, was pregnant.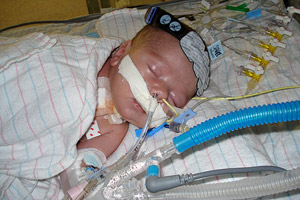 Courtesy of Montoyo family
Alex had his first open-heart surgery when he was just a week old.
---
Alex stayed at UCLA through the winter. Samantha stayed with him every day while Charlie kept watch through the nights. And the longer they stayed, the higher the bills rose: over $500,000 for the 32 days spent in the Phoenix ICU alone. In Los Angeles, the Montoyos lived in Ronald McDonald housing adjacent to the hospital. Still, Charlie's salary wasn't enough to cover the bills.
The Rays' organization has helped out. The Biscuits formed the Alexander Montoyo Fund to seek donations for Alex's medical expenses, with the Biscuits matching pledges up to $5,000. The parent club in Tampa followed suit and began raising money. The Bulls contributed $10,000 and helped raise an additional $18,000.
Charlie says the donations continue to help. The family also receives financial support from MLB's Baseball Assistance Team Fund. "Alex has to get a helmet and it's around $3,500," Charlie says. "Insurance won't cover it because they claim it's cosmetic. The expenses never really stop." Making Charlie's job all the more important. "I tell him, 'Please do well,' Samantha says. 'Don't make anyone mad.' We can't afford it."
---
On a humid night in mid-May, Charlie gathered his players in a circle on Durham's right-field grass. Standing in the center, the 5-foot-10 soft-spoken manager offered an explanation of the night's lineup, including why Jeff Bannon, who hit two home runs the night before, wouldn't be starting. "He's one of the very few Triple-A managers I know that does his best to give everyone playing time," said former Bulls outfielder Jeremy Owens. "I think that's one reason he's been so successful."
Though Charlie admits his family is constantly on his mind, when the game begins, so is baseball. "If we're not hitting much and I'm just standing there, I'm thinking about my son," Charlie says. "But I'm also making sure I don't get hit by a line drive." Hernandez, who's coached with Charlie the past four years, notices subtle differences this season. "He's a little calmer and not as intense, especially in the office," Hernandez says. "I know it weighs heavily on him. I don't want to say baseball takes a back seat, but it's secondary to what's going on."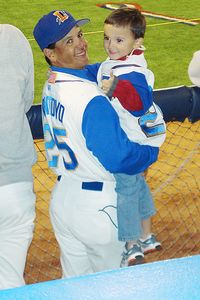 courtesy of Montoyo family
For Charlie, it's not easy managing in North Carolina while his family remains in Arizona.
His players know not to ask too often about Alex because Charlie will not divulge much. "I just say he's fine because even though he's not, it's hard to explain it all," Charlie says.
Charlie was raised Catholic and believes in the power of prayer. Wherever the team travels, he likes to go for a run, seeking a local church where he can pray and light a candle for his baby boy. He talks about a recent trip to Buffalo, where he happened upon a church service conducted in both Latin and Spanish (Charlie is fluent in Spanish).
But even amidst his family concerns, the sport he loves can still shake him to the core. When Charlie was coaching third base against Toledo the night before, first baseman Chris Richard said, he looked like a teenager at a rock concert. "When he sent me home, he was like a kid, jumping all over and waving," Richard says. "Second to being with his family, I think being out on that field and making managerial decisions is what brings him joy. That's why we love playing for him."
---
As the March spring training report date approached and Alex was still at UCLA, Charlie began to worry. He knew he needed to be at spring training with his players, but he also didn't want to leave his family. Rays executive VP Andrew Friedman told Charlie not to worry about the team and to stay with his family as long as he needed.
HELP THE MONTOYO FAMILY
The Durham Bulls have reestablished the Montoyo Family Fund. The family has over $500,000 in medical expenses so far. If you're interested in making a donation,
click here
.
On March 15 the family heard even better news: the day before Alex's five-month birthday, he was going to be released from the hospital. For the first time in his life, Alex would sleep in his own crib in his own room.
Charlie joined his family for two days in Tucson before leaving for Florida. Since then, he's seen them only three times, a distance he tries to compensate for with a daily stream of phone calls, text messages and e-mails. The team's trainer holds Charlie's phone during batting practice, ready to notify him of any emergency calls. His wife's parents live in Tucson and often help out, and a nanny comes to the house twice a week in the evenings.
Though Charlie would love for his family to come to Durham, he knows it's too dangerous for Alex. "In my eyes, he's lucky because he's there with guys he's known forever," Samantha says. "I know it's part of his job, but sometimes I want to go to dinner somewhere other than Wendy's or have 5 minutes to blow dry my hair. I can't tell you the last time I had a manicure or went to the movies."
Samantha's daily care for Alex ranges from feeding tube complications to his ventilator dependency. Because he's had the tube inserted since birth, Alex has developed a chronic, violent cough, making it difficult for him to breathe. "He hates it," Samantha says. "He rips it out at least four times a week, which means I have to put it back in." Alex also has acid reflux, common in babies, but because of his ventilator and tube, the reflux contaminates his lungs with formula and mucus build-up.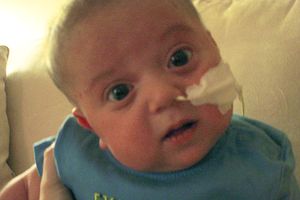 courtesy of Montoyo family
For Alex, reaching his first birthday will be vital for his long-term survival.
Samantha also makes time for Tyson, who spent many days with his parents in the ICU and understands that Alex is not healthy. Because his parents explain everything that happens with Alex, Tyson also realizes the severity. "The other day he told me, 'Mommy, we don't want Alex to go up to his cloud because he won't come back down,'" Samantha says.
More easily than anyone, Tyson can elicit his brother's smiles through the feeding tubes and coughing fits. "Alex's whole goal in life is just to watch Tyson walk by," Samantha says. "I thought there'd be jealousy, but instead Tyson tells Alex, 'You're the best brother in the world. One day I'm going to teach you how to play my Wii.'"
---
On May 29, Alex had another major procedure to reposition his feeding tube from his nose to his stomach. Before surgery, the Montoyos were told that one in 10 infants don't survive the procedure. A balloon was also inserted into his stomach that will be deflated in another month and replaced with a button. "He did a good job with the surgery and got out in three days," Samantha says. "They didn't want to keep him there in case he would get sicker." Though he's still coughing, Alex is sleeping during the night without the tube up his nose, another first.
Charlie flew home for the procedure and for the first time in his 10 years managing, missed a game. "When he got here, he got off plane, my dad brought him to the hospital and he stayed all night so he basically went 48 hours with no sleep," Samantha says. Charlie returned to the Bulls the following Tuesday.
Now that he's home, Alex has to wear a helmet 24 hours a day, which Samantha says "he hates." But with the tube gone, she can see his face. "He's had something taped to his face since the day he was born. It's nice to see his face," she says.
Despite overcoming incredible odds, Alex's journey is far from over. He'll have several more procedures this summer. Thirty-three percent of babies afflicted with Ebstein's die before their first birthday, so making the one-year mark is crucial. An additional eight percent die by age 10. "Just not knowing what's coming next is the hardest thing," Charlie says. The Montoyos continue to face hefty bills, travel expenses and questions over which hospital offers the best chance of keeping Alex alive. For Charlie, there's also his team, and trying to help his players realize their big league dreams while he hopes for something much simpler: his son's survival.
Anna K. Clemmons is a reporter for ESPN The Magazine.