Carver's field of dreams brings hope to Ninth Ward community
Carver High School athletic director Brian Bordainick sat in the Rue de la Course coffee shop in downtown New Orleans at 6 a.m., six days before Christmas. The lanky, 23-year-old New York native was hunched over his computer, headphones on, trying to respond to the hundreds of e-mails he'd received in the past 24 hours, when an older man walked up to him.
Without a hello, the man slapped a $20 bill onto the table. "I really believe in what you're doing," the man said. "Get this done." Then he walked away.
A few hours later, Bordainick's cell phone rang, and he was greeted by the familiar twang of the "Ragin' Cajun," political analyst James Carville. The CNN/XM radio show host explained that he'd learned of Bordainick's "Field of Dreams" mission to build a state-of-the-art football and track facility in the Ninth Ward, slated to be the first community-driven field of its kind in New Orleans. Carville asked how he could help.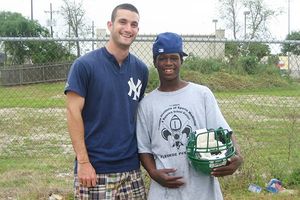 Courtesy of Brian Bordainick
Brian Bordainick, pictured with former Carver player Josh Bridges, is Carver's 23-year-old athletic director.
Bordainick and his team had almost abandoned the project just a few days earlier, after potential sponsors called it "impossible." Now, they had one of New Orleans' top architectural firms working pro bono for seven hours on a Saturday to complete a grant proposal, more than $800,000 in donations and celebrities like Carville and former Heisman trophy winner Danny Wuerffel offering assistance.
In a remarkable string of events, lives were going to change. Not just for Bordainick, but also for the football players of Carver, who, without a home or true practice field, didn't win a game this fall in their first season since Hurricane Katrina. And for Carver's track team, which practiced on pothole-laden streets and cracked sidewalks each afternoon.
Junior quarterback Nick Adams asks Bordainick each morning how much money has been raised. Bordainick's students bring in checks for $6, saying they're sorry it's all they have, but they still want to help. Because for them, and the residents of New Orleans and the Ninth Ward, this improbable goal has brought a resurgence of hope amid their frustrations toward a nation that has seemingly forgotten their continued struggle.
Football returns to Carver

From 1997 through 2004, Carver won multiple district championships. Marshall Faulk is one of the school's most esteemed gridiron alums, and the NFL Network host says that more stars could have emerged were it not for the financial strain on many Ninth Ward families.
"It was and is such a poverty-stricken area that the focus on sports -- it was hard to maintain that focus," Faulk said. "A lot of athletes going through there had to work to help their family make ends meet." Still, Carver produced strong players, and its Friday night battles were an anticipated gathering for Ninth Ward residents, whether they knew the players or not.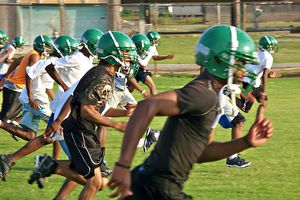 Dave Cash
Carver High School, once a football powerhouse, played its first season since Katrina struck New Orleans in 2005.
Then Hurricane Katrina struck in September 2005, destroying the school and its fields. Although classes resumed in trailers in 2007 (with the school's skeleton still standing in the background), football remained absent.
Carver wasn't alone: Before the storm, 70 area high schools played football; at the start of this season, that number had shrunk to 56. In March, Carver principal Vanessa Eugene hired former LSU standout Shyrone Carey as the new head football coach.
"We knew we needed to get football back," Eugene said.
The school's enrollment, more than 1,000 prior to Katrina, was down to around 700. Talented athletes hadn't returned or had transferred to other schools. Recruiting enough players wouldn't be easy. The 26-year-old coach announced over the P.A. system a few weeks later that any students interested in playing football should meet in the cafeteria after school. Almost 30 students gathered. Most had never played organized football. "There wasn't tryouts so to speak because we couldn't even eliminate guys," Carey said.
Carey pieced together a schedule, contacting other schools and asking them to play Carver. Without a field, Carver played home games at Pan American, one of the city's two main public high school stadiums.
The team practiced on a patch of worn grass behind the school trailers. The single goalpost stood above an abandoned home, so when (and if) Carver's kicker knocked a ball through the uprights, it often clanged against a tattered rooftop before rolling to the gravel below. Run-down bleachers served as the team's bench. An assistant coach brought an orange Gatorade cooler as the team's only water source. Because they had no trainer or team doctor at practices, injured players sat on the bleachers without ice packs or bandages until practice ended. Trees felled by Katrina lay bordering the grass, still untouched.
Summer workouts began in June. But by mid-July, several players had stopped showing up because of jobs. Carver, which had 50-plus players on its roster during its heyday, would finish the season with just 28 players. When the season began, some didn't understand what first down meant, or how to run a route. "For guys who've never played football, we're coaching fundamentals every day in practice," Carey said this fall. "This is how you stand on the line, this is offsides, etc. They have no concept of that."
With a few exceptions. Adams grew up playing wide receiver in Pop Warner football. His family moved to Atlanta after Katrina, before returning to the Ninth Ward a year ago. When he demonstrated his strong throwing arm in an early practice, Carey put the junior at the helm. "Because I am QB, I get a lot of attention," Adams said in September. He wore a self-made brown paper ring with the letters "QB" written in black pen.
Soft-spoken Johnell Davis lives with his grandmother. The lanky, 6-foot-2 junior returned to New Orleans after living with his family in Atlanta and Texas post-Katrina. The team's most talented receiver, Davis caught 11 passes for 193 yards in Carver's season-opening loss. He hopes to play collegiate football for either LSU or Michigan. "I like football because it's keeping me out of trouble, out of being out there on the streets," Davis said. "I'm not putting my life in jeopardy if I'm on the football field."
Junior linebacker Richard Davis was a Carver baseball player until Carey approached him on the diamond one afternoon, asking him if he'd consider trying football. Now Davis says he loves the sport, particularly the physical contact.
Center Chris Lacy was the team's vocal leader. Before every offensive down, he organized the line, raising his fist and yelling, "Huddle!" as he jogged his stocky, 5-foot-8 frame toward the backfield. He loved his leadership role, but more so, what Carver football has afforded himself and his teammates.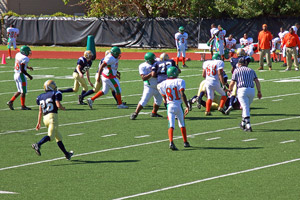 Dave Cash
The Carver Rams (in white), will hopefully get their own field to play on in 2010.
"Even if there's problems at home, when you get to school, you take a teammate aside and we can go tell Coach, 'Something's wrong with so-and-so,' and we'll talk about it," Lacy said. "It's like a paradise. You forget about everything -- family stuff, frustrations."
Frustrations, however, didn't elude Carver on the field. In their first game, on Sep. 19, the Rams lost 63-19 to state 5A powerhouse Slidell. Still learning the game's nuances, the team endured 14 penalties for 119 yards. The following week, the Rams lost their first home game, 44-0 to W.L. Cohn, as close to 200 fans, including many Carver faculty and staff, cheered them.
The next two weeks of the schedule were empty because they couldn't find opponents. Following four more defeats, their seven-game season ended respectably with a 23-20 loss at Lusher High. "You gotta understand you're starting at the bottom, building the program," Carey said. "If you work hard enough, you strive to see what you can see with the hard work. You gotta look for the light at the end of the tunnel."
Trying to build a field of dreams

In early November, after contentious debate, it was finally decided to rebuild Carver High School on its current grounds. On Nov. 5, Bordainick e-mailed hundreds of friends and family members, asking for their help.
"To Whom it may Concern," he began. "My name is Brian Bordainick and my passion [is] building character in young people through sports. I moved to New Orleans after graduating from the University of Georgia in 2007 and am currently serving as the school's athletic director at 23 years old, making me the youngest athletic director in Louisiana's history.
"As [a] Teach For America corps member, I have been exposed [to] deeper challenges facing our community and want to contribute in a larger way. One of these challenges is that our athletic facilities are inadequate. I am writing to provide you with an amazing opportunity to partner with the NFL Grassroots Program and help to solve a major challenge facing our community."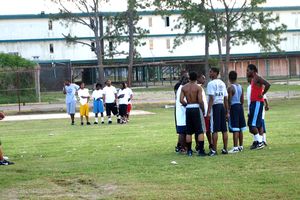 Courtsey of Brian Bordainick
In the background, you can see the boarded-up shell of the old Carver High School.
Bordainick had learned of the NFL program, designed to assist schools nationwide with football facilities and needs. The 10-year-old program is expected to give out about $2.5 million in grants for 2008. What if we try to build a field for Carver, Bordainick thought? To apply, each school was required to raise at least $200,000, which the NFL grant then matches. The application was due Dec. 15, meaning Bordainick had a little more than a month to fundraise amid the U.S. economic crisis and the impending holiday season, and with much of New Orleans, particularly the Ninth Ward, still in ruins.
He secured several initial meetings with potential donors, most of whom sympathetically said, "No thanks." Others were more frank. "People said it was a cool idea, but just insanity," Bordainick said.
He met with Carey, Eugene and several others two weeks later. They discussed how their success hinged on the community's getting involved and having a sense of ownership over the field from its earliest stages. So they brainstormed ways to draw in participating donors and decided to construct a Walkway of Hope, selling bricks at $100 apiece (essentially a donation) via their Web site, Ninth Ward Field of Dreams.
Within a few hours, they'd raised $1,300. Then they hit a standstill. Two days passed without a single donation.
When Bordainick returned from Thanksgiving break, he received a call from the New Orleans Recovery School District, which he had pitched in the project's initial startup. The nonprofit aimed at rebuilding education in New Orleans offered a donation of $100,000. Nine days from the grant deadline, total donations stood at $104,000. That week, local TV stations ran several stories on the Field of Dreams mission, and private donations jumped to nearly $20,000.
Bordainick teaches a GED remediation class at Carver. His students, skeptical at first, grew more excited about the project as it continued. "When I originally told them, they laughed that I was selling a brick for $100 and said, 'Why are you doing that? I can get you one at Home Depot for $5,'" Bordainick says. "But then they'd ask me to refresh the web page at the beginning and end of each class. We had kids coming up and giving what they could -- $5, $10. That's when it was like, OK, this is something people are investing in and getting their hopes up about."
Four days before the grant deadline, hovering at around $125,000 in donations, Bordainick was sitting in the Rue de la Course when his phone rang. A corporate responsibility spokeswoman for Nike said she'd seen the Field of Dreams page on Facebook. "We love the idea of a true community space for the city," she said. "We want to offer you $100,000."
At school that Friday morning, Bordainick contacted the architectural firm that had offered to draw up the proposal's logistical plans. The firm informed him that it had to withdraw from the project because of operational reasons. "I was like, 'Oh … my … god … we lost the architectural firm that was going to do everything,'" Bordainick says. The grant was due to the NFL's New York offices Monday morning.
He called his brother and asked him to find a local New Orleans firm that might draw up a tentative proposal. At 7 p.m. on Friday night, Dec. 12, Bordainick received a proposal via e-mail. Total projected cost for the field: $1.8 million. "I just thought, 'What can you do?'" Bordainick says. "The turf alone was $400,000. There's no way we can build a football field and track with this."
He called each Field of Dreams team member and said they should still meet on Saturday at 8 a.m. to strategize about breaking down the costs. As he made his calls, team member Tim Williamson happened to be at a holiday party with Allen Eskew, a senior partner with Eskew+Dumez+Ripple, one of the top architectural firms in New Orleans. Williamson thrust the phone at Eskew and told Bordainick he had 30 seconds to pitch.
After 25 seconds, Eskew said he liked the idea and would assemble a team of his staff on Monday. "Well, that's not really going to work," Bordainick said hesitantly. "It's due on Monday."
At 8 a.m. on Saturday, E+D+R senior partner Mark Ripple arrived at Rue de la Course to meet with Bordainick. "I figured they'd send some associate, so I'm in sweatpants, a T-shirt and a beanie," Bordainick says. "This guy has to think I'm a joke."
But after five minutes of pitching, Ripple interrupted him. "I love it," Ripple said. "This city needs more crazy ideas like this." The group piled into Ripple's car, and he drove them to E+D+R's downtown headquarters on Canal Street. En route, Ripple called several staff members and ordered them into the office.
As the team rode the elevator to E+D+R's 31st floor space, "[Ripple is] on the phone with a civil engineering firm, a construction company, general contractors, getting them on board," Bordainick says. "I kid you not, he raised close to half a million dollars in in-kind contributions in five minutes. It was the most amazing thing I've ever seen."
The team of workers and volunteers spent that Saturday drawing up site plans, printing satellite images and assembling the final pieces for the grant. While planning, Bordainick's phone rang again. Arnie Fielkow, a former vice president for the New Orleans Saints and a current city council member, was another heavy-hitter Bordainick had previously pitched. "I want to give you $25,000 to help you out," Fielkow told him. "Also, I'm on this board and that board, so if you need help leveraging the city, let me know."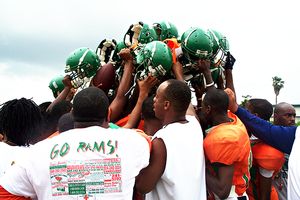 Dave Cash
For Carver, the 2008 season may have ended without a win, but the Ninth Ward community is rallying around its possible new field.
At 4:55 p.m., Bordainick and Ripple raced to the closest UPS drop box but learned the final pickup had happened at 3:30. They called UPS Urgent Care, which said that to ship the package by ground for a Monday morning arrival would cost $4,500. Bordainick started to book a plane ticket to New York City before a Teach For America colleague reminded him that the TFA's offices were located two blocks from the NFL Grassroots offices. Bordainick scanned the entire grant into a PDF file that night. On Monday morning, Dec 15., a Teach For America staff member walked the grant to the NFL's offices.
The Field of Dreams team will learn in March whether it is one of the 15 or 20 recipients from the field of 150 applicants. Until then, Bordainick says there is much work to be done, including continued fundraising as well as smaller projects. The team hopes to break ground on the field in July and host an official ribbon-cutting before the inaugural Carver High School Ninth Ward and Friends Track Meet on Feb. 15, 2010. Carver football will utilize the field starting with the 2010 season.
"I met with our PTA president yesterday, and he told me this has been a dream of his for over 50 years," Bordainick said Friday. "It's so cool to be on the brink for a community that needs something like this."
Especially considering all that has happened, incredibly, over the span of a month. "This is something people laughed at, but now they're willing to run through walls for it," Bordainick said. "It's super, super amazing to watch and be a part of."
In talking about the field, Carey added, "It means a lot for the city [and] for the people. The better the facilities are, the better Carver is going to be as a whole."
The field will be free-of-charge and accessible to all the youth of New Orleans, not just Carver students. Bordainick's team has already laid out plans for a small oversight committee with various community members to ensure the space is shared equally by all those wishing to utilize it when Carver isn't playing football games or hosting track meets.
"One of the worst things about Katrina is that it wiped out our youth sports programs completely," Bordainick said. "We wanted, as the scope grew, to make sure this could be what helps revitalize youth sports in all of New Orleans."
He also hopes to bring awareness to many parts of the city that are still struggling in their rebuilding efforts. "Some people have called this the greatest miracle in the New Orleans recovery effort," Bordainick said.
A tag that the Field of Dreams team believed possible from its very first mission statement: "Together we can prove that against formidable odds, a few people crazy enough to believe in their own power to create change can overcome a seemingly impossible challenge."
Maybe that philosophy was born before the Field of Dreams was even a seed of an idea, when a ragtag football team assembled in Carver's cafeteria in April. When asked this fall what he had learned in Carver's rough return, in which opponents beat them by an average of 27 points a game, Chris Lacy looked out the trailer window at his team's vacant practice field, sitting quietly before answering. "Keep your head up and keep fighting," Lacy said, making a fist to illustrate his point, the same fist he raised in hundreds of huddles throughout that fall.
"Never say, 'I can't.'"
Anna Katherine Clemmons is a reporter for ESPN The Magazine and a regular contributor
to ESPN.com.