Worst contracts in MLB history
"Make 'em all free agents!"
-- Former Oakland A's owner Charlie Finley
"We have the only legal monopoly in the country and we are f---ing it up"
-- Former Atlanta Braves owner Ted Turner
Ah … the folly of baseball owners and their big piles of cash. Last week we gave you baseball's best free-agent signings ever. We'll be honest: This week's list was much more fun to compile (and so many contracts to choose from!).
But before we give our top-10 list of worst contracts ever, we have some runner-up prizes to hand out.
The Bill Bavasi Memorial Division
During his reign of terror as Mariners GM, Bavasi had an unprecedented run of bad free-agent signings, bad trades and bad draft picks. Kind of like winning the Triple Crown, except the opposite.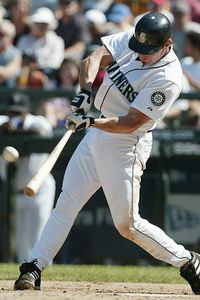 Otto Greule Jr./Getty Images
Spiezio should have been arrested for the damage he caused the Mariners with his bat.
Scott Spiezio, 2004: 3 years, $9 million. In Bavasi's first big signing as GM, Spiezio was brought in to play third base. He hit .215 in '04 and then .064 in '05. The Mariners didn't like the trend and figured they'd release him rather than see what came next. (As it turned out, he won a World Series ring with St. Louis. Odd.)
Richie Sexson, 2005: 4 years, $50 million. Big Richie was actually productive in his first two seasons, hitting 73 home runs and driving in 228 runs. But then overnight he turned into the girlfriend who shaves her head, starts smoking three packs a day, quits her job, starts watching reruns of "The Tyra Banks Show" and sleeps with all your co-workers. He hit .205 in '07 while being the 10th-highest-paid player in baseball. He hit .218 in '08 while being the 20th-highest-paid player. No wonder the M's dumped him in August.
Adrian Beltre, 2005: 5 years, $64 million. Beltre hasn't been a bad player with the Mariners, and while he's been durable and provides a good glove, he's also never posted an on-base percentage above .328 or driven in a hundred runs.
Jarrod Washburn, 2006: 4 years, $37.5 million. Washburn had a superficially low 3.20 ERA in 2005, and Bavasi fell for it hook, line and sinker. "There's no question in my mind this team is going to be good," Washburn said when signed. "Jarrod is a proven major league winner who immediately makes us better in the starting rotation," Bavasi said about a pitcher who had won more than 11 games just once. With Seattle, he's never pitched 200 innings, never had an ERA below 4.32 and is 23-43. And no, the Mariners have not been good.
Carl Everett, 2006: 1 year, $3.4 million. He hit .227 with a .297 on-base percentage and was released in July. No dinosaurs, however, were spotted in Safeco during his tenure.
Miguel Batista, 2007: 3 years, $25 million. Batista did win 16 games in '07 despite mediocre peripheral numbers (1.523 WHIP). But he went 4-14 with a 6.26 ERA in '08. Mariners fans can hold out hope that he'll pitch well in 2009. Mariners fans can also hold out hope that time travel exists and they can bring back the 1997 versions of Ken Griffey Jr., Alex Rodriguez and Randy Johnson.
Jeff Weaver, 2007: 1 year, $8.3 million. Opponents hit .315 and slugged .519 off him. You might not believe this, but he didn't pitch in the majors last season.
Carlos Silva, 2008: 4 years, $48 million. Silva is that rare phenomenon: A sinkerball pitcher who also gives up a lot of home runs. Kind of a deadly combo, which explains why he went 4-15 with a 6.46 ERA in '08.
Brad Wilkerson, 2008: 1 year, $3 million. Released after just 19 games.
Kenji Johjima, 2008: 3-year extension, $24 million. While Bavasi's hands might have been forced by the team's Japanese ownership on this one, the signing was curious: It came on April 26, when the 31-year-old catcher was hitting .200 with a .514 OPS. He finished the season at .227 with a .609 OPS. He's signed through 2011. At least Mariners pitchers enjoy throwing to him; oh wait, actually they don't.
Total money spent: $272.2 million. Mariners' cumulative record, 2004-08: 359-451. Quote from Mariners CEO Howard Lincoln after Bavasi was finally fired last June: "Change is in order."
The Tom Hicks Memorial Division
Tom Hicks purchased the Rangers in 1998 and won division titles his first two seasons. Maybe he was lucky. Or maybe he got a lot dumber. They've had just one winning season since.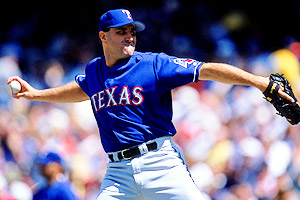 Harry How/Getty Images
The only thing crueler than Clark's parents naming him Mark is what he did to Rangers fans.
Mark Clark, 1999: 2 years, $9.3 million. Remember when $9.3 million was a big contract for a back-of-the-rotation starter? The Rangers gave Clark the then-sizable deal despite his going 9-14 with a 4.84 ERA for the Cubs in 1998. Clark battled injuries with Texas and went 6-12 with an 8.37 ERA over two seasons. No, that ERA is not a typo.
Alex Rodriguez, 2001: 10 years, $252 million. A-Rod, of course, was magnificent with the Rangers, crushing 156 home runs and knocking in 395 runs in his three seasons. The Rangers also lost 89, 90 and 91 games those three years, in part because Rodriguez's monster contract hamstrung the team's payroll. But at least the Rangers eventually turned Rodriguez into Soriano and turned Soriano into Brad Wilkerson, Armando Galarraga (who was traded to the Tigers) and Terrmel Sledge … which means, uh, the Rangers have nothing showing on their current roster for Rodriguez.
Ken Caminiti, 2001: 2 years, $9.5 million. Caminiti played just 54 games with the Rangers. So no, that Rodriguez-Caminiti 1-2 punch didn't exactly pan out.
Chan Ho Park, 2002: 5 years, $65 million. Park won 22 games with the Rangers. Over three-plus seasons. Park was one of the 10 highest-paid players in the league from '02 through '05. Park, like Rodriguez, was a Scott Boras client. Which only proves that Scott Boras was a much smarter negotiator than Tom Hicks.
Juan Gonzalez, 2002: 2 years, $24 million. Gonzalez had hit .325 with 140 RBIs for Cleveland in 2001, but it would be his last productive season. He spent much of his two seasons on the DL and hit just 32 home runs. In a TV interview in 2007, Hicks said he suspected Gonzalez had used steroids and that "we just gave that money away."
Mike Modano, 2005: 5 years, $17 million. Oops, wrong sport.
Kevin Millwood, 2006: 5 years, $60 million. "The Rangers finally got the legitimate No. 1 starter they have been seeking," heralded the AP story when Millwood signed. (He had won 18 games combined the previous two seasons, so perhaps it was bit of an exaggeration by the writer.) Millwood's ERAs with Texas: 4.52, 5.16, 5.07. His innings: 215, 172 2/3, 168 2/3.
Michael Young, 2007: 5-year contract extension, $80 million. Young is a very nice player, a five-time All-Star. But there is a trend with his slugging percentage that Captain Edward John Smith could relate to: .513, .459, .418, .402. And the Gold Glove Award that he won in 2008 was so well received by management that he's moving to third base in 2009 (and the Rangers thought they'd never have to pay out that $25,000 Gold Glove bonus!). So now you have a declining offensive player without much power moving to a power position and signed for $16 million a year through 2013.
New York Yankees Memorial Division
Where we would be without the New York Yankees? Having a lot less to poke fun at, that's where.
Dave Collins, 1982: 3 years, $2.5 million. "New Look in New York" read the cover of The Sporting News in April. The Yankees, World Series losers the previous fall, looked to remake their team with speed. Collins had swiped 79 for the Reds two years before. He stole 13 with the Yankees, hit .253 and was traded to the Blue Jays after the season for Dale Murray. Oh, the Yankees also threw in a minor leaguer named Fred McGriff.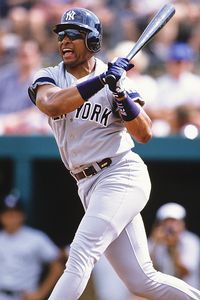 Ronald C. Modra/Sports Imagery/Getty Images
Tartabull was one of the many reasons why the Yankees missed the playoffs for 13 years.
Danny Tartabull, 1992: 5 years, $27 million. "Making a dramatic turnaround from their winter-long slumber, the Yankees executed a stunning move late last night, reaching an agreement with Danny Tartabull, the most attractive free agent still available, on a five-year contract worth $27 million," trumpeted The New York Times. Tartabull, the AL's highest-paid player in 1992, was actually productive his first two years before falling off. George Steinbrenner would later attack Tartabull for his lack of production; for his part, when traded, Tartabull said he felt like he'd been "released from jail."
Hideki Irabu, 1997: 4 years, $12.3 million. Hey, 29 wins, a great nickname courtesy of the Boss … and two World Series rings. So why all the complaints, Yankee fans?
Jason Giambi, 2002: 7 years, $120 million. Nowhere near as terrible as widely believed, but two of the seven seasons were washouts, and by the end the team was paying $23 million for a DH with a bad mustache and a very dirty thong.
Carl Pavano, 2005: 4 years, $40 million. Nine wins, 75 strikeouts, 5.00 ERA. Oh, and just a couple inuries (shoulder, elbow, hip, rib and buttocks ... yes, buttocks).
Jaret Wright, 2005: 3 years, $21 million. Sixteen wins over two seasons.
Kyle Farnsworth, 2006: 3 years, $17.5 million. Allowed 28 home runs in 170.3 innings and claimed it was Joe Torre's fault for not knowing how to use him.
Kei Igawa, 2007: 5 years, $46 million (includes $26 million posting fee). Two wins … and counting. So maybe it's too early to write this one off. [Snickering voice coming from background.]
---
And now, with apologies to many, many other deserving omissions (we mean you, Kevin Brown!), baseball's 10 worst contracts:
10. Wayne Garland, Indians, 1977
The background: Call this one an ode to the early days of free agency. Garland was part of baseball's first free-agent class following the 1976 season. With Baltimore, he had gone 20-7 with a 2.68 ERA in his first season as a starter (rules were different then, and Garland became a free agent even though he'd spent only three years in the majors). For some reason, the Indians figured a 10-year contract was the way to go, even though Garland struck out only 113 batters in 232 innings. (And you wonder why Cleveland went from 1955 through 1994 without a playoff appearance.)
The contract: 10 years, $2.3 million.
The result: The money doesn't match the megadeals of today, but considering Garland did see his salary increase from $19,000 to an average of $230,000 per season, it was still a hefty risk. Garland pitched 282 innings in '77 and completed 21 games, but then shoulder problems set in. He won only 15 games over the final nine years of the contract.
9. Chan Ho Park, Rangers, 2002
See above. Or better yet, don't. Avert your eyes.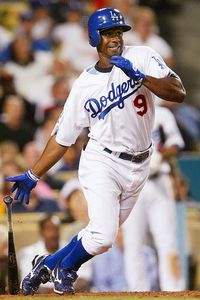 Stephen Dunn/Getty Images
Welcome to MLB, where being nice is apparently worth millions of dollars.
8. Juan Pierre, Dodgers, 2007
The background: A singles-hitting center fielder who had compiled an OPS better than league average just once in his career, due to an inability to draw walks or hit for power. But he had led the NL five times in caught stealing.
The contract: Five years, $44 million.
The result: Though Pierre is known as one of the good guys in baseball, the Dodgers nonetheless admitted their own mistake after just one season, as they signed Andruw Jones to play center field in 2008. Oops.
7. Gary Matthews Jr., Angels, 2007
The background: A career fourth-outfielder type, Matthews hit a flukey .313 with the Rangers in 2006, the first time in his career he'd been above .275. He also made one awesome catch that year. The Angels decided to make him the first backup outfielder to earn $10 million per season.
The contract: Five years, $50 million.
The result: Two years with an OPS below league average, and now a place as … the Angels' fourth outfielder.
6. Albert Belle, Orioles
The background: Had destroyed American League pitchers with the Indians and White Sox, averaging 40 home runs while leading the league three times in RBIs during 1992-98. Orioles owner Peter Angelos made the surly slugger the highest-paid player in baseball.
The contract: Five years, $65 million.
The result: Declining numbers and a degenerative hip condition that forced him to retire two years into the contract.
5. Darren Dreifort, Dodgers, 2001
The background: Had three good months for the Dodgers at the end of the 2000 season.
The contract: Five years, $55 million.
The result: Despite only 39 career wins and Dreifort's coming off a season in which he allowed 31 home runs, the Dodgers re-signed him to a megabucks deal in the crazy 2000-01 offseason. He won nine games.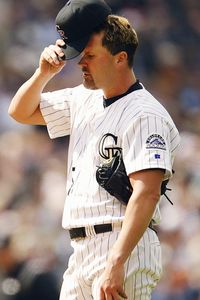 Brian Bahr/Getty Images
Denny provided a lot of fans in the bleachers with souvenirs in his playing days.
4. Denny Neagle, Rockies, 2001
The background: Lefty had gone 20-5 and finished third in the Cy Young vote with Atlanta in 1997. But his ERAs had gone from 2.97 to 3.55 to 4.27 to 4.52. Maybe you can spot that trend better than Rockies GM Dan O'Dowd did at the time. Anyway, after signing, Neagle said, "People say I give up a lot of home runs, and I don't think that number is going to change."
The contract: Five years, $51.5 million.
The result: Well, here's a list of file names from the ESPN.com archives:
Neagle's struggles
Neagle demoted
Neagle leaves game
Rockies' Neagle charged with DUI
Neagle operation
Neagle allegedly solicits prostitute
Neagle contract scrapped
Union files Neagle grievance
Neagle pleads not guilty
Rockies, Neagle reach settlement
Neagle pleads guilty
3. Barry Zito, Giants, 2007
The background: The AL's Cy Young winner in 2002, Zito hadn't repeated that season but was regarded as a solid, durable lefty when he became a free agent. The Giants ignored a bad 151/99 SO/BB ratio in 2006 and gave him the richest deal ever for a pitcher.
The contract: Seven years, $126 million.
The result: Thirty losses, ERAs of 4.53 and 5.15, 102 walks last season and only five more years left on the deal!
2. Mo Vaughn, Angels, 1999
The background: Vaughn was one of the AL's top sluggers, coming off a 40-homer, .337 season in '98. But he was 31 years old, sort of what you might describe as "fat," a tombstone at first base, the type of player who wouldn't be expected to age well and who had benefited greatly from a stroke tailored to Fenway Park. Otherwise, his future looked bright.
The contract: Six years, $80 million.
The result: Two decent, non-All-Star seasons with the Angels, a knee injury that wiped out 2001, a trade to the Mets, a new pants size and over $34 million in salary in 2003-04 … when he hit a grand total of three home runs.
1. Mike Hampton, Rockies, 2001
The background: Hampton was a nice pitcher who had gone 37-14 with the Astros and Mets over the previous two seasons. The Rockies figured his ability to induce groundballs would work in Coors Field.
The contract: Eight years, $121 million.
The result: There were warning signs that Hampton had a fine line of success; he had walked 200 batters the previous two seasons. The Rockies must have missed that part of the stat line. He went 14-13 his first season, but with a 5.41 ERA. And it wasn't Coors' fault: Hampton had a 5.10 ERA on the road and allowed 16 home runs in 109 innings. He was just bad. After an even worse 2002 season, the Rockies would swing a deal that relieved them of much of the contract's burden. Hampton ended up battling injuries and won just 56 games over the eight seasons. But the schools in Denver were great and the skiing awesome.