Editor's note: The following is excerpted from "The 33-Year-Old Rookie" by Chris Coste.
© 2008 by Chris Coste. Reprinted by arrangement with the Random House Publishing Group.
Prologue: The Dream

I finally made it!
I'm still in shock as I arrive at Citizens Bank Park in Philadelphia. Walking up to the stadium, the most beautiful in all of baseball, the first thing I notice are the cars in the players' parking lot. Mercedes, Hummers, Escalades, and Bentleys in every direction. Incredible! Quite different from the usual array of Honda Accords, Ford Escapes, and Saturns in a typical minor-league parking lot -- not to mention the Mitsubishi Endeavor that I'd just pulled up in.
I can get used to this, I think to myself.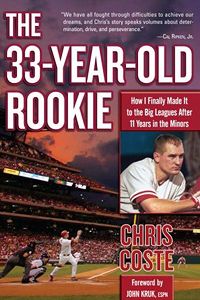 Buy the book
Click here to purchase "The 33-Year-Old Rookie" by Chris Coste.

Click here for Sam Alipour's Q&A with Chris Coste.
Can it be true? Or is this all a dream? After eleven years in the minors and a lifetime of hard work and dedication, have I finally made it to the big leagues? I actually pinch the back of my arm just to make sure; I've had dreams like this in the past.
Yep, it's real. I'm a major leaguer. It's not a dream. It's not a dream!
Next I'm stepping through the door to the largest clubhouse I have ever seen and gazing at the perfectly pressed red-and-white home uniforms hanging in the players' lockers. The jerseys are emblazoned with "Phillies" across the chest in big red script, two blue stars dotting both i's. I can't help but think of some of the legends who have worn these uniforms. Pete Rose, baseball's all-time hit leader, was a Phillie. Darren Daulton. Tug McGraw. John Kruk. Steve Carlton, a 300-game winner. Hall of Famer Mike Schmidt. Whoa! Mike Schmidt was a Philadelphia Phillie!
And look at some the names on the metal plates above the lockers. First baseman Ryan Howard, the 2005 National League Rookie of the Year. Chase Utley, his power-hitting partner on the right side of the infield. Suddenly, first baseman Jim Thome -- my new teammate! -- hollers, "Hey, Coaster!" How'd he know my nickname? "Great to see ya! Congratulations, man!"
"Um … thanks," I mumble back. Imagine that. My teammates know how long it's taken me to get to the big leagues. Even superstars like Thome and Howard can appreciate the path I've traveled.
Gotta see the field! This is a moment I've envisioned my entire life, and the one memory I want to hold on to until the day I die: to stroll onto a major-league field as a major-league ballplayer. But it's more than that. I want to take in the entire stadium.
With the warm summer sun hitting me in the face, I want to squint up at the furthest depths of the upper deck and imagine Citizens Bank Park packed with forty thousand screaming fans. Philadelphia fans, possibly the most intense and passionate fans anywhere. Then the smell of the grass: that unmatchable aroma of the freshly mowed infield and perfectly groomed outfield. This is the moment I've waited for, and I want to savor it.
Just as I'm overcome with tears of joy, I'm startled by the sound of a little girl's voice.
"Good morning, Daddy, it's time to get up!" piped up my six-year-old daughter, Casey.
Talk to any minor-league baseball player, and he'll relate his own version of "the dream." Maybe he's just smacked a walk-off home run in his first game or notched an important save in relief. Or maybe he doesn't star on the field at all; in his dream, he's just picked up the phone to hear a voice tell him that he's being called up to the big leagues. Whatever the scene, it always ends with the disappointing snap back to reality -- in my case, a cold, snowy January morning in Fargo, North Dakota.
While Casey dutifully reminded me that it was my turn to take her to school, I couldn't help but wonder if my playing days were nearing an end. In my eleven-year career, I'd spent five years in various independent leagues, one season in double-A minor-league ball, and parts of six years at the triple-A level for four organizations (Phillies, Cleveland Indians, Milwaukee Brewers, Boston Red Sox). I'd also played six seasons of winter ball in Mexico, Venezuela and Panama. All told, I'd played on twelve teams, logging time at every position on the diamond except for center field. In my mind, I was probably the most experienced player to never have set foot on a major-league field as a major-league player.
Don't get me wrong: I loved playing baseball, and I was still good at it. But the yearly frustration and disappointment of not making it to the big leagues were becoming too much to bear. And with my thirty-third birthday just five days away, February 4, 2006, the odds that I would ever conquer my dream were not improving.
My family's needs also made me wonder how much longer I could pursue the dream. Casey had just started first grade and could no longer travel as much as she had in the past. At times I would go up to three months without seeing my wife and daughter, making it more of a grind than I had ever imagined. Combined with all the disappointments that I had endured over my career, I wondered if I could make it through another potentially heartbreaking season. How much longer could I possibly keep this up? I could only hope that it was my destiny to make the big leagues as a manager.
Stumbling out of bed, I made my way to the bathroom, and was painfully brought to life by the screaming aches and pains that came with being a five-days-shy-of-thirty-three-year-old athlete. As I looked at myself in the mirror, I was reminded of "Crash" Davis, the battered minor-league lifer played by Kevin Costner in the movie "Bull Durham." A song began to play in my head: Garth Brooks' "Much Too Young (To Feel This Damn Old)."
Just then my wife, Marcia, walked past the open bathroom door. "Thirty-three going on eighty?" she joked.
"It's more like seventy," I protested. "And I'm not thirty-three for a few more days." Marcia, my high-school sweetheart, and I had joked for years about how she would be pushing me around in a wheelchair by the time I was fifty. It wasn't just that my body was sore -- hell, my body was always sore -- but with the Phillies' 2006 spring training just two weeks away, I was less prepared than I had ever been in my minor-league career. I took pride in always being in perfect physical shape when I reported to camp, but having just returned from my fourth consecutive winter of baseball in Mexico, I was too worn out to work out like I had in the past. In any given year, between spring training, the regular season and winter ball, I was playing up to two hundred games. The nagging injuries were adding up, and I was feeling a lot older than the age listed on my driver's license. Compounding my worries, I'd taken batting practice only once this month. "Unprepared" was an understatement. With that in mind, I drank my morning coffee, dropped off Casey at school, and headed for the gym.
Just as I pulled into the parking lot of the local YMCA, my cell phone rang. "Chris? It's Pat." My agent.
Pat Arter has represented me since 2000, when I was a nobody in the Cleveland Indians farm system, and he's stuck with me the entire time. I think it's safe to say that it hasn't been for the money; if you totaled up the entire amount of money I've made for him in my career, you wouldn't be able to supersize your Happy Meal at McDonald's. Given Pat's loyalty and the amount of time we've worked together, I would say I trust him as much as a close relative.
Pat knew that I was exhausted from winter ball and had recently considered retirement, so he'd been calling on what seemed like a daily basis to talk me out of quitting and give me the usual prespring training pep talk. Besides Marcia, he was the only person who could always put things in perspective and cheer me up, consistently reminding me how close I was to the big leagues.
"It would be a disservice to all minor leaguers to give up now," Pat would typically say. "Just think how far you've come. How many independent-league players out there would kill to be where you are now?" He was right. Ten years earlier, I had fought to get into the independent Northern League, a league full of undrafted college players, minor league castoffs, and former big leaguers like Darryl Strawberry and Jack Morris. It was every independent player's goal to catch on with major-league orga nizations with the hopes of getting a shot at the big leagues. To get from independent ball to triple-A was considered a success, regardless of the fact that I might never sniff the big leagues, and every independent leaguer would gladly switch places with me.
And then I'd picture myself back in the late 1990s, and how I was lost in independent-league anonymity. With the number of times I had come so close to the big leagues since then, it was easy to forget just how far I was from the major leagues in those days. Brainerd, Minnesota (North Central League); Brandon, Manitoba (Prairie League); Fargo, North Dakota (Northern League) -- I was a million miles away. Maybe even further than that; after all, I was so far from the big leagues in those days that the possibility of becoming a major leaguer had been totally erased from my mind. Now, I was going to attend major league spring training with the Phillies and share a clubhouse with the likes of Ryan Howard, Jimmy Rollins, and Chase Utley. He was always right -- I had come a long way since then; too close to quit now.
This time, though, Pat was calling not just to offer encouragement but to pass on some intriguing news. A team from the Korean League was offering me $300,000 to play third base for them. Like many journeyman minor-league ballplayers, playing overseas was something I'd wanted to do for many years. I earned $60,000 as the [Scranton/Wilkes-Barre] Red Barons' starting third baseman and occasional catcher in 2005, a season in which I batted .292 with 20 home runs and 89 runs batted in for the Phillies' triple-A affiliate.
Before Pat had even finished sketching out the details for me, I replied, "Where do I sign?" Three hundred thou? It was a no-brainer, and I wanted to seal the deal before the Korean execs changed their minds.
Although I was slightly ashamed of my extreme and hasty desire to agree to the contract for financial reasons, my motivation had changed over the past few seasons. My motivation had always been to conquer the dream that began at the age of seven, to wear a major-league uniform in a beautiful major-league stadium and live the life I thought I was destined for. Money was never the primary factor. That's not to say that the money wasn't an issue -- after all, financial security is a desire for any normal person -- but the idea of making the major leagues was the culmination of a lifetime of hard work and dedication. Now, with no light at the end of the minor-league tunnel, I had to think about how I was going to support my family. Also, even though going to Korea meant that I would be leaving the big-league chase in my rear-view mirror, I was still going to wear a uniform and play in front of thousands of passionate and crazy fans. I was still going to be a baseball player, and I was still going to be able to do the one thing that always gave me joy -- I was still going to play baseball.
When I walked into our condo that night, I breathlessly told Marcia the news. "Korea? You're actually considering it?" she asked, noticeably less than enthusiastic.
"Absolutely," I said. "Three hundred thousand dollars. I've never made that kind of money, and I'll never make that kind of money in triple-A. Just think, Marcia, we could pay off all of our credit cards, student loans -- maybe even pay off the house. For the first time in our lives, we'd be debt-free. I have to do this. "And even more importantly," I continued, "if I have a good year in Korea, maybe I'll get a chance to sign with a team in Japan." Marcia and I had talked many times about the kind of financial security playing in Japan could bring; for six years running, I had tried to get to Japan, only to be turned down each time. But I knew one American minor leaguer who'd had a good season playing in Korea, then signed with a Japanese team. Three years later he was raking in $4 million a year. And he'd never even made it as far as triple-A.
"If everything went well, we could be set for life," I reminded my wife. Still, she remained unmoved; disappointed, even, probably thinking about life with a small daughter and a husband halfway across the globe.
"Honestly, Chris, that sounds great; it really does." The two of us sat down at the kitchen table. "But I don't care about the money, and I know deep down that you don't, either. It's never been about money. It's about making it to the big leagues -- about catching your dream.
"You've played too long and have so much invested in this life," she said tenderly, "there's no way you can throw in the towel now. All those frustrating close calls and disappointments will make it mean that much more when you do make it to the big leagues. And you will make it. I know it." Whenever I got caught up momentarily in imagining what our life would be like if I could make the big money, Marcia would deliver variations of this little sermon to keep me from veering off-course. Yet her words always hit me as though I were hearing them for the first time.
"If you want to go to Korea," she added, "I'll understand. You do what you have to do."
As you can tell, I have always had an unbelievably supportive wife. We've been together since high school, and it is safe to say that Marcia lived and died that same dream as much as I did, if not more.
You would think that after hearing those incredibly prophetic words from my wife I would have totally agreed with her and given up on Korea, but that wasn't the case. I'm usually an open-minded guy, but when it came to playing baseball overseas I was usually a little hardheaded. I guess after I had been soured by the idea that I would never make the big leagues, the notion of playing baseball in Japan became more of a desire with each passing season. It wasn't that it was becoming a dream like the big leagues had always been, but it had become a lot more realistic, and it paid just as much, if not more. So if I could get to Korea, Japan was definitely within the realm of possibility.
Interestingly enough, I was never given the chance to sign the contract. Five days later, Pat called me back to inform me that the Koreans had changed their mind. Apparently, they had ultimately decided I wasn't quite what they were looking for and wanted to go in another direction -- they had chosen a different player instead. Although I was once again disappointed and frustrated, I did have to laugh a little. This was the same thing I had experienced so many times in triple-A when I was bypassed by other players on their way to the big leagues -- my teams had always chosen other players instead of me. Why would Korea be any different?
The next day, though, my agent called back with a tiny piece of good news. He assumed (correctly) that I was a little bummed by the Korean situation and wanted to cheer me up.
"Hey, Coaster!" Pat said excitedly, "I just got off the phone with the Phillies, and Charlie Manuel himself had asked if you were back with the team. He also said that the Phillies needed guys like you in triple-A because you can hit and play multiple positions, and could be called upon to hit off the bench if needed." This was good news. I had known the Phillies' manager from our days in the Cleveland organization. During the 2000, 2001 and 2002 seasons, Charlie managed the big club, while I divided my time between the Indians' double-A affiliate in Akron and their triple-A farm team in Buffalo. He'd told me candidly that he knew I could hit, but he wasn't sure what my best position was. Well, I had just caught fifty games in Mexico for the fourth season in a row, and it was obvious to me and the entire Mexican League that I was more than capable of catching in the big leagues. If I could impress the Mexican winter-league players and coaches, then maybe I could convince Charlie to give me a shot behind the plate. I knew I would never make the big-league club out of spring training, but maybe I could at least put myself on Charlie Manuel's radar and earn a call-up sometime during the 2006 season.
All I needed was a chance.
Also See
ESPN Top Headlines