The Cubs: 99 years of misery
2000
Record: 65-97
Finished last in the National League Central, 30 games out
Missed out on drafting: Grady Sizemore, who goes 75th overall to the Expos while Cubs' first-round pick Luis Montanez (third overall) never makes the majors.
Another season ends quickly. After the Cubs beat the Mets on Opening Day at the Tokyo Dome, New York's Benny Agbayani hits a game-winning grand slam in the 11th off Danny Young, one of three innings Young pitches in his entire career. It wasn't even April yet, and the Cubbies had seen their last above-.500 mark of the season. The downfall? The staff allowed a team-record 231 home runs, led by 36 off Jon Lieber, 35 off Kevin Tapani and 21 in 88 innings off Ruben Quevedo.
2001
Record: 88-74
Finished 2nd in the National League Central, five games out
Ex-Cub Factor: Mark Grace gets a ring with the Diamondbacks.
The Cubs hold steady in a tight wild-card race with the hated Cardinals. But on Sept. 23 in Houston, Chicago -- despite three dingers from Sammy Sosa -- loses its lead in the seventh inning when Moises Alou hits a disputed 315-foot home run that hits a quirky 6-inch-wide ledge jutting out of the scoreboard. The ball somehow bounces up and over the wall, and after initially ruling it a ground-rule double, the umps converge and rule it a home run. It's the second game of a 1-5 stretch that effectively ends any playoff chances. So you can blame Alou for the Cubs falling just short ... or Todd Hundley's .187 average.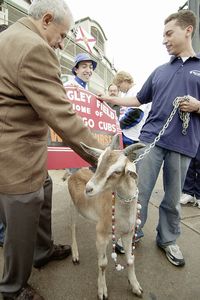 AP Photo/Anne Ryan
It probably wasn't a good idea to bring a goat to Wrigley Field before Game 6 of the 2003 NLCS.
2002
Record: 67-95
Finished 5th in the National League Central, 30 games out
Missed out on drafting: Jeff Francoeur goes 23rd overall while the Cubs choose pitcher Bobby Brownlie (another one who would never play in the majors) with the 21st pick.
Antonio Alfonseca, a large man who quickly becomes a large target for a Cub Nation disgruntled in a 95-loss season, is acquired from the Marlins just before Opening Day. Among those traded to Florida is a prospect named Dontrelle Willis.
2003
Record: 88-74
Finished 1st in the National League Central, won NL Division Series over the Atlanta Braves 3-2, lost the NLCS to the Florida Marlins 4-3
Wait, what happened? Sammy Sosa is ejected in the first inning of game against the Devil Rays when his bat shatters and pieces of cork are seen flying all over the infield. Following an appeal, Sosa would receive a seven-game suspension.
Five outs to go. Bartman. Mark Prior still in the game. Wild pitch. Prior still in the game. Ball off Alex Gonzalez's glove. Prior still in the game. Derrek Lee, two-run double. When the eighth-inning carnage finally ended, a 3-0 lead turned into an 8-3 deficit. All the ghosts that supposedly had been vanquished returned to Clark and Addison on that fateful October night. There was still one more game to play; it didn't matter. The goat had spoken.
WORLD SERIES WINNERS
2000: New York Yankees 4, New York Mets 1
2001: Arizona Diamondbacks 4, New York Yankees 3
2002: Anaheim Angels 4, San Francisco Giants 3
2003: Florida Marlins 4, New York Yankees 2
2004: Boston Red Sox 4, St. Louis Cardinals 0
2005: Chicago White Sox 4, Houston Astros 0
2006: St. Louis Cardinals 4, Detroit Tigers 1
2007: Boston Red Sox 4, Colorado Rockies 0
2004
Record: 89-73
Finished 3rd in the National League Central, 16 games out
Ex-Cub Factor: Bill Mueller and Mark Bellhorn get rings with the Red Sox.
We could go back to March, when Sports Illustrated picks the Cubs to win the World Series ("Hell Freezes Over"). But a Saturday afternoon at Shea in on Sept. 25 is when it falls apart. At 87-66, the Cubbies are the wild-card leaders and lead the Mets 3-0 heading into the bottom of the ninth. True Northsiders don't need to be reminded what comes next. Ryan Dempster walks two guys. LaTroy Hawkins enters. Victor Diaz hits a three-run home run with two outs. LaTroy Hawkins gets booed at the bars in Wrigleyville. Then the anonymous Craig Brazell wins it in the 11th with what is still his only career home run. Chicago loses seven of its final nine games and misses the wild card by three wins.
2005
Record: 79-83
Finished 4th in the National League Central, 21 games out
Missed out on drafting: With the 21st pick, the Cubs go with Mark Pawelek, while the Red Sox snag Jacoby Ellsbury at No. 23.
Corey Patterson spends much of the season hitting first or second; he hits .215 with a .254 on-base percentage. Neifi Perez spends much of the season hitting first or second; he has a .298 on-base percentage and draws 18 walks in 154 games. Folks, your 2005 Chicago Cubs, managed by the incomparable Dusty Baker!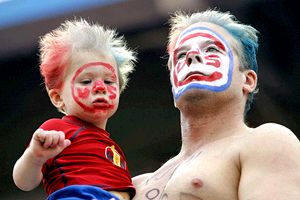 AP Photo/Wilfredo Lee
From generation to generation, a legacy is passed on; but hope still remains in the faithful.
2006
Record: 66-96
Finished last in the National League Central, 17.5 games out
Wait, what happened? One-time ace Mark Prior goes 1-6 with a 7.21 ERA.
Off to a solid 8-5 start, the Cubs are devastated by a freak injury to Derrek Lee, who had hit .335 with 46 home runs the year before. During a win at L.A., Lee breaks two bones in his wrist during a collision at first base with Rafael Furcal. How valuable was he? Chicago goes 19-40 in his absence and finds itself 14 back by the time Lee returns. A once-promising season turns into a last-place disaster. Of course, plenty of other problems exist as well ...
2007
Record: 85-77
Finished 1st in the National League Central, lost the NL Division Series to the Arizona Diamondbacks 3-0
Ex-Cub Factor: Greg Maddux eclipses Cy Young's major league record with his 20th consecutive season winning at least 10 games.
The Central champs are a trendy pick to win the pennant in a wide-open National League. In Game 1 of the NLDS at Arizona, ace Carlos Zambrano tosses six innings and just 85 pitches, but manager Lou Piniella opts to save him for Game 4 and makes the controversial move to the bullpen. Carlos Marmol gives up a home run to the first batter he faces, breaking a 1-1 tie. From there, the Diamondbacks cruise to a three-game sweep. On the bright side, Zambrano will be well rested for Opening Day.
Futility by the decades: 1909-1919 | 1920-1929 | 1930-1939 | 1940-1949 | 1950-1959 | 1960-1969 | 1970-1979 | 1980-1989 | 1990-1999 | 2000-2007
Research and text by Brett Edgerton, Mark Simon and Jeremy Lundblad of the ESPN Research Department. Additional contributions from Page 2 editors David Schoenfield and Michael Philbrick.