The Cubs: 99 years of misery
1940
Record: 75-79 Finished 5th in the National League, 25.5 games out
A Cubbie is born: Ron Santo (also the franchise leader for grounding into double plays with 240)
The Cubbies finish under .500 for the first time since 1925, thanks in large part to shortstop Bobby Mattick (see 1939), who hits .218 with no home runs and commits 38 errors. Mattick may not have been much of a player, but he had an amazing career in pro baseball as a minor league manager, scout and executive, helping build the Blue Jays' World Series championships of 1992 and '93 and getting elected to the Canadian Baseball Hall of Fame.
1941
Record: 70-84
Finished 6th in the National League, 30 games out
Ex-Cub Factor: Dolph Camilli wins the National League MVP award for Brooklyn.
On April 26, the Cubs become the first major league team to play organ music in the ballpark. Good for the fans, but not so beneficial for the team. Chicago starts the season 4-4 entering that game, but loses 6-2 and never sees .500 again.
1942
Record: 68-86
Finished 6th in the National League, 38 games out
Wait, what happened? Cubs shortstop Lennie Merullo sets a major league record with four errors (on four separate plays) in one inning against the Boston Braves. Earlier in the day his wife had given birth to a boy.
The decline of the franchise continues (brought on, in large part, by owner Philip Wrigley's refusal to spend money on a farm system like the rival Cardinals), and a sign of desperation is the midseason purchase of washed-up slugger Jimmie Foxx. He hits .205 with three homers in 70 games.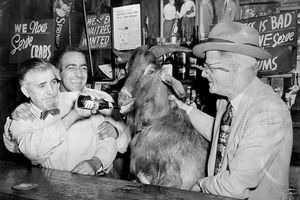 Courtesy of the Billy Goat Tavern
William "Billy Goat" Sianis with his famous goat, Murphy, sharing a beer at the Billy Goat Tavern in Chicago.
1943
Record: 74-79
Finished 5th in the National League, 30.5 games out
A Cubbie is born: Fergie Jenkins
Pittsburgh's Rip Sewell shuts out the Cubs on Opening Day; it's pretty much downhill from there, as they lose 22 of their first 31 games.
1944
Record: 75-79
Finished 4th in the National League, 30 games out A fine front office at work: Jimmie Wilson managed, then Roy Johnson took over ... then Charlie Grimm came back for his second tenure with the Cubs.
The Cubs beat the Reds 1-0 in the season opener to move into a tie for first place (in a game played in a crisp 1 hour and 17 minutes, by the way). And then they lose their next 13 in a row.
1945
Record: 98-56
Finished 1st in the National League, lost World Series to the Detroit Tigers 4-3
Wait, what happened? Phil Cavarretta wins the MVP award and the Cubs place three in the top 10 in MVP voting.
Bar owner Billy Sianis brings his goat to Game 4 of the World Series, and the two are allowed to parade around the field prior before the game between the Cubs and Tigers. However, after rain causes the air to smell of "wet goat," fans sitting around the pair in the stands complain, and Sianis and his animal are asked to leave Wrigley Field. Sianis' alleged response was to place a curse on the Cubs. The immediate return is a 4-1 Tigers win, and eventually a series triumph by Detroit when Chicago elects to start Hank Borowy on two days of rest in Game 7. We think you know the kicker: The Cubs haven't returned to the World Series since.
1946
Record: 82-71
Finished 3rd in the National League, 14.5 games out
Wait, what happened? On May 20, Cubs pitcher Claude Passeau makes his first error since 1941 to end a streak of 273 consecutive errorless chances. Passeau played with a modified glove as a result of a hunting accident that caused his left hand to be deformed.
WORLD SERIES WINNERS
1940: Cincinnati Reds 4, Detroit Tigers 3
1941: New York Yankees 4, Brooklyn Dodgers 1
1942: St. Louis Cardinals 4, New York Yankees 1
1943: New York Yankees 4, St. Louis Cardinals 1
1944: St. Louis Cardinals 4, St. Louis Browns 2
1945: Detroit Tigers 4, Chicago Cubs 3
1946: St. Louis Cardinals 4, Boston Red Sox 3
1947: New York Yankees 4, Brooklyn Dodgers 3
1948: Cleveland Indians 4, Boston Braves 2
1949: New York Yankees 4, Brooklyn Dodgers 1
Chicago blows an eight-run lead to the Pirates on Aug. 11 and loses 10-9. So much for the defense of the NL pennant. In fact, so much for the Cubbies. After 1946, they enter a very dark period for the franchise. They don't finish above .500 again until 1963, and Chicago becomes a White Sox town: The Sox outdraw the Cubs every year but one from 1951 through 1967.
1947
Record: 69-85
Finished 6th in the National League, 25 games out
Whoa! He played here? Third baseman Peanuts Lowrey places 24th in the MVP vote.
Just four games out of first place, the Cubs begin a Sunday doubleheader at Pittsburgh hoping to gain some momentum heading into the All-Star break. What's the opposite of momentum? Chicago loses 6-2 and 10-0, the start of a nine-game losing streak that pushes the deficit from four games to 12.
1948
Record: 64-90
Finished last in the National League, 27.5 games out
A fine front office a work: Commissioner Happy Chandler fines the Cubs $500 after they were caught trying to sign high school players.
The Cubs lose 1-0 to the Cardinals on April 23, a day after losing 3-0 to the Pirates. The season is just four days old and Chicago already has been blanked twice. No surprise for a team that ends up finishing last in the league in home runs (87). The highlight of the season may have been the inclusion of catcher Clyde McCullough on the All-Star team. Or maybe not. He hits .209 with one home run and seven RBIs -- for the season. Folks, your 1948 Chicago Cubs!
1949
Record: 61-93
Finished last in the National League, 36 games out
A Cubbie is born: Dusty Baker. Does he count?
When the Cubs and Reds meet at Crosley Field on July 6, they have the two worst records in the National League. By the time this one is over, the league's worst team is not in question. Cincinnati wins 23-4 and finishes the season 61-93 ... one game ahead of last-place Chicago.
Futility by the decades: 1909-1919 | 1920-1929 | 1930-1939 | 1940-1949 | 1950-1959 | 1960-1969 | 1970-1979 | 1980-1989 | 1990-1999 | 2000-2007
Research and text by Brett Edgerton, Mark Simon and Jeremy Lundblad of the ESPN Research Department. Additional contributions from Page 2 editors David Schoenfield and Michael Philbrick.