The Cubs: 99 years of misery
1970
Record: 84-78
Finished 2nd in the National League East, five games out
Whoa! He played here? Joe Pepitone of Yankee lore played reserve outfield and first base.
The Cubs survive a midseason 12-game losing streak that knocks them out of first to within a game of the Pirates in the final weeks of the season. On Sept. 20, manager Leo Durocher is desperate enough for a win that he calls on ace starter Ferguson Jenkins to try to escape a scoring threat. Jenkins had beaten Montreal just two days prior, but he can't get through trouble on one day's rest. Ron Fairly's two-run double puts the Expos ahead and pushes the Cubs two games back in the standings. Four losses in the next five games to the sub-.500 Cardinals and Phillies push the Cubs out of postseason contention.
1971
Record: 83-79
Finished 3rd in the National League East, 14 games out
Wait, what happened? On Aug. 24, Ernie Banks hit his 512th and final home run during a 5-4 win at Wrigley Field.
Seriously, you almost have to feel bad for Fergie (the pitcher, not the British faux royalty redhead). The clear sign that it just was not meant to be in '71: In the season's fifth game, Jenkins leads the Astros 1-0 in the ninth inning, but loses the game himself on a bases-loaded balk and an error.
1972
Record: 85-70
Finished 2nd in the National League East, 11 games out
Missed out on drafting: Dennis Eckersley -- who went with the 50th overall pick. Instead the Cubs went with pitcher Brian Vernoy, who never made it to the majors. (Don't worry, Eck would eventually make it to the Cubs, albeit with an uninspiring tenure.)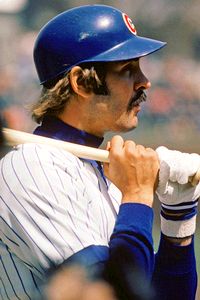 Jonathan Daniel/Getty Images
Dave Kingman led the NL in home runs in 1979 while playing for the Cubs; but the team was happy to get rid of him a year later.
A 10-inning loss at Houston drops the Cubs to 2-9. It's the last of a four-game stretch in which the Cubs lose each contest by one run, including three in extra innings. After another one-run loss at Houston in July, Durocher is given his walking papers. After that, Leo uttered his less-remembered quote, "Losing one-run games sucks."
1973
Record: 77-84
Finished 5th in the National League East, five games out
Whoa! He played here? Tony La Russa finishes his less-than-stellar career with the Cubbies, playing one game as a pinch runner.
On July 4, Sam Sianis, cousin of the late William Sianis, attempts to the end the curse by bringing Socrates, a descendant of the infamous Murphy of 1945, into Wrigley Field. The goat arrives in a white limo and walks a red carpet to the entrance, wearing a sign that reads, "All is forgiven. Let me lead the Cubs to a pennant." Naturally, the Cubs don't let him in. And naturally, Chicago -- which led the division by six games that day -- drops 16 of its next 20, on its way to yet another losing season.
1974
Record: 66-96
Finished last in the National League East, 22 games out
Ex-Cub Factor: Fergie Jenkins comes in fifth in MVP voting and second in Cy Young voting with the Texas Rangers.
It's the end of an era at Wrigley, as Billy Williams plays his final season with the Cubs. But it's the start of a new one: the Bill Bonham era. What, you don't remember the 18-2 loss to the Astros on April 29, when Bonham recorded only one out before hitting the showers? Or the 21 other losses he suffered this season?
1975
Record: 75-87
Finished tied for last in the National League East, 17.5 games out
Missed out on drafting ...well almost: The Cubs' first pick (fourth overall) was Brian Rosinski, an outfielder who would never play in the majors. Their second pick (28th overall) was Lee Smith from Castor High School in Louisiana.
There is hope: An infield featuring first baseman Andre Thornton, second baseman Manny Trillo and NL batting champ Bill Madlock lead the offense. Alas, the pitching is dreadful, as the team's top five relievers all finish with an ERA over 5.00 and the Cubs finish last in the majors in ERA. All three infielders are soon traded away for next to nothing. John Holland, the team's GM since 1957, is "reassigned" after the season. Yes, a GM lasted 20 years without once making the playoffs. As you can see, the Cubs have always placed a big emphasis on winning.
WORLD SERIES WINNERS
1970: Baltimore Orioles 4, Cincinnati Reds 1
1971: Pittsburgh Pirates 4, Baltimore Orioles 3
1972: Oakland A's 4, Cincinnati Reds 3
1973: Oakland A's 4, New York Mets 3
1974: Oakland A's 4, Los Angeles Dodgers 1
1975: Cincinnati Reds 4, Boston Red Sox 3
1976: Cincinnati Reds 4, New York Yankees 0
1977: New York Yankees 4, Los Angeles Dodgers 2
1978: New York Yankees 4, Los Angeles Dodgers 2
1979: Pittsburgh Pirates 4, Baltimore Orioles 3
1976
Record: 75-87
Finished 4th in the National League East, 26 games out
A Cubbie is born: Alfonso Soriano
Under new GM Salty Saltwell (we swear we are not making that name up), the Cubs select pitcher Herman Segelke in the first round of the June draft. This continues a not-so-amazing run of first-round picks by the Cubs. From the draft's inception in 1965 through 1980, the Cubs select Rick James, Dean Burk, Terry Hughes, Ralph Rickey, Roger Metzger, Gene Hiser, Jeff Wehmeier, Brian Vernoy, Jerry Tabb, Scot Thompson, Brian Rosinski, Segelke, Randy Martz, Bill Hayes, Jon Perlman, Don Schulze and Vance Lovelace. You may not believe this, but none of those guys became All-Stars. A select lowlight of the season: On the field, the Cubs blow a 13-2 lead at Wrigley on April 17, losing to the Phillies 18-16 when Mike Schmidt hits his fourth home run of the game in the 10th inning.
1977
Record: 81-81
Finished 4th in the National League East, 20 games out
A Cubbie is born: Kerry Wood
The Cubs start Aug. 10 just a half-game behind the Phillies, but the lead is two games by the end of the night after Philadelphia sweeps a doubleheader and Chicago strands 15 baserunners in an 18-inning loss to Pittsburgh. What follows is a demoralizing four-game sweep by the Phillies at Wrigley. The Cubs, 25 games over .500 in late June, finish 20 games out of first place.
1978
Record: 79-83
Finished 4th in the National League East, 11 games out
Whoa! He played here? Future manager Davey Johnson ends his career with 24 games with the Cubs, hitting .306.
Steve Bartman celebrates his first birthday by watching the Cubs fall to the Mets (Lynn McGlothen takes the loss) as another bitter season ends with a losing record. At one point in September, Chicago has the NL East lead down to 3½ games. The team ends the season 11 games back.
1979
Record: 80-82
Finished 5th in the National League East, 18 games out
Whoa! He played here? After a couple seasons with the Cubs, Yankee legend Bobby Murcer heads back to the Bronx in June.
The Cubs lose to the Phillies 23-22 on May 17. (The wind was blowing out that day.) Was the season over at that point? Probably not. But if you can't win on a day in which you score 22 runs, what chance do you really have? And here's something worth noting: Since 1976, the Cubs have lost four games in which they scored 15-plus runs. No other team has lost more than one.
Futility by the decades: 1909-1919 | 1920-1929 | 1930-1939 | 1940-1949 | 1950-1959 | 1960-1969 | 1970-1979 | 1980-1989 | 1990-1999 | 2000-2007
Research and text by Brett Edgerton, Mark Simon and Jeremy Lundblad of the ESPN Research Department. Additional contributions from Page 2 editors David Schoenfield and Michael Philbrick.