Page 2
Last fall, the sky fell and, as George Carlin would say, huge cracks appeared in the Earth's surface. The Red Sox won the World Series.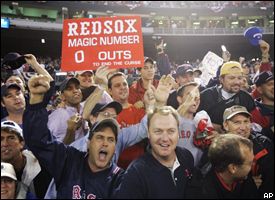 You'll have to come up with new material if you're going to taunt Red Sox fans.
Where does that leave the world of sports curses?
In the wake of Boston's World Series triumph, Page 2's curse-ologists combed through the sports landscape and found plenty of hexes, hocus-pocus, conjurations and sorceries still alive and well. We used the following criteria: To officially be cursed, a franchise cannot have won a championship in the last 25 years (hey, that's the ESPN era), and the franchise must have been in existence for all 25 years (you've been spared, Timberwolves). We made only one exception to this rule (check out the list to find out where), and we found 54 franchises that fit the criteria. We gave more weight to teams that have been close to titles and failed (read: Bills, Vikings, Jazz, Knicks) than to teams that have been just awful (read: Clippers, Warriors, Saints). The No. 1 curse? No surprise. The denizons of Chicago's Wrigley Field know it all too well.
50 CURSED FRANCHISES
Team
Last
Title
The Curse
The Scoop
1. Chicago Cubs
1908
Curse of the Billy Goat
At least their fans are far less whiny and self-loathing than Red Sox Nation.
2. Chicago White Sox
1917
Curse of the Black Sox
Throwing the World Series in 1919? Hey, maybe they deserve to be cursed forever.
3. Cleveland Browns
1964
Curse of Paul Brown
The Drive ... The Fumble ... Tim Couch. You think legendary coach/owner Brown wanted revenge after getting fired by Art Modell?
4. Philly Eagles
1960
Curse of Frank Gifford
After Eagles LB Chuck Bednarik rendered Gifford unconscious in '60 with a vicious tackle, Giff awoke from concussion and placed his curse.
5. Cleveland Indians
1948
Curse of Chief Wahoo
Sure, Indians fans refer to the Curse of Rocky Colavito; but seriously -- get rid of the logo and join the 21st century. Their choke in the '97 Series is underrated.
6. Buffalo Bills
1965 (AFL)
Curse of O.J. Simpson
Well, making four consecutive Super Bowls really is quite an achievement.
7. Minnesota Vikings
None
The Purple People Eater Voodoo Hex
So labeled by football fanatics in Canada -- where Joe Kapp, QB for Minnesota's first Super Bowl loser, had starred in the CFL. Upset that Kapp lost and tarnished the image of the CFL, Canada placed a curse upon the Vikes.
8. Houston Astros
None
Curse of the Gun
Let's just say the manufacturers of the Colt .45 weren't too happy when the team changed its nickname from Colts .45s to Astros.
9. Toronto Maple Leafs
1967
Curse of Dave Keon
No Cup finals appearances since '67? Some fans say it's because the popular, longtime Leaf was allowed to jump to the WHA in 1975.
10. San Francisco Giants
1954 (New York)
The Curse of Melvin Belli
Belli sued the team in 1962 because he was promised a seat-warming device at chilly Candlestick Park; he won his lawsuit but didn't lift his curse.
11. Utah Jazz
None
Curse of Michael Jordan
Let's be real about this: the plague that crushed the Jazz was a certain unstoppable guard from Chitown
12. Chicago Blackhawks
1961
Curse of the Dollar Bill
Stingiest. Owner. Ever. Tightwads are not rewarded with Stanley Cups.
13. Indiana Pacers
None
Curse of Darnell Hillman's Afro
Back in his ABA days, Hillman had the biggest Afro in the game. Then the Pacers made him trim it, and they've lost once in the NBA Finals and five times in the conference finals.
14. Indy Colts
1970
Curse of Johnny Unitas and Art Donovan
When the Mayflower vans moved the Colts out of Baltimore in the middle of the night in 1983, Colts legends Unitas and Donovan must've placed a curse on the franchise at Unitas' bar.
15. Detroit Lions
1957
The Curse of the Turkey
With only one playoff win since their last NFL title, it's sweet Thanksgiving revenge from all those turkeys on the team that always plays on Turkey Day.
16. Seattle Seahawks
None
Curse of Brian Bosworth
The Boz was so embarrassed and crushed after Bo Jackson destroyed him on a memorable night game, that he cursed the Hawks -- and they haven't won a playoff game since 1984.
17. Wash. "Expos"
None
The Curse of Jarry Park
Some people think the curse on the Expos began after the 1994 strike wiped out Montreal's best team; actually, it began when the Expos moved from Jarry Park to Olympic Stadium in 1977.
18. New Orleans Saints
None
The Manning Hex
We don't have the time to explain this, but let's just say it has to do with some extra spicy Cajun shrimp.
19. Philly Flyers
1975
Curse of Bobby Clarke's Dentist
Since Clarke and the Broad Street Bullies won it all, the Flyers have reached the Cup Finals four times and conference finals four more times without raising the trophy.
20. New York Knicks
1973
Curse of the Frozen Lottery Ball
After the NBA rigged the 1985 draft for the Knicks to get the first pick and Patrick Ewing, the hoops gods put a little hex over the Garden to ensure a price would be paid.
21. Los Angeles Clippers
None
Curse of Dr. Jack
After the franchise -- then in Buffalo -- had won its first-ever playoff series in 1975, coach Jack Ramsay was fired. It hasn't won a playoff series since.
22. Portland Trail Blazers
1977
Curse of Dr. Jack
Whoa, Dr. Jack again? Indeed. ESPN better not ever let Dr. Jack go.
23. Tenn. Titans
1961 (AFL)
Curse of Jerry Glanville
Yes, a curse can follow a franchise between cities ... what, you think it was Mike Jones who tackled Kevin Dyson at the 1-yard line?
24. Arizona Cardinals
1947 (Chicago)
Curse of Don Coryell
Coryell led the Cardinals to playoff trips in five seasons in the '70s -- and got canned anyway.
25. Milwaukee Brewers
None
Curse of the King County Council
After Bud Selig swiped the Pilots after one year in Seattle, the King County Council sued to get another team (the Mariners) and placed a hex on the Brewers. With 12 straight losing seasons, it appears to be getting stronger.
26. Seattle Mariners
None
Curse of Bernie Brewer
See, curses can be funny; after learning Seattle had placed a curse on Milwaukee, the Brewers' mascot placed a curse on Seattle (with help from Bud Selig, who must've forced that Varitek/Lowe trade for Heathcliff Slocumb in 1997).
27. Atlanta Falcons
None
Curse of the Super Bowl Hooker
Falcons fans can thank Eugene Robinson for this one.
28. Golden State Warriors
1975
The Chief's Revenge
Started after Robert Parish and a draft pick (Kevin McHale) were traded to the Celtics for Joe Barry Carroll, a k a Joe Barely Cares.
29. San Diego Padres
None
Curse of the Mustard Uniforms
It will take many, many years before the franchise is ready to recover from those '70s monstrosities.
30. Seattle Sonics
1979
Curse of Paul Westphal
This curse has struck in three forms: first, the '79 title team was torn apart when Dennis Johnson was traded for Westphal; then Westphal's Suns beat Seattle in the '93 conference finals; then Westphal coached the Sonics into oblivion.
31. Phoenix Suns
None
Curse of William Bedford
Ahh, Suns fans have fond memories of that 1987 all-drug team.
32. Cincinnati Bengals
None
Curse of the Ickey Shuffle
What, you think Ickey -- and the Bengals -- flamed out after his rookie season of dancing by sheer coincidence?
33. St. Louis Blues
None
The Curse with No Name
Making the playoffs each of the past 25 years and never even reaching the Finals? It's no wonder Blues fans refuse to even mention this curse.
34. New Jersey Nets
None
Curse of Dr. J
Sorry, Brooklyn ain't gonna reverse the curse of selling Dr. J to the Sixers upon joining the NBA in 1976.
35. Texas Rangers
None
Curse of Robin Ventura
Look, when that old man grabbed Robin around his neck and knocked him silly, let's just say Ventura's hike into the mountains of Tibet that winter paid off with a certain spell he cast over the Rangers.
36. New York Jets
1968
Curse of the Mohawk
Maybe if the Jets hadn't traded John Riggins to the Redskins, it would have been the Jets winning the 1983 Super Bowl.
37. San Diego Chargers
1963 (AFL)
Curse of the Powder Blue
Look, those throwback unis might be a nice Christmas present, but football gods do not and will not approve of such a color on the gridiron.
38. Sacramento Kings
None
Curse of the Cow Bell
And we all curse those hideous noisemakers.
39. Cleveland Cavaliers
None
Curse of Ted Stepien
Worst. Owner. Ever.
40. Vancouver Canucks
None
Curse of the "V-necked" Sweaters
If you don the worst uniform in the history of sports, even the cursed New York Rangers will be able to beat you in Game 7.
41. Kansas City Chiefs
1969
Curse of the Schottenheimers
When you hire a coach from another cursed franchise, you end up with a 3-9 playoff record since the merger.
42. Wash. Wizards
1978
Curse of Wes Unseld
As a player, Wes got the Bullets into two Finals. As an exec, he brought the franchise decades of despair.
43. Milwaukee Bucks
1971
Curse of Brian Winters
Ray Allen was wrong. It wasn't a conspiracy that beat Milwaukee in the 2001 Eastern Conference finals. It was a lack of bearded players.
44. Denver Nuggets
None
Curse of the Seattle Center Coliseum
Remember when Dikembe Mutombo sprawled on the floor to celebrate the biggest NBA playoff upset in the final game ever at the old Coliseum? Let's just say the hoop gods were not pleased.
45. Pittsburgh Pirates
1979
Curse of the Stove Pipe Hat
Go away from the stove pipe, go 25 years and counting without a title. Perhaps this explains why Barry Bonds' arm was weakened as Sid Bream rounded third.
46. Wash. Capitals
None
Curse of Dino Ciccarelli
Ted Leonsis, Mark Cuban. Mark Cuban, Ted Leonsis.
47. Buffalo Sabres
None
Curse of Nick Bakay
Yes, Hull's skate was in the crease. No, no team that Bakay roots for will ever win a title.
48. Atlanta Hawks
None
Curse of Tree Rollins
It's OK to shove another player in an NBA playoff game, especially if it's Danny Ainge. But biting another player? That goes a little too far.
49. Boston Bruins
1972
Curse of the Bambino
Little-known fact: The Bambino played a few games alongside Eddie Shore in the late '20s before the B's told him to stick to baseball.
50. Dallas Mavericks
None
Curse of Allas, Texas
As Mark Cuban is rapidly learning, sometimes all the money in the world can't buy a "D."
51. Los Angeles Kings
None
Curse of McSorley's Stick
Or was it his mullet? Or was it Bruce McNall?
52. Carolina Hurricanes
None
Curse of Bristol
Hey, if you move Connecticut's only pro team to another state, the folks at ESPN will vow revenge.
53. Phoenix Coyotes
None
Curse of the Great White North
When it's 110 degrees out, do you really expect to be watching a championship hockey team? Winnipeg will always remember.
54. Miami Dolphins
1973
Curse of the Flat Champagne
Perhaps if the '72 Dolphins would quit their silly tradition of celebrating the annual fall of the last undefeated team, Miami would be able to win another Super Bowl.
55. New York Yankees
2000
Curse of Luis Gonzalez's Gum
A curse which is growing more vicious by the year.