Commentary
From 'The Real World' to the NFL?
Originally Published:
September 22, 2009
By
Kaitlin Daley
| Special to Page 2
"The Real World: Cancun" and all of its drunken debauchery have officially come to a close. There were plenty of trysts, tiffs, tantrums and, yes, even a threesome NFL tryout. So what is MTV's heartthrob-jock Christian "CJ" Koegel doing to combat his reality hangover?
Working on his hang time. Duh.
[+] Enlarge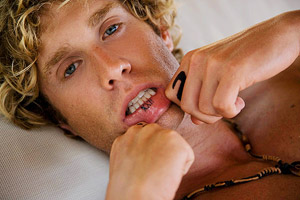 MTV "The Real World: Cancun" cast member Christian Koegel wants to make his dream of playing in the NFL a reality.
After returning from the MTV Video Music Awards and offering a diplomatic opinion on the Kanye West-Taylor Swift flap, the 24-year-old former UMass punter is still training hard in hopes of landing an NFL gig.
"It would be amazing to kick for the Pats," Koegel gushed about his favorite pro team. "But at [the NFL] level, I'd play for anybody. I don't care, I'd play for free right now," he laughed.
At 5-foot-11, 180 pounds, Koegel is smaller than all but two NFL punters, but he rocks a six-pack that would make Samuel Adams green with envy. Koegel averaged 43 yards per punt as a junior in 2005 -- third-best in the nation in Division I-AA. ESPN's Mel Kiper Jr. rated him as one of the top 10 punters in the 2007 draft class.
These days, the Cancun Casanova says he's on the "short list" of a few NFL teams and knows his phone could ring if a punter gets hurt. Unlike most positions, however, teams carry only one punter. That's only 32 jobs, and with guys like 43-year-old Jeff Feagles of the Giants hanging on, Koegel realizes that "The Call" may be as distant as the Backstreet Boys' hit.
"You sit here and train, keep yourself prepared, do all this stuff, and it might not come," Koegel said.
Besides, if we've learned anything from MJ Garrett of "The Real World: Philadelphia," a former Vanderbilt wide receiver who also made an NFL bid, it's that good looks and curly blond locks can take you only so far. Then again, Real Worlders such as Mike Mizanin, Kyle Brandt and Mallory Snyder have made it in the sports world with less impressive qualifications.
"THE REAL WORLD" AND SPORTS
Mike Mizanin, "The Real World 10: Back to New York": After competing in "Real World/Road Rules Challenge," "Battle of the Seasons," "The Gauntlet" and "The Inferno" (to name a few), "The Miz" moved on to a slightly more realistic gig -- professional wrestling. Mizanin has been a bit of a WWE journeyman, appearing on the "WWE Tough Enough" reality show, hosting segments and competing for two World Tag Team Championship titles. Mizanin's signature moves went from swooning Trishelle in challenges to challenging competitors with the "reality check," "sit out shoulder jawbreaker," and, who could forget, the "Mizard of Oz."
Kyle Brandt, "The Real World 11: Chicago": This Princeton football letterman left the "as himself" MTV role to play Philip Kiriakis No. 2 on "Days of Our Lives" from 2003-06. Sick of his character losing body parts, children, and dignity, Kyle was replaced by the original Philip and went on to become a writer/producer for "The Jim Rome Show" and ESPN's "Jim Rome Is Burning" (Who says drunk-dialing your boss isn't acceptable?) Yet perhaps his greatest sports-related appearance is getting smoked by a Randy Johnson dodgeball in a Right Guard commercial.
Mallory Snyder, "The Real World 13: Paris": Daughter of former Atlanta Falcons wide receiver Todd Snyder, she turned down a soccer scholarship to Iowa State to join the show's cast and melt hearts on both sides of the pond. While she may have been the good girl on "The Real World," she has since graduated to a much sexier role -- modeling in the 2005 and 2006 Sports Illustrated swimsuit issues.
So how did Koegel's reality TV journey start? He was working in sales and coaching when a friend who worked for MTV suggested he look into casting for "The Real World."
"It was so random," Koegel laughed. "It was a short little e-mail and, all of a sudden, I had in-depth interviews and psych tests."
Koegel -- sane and savvy -- passed casting tryouts with ease but never overlooked his goal of trying out for the NFL. So when he wasn't flirting with Jonna or being emasculated by Aiiya, Koegel took a 45-minute bus ride from his swanky hotel pad to the nearest football field.
"One day we would show up and they'd be like, 'OK, yeah, you can kick here,' and the next day they'd be like 'No. We don't want American football here.'" Koegel often had to ask golf course managers if he could punt on their driving range at dusk.
Despite the obstacles, Koegel traveled to Las Vegas with two of his closest "bros" from "The Real World" and put together his strongest NFL tryout. But the calm and confident Koegel admits that he was as nervous as MTV crew members during a CT outburst.
"You're looking in the stands, and there's 18 scouts there, and on top of it, you know millions of people are going to watch," Koegel said.
Something tells us NFL coaches aren't filling out their rosters by watching reality TV, but wouldn't that be highly entertaining? Did you see the way that young man tackled his roommate on "I Love New York 2" last night? Get him in our camp, immediately!
But the affable Koegel says that being on the show has opened a lot of doors. Could one of those doors be another MTV reality stint, say, a "Real World/Road Rules Challenge"?
"It would make sense if there were someone athletic on the show," said Koegel, perhaps trying to hint at something he's not allowed to hint at. He went on to explain that participating in such a physically demanding show might actually supplement his NFL training.
So, at the end of the day, MTV's reality hunk is a normal guy with hopes and dreams, favorite NFL players (Mike Scifres, Michael Strahan), a Super Bowl prediction (Pats vs. Packers) and not a care in the world.
"Well, [MTV] did make it look like I can't talk to girls …"
Hey, you can't win 'em all.
Kaitlin Daley is an editor for ESPN.com