Commentary
From hunk to chunk and back again
Originally Published:
November 30, 2009
By
Kaitee Daley
| Special To Page 2
Imagine being a successful personal trainer and ab-tastic underwear model. Now imagine intentionally gaining nearly 90 pounds. Sounds crazy, right?
[+] Enlarge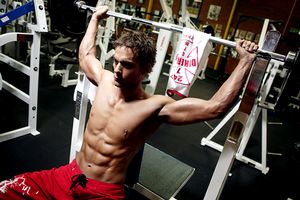 Blush Photography Paul James modeled skivvies with his sculpted body prior to intentionally gaining nearly 90 pounds.
Don't tell that to Paul "PJ" James.
Last New Year's Eve, while many people resolved to swear off sweets or cigarettes, the 176-pound Australian stud committed to fattening his figure -- the same figure that was walking a catwalk in Milan a year ago. Why? James was having a difficult time relating to heavier gym patrons.
"I always got along well with my clients, but there was a little bit of a bridge that I couldn't cross," James said. "Having never been overweight myself, it was really hard to understand what people go through -- what it feels like to go to the gym for the first time and how to get motivated. These are things I thought were real easy to address."
For many patrons at James' workplace, Doherty's Gym in Melbourne, Australia -- where muscled jocks reign supreme -- it was easy to address. The members page on the Doherty's Gym Web site looks as if it was lifted from a Mr. Universe contest. But James wanted to be able to understand all his clients.
CHEWING THE FAT
Paul James might be the only muscle man to intentionally soften his figure, but he's not the first to struggle with fatty addictions.
Dewing Him In: Wizards forward Caron Butler was asked to stop drinking Mountain Dew by his team. Butler was averaging approximately 19 points and six 12-ounce bottles of green sugar a day. "Those first two weeks without The Dew were the roughest two weeks of my life," Butler wrote on his NBA.com blog. "I'm talking headaches, sweats, and everything." The two-time All-Star lost 11 pounds and feels better than he has in years.
Lose the booze: Titans running back LenDale White said he lost 30 pounds last offseason by cutting tequila from his diet. "I was a big Patron consumer," White said. "I cut that out of my diet all the way." With 15 rushing touchdowns in 2008 and just two so far this season, White's transformation is baffling. Too bad he can't cut emerging star Chris Johnson out of his diet.
Eat Fresh: You might have noticed Timberwolves center Al Jefferson sporting a much slimmer figure after missing much of last season with a torn ACL. He shed more than 30 pounds in seven months to reduce stress on his knees. How? Here's a hint: "Five. Five. Five dollar … " You know the rest. Jefferson, who has no endorsement deal with Subway -- not yet, anyway -- lost the weight by eating ham and turkey footlongs.
Swapping ab crunches for crunch bars and bicep curls for curly fries, James was able to gain 88 pounds in just three months. In fact, he once ate four large pizzas in one sitting (14,400 calories in an hour and a half, by his calculation) and he even tackled a breakfast of 30 pancakes from Maccas (that's McDonald's, for those not up on Australian lingo), using soda to wash it all down.
Though every inch of James' journey -- and waist -- is being featured in the upcoming documentary "Fat and Back," he insisted his social experiment is not "Super Size Me 2.0."
"I went out of my way not to eat McDonald's, actually," James said with a laugh. "I didn't want to be associated with another documentary like that."
Instead, James set out to inspire overweight people to break their bad habits and hit the gym. But first, he had to walk a little farther in their shoes.
After reaching his weight goal of 265 pounds, James spent the following three months maintaining it. The once-fit 32-year-old began to notice more than just the 12 extra inches on his waistline. He experienced muscle pain, increased fatigue and dangerous spikes in cholesterol and blood sugar. Doctors worried about the curvature of his spine, now bent to uphold a seemingly pregnant stomach.
James' friends teased him as if he were the Pillsbury Doughboy. Even his boss got a kick out of the way James' nipple piercing dangled from his newly formed man boob. But James also admitted to underestimating the emotional toll of going from Melbourne's fab to 32 percent body-fat flab.
"I definitely overlooked the mental side of things and didn't realize how difficult it would really be."
Things got even tougher for the newly self-conscious James when it came time to lose the weight. He hadn't worked out since December and had been engorged in an obese lifestyle for six months.
"The transition back into training was the hardest moment for me because I just didn't have any desire to train at all, and I was addicted to fat and sugar at the same time so my motivation was at an all-time low."
[+] Enlarge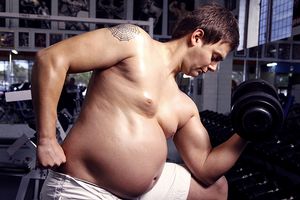 Blush Photography James goes to work trying to shed his newfound gut.
James says it took about six weeks of training and willpower to finally kick his addiction to junk food and start eating healthy food consistently again. Today, James is under 220 pounds and confident he can work his way back to his former physique by Jan. 1 -- a year of trials and tribulations come full circle.
James admits he's still open to photo shoots and underwear work, but he's also hoping he can use an online forum to encourage people struggling with weight loss to post their own results and questions.
"It's all about motivation," James explained. "I want to move on and do more training on a wider scale with people from all over the world."
Filming for "Fat And Back" will conclude in January, and James hopes to have it released either theatrically or as a cable series by April.
Kaitee Daley is an editor for ESPN.com.
ESPN Editor
Senior Editor
Joined ESPN in 2009
Vermont native, Bowdoin College graduate