Commentary
John Fogerty's 'Centerfield' sparks a list
Originally Published:
July 28, 2010
By
Kaitee Daley
| Page 2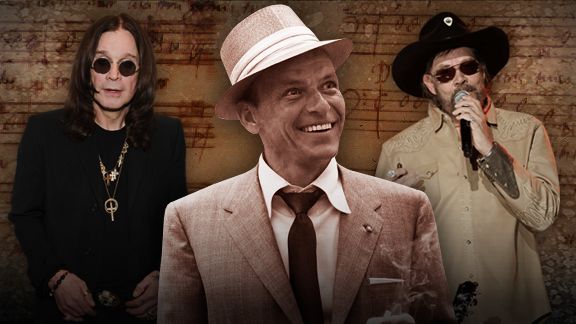 ESPN.com Illustration
Anytime you name-drop Willie Mays, Ty Cobb and Joe DiMaggio in a song, you're bound to catch the attention of baseball fans. But catching the attention of the Baseball Hall of Fame? Now that's impressive.
John Fogerty's 1985 hit "Centerfield" was honored at the Hall's induction ceremony in Cooperstown, N.Y., this past weekend. In addition to performing the song, Fogerty's guitar, "Slugger," which is shaped like a baseball bat, was chosen for display at the Hall.
The recognition was the first of its kind for a song, and it made us wonder which other tunes are worthy of a little love from the halls of fame of the sports world.
Ever listen to "One Shining Moment" and envision a college basketball montage? Hear "Enter Sandman" and expect Mariano Rivera to come jogging around the corner?
Then this list is for you. Without further ado, here are Page 2's Hall of Fame song nominees:
Baseball
"Take Me Out To The Ballgame" (everyone and their mother): Let's get this out of the way right off the bat. Alienating eight other positions is one thing, but John Fogerty unintentionally upset millions of fans by getting props for his song before this classic baseball sing-along was recognized. "Take Me Out To The Ballgame" is more than 100 years old and serves as a stadium staple during seventh-inning stretches everywhere. Despite this, this and this, we demand to know how this song isn't in the Hall.
"Glory Days" (Bruce Springsteen): Sean N. in Taylor Mill, Ky., writes: "Baseball is America's pastime and the song is all about reminiscing about the good old times. ... Remember when players like Gehrig, Hornsby, Mathewson, Mize and Aparicio didn't complain about making $35K or less a year? They played baseball because they loved the game!"
PAGE 2'S MUSICAL HALL OF SHAME
"Who Let The Dogs Out?" (Baha Men): The more important question: Who let this song out?
"Macarena" (Los Del Rio): Not even Jay Leno is still cracking jokes about this one, but we feel it's necessary to remind everyone of the emotional damage this song inflicted around the sporting world.
Cotton Eye Joe (Rednex): Anytime country music meets late '90s techno beats, it's perfectly acceptable to flee the stadium screaming and bleeding from the ears and nose like a disillusioned "Lost" character.
"Go Cubs Go" (Steve Goodman) -- "Hey Chicago, whattdya say? The Cubs are gonna win today." Several Chicago natives suggested this popular tune, which is played after wins at Wrigley Field. The songwriter, however, was not always a beaming optimist. In true Cubs fan fashion, Goodman also wrote and sang "A Dying Cubs Fan's Last Request." ... "It's played in our hearts after every loss," writes BJH from Lowell, Ind.
"Meet The Mets" (various): Dave A. in Mets Nation writes: "For generations of fans, this was the song we heard before the late Bob Murphy's voice came on our radios. Even Yankee fans have an appreciation for the gimmicky yet catchy tune that is as much part of summer as the baseball games themselves."
"New York, New York" (Frank Sinatra) -- Jay-Z may have "made the Yankees hat more famous than a Yankee can," but it's Sinatra's voice that echoes through Yankee Stadium after every pinstripes victory.
"Sweet Caroline" (Neil Diamond): If someone says, "Good times never seemed so good" and you don't immediately think, "So good! So good! So good!" … you can't truly call yourself a Red Sox fan. The song riles up Fenway faithful in the middle of the eighth inning at every home game.
"Enter Sandman" (Metallica): Metallica's hard-hitting "lullaby" has become the entrance song for two of the world's best closers -- Mariano Rivera and Brock Lesnar. The words "exit light" are definitely fitting.
"Hells Bells" (AC/DC): The Padres made this metal classic a baseball favorite by cranking it while closer Trevor Hoffman trotted to the mound from the bullpen. Since Hoffman is baseball's all-time saves leader, his song deserves a nod alongside Rivera's before we send this category "off to never, neverland."
Football
"Crazy Train" (Ozzy Osbourne): Ozzy has given us plenty of reasons to believe he's crazy. (Bat, anyone?) But little did Ozzy know when this song was released in 1980 that it would one day serve as kickoff music in football stadiums across America. The creepy "Aye, aye, aye," the rattlesnake noise and Randy Rhoads' signature guitar riff just can't be topped.
"Are You Ready For Some Football?" (Hank Williams Jr.): It's been a Monday night party with Hank Williams Jr. for more than 20 years! He has earned four Emmys for his famous "Monday Night Football" opening themes, but is the song itself Canton-worthy? All our rowdy friends think so.
"Monday Night Football" theme (Johnny Pearson): This song actually bears the name "Heavy Action," and for many of us it's the soundtrack for some of the most unforgettable moments in sports, such as Lawrence Taylor breaking Joe Theismann's leg, Bo Jackson plowing over Brian Bosworth or Joe Namath trying to plant one on Suzy Kolber.
Basketball
"One Shining Moment" (David Barrett): There's no denying this song is synonymous with cutting down nets on college basketball's biggest stage. Now if only Jennifer Hudson didn't get more face time during her 2010 rendition than John Wall, Evan Turner and Jordan Crawford combined.
"Sirius" (Alan Parsons Project) Bryan H. in Torrance, Calif., writes: "This song helped make the Chicago Bulls one of the most intimidating teams during the 1990s. Hearing this during Michael Jordan's introduction created a chilling effect before the game even started."
"Jock Jams" album collection (Tommy Boy Records): Hearing these songs in a high school gymnasium was a rite of passage for an entire generation of athletes. A few highlights: "Get Ready For This" by 2 Unlimited, "Whoomp! (There It Is)" by Tag Team, "Space Jam" by Quad City DJ's and "Tubthumping" by Chumbawamba
Hockey
"The Hockey Song" (Stompin' Tom Connors):
Charles F. in Ottawa, Ontario, writes: "Outside of 'The Hockey Theme' made famous by 'Hockey Night in Canada,' no piece of music is as closely linked to our national game as is '
The Hockey Song
.' Stompin' Tom wrote it in the 1970s, but it wasn't until the modern-day Ottawa Senators started playing in 1992 that it became a mainstay of NHL arenas. It's wonderfully corny and perfectly Canadian."
"Brass Bonanza" (Jack Say): We miss the Hartford Whalers. "Brass Bonanza" helps us deal with our loss.
"Chelsea Dagger" (The Fratellis) Mike S. in Renton, Wash., writes that this song deserves inclusion "for being the only song about a stripper to inspire two franchises to championships" -- Chelsea F.C. in 2007 and the Chicago Blackhawks in 2010.
Soccer
"You'll Never Walk Alone" (Gerry & The Pacemakers): -- The storied anthem of Liverpool FC is sung before each home game. Not to be confused with the Fernando Torres remix, "You'll never walk alone unless it's for more money playing for Chelsea or Man City."
"The Cup Of Life" (Ricky Martin): -- We know, we know, it's Ricky Martin. But this was the official song of the 1998 World Cup! Here we go! Alé, Alé, Alé!
Can't be contained by a single sport!
"We Are The Champions" (Queen): This victory anthem is a no-brainer. Dave K. in Washington, D.C., writes: "Whether you win a state championship or a bar league volleyball tournament you will feel the same way when the song is played in your honor."
"We Will Rock You" (Queen): This apparently was the most-played song in pro sports for 2008-09, according to Broadcast Music, Inc., with the Dallas Cowboys and Minnesota Wild giving it the most love. Well "boom, boom, clap." We had our money on the Black Eyed Peas.
"Eye of the Tiger" (Survivor) Alex P. of Washington, D.C., writes: "Dum. Dum dum dum. Dum dum dum. Dum dum ddddduuuuummmm." Well said.
"Rock and Roll, Pt. 2" (Gary Glitter) -- In addition to being featured in "The Sandlot," "D2: The Mighty Ducks," "Happy Gilmore," and "Any Given Sunday," this song wins the Easiest Lyric to Remember Award. Casey M. from Columbia, S.C., writes: "If you can listen to this song and not instinctively say 'HEY!' at the appropriate time, then you are probably a renegade cyborg and Harrison Ford should be alerted."
"Welcome to the Jungle" (Guns N' Roses): -- Stuttering has never been so cool. Axl Rose brings fans to their shun-na-na-na-na-na-na-na-knees on a weekly basis. Apparently, something about the line, "I wanna watch you bleed" really fires people up.
"Final Countdown" (Europe): Many stadium DJs use this as a go-to melody in crunch time. How many of us remember busting through cheap poster paper for high school basketball warm-ups while this song blared in the background?
Think we missed some? Sound off on the comments section below.
Kaitee Daley is an editor for ESPN.com. You can follow her on Twitter @daleysports.