Don't know if you've noticed, but in 2009, a sports fan can purchase the replica jersey of virtually any player from any of our beloved professional sports … including semidefunct ones such as the Arena Football League. If you want the jersey of your team's punter, backup goalie or long reliever from 1982, you can find it. But like watching "Gary Unmarried," just because you can do something doesn't mean it's a good idea. The market is officially oversaturated; there are too many jersey options, and given our economic climate when many of us are stretching to afford even a foam finger, an unwise jersey investment can haunt a fan for countless years (as I'm sure anyone wearing his Cardinals' Matt Leinart jersey can attest). These mistakes can be avoided, though, with a little guidance, gumption and good, old-fashioned grit. So let's roll up our sleeves and get to work -- starting with the fan base that'll be playing a football contest of some sort in Tampa this weekend.
PODCAST
Dave and Jonah Keri discuss the best and worst jerseys for Pittsburgh fans to be seen wearing.

• Podcast
Here it is: the definitive list of jerseys for a die-hard black-and-gold sports fan to sport (and not to sport) around "tahn." Before we begin, remember that this is not simply a ranking of Pittsburgh's greatest legends, although the player's on-the-field deeds figure prominently into the calculation. Other considerations include the aesthetic quality of the uniform's color scheme and individual number choice, the era the jersey evokes for local fans and -- maybe most importantly -- how that player's style, attitude and success personify the history of Burgh sports.
The best player jerseys for a Pittsburgh sports fan to own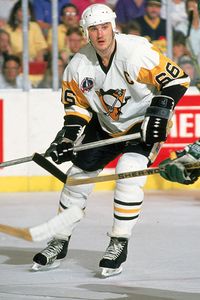 Bruce Bennett Studios/Getty Images
Sporting the original 66 is always a smart purchase.
1. Mario Lemieux's Penguins No. 66, black (from the Cup years)*
Irony right at the top: When Penguins general manager Eddie Johnston announced Lemieux as the first pick in the 1984 NHL draft, No. 66 refused to pull on his Pens sweater because of stalled contract negotiations. Now, he has the No. 1 jersey a Pittsburgh fan can pull on. He's not merely the single greatest athlete in the football-centric city's history, he's the best hockey player of all time. Although some misguided souls might debate that last statement, Lemieux is unquestionably the most exciting, clutch, spectacular combination of skill and size the world of puck has ever known. Has there ever been a scarier sight for goaltenders than big, bad No. 66 skating around, over or through two blueliners as he bears down on goal? (That was intended to be rhetorical, but just to be safe, the answer is "no.") Besides all that, he brought the Cup to the banks of the Three Rivers for a couple of years and saved hockey in the Burgh not once, not twice, but three times … a hat trick! And, most improbably, he actually made that angry penguin on his sweater look intimidating.
*Fashion note: Isn't it about time the Pens returned to these sweaters? The two-tone blues are swell and all, so use them as an alternate if you want … but is it any coincidence the Penguins haven't won a Cup since switching from the old jerseys? Forget the Sports Illustrated cover jinx, which has been proven bogus dozens of times. Conversely, the curse of changing uniforms as reigning champs is quite real. Consider this: The Pens won back-to-back Cups in '91 and '92, then saw fit to switch to these awful getups. Result: no more Cups.
2. Jack Lambert's Steelers No. 58, black
The personification of all the Pittsburgh Steelers were, are and ever will be. Too often replaced in national consciousness by names such as Dick Butkus and Mike Singletary, Jack Splat remains the NFL's greatest middle linebacker in the minds of Steelers fans (and the nastiest, dirtiest linebacker everywhere else). What's more, Pittsburghers lived vicariously through Lambert. Remember when he threw the Cowboys' Cliff Harris to the ground after Roy Gerela missed a kick in Super Bowl X? Everyone in Pittsburgh does. With such ornery acts committed in the name of loyalty, he cut the figure of a big brother who always saw to it that the bully would pay a price for messing with you. As for the jersey color, sure, we could've gone with white because the Steelers wore white jerseys in Oakland and versus the Vikings during their run to their first Super Bowl crown, but ultimately, Darth Vader has to wear black, right?
3. Willie Stargell's Pirates No. 8, gold (V-neck)*
The late, great Pops wore many variations of the Pirates' uniform in his 21-year tenure with the club, during which he hit 475 home runs. But it was this gold jersey he and his family wore in Game 7 of the 1979 World Series when he clubbed the seventh-inning home run that delivered the Buccos their last crown. In case you need more convincing, here's what he said at the Burgh's World Series celebration: "Now, when they walk down the street, the people of Pittsburgh can say that we come from a city that has nothing but champions!"
*Fashion note: If you add the flat-top cap the Bucs wore during that era, go ahead and give yourself a star.
4. Hines Ward's Steelers No. 86, white
Why the white? Because it's the jersey he has worn in two Super Bowls. Why Ward rather than so many other deserving Steelers? Because he's the offensive equivalent of Jack Splat. As much as he's loved in Pittsburgh is how hated he is in 31 other NFL towns. And that's meant only in a good way.
5. Roberto Clemente's Pirates No. 21, gray
The cannon attached to his right shoulder blade … the infallible leather attached to his left hand … the free-swinging, hit-everything style at the plate … all were well-known to Forbes Field denizens for almost two decades. But the '71 World Series was his breakout on a national stage. On his way to being named World Series MVP, Clemente hit .414, made big putouts from right and launched a home run in the decisive Game 7 in Baltimore (hence the choice of the gray jersey). All that said, forget the numbers. He was as thrilling a ballplayer as there ever has been. (At least according to those who saw him -- he was before my time.) And it's hard to imagine there's been a better man in any sport.
6. Danny Marino's Central Catholic High Vikings No. 13, blue
We'd be remiss if we didn't pay homage to the great history of Burgh-grown talent. With Tony Dorsett, Stan Musial, Arnie Palmer, Ryan Malone, DeJuan Blair and countless prep pigskin stars, the banks of the Three Rivers are fertile soil for superior athleticism. Nowhere is this truer than at the signal-caller position. While Florida grows oranges and Texas grows steers, Pittsburgh grows Hall of Fame NFL quarterbacks. We've given the nod here to Marino's Central jersey over Joe Montana's Ringgold, Johnny U's St. Justin's, and Broadway Joe's Beaver Falls jerseys because this local kid opted to walk across the street and star for Pitt. In 2009 and beyond, sporting any of these legendary high school jerseys is an educated choice … unless you attend(ed) the rival school of one of the players.
Best of the rest: Any '70s Steeler, Seven's No. 7, Troy Polamalu's No. 43, Ronnie Francis' No. 10 (or No. 9), Tony Dorsett's No. 33 from Pitt, Hugh Green's No. 99, Rod Woodson's No. 26, Greg Lloyd's No. 95, "Cobra" Dave Parker's No. 39, Kent Tekulve's No. 27, Charles Smith's No. 32, Sam Clancy's No. 15, Norm Nixon's No. 10, Michel Dion's No. 29 and Zarley Zalapski's No. 33 (sometimes a name is just too good to rule out). We'll wait on the rest of head coach Mike Tomlin's Steelers for a few days.
And 10 years from now, let's hope we can add Kid Crosby's No. 87 and Geno Malkin's No. 71 … but not yet.
---
The worst player jerseys for a Pittsburgh sports fan to own
I don't know what it says about me, but somehow, I have more "worst" than "best" jerseys. And I'm a Pittsburgh fan. Shame the devil if I'd been born in Cleveland.
1. The Pirate Parrot's No. 0, white
Although most sports towns are regularly embarrassed by the off-the-field troubles of their hometown players (hello, Cincy and Dallas), the Steel City has been relatively scandal-free … with just a few exceptions. None was bigger than a mid-'80s drug trial, which focused on the family-friendly Parrot slingin' chach to the Cobra, Yogi's son and a gaggle of other fun-loving Buccos.
Unlike in the case of the man inside the costume, Kevin Koch, there will be no plea bargaining to save you should you wear this foul bird's jersey.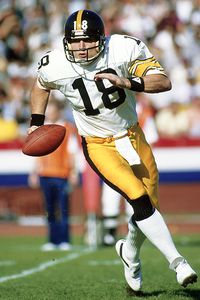 MPS/NFL/Getty Images
Remember: Friends don't let friends wear Stoudt jerseys.
2. Cliff Stoudt's Steelers No. 18, white
What a cold slap of reality it was for Steelers fans going from Terry Bradshaw to one of Youngstown State's 20 best quarterbacks. Stoudt was the symbol as the Steelers saw the Super '70s give way to the Atrocious '80s. I picked the white jersey because it's the jersey the team was wearing in Shea Stadium in December '83 when Stoudt replaced Bradshaw for good. (I mean bad.) The only question is, should it be Stoudt's Steelers jersey, or his USFL Birmingham Stallions No. 18?
May you receive a helmet sandwich from Donnie Shell and Ryan Clark if you wear either of those jerseys.
3. Barry Bonds' Pirates No. 24, gray
Before Bonds went to San Francisco, where he was accidentally exposed to the blast of a test detonation of a gamma bomb, Bonds proved himself from 1986 to 1992 to be arguably the best hitter of his generation -- with one caveat. At the stroke of midnight every Oct. 1, he turned from Barry Bonds into Barry Williams.
Wait, that's not fair. Some people actually liked "The Brady Bunch." Not so with Bonds. The argument isn't whether he committed a crime. One way or the other, he's guilty of being a creep for the past 20 years. To everyone. But, on the cusp of his and the Pirates' third straight NLCS heartbreaker in '92, he still had a chance to redeem himself. The supposed best defensive left fielder had only to field a hard-hit ball off the bat of Francisco Cabrera and get it to the plate before a one-legged, morbidly obese Sid Bream. He didn't. Then he ran off to the San FranBalco Giants, where he broke records and figured out how to hit in the postseason. The Pirates have never been the same. Then again, the damage he's done to the sport transcends just Pittsburgh. Can you imagine the man who broke one of baseball's biggest records not being in the Hall of Fame? Impossible. All kidding of Mr. Hustle aside, the Hall will get very close to irrelevancy if the game's respective career home run and hit leaders don't end up in there.
Bottom line: Prepare for congressional hearings if you want this jersey.
4. Neil O'Donnell's Steelers No. 14, black
Fine, so he took the Steelers to Super Bowl XXX. But -- to paraphrase the words of Coach Tomlin in the moments after the AFC title game versus the Ravens -- the Steelers don't play just to reach the Super Bowl. O'Donnell's two picks boosted Dallas corner Larry Brown's bank account by millions while simultaneously breaking millions of hearts back in the Burgh. And did he make it up to the Steelers by coming back the following season to finish the job he started? No, he took care of himself by running off to the Meadowlands. How'd that go for ya, Superstar?
If you own this jersey, may you be forced to live in New Jersey, where you will be allowed to watch only the New Jersey Devils (whose garbage, skill-less brand of puck is the main reason the NHL is still in dire straits). Spare me the information that the Pens are playing the zone trap. A cruel, cruel irony. Speaking of the Pens …
5. Marian Hossa's Penguins No. 18, black
The price seemed steep when the Pens pulled the trigger on the trade-deadline deal that brought in Hossa, a world-class winger who could take advantage of Kid Crosby's playmaking ability. Unlike other creeps who at least got more loot by ditching Pittsburgh for other locales, Hossa actually turned down a better deal from GM Ray Shero to chase a Cup with the Wings, a decision that might haunt Kid, Geno and (hopefully) Hossa himself for years to come.
A 10-minute unsportsfanlike conduct penalty if you wear this sweater.
6. Kordell Stewart's Steelers No. 10, black
Sure, he had his positive moments -- let's not forget the trail he blazed as "Slash" -- but he will be best remembered (at least among things we can confirm) for his twin choke jobs in AFC title games. Three terribly timed interceptions versus Denver in the '97 championship, then three more awful picks versus the upstart Patriots in the '01 championship (although, to be fair, the New England defensive backs might have had a little advantage thanks to some pregame video in that one).
I won't repeat the rumors I've heard about what happens to Steelers fans when they wear this jersey.
7. Tim Worley's Steelers No. 38, white
This first-round draft pick separated himself from the rest of the Steelers' draft busts (you got off lucky, Huey Richardson, Jamain Stephens and Aaron Jones) by making a critical fumble in the second half of a 1990 playoff game in Denver, wasting Merril Hoge's 120-yard effort and a potentially huge upset that would've sent head coach Chuck Noll's fellas to Cleveland with the AFC title on the line. And of course, let's not forget he got arrested and tasered by Georgia police in 2008.
Your soul needs tasering if you even think about donning his shirt.
Dave Dameshek is the host of "Dameshek on Demand" daily podcast, available on Page 2, L.A.'s 710ESPN.com and Pittsburgh's 1250ESPN.com. You can e-mail him at dave@710espn.com.
SUPER BOWL XLIII
In one of the best Super Bowls ever, the Steelers blew a 13-point lead before they delivered their own comeback to beat Arizona, 27-23. Super Central
Super Bowl results | MVPs
Photos: Game action | Halftime show


GAME COVERAGE
SB WEEK COLUMNS/FEATURES
CARDINALS SB WEEK COVERAGE
STEELERS SB WEEK COVERAGE
ESPN Top Headlines