We took care of Pittsburgh last week, and now, it's time to unveil the definitive list of jerseys for the diehard L.A. sports fan to wear (or not wear) on Victory Boulevard, Sixth Street, the South Bay, the Valley, the East Side, the West Side, the beach and whatever other locations Randy Newman mentioned in his song.
PODCAST
Dave and ESPN Radio's 710 ESPN's A. Martinez discuss the best and worst jerseys for L.A. fans to be seen wearing.

• Podcast

Don't forget to check out the best/worst jerseys for Pittsburgh sports fans.
One caveat, though: You will not find any Halos, Ducks or post-1979 Rams here. In spite of what the late Georgia Frontiere and Arte Moreno might have you believe, Anaheim is not Los Angeles. It's roughly 60 miles away. Even in the urban sprawl of L.A., that's just too far.
Before we begin, remember: This is not simply a ranking of L.A.'s greatest legends, although the player's on-field deeds did figure prominently into the calculation. Other considerations include: the aesthetic quality of the uniform's color scheme and individual number choice; the era the jersey evokes for local fans; and -- maybe most importantly -- how that player's style, attitude and success personify the history of L.A. sports. In other words, decisions were dictated as much by the heart and gut as the brain.
The Best Player Jerseys For A Los Angeles Sports Fan To Own
1. Magic Johnson's Purple Lakers #32
His reésumeé: one of sports' most universally beloved players (except among sports fans in New England and southern Indiana, of course); the leader of the best 1980s Lakers, who rank among the very best teams in NBA history; and without question the greatest point guard ever. From a fashion perspective, the jersey gets big points for the way the numbers are raised, giving them a three-dimensional quality. Why the purple jersey? Because it's the one Magic wore on the Spectrum floor the day he filled in for Kareem Abdul-Jabbar, claiming the Finals MVP award and the first title of the Showtme era. In '85, Magic wore the purple as he helped the Lakers become the first visiting team to clinch a title in Boston Garden, and in '87, he wore it when he hit the "junior sky hook" in Game 4 of the Finals versus Larry Bird & Co.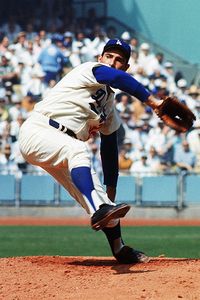 Herb Scharfman/Sports Imagery/Getty Images
When it comes to L.A. cool, it doesn't get better than Sandy Koufax.
2. Sandy Koufax's White Dodgers #32
That's right, another No. 32 (I know what you're thinking, but no, that Heisman winner from USC isn't going to make the list for a 32 hat trick). Sure, Koufax started his career in Brooklyn, but he didn't become baseball's most dominant starting pitcher until the move to Chavez Ravine. Need more convincing? The man won a National League MVP, three Cy Youngs and two World Series MVPs, and was an All-Star in each season between 1961 and 1966. Style-wise, there's just no better uniform in big league ball than those crisp home whites trimmed in Dodger blue, with the red 32 making the whole thing sing. Most importantly, in a time when the NFL had yet to fully hit its stride, Koufax was the best player on the iconic team that opened the gateway to the West for professional sports.
3. Lew Alcindor's Blue UCLA Bruins #33
The cornerstone of three crowns in coach John Wooden's title-winning factory, the future Kareem of the NBA low-post crop won the Final Four's most outstanding player award in each of his seasons (1967-69). The Bruins' baby-blue-and-gold is one of the best combinations is college sports, and the 33 is always a good choice, especially with "ALCINDOR" stitched above it. This jersey is a classic, honoring Wooden's dynasty while also marking a short period in a legendary athlete's career.
4. Reggie Bush's Cardinal-And-Gold USC Trojans #5
I know, I know ... this one is definitely the most debatable on the list. But consider two things: 1. There has to be a Trojan somewhere here; and 2. O.J. Simpson's post-football career isn't exactly a point of pride (except for his Oscar-worthy turn as Nordberg in the "Naked Gun" movies). So where to go? Tough to argue with Marcus Allen, Charles White, Frank Gifford, Ronnie Lott, Anthony Davis, Mike Garrett, Lynn Swann, Carson Palmer, Anthony Munoz, Troy Polamalu, Matt Leinart ... point is, there are a lot of options. But considering the Pete Carroll era is the most dominant in the modern era, let's go with Carroll's most dynamic player. Before sending your angry e-mails saying, "But Dave, he started only 13 games!", let me remind you he played enough to win two national championships and a Heisman, and have a legendary play named after him ("The Bush Push"). On top of all that, he was a running back who wore No. 5. Combined with the retro/new look of those Trojans jerseys, it just can't get much cooler.
5. Wayne Gretzky's White Kings #99
While I don't share the commonly held belief that Gretzky is the best ever (get in line behind Mario Lemieux and Bobby Orr, Wayne), there's no denying he pulled off the impossible by making hockey relevant in L.A. His arrival also brought a switch from the garish gold and purple Lakers knockoffs to the cleaner, meaner, silver and black Raiders knockoffs. We go with the white sweater (hockey sweaters with the captain's C are always extra-cool) because it's the one Gretzky was wearing when so many Angelenos went to the Forum to watch their first NHL game. Just do yourself a favor and avoid accidentally picking up this one.
6. Jack Youngblood's White Rams #85
It might shock the young reader to learn that L.A. used to have an NFL football team. Matter of fact, it was one of the league's most storied franchises, with stars like Crazy Legs Hirsch, Bob Waterfield and the Fearsome Foursome (speaking of which, a strong case could be made for the blue and white No. 75 of Deacon Jones). We've opted, though, for Youngblood, the Hall of Famer who played Super Bowl XIV with a broken leg. It just don't get no badder. From a sartorial standpoint, the bright gold and royal blue Rams jersey (which inexplicably has been replaced in St. Louis by uniforms that seem stolen from Notre Dame's locker room) is dynamite, as is a defensive end who sports 85. Why no mention of Eric Dickerson? Because, as we've already pointed out, ED did his running in the O.C.
7. Fernando Valenzuela's White Dodgers #34
If Koufax and his contemporaries were responsible for legitimizing L.A. as a major league sports town, Valenzuela deserves credit for further expanding the Dodgers' fan base. When the paunchy, screwball-throwing lefty from Mexico exploded onto the scene in 1981, the burgeoning Latino population in Southern California found a hero they could embrace (assuming they could get their arms around that belly of his). Suddenly Chavez Ravine was no longer populated by a gentrified crowd; instead, it reflected -- and continues to reflect -- the multicultural mecca that L.A. is. And besides, the man rolled his eyeballs into his forehead before every pitch and still was loveable. Ask Linda Blair how tough a trick that is.
Best of the Rest:
• Jerry West's Lakers #44
• Elgin Baylor's Lakers #22
• Bill Walton's UCLA #32
• Deacon Jones' Rams #75
• Kirk Gibson's Dodgers #23
• Any member of the Showtime Lakers (esp. James Worthy's #42)
• Don Drysdale's Dodgers #55
• Orel Hersisher's Dodgers #55
• Tommy Lasorda's Dodgers #2
• Mike Piazza's Dodgers #31
• Ron Cey's Dodgers #10
• The aforementioned USC players
• The Kings' "Triple Crown Line" -- Marcel Dionne's #16, Charlie Simmer's #11, Dave Taylor's #18
• Bo Jackson's Raiders #34
• Howie Long's Raiders #75
• Troy Aikman's UCLA #8
• Kenny Easley's UCLA #5
• Jackie Robinson's #42 (Dodgers and/or UCLA)
Where, you might ask, is Steve Garvey's No. 6? Rest assured, we're getting to him ...
---
The Worst Player Jerseys For A Los Angeles Sports Fan To Own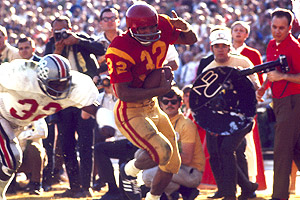 George Long/WireImage
Under no circumstances should anyone (even if it's free) don a Simpson jersey.
1. O.J. Simpson's Cardinal-And-Gold USC Trojans #32
Unless you've been indisposed for the past 15 years searching for the culprits of a double homicide in Brentwood, you shouldn't need any further detail on this one.
2. Al Davis' White Raiders Track Jacket
Instead of going with Marc Wilson, Todd Marinovich, Jay Schroeder or any of the other lousy signal-callers from the Raiders' years in L.A., we've decided instead to focus on the man responsible for emotionally abusing an entire generation of Southern California football fans. Back in the early '80s, Davis' Raiders played the role of the husband who, while going through marital discord with a wife named Oakland, turned his wandering eye to a sexy, tan blonde known as Los Angeles. But after 13 years of loyal support from said mistress, that husband went running back to his (less attractive) wife when it was convenient for him. Shame on you, Al Davis -- and shame on anyone who'd choose to dress like him.
3. Elton Brand's Red Clippers #42
What, you thought we had forgotten Donald Sterling's fellas? When the words "Los Angeles" and "worst" are involved, it's a given that the Clippers are somewhere nearby. The selection of Brand might seem ironic, given that he's arguably the best player to ever wear the red jersey of the perennial NBA punchline. But in the summer of '08, after opting out of his contract to reportedly create cap room so the team could bring in some more talent, Brand suddenly and shockingly ditched the J.V. locker room in Staples Center in favor of moving to Philly. His supposed pal Baron Davis, not to mention the dozens of Clippers fans in L.A., are still scratching their heads.
By the way, Mike Olowakandi and Keith Closs, you and a lot of other Clips got off real easy here.
4. Tom Niedenfuer's Gray Dodgers #49
Two Dodgers pitchers among the seven best jerseys, but now the generally vaunted staff distinguishes itself by providing stiff competition for the worst. How 'bout Kevin Brown, who took $100 million from the Dodgers in exchange for one good season and multiple accusations against him for steroid use? Or maybe the late Steve Howe, who was on the mound to close out the '81 World Series against the Yankees, then got suspended by the league seven times, then finished his career with the hated Yanks? Worthy candidates, but let's go with Niedenfuer, who caused more visceral pain to Dodgers fans with two pitches thrown two days apart in October '85. In the NL Championship Series, he gave up the Game 5-winning home run to Ozzie Smith, a guy who had never hit a major league home run from the left side of the plate. Then in Game 6, with the Dodgers up a run in the ninth, he gave up a three-run bomb to Jack Clark. Dodgers go home, Cardinals get acquainted with Don Denkinger.
Side note: In 2009, about 95 percent of professional athletes are ripped like cartoon characters. Superhero-sized chests, and forearms like one of Pete Johnson's thighs. Even kickers and punters are starting to look like would-be Lou Ferrignos. Then there's the group of wiry guys like Pedro Martinez, Andre Kirilenko, (pre-"cream and clear" era Barry Bonds), etc., who comprise about 3 percent of the pro ranks. The last 2 percent are really fat guys who play nose tackle, do some designaed hitting, use their fouls in the low post or win two golf majors. What I miss is the Tom Niedenfuer/Bob Stanley body type, embodied in the real world by everyone's mustachioed, chinless, pear-shaped seventh-grade math teacher.
6. Karim Abdul-Jabbar's Blue UCLA Bruins #33
Before you go crazy, take a look at the spelling. We're not talking about UCLA basketball's Kareem; we're talking about UCLA football's Karim. During his time running the ball for the Bruins in the mid-'90s, the former Sharmon Shah decided to change his name. No trouble there, especially in the largely liberal state of California, where such religious expression is embraced. Problem was, he chose nearly the same name as his school's most famous athletic alum ... and stole his number to boot! I thought identity theft was a crime. Unfortunately for Karim, his football skills weren't quite on par with Kareem's basketball abilities. (You gotta admit, though, those powder blue jerseys are spectacular.)
7. Steve Garvey's White Dodgers #6
Oh, I can almost hear the clickity-click of Dodgers fans typing me their angry missives now. I understand what he meant to a generation of Angelenos (like 710 ESPN's A. Martinez, who made his case against this choice on the podcast), but hold on. Behold Garvey's vacated jersey ... symbolic after he left the Ravine behind for browner pastures about two hours south of Dodger Stadium. Yeah, he was the best bat for those Dodgers teams that collected all those division flags and NL pennants, but that's what made his departure even more hurtful. And sure, he decided to move on because he didn't like that the Dodgers were doing their best to develop his replacement, Greg Brock, but wasn't that their responsibility? His well-documented unfaithfulness to his cornucopia of ladyfriends is his own business; but when that disloyalty spread to the Dodgers, he guaranteed his presence on this list.
Worst of the Rest:
• Cedric Ceballos' Lakers #23
• Dennis Rodman's Lakers #73
• Michael Olowakandi's Clippers #34
• Steve Howe's Dodgers #57
• Eric Davis' Dodgers #33
• Darryl Strawberry's Dodgers #44
You're up next, Boston. Get your nominations in now!
Dave Dameshek is the host of the "Dameshek on Demand" daily podcast, available on Page 2, L.A.'s 710ESPN.com and Pittsburgh's 1250ESPN.com. You can e-mail him at dave@710espn.com.