We started in Pittsburgh, then hit L.A. and Boston, and now we move on to Chicago, maybe the easiest city in America to find a good time, and the home of some of the world's most loyal sports fans. For such a tough town, its citizens certainly have a soft spot for their teams, who individually and collectively have been known to go through longer cold snaps than the town's infamously miserable winters. I suppose if one can survive not seeing the sun for six months enduring a little losing is a piece of cake. Then again, speaking as someone who enjoyed living there for the better part of a decade, I can attest that getting through winter isn't all that difficult thanks to the town's countless great neighborhood bars. (Thanks, Gingerman Tavern, Sheffield's, Duke of Perth, etc.)
PODCAST
ESPN 1000's Marc Silverman joins Dave to discuss the best and worst jerseys for a Chicago fan to wear.

• Podcast
One thing that's got to be addressed at the outset: All of Chicago rallies behind the Bears, and, to a lesser extent, the Bulls and Blackhawks; but it's a town divided, physically and otherwise, when it comes to baseball. The White Sox rule the South Side, and the Cubs belong to the North Side, and those battle lines are seldom crossed. We'll therefore be offering jerseys that are Sox- and Cubs-specific.
Our expert panel for this list includes Marc Silverman of ESPN 1000's "Waddle & Silvy Show" (be a dear and check out Silvy and me yapping about this subject on the attached podcast); four of my born-and-bred Chicago pals: Todd Spaletto, Bob Michael, Tony "Meatball" Mrozcek and Jonny Charak; and, of course, the hundreds of you who e-mailed me your thoughts.
Before we begin, remember: This is not simply a ranking of the Windy City's greatest legends, although the player's on-field deeds figure prominently into the calculation. Other considerations include the aesthetic quality of the uniform's color scheme and individual number choice; the era the jersey evokes for local fans; and -- maybe most importantly -- how that player's style, attitude and success personify the history of Chicago sports. In other words, decisions were dictated as much by the heart and gut as the brain.
With that in mind, let's get going …
The Best Jersey For A Chicago Sports Fan To Wear
1. Walter Payton's white Bears No. 34
You might be surprised to not see the name Michael Jordan at the top of this list, but remember: Chicago is a Bears town first. Even when they stink. And make no mistake, they've stunk plenty over the years. Did you know that the Bears didn't even make the playoffs once during Dick Butkus' entire career? Speaking of Butkus, we came very close to going with his navy No. 51 at the top, just as we strongly considered Iron Mike Ditka's No. 89 and Mike Singletary's No. 50. Ultimately, though, we opted for Sweetness, who was delighting Soldier Field ticket holders with his weekly one-man Punt, Pass and Kick exhibition long before the franchise finally figured out how to surround him with enough talent to give long-suffering Bears fans a Super Bowl victory. Why the white jersey? Because Sweetness just looked right with some hard-earned muck and grime on his No. 34, something Soldier Field's old Astroturf couldn't provide.
2. Michael Jordan's Bulls warm-up jacket
On one hand, it'd be way too easy, and therefore lame, to put Michael Jordan near the top. On the other hand, he's Michael Jordan. Let's not over-think things. We're students of sports history, so we'll put him at No. 2, the spot at which he should've been drafted in 1984 by the Portland TrailBowies. A little wrinkle, though: Instead of going with the No. 23 tank top, which doesn't exactly look great on most mortals, give a tip of the hat to those who were on the bandwagon early (before Chicagoans had to share MJ with the rest of the universe), and get yourself the retro warm-up jacket Michael wore during his first couple years in the league.
By the by, while Jordan's No. 23 is one of the most iconic numbers in sports history, you can hardly go wrong with any Chicago player's No. 23. Cubs fans have Ryne Sandberg, Sox fans have Robin Ventura and Jermaine Dye and Bears fans have Devin Hester. An embarrassment of riches, to say the least.
3. (South Side version) Ozzie Guillen's gray White Sox No. 13
For most of the past quarter-century, Guillen's been wearing that No. 13 for the Sox, first as one of the slickest, most dynamic shortstops in the American League from 1985 to 1997. He could have won more than just one Gold Glove, but he got a little unlucky playing in the same era as Cal Ripken Jr. and Omar Vizquel. His number hasn't jinxed things as the team's skipper, though; he pulled the impossible by bringing a World Series crown to Chicago, disgusting everyone still waiting up on the North Side in the process. Speaking of that '05 championship, we went with the gray Sox jersey because it's the one Ozzie and his team were wearing when they broke the drought in Houston. Another point in Guillen's favor is that his Sox affiliation has been passed down to the next generation; one of his sons does the team's play-by-play on Spanish-language radio, and another plays second base for the organization's AAA affiliate.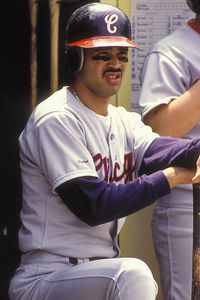 Mitchell Layton/Getty Images
Ozzie Guillen has worn that gray No. 13 for a long, long time.
As for the other candidates we considered, the aforementioned Rockin' Robin Ventura is atop the list. He was fantastic defensively at the hot corner, one of the better slugging third basemen in history and infinitely more likable than teammate Frank Thomas. Problem is, his greatest moment -- the game-winning "grand slam single" in the 15th inning of Game 5 of the 1999 NLCS -- happened in a Mets uniform. He also gave Chicago a figurative black eye when a senior citizen named Nolan Ryan gave him a literal black eye after Ventura charged the mound. Getting beaten up by an old man is just plain embarrassing.
You've also got a couple of catchers who are good options: Carlton Fisk and his Red Sox No. 27 reversed to No. 72, and A.J. Pierzynski's No. 12, if only because anyone so universally disliked outside a five-block radius of Comiskey must be doing something right for his team.
Back to Guillen, though. It might be an unpopular opinion in these overly sensitive, self-righteous, puritanical times in which we live, but kudos to Ozzie for never hesitating to speak his mind, no matter how offensive and/or loopy he might come off. He has verbally assaulted his former players, his current players, umpires and the media. At the end of the day, though, in a town as hard-boiled as Chicago, a few naughty words aren't gonna hurt anybody.
3. (North Side version) Shawon Dunston's pinstriped Cubs No. 12
I know, I know … what about "Mr. Cub" Ernie Banks, the greatest Cubbie of all time? Or maybe Ryne Sandberg, the best player on two division winners in the 1980s? Or how 'bout Ron Santo, who followed up his heel-clickin', Gold Glove-winning career by taking over as the beloved analyst on the Cubs' radio broadcasts, an ongoing stint that couldn't even be derailed by the amputation of both his legs? All are worthy choices, and thumbs up for Kerry Wood, Mark Grace and Billy Williams, too. But c'mon, how cool was Shawon Dunston? Even though he was drafted the same year as Dwight Gooden, a lot of people will tell you Dunston was the hardest thrower of that class. And it didn't make a difference if it was Vince Coleman or Sid Bream trying to beat the throw, Dunston would always sling it with everything he had over to (and sometimes past) the first baseman. That was just how he played: leaping and lunging all over the place, swinging at anything within 10 feet of the plate, always busting down the line even on routine groundouts, and he did it all in those marvelous flip shades. Besides, Dunston gives this list a nice symmetry, going with the guy who played shortstop in Wrigley at the same time Guillen was doing his thing on the South Side.
4. Al Secord's red Blackhawks No. 20
What Chicago Stadium regular couldn't love a guy like Secord? Bobby Hull might have outscored him (although not by much; Hull scored 58 goals in his best season with the Hawks, while Secord's best total was 54), Bob Probert might have outslugged him (although it'd be close; Secord was known to knock out other teams' goons with a single punch), but no Hawk consistently combined the dead-eye marksmanship of a sniper and the fists of a heavyweight champ the way the left winger on "The Party Line" could. Secord also gets bonus points from the old-school crowd for not following the vast majority of his peers who made the probably-wise-but-still-sissified choice to wear a helmet.
Besides Secord's individual deeds, the red sweater ranks highly no matter who puts it on; it's gotta be one of the top five jerseys in all of sports. And while we're talking about the Hawks' aesthetic quality, special recognition goes to Murray Bannerman, who played between the pipes for about a decade in Chicago. Tony O was the better netminder, but not many guys have had better goalie masks than Bannerman. Cool, but vaguely spooky. Jason from "Friday the 13th" would have been scarier if his mask had been painted like this, right?
5. Harry Caray's beer-soaked golf shirt
Whether their baseball preferences take them south on the El's red line to Comiskey or north to the Addison stop next to Wrigley Field, one thing Chicago hardball fans can agree on is Harry Caray. He first wooed Sox fans from the broadcast booth (not to mention the occasional in-game visit to the bleachers) with Jimmy Piersall in the 1970s, then was the main reason the Cubs developed a national fan base when he moved north in the '80s to call the games on WGN. Most importantly, he personified Chicago's hard-to-beat summertime recipe for fun: beer, baseball, beer, shamelessly lousy singing and beer. And beer.
6. Mark Aguirre's white DePaul No. 24
Maybe Chicago native Aguirre and his Blue Demons pals are on our minds just because it's March, but those teams were dynamite … at least until the tournament started. They followed up a Final Four trip in Aguirre's freshman season with two straight first-round losses. Still, that era of DePaul hoops is significant, because it marks the last time there was really good college basketball being played in Chicago (aside from the times when Big Ten powerhouses come to town to destroy Northwestern). How is it possible that a town which has produced great college ballers like Isiah, D-Wade and Antoine Walker (along with straight-to-the-NBA Kevin Garnett) has not had a consistently good college program in the past three decades? It makes no sense. Maybe you'll start a movement back to the days when college hoops mattered if you start wearing the Aguirre jersey, and you'll look good doing it. Gotta love those untucked jerseys with the horizontal red, white and blue stripes up the sides.
Marc Silverman of ESPN 1000's pick: Bill Buckner's powder blue Cubs No. 22
Forget about Mookie, Bob Stanley and Rich Gedman. Before Red Sox Nation vilified him (wrongly, as we detailed in our Boston jersey list), Billy Buck was a popular contact-hitting machine for the Cubbies. Think Mark Grace, only with high-top cleats and a Civil War re-enactor's mustache. If you click on no other link in this column, be sure to take a look at the pic linked above. How 'bout that jersey? Out on the diamond, it frankly looked kinda silly, almost like he was playing in his pajamas. But look again. Stare at it. Drink it in. Let that baby blue wash over you. If it's still not for you, so be it, but at least it's better than the infamous shorts and Dirk Diggler jersey the '76 Sox wore.
For the fan with a time-traveling DeLorean that can take him back in time to the 1990s: Sammy Sosa's pinstriped Cubs No. 21
Here in 2009, we know that Sosa got busted for old-school cheating (corking his bat) and can't shake the allegations that he did some new-school cheating (steroids), too. There was also his less-than-amicable final season in the Friendly Confines in 2004; Sammy twice left the stadium during games that year: once to beat traffic, the other time because he wasn't in the starting lineup.
So why choose him at all, then? First off, because he's the symbol of the Cubs getting one over on the Sox, who shipped Sammy a little less than 10 miles north just before he hit his stride in exchange for the over-the-hill George Bell. Secondly, I admit to being guilty of bias; I didn't get to see Banks, Santo or Williams with my own eyes, but I did watch Sammy when he was hitting bomb after bomb through most of the '90s. Before writing this, I counted 38 ticket stubs from the glorious '98 season alone, including one from the epic Aug. 19 extra-inning game against the Cards when Sosa took the season home-run lead with his 48th in the fifth inning, only to lose it when McGwire hit his 48th and 49th to reclaim the lead (and win the game, to boot). I know the validity of that thrilling summer is now in question, but I was long gone from Chicago before the talk of "juicing" started. I guess I'm kinda like a guy who got to hang out in the grotto at the Playboy Mansion all night but left just before daylight; in other words, I had lots of fun but didn't have to worry about looking at the disgusting mess left behind.
Even if someday we find out that he was no stranger to syringes during his glory days, even with all the other negative stuff we've already gone over, I'm still overwhelmed by how much fun Sammy made it for those of us sitting out in the bleachers. He'd sprint from the dugout to his spot in right field, hand cupped to his ear to hear the cheers from the fans. In between pitches, he'd turn to the crowd and blow kisses. It was just plain swell. Maybe the discussion Jules and Vincent have in the diner at the end of "Pulp Fiction" best illustrates where I'm coming from. Vincent says, "If a pig had a better personality, he would cease to be a filthy animal." To which Jules replies, "Well, we'd have to be talking about one charming (blankety-blank) pig." Maybe Sosa was as big a pig as Clemens, Bonds and A-Rod, but you know what? He was one charming (blankety-blank) pig.
For the fan with a time-traveling DeLorean that can take him ahead to 2015: Derrick Rose's red Bulls No. 1
He's probably the most talented and definitely the most electric player to pull on the red-and-black Bulls jersey since Michael pulled his off after hitting that title-winning jumper in Utah. You also can't go wrong with either of the Hawks' dynamic duo: captain Jonathan Toews' No. 19 and Patrick Kane's No. 88.
For the fan of that other kind of football: Karl-Heinz Granitza's Sting No. 12
His Chicago Sting won two NASL championships when people kinda sorta cared about soccer in the States, and during a time when championships were unheard of in Chicago.
Best of the Rest
Any member of the '85 Bears
Any member of the Bulls' '90s dynasty teams (yeah, even Will Perdue)
Any member of the '05 White Sox (just avoid wearing it north of Monroe Street)
Erik Kramer's No. 12
Dick Butkus' No. 51
Mike Ditka's No. 89
Mike Brown's No. 30
Neal Anderson's No. 35
Brian Urlacher's No. 54
Ernie Banks' No. 14
Billy Williams' No. 26
Ron Cey's No. 11
Mark Grace's No. 17
Greg Maddux's No. 31
Kerry Woods' No. 34
Carlos Zambrano's No. 38
Rod Beck's No. 47
Harold Baines' No. 3
Bo Jackson's No. 8
Carlos Quentin's No. 20
Robin Ventura's No. 23
Jermaine Dye's No. 23
Carlton Fisk's No. 72
Orlando Woolridge's No. 0
Norm Van Lier's No. 10
Jeremy Roenick's No. 27
Denis Savard's No. 18
Doug Wilson's No. 24
Dirk Graham's No. 33
Tony Esposito's No. 35
The Worst Jersey For A Chicago Sports Fan To Wear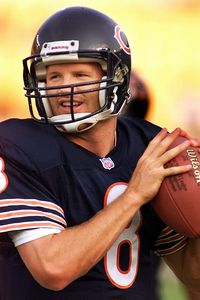 AP Photo/Ted S. Warren
Cover your eyes, Bears fans! It's Cade McNown!
1. Cade McNown's navy Bears No. 8
You know how I mentioned you can't go wrong wearing just about any Chicago athlete's No. 23? Well, that's how the No. 8 works with the Bears, only in a Bizarro World kind of way. In other words, no matter whose name is on the back, No. 8 is a no-no. Vince Evans wore it for six seasons, none of which included him throwing as many touchdowns as interceptions. Rex Grossman disgusted Bears fans for the majority of his half-dozen seasons in Chicago in spite of that 2006 run to the Super Bowl; his jersey number on the orange abomination the Bears have been known to wear in recent years is particularly nauseating. But the gold standard for atrocities committed against Bear-kind by a player in the not-so-great No. 8 is McNown, upon whom Chicago wasted the 12th-overall draft pick in 1999. As abysmal as he was on the field, he behaved himself even worse off of it. Infamous for his petulant behavior in the locker room, he also couldn't behave himself when it came to women, especially ones who like to take off their clothes in front of a camera. First, he stole fellow first-round QB bust Tim Couch's Playmate girlfriend; then, he committed a cardinal sin by stealing Hugh Hefner's Playmate of the Year ladyfriend. After all Hef's done for mankind? Have you no honor, sir?
It's worth noting that we could easily fill the next two or three dozen spots on this list with nothing but Bears quarterbacks. You know your team's in trouble when Kyle Orton is considered an upgrade. Really, though, how is it possible that an NFL team that's been around as long as the Bears has such an atrocious legacy when it comes to signal-callers? Jim McMahon was very good for a short amount of time, but the fact he's the best QB in franchise history is scary. Egad, this ain't the Houston Texans were talking about; the Bears have been around since the last time this country was in a economic depression.
2. (Tie) Michael Jordan's black Bulls No. 45 | Michael Jordan's black Birmingham Barons No. 45
Bulls fans might not want to acknowledge it, but Michael Jordan's decision to turn the White Sox organization into his own personal big league fantasy camp ranks on the all-time list of bad decisions by professional athletes, somewhere between Terry Bradshaw's country music album and A-Rod's mirror makeout session. And so it was with great relief and joy that Chicago embraced Jordan abandoning his attempt to be the next Bo Jackson in favor of just being "Like Mike." Except that without that No. 23 on his back, he simply wasn't himself. He had a few stellar moments, sure, but his Bulls got dumped in the playoffs by the Magic, the lowlight of that series being when MJ got stripped at the end of Game 1 by Nick Anderson. That's right, Nick Anderson. The only thing more embarrassing than that would be batting .202 in the minors.
3. Alex Gonzalez's white Cubs No. 8
Shame on Moises Alou for perpetuating the myth that Steve Bartman was responsible for what went down in Game 6 of the 2003 NLCS. Yeah, maybe Alou would have caught that foul ball, but if you looked up and saw a baseball rapidly falling from the sky in the general direction of your face, wouldn't you put your hands out to catch it? Even Alou knows he was wrong to drop the whole mess in Bartman's lap. Just last year, he said about the play, "You know what the funny thing is? I wouldn't have caught it, anyway." Yeah, that is funny, Moises. I'm sure Bartman's laughing hysterically as he continues his self-imposed exile in a cave somewhere in the Pashtun region of Afghanistan. Either way, the ump didn't call fan interference. The scoring official, on the other hand, did judge Alex Gonzalez's boot of a routine, potentially inning-ending double play an error. If the usually reliable Gonzalez had turned that DP, the Cubs would have gotten out of the inning with a two-run lead and Bartman would be free to pay a visit to Wrigley. Hopefully, though, he'd have enough sense not to sit in the front row.
Before we move on, we'd be remiss if we didn't mention Leon Durham's ill-timed impression of a croquet hoop in the seventh inning of the decisive Game 5 in the 1984 NLCS against the Padres. For all the lore surrounding Steve Garvey's game-winning home run in the previous game, Durham is the main reason Cubs fans didn't get to watch their team play the Tigers in the World Series. In other words, you won't make many pals wearing a Durham No. 10 around Wrigley, either.
4. Jerry Krause's 52" short blazer
He wasn't a player, but no one this side of Jordan had a bigger impact on the Bulls' dynasty … or more accurately, the untimely, unnecessary destruction of that dynasty. It's amazing, really, that this guy's ego seems to be the main reason for the Bulls breaking up at least one or two titles too early. Sorry to dredge up the bad memories, Chicago fans. But in 1997, after the team had won its fifth title in seven years, Krause had a chance to lock up Phil Jackson and Scottie Pippen, thereby keeping Jordan happy and ensuring the juggernaut would keep rolling for the foreseeable future. Instead, Krause chased off Jackson in favor of Tim Floyd, traded Pippen to Houston and watched Jordan retire (again).
While we're talking about execs, dishonorable mention goes to the late Hawks owner Bill Wirtz, who was successful in keeping his team more anonymous than a guy in the witness protection program.
5. Ribbie and Roobarb's White Sox unis (numberless)
As bad as those previously mentioned shorts-and-disco-shirt Sox uniforms of 1976 were, the ones that followed were even worse. Tony La Russa's boys might have won the '83 AL West flag, but they looked more like male cheerleaders in fast-food employee caps than ballplayers. Take a look at this pic of LaMarr Hoyt, who, by the way, barely dodged making this list. Ignore for a moment that he looks like he should be playing guitar for My Morning Jacket and look at that uniform. Hoyt appears to be wearing a doctor's-office eye chart, no? New owners Jerry Reinsdorf and Eddie Einhorn didn't stop at these awful outfits, though; they also imposed Ribbie and Roobarb on the Comiskey fans, who, not surprisingly, responded by heckling the cheeseball duo until they were banished forever in 1988.
6. (Tie) Cedric Benson's Bears No. 32 | Rashaan Salaam's Bears No. 31 | Curtis Enis' Bears No. 39 and No. 44
I guess we could have chosen just one of these guys, but that'd be unfair to the other two. After all, they have so much in common. Each was a first-round draft pick (Salaam was the 21st pick in 1995, Enis the fifth pick in '98 and Benson the fourth in '05); each was injury-prone; each had trouble either abiding by the rules of their sport (Enis didn't get to finish his career with Penn State because of NCAA rules violations) or the laws of our nation (Salaam admitted to smoking weed throughout his time with the Bears; Benson got busted for suspicion of both driving and boating drunk); and, most offensive of all, they all stunk. In fact, they're the reason we held off on putting Matt Forte on the "Best" list in spite of a promising first season. How does that saying go? "Fool me once, shame on you; fool me three times and I don't have any money left to buy another jersey."
Worst of the Rest
Vince Evans' #8 (and his Blitz #11, too)
Rex Grossman's No. 8
Kordell Stewart's No. 10
Henry Burris' No. 10
Rick Mirer's No. 13
Mike Phipps' No. 15
Steve Stenstrom's No. 18
David Terrell's No. 83
Alonzo Spellman's No. 90
George Bell's No. 21
David Wells' No. 33
Moises Alou's No. 18
Mark Prior's No. 22
Ernie Broglio's No. 32
Eddy Curry's No. 2
Joakim Noah's No. 13
Dave Dameshek is the host of the "Dameshek on Demand" daily podcast, available on Page 2, L.A.'s 710ESPN.com and Pittsburgh's 1250ESPN.com. You can e-mail him at dave@710espn.com.