Commentary
Welcome to Manny's Hollywood ending
Updated:
July 2, 2009, 10:21 AM ET
By
Dave Dameshek
| Page 2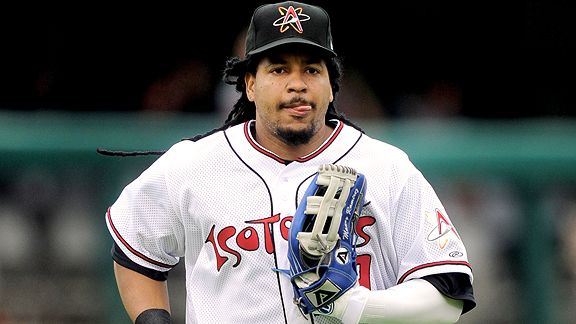 Mark J. Rebilas/US PresswireOnly in Los Angeles can Manny find his Hollywood ending.
Coming this Friday, the summer's most anticipated release! Starring Manny Ramirez as a man yearning for redemption (and fertility)! A sublime combination of human melodrama and thrilling action, enhanced by special effects ("Transformers" may have cornered the market on CGI, but this blockbuster's got hCG!)
The only question, at least among some skeptics, is how this latest Hollywood production will be received by the local audience. Sorry to ruin it, but -- spoiler alert -- this story will have a happy ending. Manny will not only be accepted by Los Angeles sports fans, but embraced, as well. How can I be so sure? Because I've already seen this Hollywood story countless times. L.A. is the land of forgiveness, the place to be if you're looking for atonement.
Let's start with the obvious:
L.A. is where O.J. Simpson and Robert Blake were found innocent.
Where Steve Howe came back from three drug suspensions.
Where Robert Downey Jr. is the one of the most sought-after actors.
Screwed up your marriage?
No problem in L.A. Just pony up half your earnings and go find your next spouse (then repeat as necessary).
See, Hollywood simply won't stand for a negative conclusion, even if something is supposed to have a negative conclusion. Take "The Natural." Bernard Malamud's novel ends with Roy Hobbs striking out, alone and crying about his self-imposed failures; of course, you know the Hollywood adaptation ends with Robert Redford-as-Hobbs rounding the bases a hero, exploding lights raining down on him. In the book, when Hobbs breaks his bat "Wonderboy," it symbolizes the sad end of the player's magical ride; in the Hollywood adaptation, Hobbs simply picks up a new bat and cracks the game winner.
If you blur your eyes, you'll see it's really not that different from Manny's situation; a year ago, he was a spoiled, selfish player who dogged it at the expense of his team. But 4,000 miles, one cap in a lighter shade of blue, and countless forgiving Dodgers fans later, and he became downright Hobbs-ian himself (the Hollywood version, "Natural"-ly). Is there any question, then, that Manny's return from suspension will play like "The Natural 2: Hobbs Reloaded"?
I notice there have been thunderstorms around the country the past several days. Here in L.A., it was sunny and warm. No surprise, of course. With apologies to that great sitcom set in Philadelphia, it really is always sunny in Los Angeles. And maybe it's that blazing sun that washes out the past and blinds its citizens from acknowledging a darker reality.
L.A. is a place that not only doesn't punish rule breakers or the inept (yes, I mean you, L.A. Clippers), but celebrates them. Remember, it's where not one, not two, but seven "Police Academy" movies were made.
Rick Neuheisel was fired amid scandal by both Colorado and Washington ... before taking the head coaching job at UCLA last year. You can't really fault the Bruins' administration: If you can't beat your crosstown rival, join 'em. Back in 2000, USC plucked Pete Carroll out of the NFL coaching unemployment line to resurrect the program. Credit Trojans AD Mike Garrett for consistency in his hiring practices; five years after bringing in Carroll, Garrett took Tim Floyd off the NBA scrap heap to coach his hoopsters. Sure, Floyd has flown the coop as the NCAA focuses in on those "associates" of O.J. Mayo, but few and far between are the Trojans supporters who seem wracked with concern.
Yes, Manny, you needn't worry about being vilified. Ex-cons may be treated like pariahs in other places, but in L.A., they're role models (isn't that right, Paris and Lindsay?).
When the Mets were done with Daryl Strawberry, the Dodgers came calling. When the Bulls, Spurs, Carmen Electra and the rest of the civilized world had tired of Dennis Rodman's act, the Lakers were there to give him a stage. If only there were an NFL team in L.A., you can bet there'd be a battle under way at the quarterback position between Mike Vick and Ryan Leaf ...
... but of course, there isn't an NFL team in L.A. No matter to Angelenos, though. While it's impossible to imagine a Sonics fan offering Thunderous applause after a Kevin Durant buzzer-beater, L.A. football fans continue to root for the Rams and Raiders, even though both organizations dumped the town like a cheap floozy many moons ago.
The Rams abandoned the city 30 years ago and southern California altogether 15 years ago, yet cheers aplenty could still be heard cascading down from the Hollywood Hills when Titans receiver Kevin Dyson got tackled a yard shy of a touchdown to end Super Bowl XXXIV. Where's your dignity, L.A.? Isn't rooting for the St. Louis Rams -- who, as the name suggests, now play in St. Louis -- the equivalent of going to the wedding of a woman who dumped you so you can cheer for her happiness with her new fella?
But that doesn't compare with the Raiders. When the marriage of Al Davis and his wife named Oakland got rocky in the early '80s, the managing general partner turned his gaze to that foxy, tanned blonde called Los Angeles. For 13 years, the Raiders and L.A. hooked up for what amounted to an extended extramarital affair, but things ultimately wound up as they so often do in these cases, with the Raiders running back up to the ol' ball-and-chain in northern California. The unusual part of it is, the mistress doesn't seem to realize she's been dumped; matter of fact, she's still in love with with the scoundrel. It's all enough to make one of the town's countless transplants shout, "Move on, L.A.! He doesn't love you anymore!"
Bottom line, like so many others before him, for better or worse, Manny will be just fine. He's in the ideal place to redeem himself, after all. Whereas Chicago confines its friendliness to Wrigley Field (thanks in part to booze, if Ozzie Guillen is to be believed), all of Los Angeles is a sprawling mecca of mercy for those looking to redefine, renew or otherwise be forgiven for their sins.
And besides, how much can Manny be condemned in a state where the governor juiced?
Dave Dameshek is host of the "Dameshek on Demand" daily podcast, available on Page 2, L.A.'s 710ESPN.com. You can also follow his hooey and applesauce on Twitter at Dameshek and e-mail him at dave@710espn.com.