Commentary
Here are six ways to improve the NFL
Originally Published:
August 26, 2009
By
Dave Dameshek
| Special to Page 2
Have you heard they're remaking "Red Dawn"?
Outrageous. In case you haven't seen the 1984 Cold War original (and if you haven't, shame on you), it featured Patrick Swayze, some heartless Soviet soldiers and a scene-stealing Powers Boothe. Why mess with perfection?
I guess I shouldn't be surprised. Hollywood seems obsessed with trying to fix movies that weren't broken in the first place. "Psycho." "The Bad News Bears." "The Longest Yard." At this rate, we'll have "The Godfather Reloaded" starring Russell Crowe as Vito Corleone in time for Christmas of 2011.
You know what the worst part is? After a decade of living in Los Angeles, I'm starting to think like the moviemakers. Why else would I presume to try to fix the NFL, already the most popular sport in the United States?
A.J. Trapasso, that's why.
Yep -- the Titans' backup punter who nailed the JumboTron in Cowboys Stadium a few nights back.
If we've learned anything from that fiasco (aside from the fact that even Jerry Jones' colossal new stadium can't contain his hubris), it's that there's still room for improvement in the NFL.
So with a tip of the hat to Trapasso, here are six suggested fixes, all of which I hope and trust commissioner Roger Goodell will implement before another JumboTron is victimized by a ball bearing the commissioner's name.
1. The Pro Bowl is a meaningless game, and moving it from the week after the Super Bowl to the week before doesn't change that.
[+] Enlarge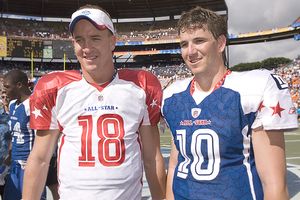 AP Photo/Marco GarciaC'mon, look at those uniforms. The Pro Bowl has got to go.
Sure, you'll probably watch a little more of it. But it's still a meaningless game. The players don't care about it. Matter of fact, they actively avoid it. And they should. Residents up on Mount Pious might get bent out of shape about how this proves the NFL has too many divas, but I wouldn't play in an irrelevant exhibition and risk millions of dollars when it seems as though every game these days produces at least one serious knee injury.
If the NFL is serious about giving the fans something to tide them over during those miserably long two weeks between the conference championship games and the Super Bowl, how 'bout this instead: have the league's two worst teams go head-to-head, with the winner getting the first pick in the next draft.
You could play it on some grassless, muddy field at a rundown junior high. Sure, there'd be more turnovers than points scored, but so what? It'd be a real game, with something actually important on the line. Don't you think the players on both sides would be fired up to try to improve their team, not to mention dodging being tagged as the league's ultimate punch line? As a fringe benefit, after watching the likes of the Lions and Raiders go at it, you'd have an even greater appreciation for how good the two Super Bowl participants are. You could call it the Loser Bowl. Maybe a weight-loss product could be brought in as a sponsor.
I see zero flaws with this idea.
2. As I've already detailed, L.A. isn't without sin, but enough already. It's time for America's second-biggest market to have an NFL team again.
It doesn't matter if it's the Chargers, the Saints or Pete Carroll's student-athletes pulling a weekend doubleheader. Whatever.
It's only fair. All week long, this town churns out TV shows and movies for the rest of the country's entertainment; a NFL team to root for doesn't seem like too much to ask for in return.
Don't get me wrong, I don't want to misplace the blame for the absence of the NFL in L.A. You and I both know the real culprits are Hollywood celebrities. They should be ashamed of themselves after seeing Miami's celebs band together to get a piece of the Miami Dolphins. C'mon, Tom Hanks, George Clooney and Denzel Washington! If Jimmy Buffett, J-Lo's husband and the lady from Miami Sound Machine can pull it off, so can you.
3. The Dolphins' logo is a classic, so I hate to bring this one up. But what gives with that helmet the dolphin is wearing?
It has an "M" on it. Why isn't the Dolphins' logo on his helmet?
Lemme get this straight. The dolphin in the Miami Dolphins' logo doesn't play for the Miami Dolphins? Apparently he plays for some team that wears an "M" on the side of its helmets. Miami (Ohio), perhaps?
Maybe it's some contractual thing with the dolphin, just as when Michael Jordan covered up the Reebok logo on his Olympic uniform because Nike was his sponsor. That dolphin has the team over a barrel. If the organization puts pressure on him to change his helmet, he could just threaten to take his business elsewhere. Good luck finding another football-playing dolphin, Buffett & Co.
In all seriousness, this is a shame for one of the sport's most storied franchises. The Dolphins may be the only team in league history with an undefeated season, but thanks to that logo, they're far from unblemished.
4. Although most players and fans fret about the "Madden" cover jinx, an equally troubling curse has befallen the league's signal-callers the past few years.
The formula for this little-known and even less understood pox looks like this:
Single-digit-wearing NFL QB + summertime = trouble
[+] Enlarge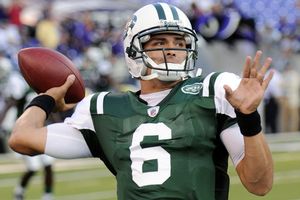 AP Photo/Nick WassHey Mark, you might want to think about changing your number.
It all started back in the summer of 2006 with Ben Roethlisberger. Just months after winning the Super Bowl, Big Ben (No. 7) had that catastrophic motorcycle accident in June, then an emergency appendectomy in early September.
In 2007, Michael Vick (No. 7) got into all sorts of trouble for his dogfighting ring. You may have heard about it.
In the summer of '08, Brett Favre (No. 4) shamed himself and, indirectly, the Packers with his unretirement saga.
That made three summers with three quarterbacks involved in some kind of mess. If you can't see the writing on the wall, you need glasses.
This past spring, I wondered whether it would be Tony Romo, Donovan McNabb, Matt Ryan or some other single-digit-wearing quarterback who'd fall prey to this plague. Who could've guessed it would be a three-way tie among the aforementioned trio of victims? Roethlisberger with the legal stuff, Vick with the generally tough past few months, Favre with a repeat of his silliness from last summer.
What does it all mean going forward? Well, I've learned enough about this curse to know it'd be unwise to make any predictions. What I know is that fellow rookies Matthew Stafford (No. 9) and Mark Sanchez (No. 6) both seem to be thumbing their noses at the whole thing. Now, I'm generally not a superstitious guy, but if I were a rookie quarterback, I think I'd have the equipment manager stitch a "1" in front of the other number on my jersey. Why tempt fate, right?
5. I won't try to make an overall case for college football over the NFL, but the schoolboys do have the pros beat when it comes to rivalries.
The NFL already has good old-school ones such as Cowboys-Redskins and Bears-Packers, as well as 21st-century gems such as Steelers-Ravens and Colts-Patriots. Wouldn't it be better, though, if there were even more? Rivalry games are among the greatest delights in all of sports.
The NFL can make it happen by taking a page from Major League Baseball. I realize that's the equivalent of Jay-Z taking career advice from Sir Mix-A-Lot, but hey, a good idea is a good idea.
So here's how we make it so. Just as MLB has interleague play, the NFL should set aside one regular-season Sunday for AFC and NFC teams in the same region to go head-to-head every season. I know we see these games here and there, particularly during the preseason, but preseason games are the only thing lamer than the Pro Bowl.
Look at the matchups we could have:
Raiders versus 49ers (The Bay Bowl)

Steelers versus Eagles (The Keystone Bowl)

Jets versus Giants (The Jersey Bowl)

Ravens versus Redskins (The Beltway Bowl)

Chiefs versus Rams (The Show-Me Bowl)

Texans versus Cowboys (The Texas Bowl)

Dolphins versus Bucs (The Non-FedEx-Sponsored Orange Bowl)

Colts versus Bears (The I-65 Bowl)

Jaguars versus Falcons (The World's Largest Outdoor Cocktail Party Not Attended By Those Buzz Kills From The NCAA Bowl)

Browns versus Lions (The Kinda Like Buckeyes versus Wolverines Bowl)

You get the idea. I'll admit, some of the matchups wouldn't be all that juicy. But then again, if the NFL would move a team to L.A., the Chargers suddenly would have the perfect foe for Rivalry Sunday. Done and done.

6. Lastly, can someone talk some sense into the Buffalo Bills?

The city was named after an endangered animal; the local football team is named after the hunter famous for making said animal endangered. What kind of sick joke are the Bills trying to pull?

And speaking of sick jokes, what about those uniforms?

The red helmet atop a navy blue jersey and pants, with another too-similar shade of blue mixed in? Hideous no matter what, but especially when you consider that the Bills have these beauties at their disposal.

Yeah, I know -- they'll wear the throwbacks a couple of times this season. But why not make it their full-time gear?

Going with the modern uniform over the classic original is the same as leaving a copy of Burt Reynolds' "The Longest Yard" on your shelf while you watch the Adam Sandler version. Which brings me back to my original point.

Check out Page 2 Monday through Friday for Dave Dameshek's daily podcast.