Commentary
Have your burger and eat it, too
Originally Published:
September 16, 2009
By
Dave Dameshek
| Page 2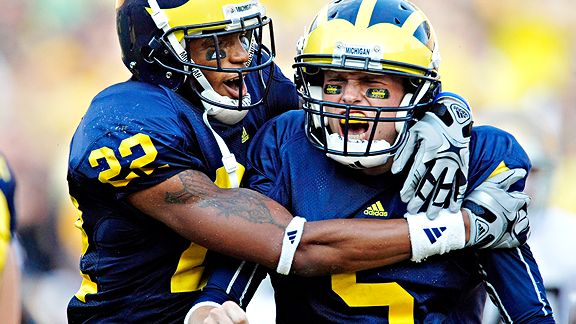 AP Photo/Tony DingBe careful, gentlemen. Joy in college football is prohibited by the NCAA and its member institutions.
If you've never spent time in L.A., you might be surprised to learn there are a lot of great burger joints.
Two of the best are In-N-Out and Fatburger. Different, but both delicious. Throughout the years, I've bitten my tongue while others have argued about which place is better.
Listen, I love a good debate as much as anybody, but there are just certain issues that don't require a winner and a loser. When it comes to In-N-Out versus Fatburger, I refuse to choose. I'm happy to live in a world that offers both. Same goes for "The Godfather" versus "The Godfather: Part II." The Ramones versus The Clash. Minka Kelly versus Eliza Dushku. Bacon versus sausage links. Mr. Roper versus Mr. Furley.
College football versus the NFL.
What a pigskin potpourri we just had from Thursday through Monday. Five days jam-packed with last-minute thrillers. Titans-Steelers, Wisconsin-Fresno State, UCLA-Tennessee, Notre Dame-Michigan, USC-Ohio State, Bears-Packers, Bills-Pats, Chargers-Raiders. Oh, it was glorious, and I'll tell you who the real winners were (besides half those teams): those of us who spent 83 or so hours planted in front of the TV watching all those matchups.
So why, then, must people persist with the question, "Which do you like better: college or pros?" Who cares? I'm gaga for both. You won't catch me picking just one, lest I hurt the other's feelings. As long as my satellite and TiVo hold up through early February, I'm happy.
All that said, I can, have and will complain about both, but at least I'll do it equally. So while we catch our breath and get ready for the weekend, here are some other football-related thoughts you didn't ask for:
• It might sound loony, but if you watched the Bills-Pats game, you were watching the second-best receiver in NFL history. Give it some thought: Jerry Rice is the clear-cut best -- statistically and otherwise -- but who's next? Believe it or not, it comes down to Randy Moss versus Terrell Owens. Take your pick: a guy who skipped two years of his career so he could lollygag in the Bay or a guy who drops a lot of passes and burns every bridge he crosses. I know it's an underwhelming choice, but who else if not one of those two? Marvin Harrison? Eh. Hard to hand him the mantle when he couldn't make a roster while Torry Holt and Isaac Bruce were busy winning starting jobs. I have a soft spot for acrobats like Lynn Swann and John Jefferson, but their numbers remove them from consideration. Don Hutson? With all due respect, haven't our elders taught us that the '58 championship was "The Greatest Game Ever Played" because it made pro football relevant? If that's true, nothing that happened before counts. Sorry, Hutson. Apologies to Joe Buck, too, but the second-greatest wide receiver of all time is Randy "I Didn't Hit No Woman" Moss.
DAMESHEK: WEEK 1 NFL REVIEW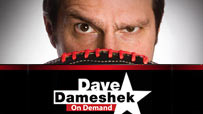 With Week 1 of the NFL in the books, Dave reviews his preseason predictions … and ranks his favorite Patrick Swayze films. Dameshek On Demand podcast

• Not enough credit is being given to USC coach Pete Carroll after the Ohio State game. Huge call to go for it on fourth-and-goal early in the game (after Trojans linebacker Chris Galippo's pick of Buckeyes quarterback Terrelle Pryor), especially considering USC actually lost half a yard on its third-down running play. Almost any other coach would've just taken the three points in that spot. Matter of fact, Tressel played it close to the sweater vest by kicking a field goal on fourth-and-goal from the 1 a little later in the half. For all the praise of Matt Barkley (have you heard he's a true freshman?!), if USC hadn't scored that early touchdown in what ended up being a low-scoring game, things probably would've turned out differently. (Did I mention that Barkley came of age? He's not just a freshman anymore, you know.)
• Who do you think is second-guessing himself more, Pryor or Jay Cutler? Pryor could be the main man in Michigan; instead, he's stuck on a faux-powerhouse Ohio State team that can't beat any legit powerhouse. Yeah, the Broncos were lucky this past weekend, but Kyle Orton & Co. are still one up on Cutler's Bears. So how can Cutler redeem himself to Bears fans? Take down the Steel Curtain on Sunday. Good luck with that.
• Santonio Holmes' numbers against the Titans last week: 9 catches, 131 yards, 1 touchdown. If you're feeling déjà vu, you probably were tuned in for the Steelers' previous game in early February. His line in that one? 9 catches, 131 yards, 1 touchdown. That's what they call a positive trend. Quick critique, though, Tone: Stop with the little celebratory dance after every catch. I don't say it to sound holier than thou; I say it because thou has to play the Ravens twice this season, and I don't think they like that sort of thing.
• Sorry to pick on the Super Bowl MVP, but what gives with wearing a Michael Vick jersey after the game? I'm not offended that Holmes is wearing the jersey of a convicted dog killer; I'm offended that he's wearing the jersey of another team. Looking at the glass half full, there are at least five jerseys that would've been even worse for him to wear:
Tom Brady's No. 12
Ray Lewis' No. 52
(Super Bowl XXX MVP) Larry Brown's No. 24
Bubby Brister's No. 6
Any Pittsburgh Pirate from the past 17 years
Why not just go with a Fats Holmes No. 63? Nice symmetry and tip of the hat to the past.
[+] Enlarge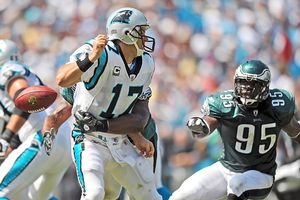 Drew Hallowell/Getty ImagesSeriously, how could the Panthers begin the season without a legitimate Plan B to Jake Delhomme?
• I don't think it's a matter of 20/20 hindsight to say that Carolina's decision to go into the season with Jake Delhomme as the team's unchallenged starter was plumb loco. Did everyone in the organization miss his playoff performance in January against the vaunted Arizona defense? I guess it's fine if the Panthers wanted to give Delhomme the first shot this season, but to have Josh McCown as the fail-safe backup? Wow. What was it about McCown that convinced you, Carolina? His inability to hold the starting job in Arizona? Or his inability to hold the starting job in Detroit? Or his inability to hold the starting job in Oakland? Panthers fans await your answer.
• It's not just Panthers fans. There already are plenty of fan bases I feel sorry for. Bills and Raiders fans must be just sick after watching their teams let potentially season-altering upsets slip away. Bengals fans, Lions fans, Browns fans, sure. But I don't think you could do much worse than rooting for the St. Louis Rams right now. On Sunday, they took the field with a new coach and, presumably, a new attitude. It was the dawn of a new era! Then Seattle shut them out 28-0. Maybe the Seahawks will end up winning the woeful NFC West, but they ain't exactly the '07 Patriots. The Washington Huskies shouldn't lose by four touchdowns to that team.
• Best game of the long weekend: Notre Dame versus Michigan. I was all set to be cynical about it. I mean, Chaz Weis versus Rich Rod is equal to "Alien vs. Predator." As the movie tagline said, "Whoever wins, we lose." But man, it was just too good. College football is better when Michigan and Notre Dame are relevant.
The only downer was what happened just after the winning touchdown. If you missed it, here's the scene: Tate Forcier completes a legend-making drive with another great scramble-and-throw, hitting receiver Greg Mathews with just 11 seconds left. The archrival is vanquished. The Big House goes bananas. The Wolverines run to mob Mathews. Then the ref steps in, takes the ball from Mathews and reminds him not to celebrate. At the same time, Rich Rod desperately waves for the rest of his team to restrain its enthusiasm and stay on the sideline. Nice job, NCAA. What a shame it would've been for those players to celebrate one of the biggest moments of their athletic careers. What's next? Are you gonna ask the crowd to keep it down, too? Or maybe you should just cut to the chase and play in an empty stadium. All that cheering for the home team probably hurts the visitors' feelings.
• Awesome call by Packers coach Mike McCarthy in going to play-action and throwing it up top to Greg Jennings on third-and-1 with a little more than a minute left in Sunday night's game against Chicago. Question is, why don't more coaches do it? The next time it fails in a situation like that will be the first time. As for the Bears' direct snap on the punt from their own 26? Not as clever.
• Here's a statement I may not make for another 85 years: I fully support Ochocinco. If you haven't heard, he's threatening do the "Lambeau Leap" if he scores on Sunday. I may be wrong, but I take this as Chad's satirical protest of the NFL's sketchy celebration policy. If the league's gonna penalize guys for doing a touchdown dance, then the "Lambeau Leap" must be abolished. Fair's fair. The league's asinine anti-fun rule prevents players from premeditated celebrations. Considering the "Lambeau Leap" has an actual name, I think it can be accurately defined as premeditated.
• Houston beat Oklahoma State by 10 points in Stillwater on Saturday. When the Associated Press poll came out Sunday night, the Cougars were ranked 21st, while the Cowboys were ranked 16th. C'mon, voters: Do the right thing. Mike Gundy can take it. He's a man.
• Drew Brees is great. He's one of the best quarterbacks of the decade. Everyone agrees, right? So why is it we have to hear 673 times per broadcast how underrated he is? Do the analysts think they're uncovering this (three-time Pro Bowler and '08 NFL Offensive Player of the Year) diamond in the rough for the rest of us boobs? Reminds me of a Freddie Prinze Jr. teen movie that hinges on the premise that only he can see that the supposedly nerdy outcast girl is actually a fox. Sorry, movie producers: We can still tell that Rachael Leigh Cook is attractive, even though you've cleverly disguised her behind those glasses.
Thanks for bearing with me while I got all that off my chest. Now let's stop looking in the rearview mirror and take a quick look ahead, shall we?
The five best Week 3 college football matchups with my picks:
Georgia Tech (+4) at Miami: The Ramblin' Wreck is the best team in a lousy ACC.
Tennessee at Florida (-29): I'd still take the Gators if they were giving 40 as the spread.
Florida State at BYU (-7): The Cougars will lose at least once in Mountain West conference play, but they'll whip Bobby Bowden's mediocre gang.
Cincinnati (-1) at Oregon State: This line opened with the Beavers giving 3½. Get it before it moves any more.
USC (-20) at Washington: Yeah, Steve Sarkisian knows how Carroll likes to do things. Doesn't mean he can stop those things from happening.
The five best Week 2 NFL matchups with my picks:
Saints (+1½) at Eagles: Did Vegas not get the news about Donovan McNabb's rib?
Patriots (-5) at Jets: Oh, how I hope I'm wrong.
Ravens (+3) at Chargers: In close ones like this, I let the Norv Turner factor break the tie.
Giants at Cowboys (-3): The Cowboys will take over once Osi Umenyiora is forced to leave after bonking his head on the giant video screen.
Steelers (-2½) at Bears: Cutler and Ben Roethlisberger's combined number of chins exceeds that of the rest of the league's quarterbacks combined.
Enjoy the games, both college and pro. Now if you'll excuse me, I'm hungry. I've got a taste for a hamburger. You know what that means: two stops. I may not be able to have my cake and eat it, too, but I can have my In-N-Out and Fatburger, too. What a world.
Check out Page 2 Monday through Friday for Dave Dameshek's daily podcast.