Single page view
By Kieran Darcy
Page 2
EDITOR'S NOTE: The Super Bowl. The World Series. The NBA Finals. Page 2 has covered those championships over and over and over again, and we'll continue to do so. But we're branching out, too, into the championships of ... oh, say cow-chip throwing and lawnmower racing. Yes, those lesser-known and goofy sports are coming to Page 2 in a series of stories we're calling SportsOFFCenter. Today, Kieran Darcy kicks it off on the stairs of the Empire State Building.
NEW YORK -- On my way to work on a typical Tuesday morning, I walk down Madison Avenue to 34th Street, make a right, enter my building and ride the elevator up to the ESPN offices on the 7th floor. But not Tuesday, Feb. 1. Oh, no. The good ol' editors at Page 2 had something else in mind for me that day.
My new destination? A block further.
And 79 more flights.
On foot.
That's right. A few weeks back, a fellow ESPN reporter who shall remain nameless (OK, you twisted my arm -- it was Darren Rovell) alerted the editors at Page 2 about the Bank of America Empire State Building Run-Up. He said he'd be willing to participate -- but, alas, he'd be in Jacksonville comparing Playboy's party to the Maxim party and judging the Miss Hawaiian Tropic contest at the Super Bowl (tough assignment, Darren). So, I was volunteered instead. After all, I've served as a Page 2 guinea pig before.
Not surprisingly, I was rather nervous about competing. I mean, yeah, I do run pretty regularly. I was even planning to run the New York City Marathon last November until a break in my training (that trip to Munich for Oktoberfest didn't help) made me put it off a year. But 86 flights, 1,576 steps, to the top of the tallest building in Manhattan? That sounds like pure torture, right?
Still, I decided to do it -- but not if it was going to involve any special training. I didn't even load up on carbs the night before. Instead, I just ate a couple slices of pizza and watched "The Bachelorette" (yeah, I'll admit to it). As it happens, during that episode, four contestants actually had to race from Little Italy to .... the top of the Empire State Building -- with the winner getting to spend some private time with Jen Schefft up on the 86th-floor observation deck.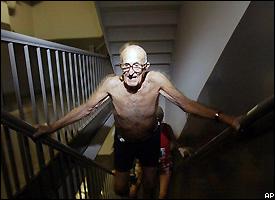 Let's see you try this when you're 93 years old, like Chico Scimone.
Except those guys got to take taxis, and then the elevator. Lucky them.
The next morning, I took my usual walk down Madison to 34th. But when I turned right and gazed up at that building a block away, I have to admit -- it looked even bigger than usual. And as I passed by the people heading to their regular desk jobs, I felt some pangs of jealousy. Suddenly, working in a cubicle didn't seem so rough.
I entered the building around 9:30 a.m., passed through security and headed to the check-in tables, where I received a long-sleeved T-shirt, my race number (84) and a chip to attach to my sneaker which would record my time when (if?) I crossed the finish line. It looked as if many of the 150 or so runners slated to participate had already arrived -- and many of them appeared to be serious runners, wearing track club uniforms or similar attire. I found an open area to change, dumped my bag and began walking around the basement level where everyone was getting ready.