By Kieran Darcy
Page 2
PHILADELPHIA – It's only fitting I covered the Philadelphia Eagles Cheerleaders 2005 final audition.
A year and a half ago, I agreed to try out to be a Chicago Bulls Matador – even though I'm a Knicks fan (embarrassing as it is to admit these days) and I weighed about 200 pounds less than most of the other contestants. So I always hoped, one day, I could do a story on some real cheerleaders.
Attractive cheerleaders.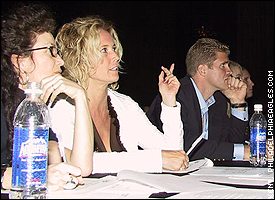 The judges take in the view (including our own reporter peeking his nose out on the far right).
You know, females?
Yes, I'm a Giants fan. And yes, I can't stand the Eagles. So why the Eagles Cheerleaders?
Come on, people. Have you ever seen the famous Eagles Cheerleaders lingerie calendar? There's a reason why, when you first click on the "Cheerleaders" section of the Eagles' website, you first get a warning message saying, "Please note, this area contains age-appropriate content." The only other websites where I've seen a warning message like that pop up are ... uh, never mind.
Anyway, I happened to hear that the final audition for this year's squad was taking place last week, so I pitched (pleaded with) my editor here at Page 2 about letting me cover the festivities. We decided the story would be more fun if I could participate in the event somehow. So I called the Eagles Cheerleaders director, Barbara Zaun, with the idea of being a towel boy or a water boy backstage during the competition.
Barbara had a better idea.
"Want to be a celebrity judge?"
Hmmm. Had to think really hard about that one.
---
On the Amtrak train from New York City to Philadelphia on Thursday afternoon, I questioned my qualifications to be a "celebrity judge." I'm certainly no celebrity (though I'm told rather frequently I bear a striking resemblance to Peyton Manning). And I'd never judged a contest of any kind before.
But then I thought better of things. After all, I work for Page 2, the home of the Hottest Athlete contest. And I help out with our photo production, which involves the painstaking analysis of ... certain details.
I came to three conclusions: 1) I could handle this; 2) I would take my choices very seriously; And 3) I probably wouldn't be able to resist scoring any contestant through the roof if she so much as batted an eyelash at me.
I arrived early at the Keswick Theatre, found Ms. Zaun and introduced myself. While I was waiting for the other judges to arrive, I was interviewed on the Eagles Television Network. The interviewer asked me why I felt I was qualified to help pick a cheerleading squad. My response was something like, "Well, as sportswriters, we're supposed to focus on what's happening on the field. But I think many of us will admit that we can't help but look at the lovely ladies on the sidelines from time to time."
Amazing how bright lights and a rolling camera can elicit brutal honesty from a person.
After the interview, I watched as some of the contestants practiced their dance moves on stage. And I fell in love (for the first time that evening) with a very cute blonde wearing a lavender sports bra and tight black shorts. (That's what they all were wearing, in various colors.) I decided I'd definitely have to keep a particular eye on her during the competition.
Soon, we were whisked upstairs for a judges' orientation meeting. We were told the competition would be divided into three parts. In the first segment, each of the 67 finalists (over 600 women originally tried out) would come on stage, one by one, and pose for the judges in the wardrobe I mentioned earlier. We were to score them in two categories: physical fitness and beauty. "Easy enough," I thought to myself.
In segment No. 2, the ladies would come back on stage three at a time and perform a short dance routine. Half the groups would perform to a rock song, half to a techno song. And we would score them on their dancing ability.
Then, in the final segment, they would come out 10 at a time, now dressed in formal wear. They'd come to the microphone one at a time to introduce themselves, and the judges would take turns asking each contestant a single question. We were provided with a list of 31 suggested questions, although we were told to feel free to ask our own questions ... provided they weren't political, or too personal, etc.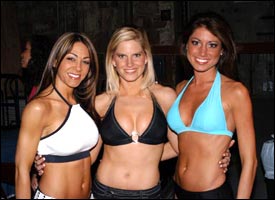 Janet (the winner in physical fitness) poses with Allison (the biologist) and Corinne.
When we got back downstairs, it was 20 minutes 'til showtime. I asked Ms. Zaun if I could speak to a couple of the ladies prior to the show. She led me backstage, where they were gathered behind the curtain. I stood off to the side. A minute later, she brought two contestants to me.
Two. Breathtaking. Women. One blonde. One brunette.
Both were very warm and friendly. And they had the whole touch-his-arm-while-answering-his-questions thing down, meaning they were as good as gold on my scorecard. Turns out they'd both been on the squad before. I asked them how they felt about having to try out again. Allison, the blonde (who's almost a carbon copy of Jessica Simpson), said, "It definitely gets very nerve-racking. You really have something to lose. I try to tell myself I'll be OK if it doesn't work out, but it's tough. But they want to make sure they have the best of the best. And that's the way it should be."
Good answer.
I also asked them about trying out in front of a live audience. This is the first year they've done so – the audition still wasn't open to the general public, but there were about 600 friends and family in attendance. "I think it's a great idea," said Corinne, the brunette. "Our job is to perform in front of a live audience, so this is a better demonstration of how girls are really going to perform."
Another good answer.
Coming in, I wasn't sure what to expect from these women. I figured they'd all be college students or professional car-show models, with few interesting things to say.
Hah! Corinne, 28, works in accounting at a telecommunications firm and is pursuing her own real estate business. Allison, 25, is a biologist.
That's right, guys. A biologist.
A biologist ... who looks like Jessica Simpson.
Points. Major, major points.
---
After my chat with Allison and Corinne, I headed back out into the theater and found my assigned seat at the front-row judges' table. I was situated right smack in the middle, next to Ms. Zaun herself.
The competition kicked off at about 7:15. The host, Couzin Ed from local radio station WYSP, gave a brief introduction. And then the contestants strutted out on stage one by one, posing for about 15 to 20 seconds each. Allison, as it happened, was numero uno. Our favorite biologist! I gave her a couple of 9s. Why no perfect scores? Hey! There were 66 more ladies to see.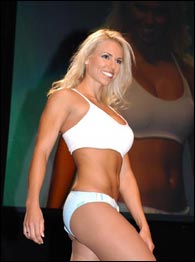 Amanda received the highest score in the "Beauty" category.
They were all beautiful, but I had to find some things to be critical about. Several obviously had used some kind of makeup to cover large tattoos on their lower backs, but you could still see them from the front row. I'm normally not a big fan of body art, so I deducted for that. And some just looked plain silly stomping around the stage, so I penalized them, too.
Over time, I realized that I was giving higher scores to the types of girls I'm normally most attracted to (I have a soft spot for blondes, the taller the better) – and I started to feel guilty about that. But, I figured, we had a diverse panel of judges, so I had every right to be scoring with my gut instincts. My other favorites from Round 1 included Pam, the contestant I'd noticed before the competition began, and Caroline, a beanpole of a blonde who is an absolute knockout.
After the first segment, the MC introduced the panel of judges to the crowd. Turns out there weren't really any major celebrities. The panel included Christina Lurie (the wife of Eagles owner Jeffrey Lurie), former NFL player and local sportscaster Beasley Reece, and an editor from FHM magazine.
Then the dance competition started. There were a few awkward moments – some couldn't keep up, to the point that they were getting in the way of the others' routines. I paid very close attention to all the performances – in general, the ones dancing to the techno tune were better than those dancing to the rock song. But in the end, I found myself giving the best scores to those I liked from Round 1. Couldn't help it, ya know?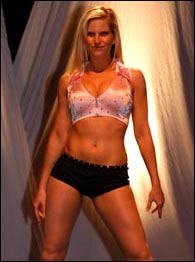 How many biologists do you know who look like that?
Then came the most interesting part of the evening: the interview competition. I've watched a few Miss America pageants in my day (yeah, I'll admit that), so I knew this round could provide some classic, maybe even hilarious, moments. I also knew that this round would provide my biggest glimpse into each woman's personality. And after all, a personality is at the top of every guy's wish list ... right, fellas?
Right before the first group of 10 contestants came on stage, I scanned our prepared list of questions. They were mostly pretty standard "beauty pageant" questions such as "What has been your greatest challenge in life and how did you overcome it?" Or, "Where do you see yourself five years from now?" The one I liked the most was "If you were going to be on a reality TV show of your choice, what would it be and why?" I'm a reality TV junkie. If any of them answered "Big Brother," they were going to get an immediate perfect 10 from me.
Allison, my favorite biologist, was up first again, looking stunning in an orange and pink sundress. She was asked by the first judge, "How would your best friend describe you?" Her reply: "My best friend would describe me as loyal, willing to do anything, and fun. I kinda consider myself pretty well-rounded. I mean, I got good grades in college. I'm a biologist. I'm smart, and I'm nice."
Well ... nothing too mind-blowing. But I gave her an 8. Hey, she's a biologist.
I was slated to ask my first question to Contestant No. 6, and I was all ready to go with the reality TV query. When it was her turn, she walked up to the microphone.
And proceeded to start speaking Russian.
I proceeded to sweat. Profusely.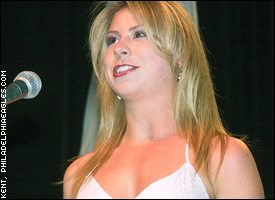 Ekaterina takes a break from speaking Russian to answer our judge's question.
Thankfully, Ekaterina eventually switched to English, and explained that she is a student at Rutgers, originally from St. Petersburg, Russia. I decided I'd better call a last-minute audible, but I couldn't come up with anything better than the "beauty pageant" questions. So I asked, "Where do you see yourself in five years?" She said she wanted to graduate from college and start her own event planning firm, "where I can plan productions such as this, and other fashion shows, and things that are fun and eventful and exciting for the community."
I had to give her a 5. Woulda been a 6 if she hadn't made me sweat with the Russian.
I won't bore you with the answers from all 67 contestants. But there were definitely some highlights ... and lowlights.
On the plus side, I gave out my only two perfect 10s of the evening. One went to a gorgeous blonde engineer named Brianne who gave a great answer about the responsibility she feels being a role model in the community even when she's not in uniform as an Eagles cheerleader. The other went to a young lady who, when asked about volunteer work, said that she had recently spent time in Africa working with people with HIV.
On the flip side, Shawna, a 24-year-old blonde bombshell (see the pattern here?) who's a fourth-grade teacher in Philly said "disposure" instead of "disposition" when asked a question about the importance of first impressions. I chalked it up to nerves. And another very attractive (blonde) contestant named Kristie, when asked, "What person, other than a relative, has had the biggest impact on your life?" responded with "Janet Jackson ... she can sing, dance and act. She's a triple threat." Ugh.
And one contestant, when introducing herself, said that she works in the "skin industry." I did a double-take, before she explained herself – she's an "aesthetics instructor." Sounded like a little too fancy a way of saying she works in cosmetics.
I did get to ask the reality TV question a couple of times. A woman named Tara answered with "The Real World vs. Road Rules Challenge" because she likes to meet new people and she loves competition. Nice answer, I thought. Another named Jessica said "'The Bachelorette' ... because the guys would be right there for me, finally giving me some attention." To that, I could only shake my head. She was gorgeous.
I was tempted to ask one of the contestants this question: "There's three minutes left in the fourth quarter. Your team trails by 10. You have the ball at your opponent's 8-yard line, and it's fourth-and-1. You have two timeouts left. Do you go for the first down, or do you kick the field goal?"
But I feared the wrath of Ms. Zaun, sitting next to me.
So the interview competition finally wrapped up, and my work was done. But here's the catch: They weren't going to announce the final squad of 38 that night. To soften the blow for those who fell short, the Eagles instead set up a hotline for the contestants to call the next morning and find out whether they made the team.
I caught up with Allison and Corinne again after the show was over. Both seemed very confident.
"I was a little more nervous this year, especially during the interview," Allison said. "But I felt great out there overall. The adrenaline was really pumping."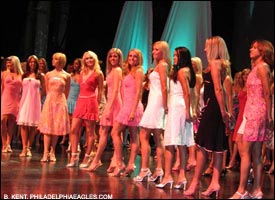 All 67 finalists gathered on stage one more time at the end of the evening.
"I felt OK about the interview part. The dancing is the scariest," said Corinne. "But I gave 150 percent. And I think that'll be enough."
---
The new squad was officially unveiled to the public at the Eagles' official draft party Saturday at Kahunaville in Wilmington, Del. As for the ladies mentioned in this article, most of them made the team. Ekaterina, Kristie and Jessica were the only ones left out. Overall, there are 24 returnees and 14 newcomers.
There might be plenty of offseason left for the football players, but the Eagles Cheerleaders get right to work. They appear at trade shows, grand openings, corporate and special events, and charitable functions. They also travel to visit troops overseas. They've made appearances in magazines like Maxim and FHM. And they have a new lingerie calendar to make.
As for me? It's going to take a few weeks for the "cheerleader goggles" to go away. Practically every girl I've seen since last Thursday night has looked completely inadequate.
But, hey, if any Eagles Cheerleaders are reading this story? My e-mail address is below. Drop me a line.
Especially if you're a biologist.
Kieran Darcy is an editor for ESPN.com and contributor to ESPN The Magazine. You can reach him at kieran.d.darcy@espn3.com.