By Kieran Darcy
Page 2
NEW YORK -- Thursday morning in the office, reading the local newspapers online, I got my daily dose of Knicks news. Larry Brown had given another impromptu press conference via his car window. The Knicks' front office had given no comment, as usual. One more sad day in the history of this once-proud franchise, now the laughingstock of the entire sports world.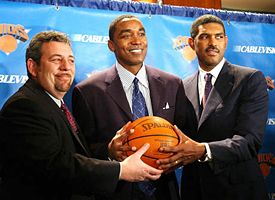 Gregory Bull/AP Photo
James Dolan (left) put Isiah in charge, and the two have made the Knicks a joke.
But my day brightened a bit when I learned that James Dolan himself, the CEO of Cablevision and owner of the Knicks, would be making a public appearance on Thursday night -- with his band. That's right, his band. JD & the Straight Shot was slated to play a couple sets at Coda, a midtown Manhattan club about four blocks from Madison Square Garden.
I simply had to be there.
You see, I'm a very disgruntled Knicks fan -- especially after all I've done for the team. Dolan rarely makes public appearances. Heck, he's been ducking his own head coach, Larry Brown, for weeks. The show had been mentioned both in the local papers and on local sports talk radio. Surely some fellow angry fans would show up to give Dolan the heckle treatment. Maybe Dolan would even make some comment on the team. Whatever happened, I wanted to be there to see it.
And so, I (begrudgingly) coughed up the 15 bucks for a ticket and prepared for the worst. For Dolan, that is.
---
I stepped out of the driving rain and walked into Coda just after 9 p.m. As I was getting wristbanded by the bouncer, the guy working the front door asked me what band I was there to see (there were two opening acts, as well). I almost spit out "James Dolan" before catching myself, but then I blanked on Dolan's band's name in the moment. "The one playing at 9:30" was all I could muster.
I'd never been in the club before, so I found a spot on the left near the bar and surveyed the scene. It was one long, relatively narrow room, decorated mostly in red, with two very large chandeliers hanging from the ceiling and the stage set up in the back. You could probably pack 300 to 400 people in there, but when I walked in there were maybe 100 or so people milling around while the preceding band, Spoonfed, wrapped up its set.
More people filtered in as it got closer to 9:30. But they all seemed pretty well-dressed. Lots of Cablevision execs and friends of Dolan's, probably. But there was no sign of Isiah Thomas, Larry Brown or Stephon Marbury anywhere. And I didn't see a single article of Knicks clothing, which was very disappointing.
Even sadder? No Knicks City Dancers either, as far as I could tell.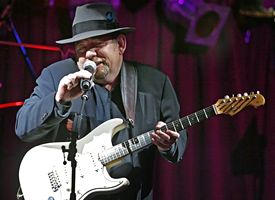 Richard Drew/AP Photo
Dolan wore a similar outfit at this gig in April.
But I was soon distracted by my first Dolan sighting. He was standing in the back while Spoonfed was still playing, talking to a couple people, with someone who looked like a security guard standing beside him. Dolan was wearing blue jeans, a black collared short-sleeved shirt with a couple buttons open below the neck, and a gray hat with a black ribbon wrapped around it.
He looked a little silly to me, especially with the hat. But no one gave him a hard time when he made his way through the crowd and up the stairs to the loft/VIP lounge to the left of the stage. Or when he came down to tune his instruments with the rest of the band after Spoonfed wrapped up its set.
I was beginning to worry I wouldn't witness any Dolan abuse. And I was about to find out for sure when JD & the Straight Shot kicked off their first set just after 10 p.m.
"Here's a little blues tune for ya," Dolan said to introduce the band's first song, "I Got News for You." And there was nothing but some mild cheering and applause from the couple hundred or so now in attendance. Not a single boo or heckle. Game over.
I stayed for the entire hour-long first set, during which the band played some original songs from its debut album "Nothing to Hide" (currently ranked a whopping No. 70,088 in music sales on Amazon.com) as well as a couple covers, including an Allman Brothers tune. The five-piece band bills itself as "weaving slow-burning blues jams together with ballads and tight rockers" in its promotional material.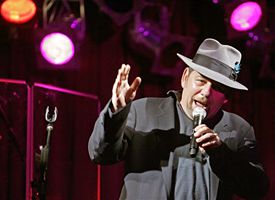 Richard Drew/AP Photo
Dolan's voice leaves a lot to be desired.
I'm no music critic, but I'd call them mediocre at best -- especially Dolan. He plays rhythm guitar and handles many of the lead vocals -- but I wouldn't even say he's the most talented of the singers in the group. Yet he's the front man, because … well, because he's a gazillionaire. I'd tell him to keep his day job -- but under the circumstances, I'd rather see him keep his night job.
The most annoying moment of the evening? When Dolan introduced another song by saying, in overly dramatic fashion, "It's been 33 days … since I had a cigarette." And he took a sweeping bow, as the crowd applauded. It took everything in my power not to yell out, "And how long has it been since you talked to your coach?" Even longer, shamefully.
It was only fitting that the band closed out the first set with its "hit single" -- how on earth they can claim that, I have no idea -- called "Ghost." The chorus, which Dolan sang repeatedly: "The ghost's in control." How appropriate. And sad.
After that, the band went back upstairs for a short break before its second set. But I'd had enough. The crowd already had thinned out considerably. I headed for the exit doors, as well, and disappeared.
Like a ghost.
---
So that was that. My night out with JD & the Straight Shot. If only JD really was a straight shooter. Then maybe he'd meet with Larry Brown and make a decision one way or the other.
Don't get me wrong -- I don't blame James Dolan completely for the current state of the Knicks. I think Isiah's got to go. And I'm not thrilled with Larry after last season, either. But Dolan is Public Enemy No. 1 to me now, after this fiasco of the past few weeks. And watching him on stage Thursday night, I couldn't help but think he should be focused a lot more on his basketball team right now and a lot less on his music hobby. Our team used to still be playing this time of year. Heat vs. Knicks, as opposed to Heat vs. Pistons.
I never thought I'd say this. But for one night, I wished New York fans were more like Philadelphia sports fans. Philly fans booed Santa Claus -- they'd have shown up and done at least that to Dolan if he'd run the Sixers into the ground.
And he deserves it.
Kieran Darcy is an editor at ESPN.com and a contributor to ESPN The Magazine. You can e-mail him at kieran.d.darcy@espn3.com.