"Kieran Darcy!" Penn basketball coach Fran Dunphy bellowed down the bench at me.
During the pregame layup lines earlier that night, I had barely been able to contain myself -- after four years on the JV team, I was suiting up for the varsity. I'd never felt so proud, happy and nervous in my entire life. Those feelings didn't dissipate the entire game, as I sat on the end of the bench, watching us run out to a 20-point lead against Brown. Subs started replacing starters. I knew it could possibly happen. And with about 1:30 left, Dunphy called my name.
Everything happened at lightning speed those final 90 seconds. It's still a bit of a blur, to be honest. In the huddle during a timeout, with the five us in the game standing front and center, Dunphy shouted instructions. I remember just this one:
"Get Kieran a shot."
---
If not for the Palestra, I never would have played Division I basketball.
It was the summer of 1995 -- the summer before my senior year of high school -- and my father and I were on a weeklong road trip visiting various colleges and universities along the East Coast. This particular day we were in Philadelphia, the City of Brotherly Love, on the campus of the University of Pennsylvania.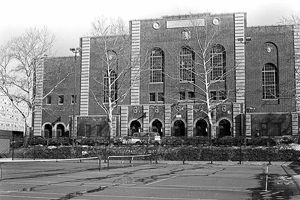 AP Photo
This is the Palestra, on the campus of the University of Pennsylvania.
I'd liked what I'd seen of Penn. It struck me as a nice blend of "campus" and "city," which felt very comfortable, considering I'd grown up in the suburbs but attended high school in the heart of Manhattan. I could definitely see myself there, if I were fortunate enough to be admitted.
At that point, I knew very little about the school's men's basketball tradition. Just that either Penn or Princeton virtually always won the Ivy League title and the automatic bid to the NCAA Tournament. And that the team played in an old, historic gym called the Palestra.
Late that afternoon, we came across the red-brick Palestra, tucked behind several tennis courts to the left of the football stadium, on 33rd Street between Walnut and Spruce streets. We walked up to the entrance to take a peek through the glass doors, and I instinctively reached out my right hand and tugged on one of the door handles, never thinking it would budge.
The door swung wide open.
My father and I walked in, through the unlit concourse, then up a short ramp toward light. And suddenly, our eyes were drinking it all in. The light-blue bleachers. The championship banners. The old-fashioned scoreboard. You could taste the history.
We sat on one of those bleachers for several minutes, completely mesmerized. We barely spoke. And as I gazed all around the building, I couldn't help but envision myself running up and down that floor, hearing the roar from the crowd after snagging a clutch rebound or snatching a key steal. Stopping on a dime, pulling up for a jump shot, extending my arms, exaggerating my follow-through, watching the ball rise, then fall, before dropping immaculately through the net.
That day, I knew where I wanted to go to college.
---
I've been a basketball player since I was 8 years old, when my father signed me up for a local rec league team in Yonkers, N.Y. He didn't discriminate -- he signed me up for baseball and soccer teams, too. But basketball was the game I loved the most, from day one -- maybe because, from the very beginning, I was a pretty good shooter. Not sure why, or how, but I always had a knack for throwing the ball in the basket. And while my love for basketball has deepened over the years -- as I've grown more appreciative of the intricacies of the game and the teamwork required for success -- my initial affection for it grew from a rather selfish place. To put it bluntly, I liked to score.
In fourth grade, I became eligible to try out for my grammar school JV team, at St. Joseph's School in Bronxville, N.Y. I made the team -- but all of us fourth-graders were bench-warmers that first year. I ascended into a reserve role as a fifth-grader and became a starter as a sixth-grader.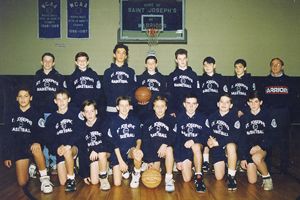 Kieran Darcy for ESPN.com
The St. Joseph's squad during Kieran's seventh-grade season, with coach Charlie Acolina on the right.
In seventh grade, I graduated to the St. Joe's varsity squad, under coach Charlie Acolina. Now, Acolina was a bit of a legend 'round those parts. I heard more than one person describe him as "the Bobby Knight of grammar school basketball," with good reason. He was old-school -- even made his teams wear white high-top Chuck Taylors for years and years, before finally relenting during my era when practically half our team went out with ankle injuries.
He also was an outstanding coach. The fundamentals he drilled into us over and over, day after day, were (in my humble opinion) the reason so many players from St. Joe's went on to play in high school and beyond. But Acolina did have a bit of a mean streak. He barked at his players, mixed it up with the referees -- and when you saw his face turn as red as the hair on his head? Well, run for cover.
I was a frequent target of Acolina's ire my seventh-grade year. He seemed particularly displeased that my mother had signed me up for a weekly piano lesson. (Of course, I wasn't too pleased about that at the time, either.) My mom insisted I leave basketball practice early, if necessary, for my piano lessons. And I'll never forget the day Acolina instructed me to leave the court, sit down in front of a piano -- located on the stage of the auditorium in which we practiced -- and play a tune for everyone, the sarcasm dripping off his tongue. I was the one who turned beet red that day.
I persevered through that seventh-grade season, mostly glued to the bench. In eighth grade, I became a starter again and made the county all-star team. And the following year I made the freshman team at Regis High School in Manhattan.
I got more excellent coaching during my four years at Regis. But it was not a period without challenges. The most memorable of these came between my freshman and sophomore years.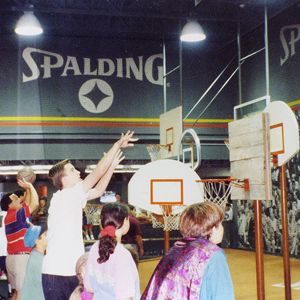 Kieran Darcy for ESPN.com
Kieran had fixed his shooting form by the time he visited the Basketball Hall of Fame in Springfield, Mass.
That spring, Regis' varsity coach, Mike Mincieli, took me aside and told me that while I was a good shooter, my release point was way too low and I'd never get my shot off at the varsity level unless I altered my form. So we -- along with my freshman coach, Kevin Cullen -- started working on my shooting form, and then Mincieli gave me some drills to help me gradually raise my release point to the proper level. I worked diligently on those drills every day in my backyard all summer. The new form continued to feel awkward, but eventually the ball started dropping through the net with great frequency again.
Near the end of that summer, I attended a basketball camp in the Poconos with some of my Regis teammates. It was a shooting-intensive camp -- most of the instruction centered on shooting. While looking forward to it, I also was a little nervous about unveiling my new form in front of my teammates. When we started shooting around the first day, I noticed some quizzical looks. "Are you sure the ball's supposed to be that high?" one friend asked me. I assured him it was.
Later that week, we had a lecture from Herb Magee, the legendary coach of Division II Philadelphia University (who last season became the NCAA D-II all-time leader in coaching victories). Out of a couple hundred campers, Magee randomly picked me, along with a few others, to come up and help him out.
Magee had us take a few shots, and then he analyzed our shooting technique in front of the entire camp. As I was shooting, I heard a few snickers from the audience. When I was finished, Magee asked me, "Son, what position do you play?" "Shooting guard!" I excitedly replied, having buried the majority of my shots during the demonstration. "Well, son, you've gotta bring that release point way down. You shoot like Bill Cartwright!"
As I later saw on video, I had, in fact, let my release point get way too high. But, despite the ribbing I still get from my buddies about it, I eventually found the proper release point and went on to enjoy a pretty good high school career. I played against some outstanding players, including Ron Artest. I made the All-City team in our division. As a senior, I played probably the best game of my career in the city championship game -- hitting six 3-pointers and scoring 26 points -- although I missed an open 3-pointer from the corner that would have tied the game at the buzzer, and we lost a heartbreaker.
But that wouldn't be my most memorable shot.
---
After that first visit to the Palestra, I read everything I could about it -- how it was built in 1927, how it's the traditional home of the Philadelphia Big Five, how it's hosted more NCAA Tournament games (52) than any other arena.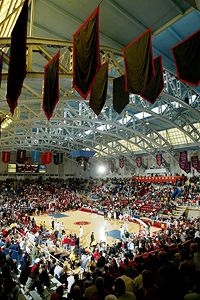 Doug Pensinger/Getty Images
When the Palestra is packed, the atmosphere is absolutely electric.
("It is
the
unique experience in basketball," says former Penn and Detroit Pistons coach Chuck Daly in the excellent new documentary
"The Palestra: Cathedral of Basketball."
)
The problem: Penn wasn't recruiting me.
I'd sent Dunphy, Penn's coach at the time, a videotape and packet of information about me -- the same one I sent to every other Ivy League school -- in the fall of my senior year. But I didn't hear back from any of the Ivy League coaches. It looked like if I wanted to play college basketball, I'd have to play Division III.
Now, don't get me wrong -- I'm sure I would have enjoyed playing Division III basketball. I've known some very good players who played D-III. And I was recruited by some good D-III schools -- including Amherst College in Massachusetts, which won the national championship in 2007.
But my heart was set on 33rd Street between Walnut and Spruce.
Luckily, I had pretty good grades and was accepted to Penn. Then came the real dilemma: Was I willing to give up playing competitive basketball to be just a fan at the Palestra?
I decided I wasn't ready to give up playing just yet. So a couple of days after I received my acceptance letter, I went searching for Dunphy's office phone number -- it was surprisingly easy to find. And despite the fact that I was rather shy, I dialed the number, cordless phone quivering in my hand.
Dunphy's secretary answered. I explained to her that I'd recently been admitted to Penn and was hoping to talk to coach Dunphy about being a walk-on for the basketball team; a few seconds later, Dunphy himself was on the line. He initially sounded a little gruff, but he patiently listened as I gave him a brief synopsis of my basketball career and told him how much I wanted to play at Penn. And when I was finished, he invited me to come down to Philadelphia the following Saturday afternoon and talk with him some more.
I couldn't believe it. He actually agreed to meet with me! I immediately called my dad, who had no problem whatsoever driving me down to Penn that Saturday (about two and a half hours each way). And before I knew it, I was sitting across from Dunphy in his office.
We talked for a few minutes, covering much of the same ground we had on the phone. Then he said he was going to bring me upstairs to the practice gym to meet David Hooks, one of his assistant coaches, who was putting three of the varsity players through an offseason workout.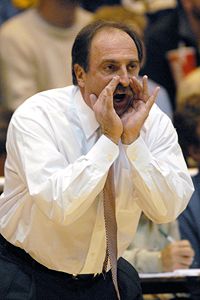 AP Photo/Mark A. Stahl
Fran Dunphy insisted on keeping the JV team alive while he was the coach at Penn.
"Coach Hooks is also the head coach of our JV team."
JV team? I had no idea Penn had a JV team. I had no idea ANY college program had a JV team.
Dunphy led me upstairs, introduced me to Hooks and then departed, saying he'd talk to me again soon. Hooks seemed very excited to meet me. He knew my high school -- he'd recruited players from Regis before, when he was a Division III head coach at Haverford College. He told me all about the JV team -- how it had some very good players, how it got to play against some quality small-college and prep-school teams, and how players occasionally got bumped up to varsity if they performed really well.
Hooks gave me his card, and told me to keep in touch during the summer. He said that if I decided to come to Penn, I'd at least have a spot on the JV roster in the fall.
That was all I needed to hear. I was going to get a shot.
---
I'll never forget walking off the Palestra floor after our final game.
The guys -- particularly us seniors -- exchanged hugs and handshakes. Then we received a round of applause from the Palestra crowd -- 75 or so people -- as we slowly made our way back to Locker Room 2 -- aka, the women's locker room.
Yup ... such is life on the junior varsity, where I spent my entire four years at Penn.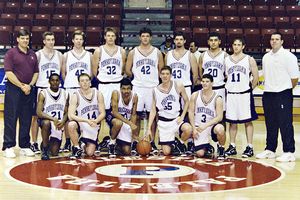 Kieran Darcy for ESPN.com
The Penn JV squad from Kieran's freshman season, with coach David Hooks on the left.
Don't get me wrong though. Even though I never made the big club, I had a
wonderful
four years, on and off the court.
As a freshman, I must admit, I was happy to be on the JV team but held high hopes of making varsity. I befriended a couple of varsity sophomores who told me they'd started off as unrecruited JV players and were called up their first semester when some varsity players got hurt. They even got some playing time! I was so excited to hear this.
Of course, I don't think a varsity player even broke a fingernail my freshman year.
I, on the other hand -- a person who'd never had a serious injury in his life -- got hurt practically the moment I stepped on campus. Three weeks into the school year, I was playing in a pickup game one Friday night when I reached out to deflect an inbounds pass. I got a piece of it -- and then when I looked down at my right hand, a yellow substance appeared to be oozing out of my right ring finger.
A friend had to break the news that my bone was jutting out of the skin.
I ended up having surgery and missing a couple of months of action. But fortunately, coach Hooks honored his commitment to me and gave me a roster spot, even though I couldn't participate in tryouts.
That's the kind of person coach Hooks was. He looked out for us, even though he had so many things on his plate. One thing most college basketball fans probably don't realize is how tough it can be to be the third assistant on a Division I coaching staff (Division I teams are allowed to have only three official assistant coaches). The third assistant usually has all the coaching and scouting responsibilities of the other two assistant coaches, plus he has to coach the JV team, if the program has one.
And Hooks -- who was my coach for my first two years at Penn -- wasn't even being paid for his coaching job! He also worked in the university's development office in order to earn a salary and health benefits. And he was working toward a Ph.D.
And, oh yeah, he had a wife and an infant at home to boot.
Yet, if you watched Hooks handle us, you'd have thought the JV team was his full-time job. He made us run plenty of sprints, plus laps if we were late. He implemented the varsity offense, so we'd all know it in case any of us were called up. And we practiced almost every single day.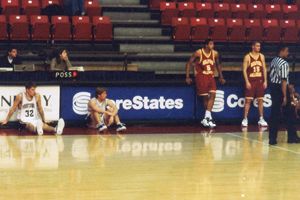 Kieran Darcy for ESPN.com
As you can see, there were plenty of seats available for most Penn JV games.
In fact, the spring semester of my freshman year, Hooks asked us if we'd be willing to practice at 6 a.m. for the entire semester -- normally we practiced after the varsity at night, but he needed his evenings free that semester to work on his dissertation. And this might sound a little crazy -- it was college, after all -- but we all readily agreed to do so.
You have to understand, we were just so happy to have a team. The NCAA doesn't even keep track of JV teams, but if you take a look around, not many programs have one. But there was a JV team at Penn when Dunphy took the head coaching job in 1989, and he felt very strongly about keeping the team in place over his 17 years there.
"I'm not so sure there could be a more pure form of college athletics," says Dunphy, who replaced John Chaney at Temple in 2006. "They just played because they wanted to play basketball. There was very little, if any, reward in it, other than the personal satisfaction of playing the game. I appreciated that about those guys. And the guys who stuck through it for four years at the JV level, well, I can't say I admire anyone more than those guys."
I worked my butt off, particularly my first two years, trying to make myself into a varsity-level player. But by my junior year, I knew that probably wasn't going to happen. Dunphy once leveled with me, saying, "You're a Division I shooter with Division III quickness." And he was exactly right -- I just couldn't move my feet fast enough to keep up with varsity players on defense. But hey, I gave it my best shot. And I'll never wonder whether I could have done better or played at a higher level.
My JV teammates felt the same way.
"I can remember my mom trying to convince me to quit playing because it wasn't going to get me anywhere for law school or med school," says my former teammate Chris Ward, at the time a pre-med student from Pittsburgh who was barely 6 feet tall but volunteered to play power forward because we didn't have many post players. "But basketball was the one thing that was very consistent in all the craziness that came with going away to school. ... The JV team was my family at Penn."
I grew to love being a JV player. I think almost all of us did. Guys like Eitan Melamed, who got cut from the JV team as a freshman but wanted it so badly that he worked on his game relentlessly and eventually made it. "Being a member of the JV team was probably the most significant and memorable part of college for me," Eitan says now. "There is something incredible about playing on a college sports team -- even a JV team -- that is hard to explain to anyone who hasn't experienced it. The feeling of competing on a very high level with the same group of guys for several years was an amazing experience."
Heck, one of my former JV teammates, Matt Paul, never made varsity but went on to play professional basketball in Germany. Mike Koller, our starting center, was recruited as a varsity player but actually asked to be transferred to JV.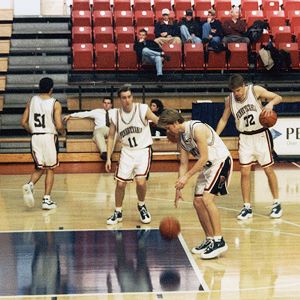 Kieran Darcy for ESPN.com
Chris Ward lines up for a free throw, while Kieran (11) tracks a ball down during warmups.
I couldn't blame Koller for his decision. We had a lot of fun on JV. Sure, we played in hand-me-down varsity uniforms, in front of very few people. And we didn't get nearly the perks the varsity got -- we were fortunate to receive a pair of sneakers or a sweatshirt. But we played about 20 games per season -- virtually all of them in the Palestra -- winning a lot more than we lost. And that included beating some nationally renowned prep-school teams with big-time Division I recruits, like Fork Union Military Academy.
In fact, one year when we played Fork Union, its starting frontline went 6-9, 6-9, 6-10; our tallest player was 6-5. Plus, it had a player who was being recruited by Penn, so for the only time in my four years there, the school newspaper advertised our game and encouraged fans to attend, to show the recruit what the Palestra was really like. The starting lineups were announced (rare for JV games), and the Penn band performed (the only time that happened in my JV days).
We lost that game, but did beat Fork Union by 13 the following year, when it had eight Division I signees. We also beat St. Thomas More, a well-known prep school for fifth-year players located in Connecticut. It featured five Division I signees, plus Schea Cotton, a big-time recruit who ended up playing at Alabama after a JUCO year. In front of lots of D-I coaches, including the legendary Chaney, we embarrassed them by winning 76-69.
We became teammates and friends -- and many of us still gather together twice a year to play hoops and have a few beers.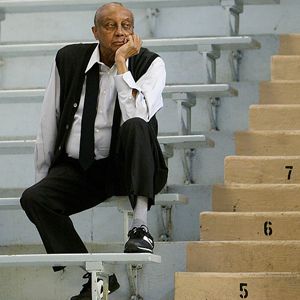 Doug Pensinger/Getty Images
John Chaney, the legendary former coach at Temple, spent many an evening in the Palestra as well.
"Playing JV at Penn is a source of pride for me, though not many can fully understand or appreciate what that really means," Paul says. "Looking back, I wouldn't trade my JV experience for the world. I learned invaluable lessons that I try to instill in the kids that I coach and teach today. I learned the obvious lessons about persistence and making lemonade when life gives you lemons, but I think the thing that I most treasure are my friendships with my teammates." My favorite part of the whole experience wasn't putting on the Penn uniform, or even those games in which I scored a bunch of points. It was the Palestra, getting to play basketball all those days and nights in that wonderful, magical building. When our practices were over -- whether it was early in the morning or late at night -- many of us would linger around. Some would play 1-on-1 or 2-on-2 games. I'd usually play several rounds of H-O-R-S-E with a few teammates. You'd have to practically drag some of us out of the place. We'd ask the maintenance staff if we could stay, promising to turn off the lights and lock up when we left.
It was like owning a key to a sacred shrine.
So thank you, Dad, for signing me up for that rec league team. You enabled me to fulfill so many dreams. This was just one of them.
Thank you, Mr. Acolina, for engraining in me the fundamentals of the game. Despite the rough patches, I owe you so much.
Thank you, Dr. Mincieli and Mr. Cullen, for molding me into a shooter -- and player -- good enough to play college basketball.
Thank you, coach Hooks -- and coach David Duke, my JV coach my final two years -- for making us JV guys feel like we were the most important players at Penn.
Thank you, coach Dunphy, for giving me the opportunity to be a Quaker and for opening the doors of the Palestra to so many others like me.
Thank you, Palestra, for having me.
And thank you, Dan Solomito, for getting me one shot.
---
On March 3, 2000, my dad was back sitting in the Palestra bleachers. Only this time, my mother and brother were with him, along with several of the good friends I'd made over my four years in Philadelphia. I'll never forget seeing them sitting behind the basket when I ran out with the varsity for warmups that night.
That's right. Varsity.
You see, Dunphy didn't just support having a JV team at Penn. He also tried to give every JV senior an opportunity to suit up for one home game.
"I think life is made up of memories," Dunphy says. "As you get a little bit older, life's even more about memories than current experiences. My philosophy was, you should honor these guys that do what they do every day, that put the time in and get no recognition. Let's give them a little bit of an honor and dress them for a game. Maybe their parents can see it. Maybe they'll have some friends going nuts in the stands for them. ... If we can provide that, it's an easy choice to make."
Now, here's the conflict. On the one hand, you'd love to suit up for a big game, like a tilt with archrival Princeton, because the Palestra would be packed and the atmosphere would be incredible. But if you suited up for a game like that, there'd be very little chance of playing.
On the other hand, if you suited up for a game against a less-talented opponent -- and the score was lopsided late -- you just might get in the game.
I drew Brown -- which wasn't particularly good that season. We got that big lead, and Dunphy put me in the game.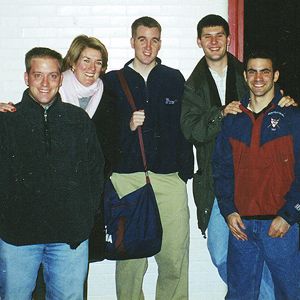 Kieran Darcy for ESPN..com
Kieran with his mom and roommates in the Palestra after he suited up against Brown.
When we walked back on the court after that timeout, my legs felt like they were stuck in mud. Everything was happening so fast; the crowd noise was overwhelming. I almost felt like I'd forgotten how to play the game I'd been playing since I was 8 years old. But the ball kept getting passed to me. Over and over. By the same person.
Dan Solomito.
Solomito, a sophomore, had been a pretty highly regarded recruit when he arrived at Penn. But he hadn't been able to carve out much playing time on varsity. And we barely knew each other.
Yet, every time Solomito touched the ball, he zipped it right to me. Cross-court passes, diagonal passes -- it didn't matter. Whenever he got the ball, he fired it right at my chest. He was doing his damnedest to get me a shot.
"The opportunity to play Division I basketball is a dream for a lot of people," Solomito told me recently. "A lot of us that actually got to do it -- I don't think people necessarily blow or shrug it off, but some people forget how badly they wanted it when they were 10 or 12 years old. For me, I always tried to keep a pretty grounded perspective.
"Every time I came running out of our locker room into that Palestra, I would literally scream at the top of my lungs. Because to run out there, and see all these people going crazy, it was an amazing feeling. I knew what it felt like for me. And for a JV player up for one game, that's their one opportunity. That means something."
There was one problem: My defender kept guarding me. And I was a much stronger spot-up shooter than off the dribble. Finally, with about 30 seconds to play, I found an opening. Solomito threw me the ball, about halfway between the top of the key and the right wing, and there was a little bit of room between me and my defender. I didn't have quite enough space to just catch and shoot -- so I pump-faked my man, he jumped, and I pushed my right foot forward past him, taking one dribble on the way.
I stopped on a dime, pulled up for a jump shot, extended my arms, exaggerated my follow-through, watched the ball rise, then fall ...
Kieran Darcy is an editor for Page 2. You can e-mail him at kieran.d.darcy@espn3.com.