JACKSON, Tenn. -- On Tuesday, Feb. 5, the Union University women's basketball team -- the No. 1-ranked National Association of Intercollegiate Athletics team in the nation, with a spotless record of 22-0 -- was scheduled to have a day off from practice. The Lady Bulldogs had played at Lyon College in Batesville, Ark., the night before and didn't arrive back at campus until 2:30 a.m.
The day turned out to be far from restful, though.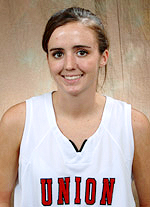 Union University
Lindsay Flynn, one of Union's women's basketball players who was on campus the night of Feb. 5.
Meteorologists were predicting that some nasty storms were going to blow through this city of about 60,000 people, 80 miles east of Memphis. Union's campus was hit by a tornado back in 2002, and tornadoes seemed possible with this storm system as well.
Many of Union's female basketball players are from the West Tennessee area, so several were able to go home and ride the weather out with their families. But a few players stuck around, including reserve guard Lindsay Flynn, who hails from Jackson. She remained in her dorm with some friends.
The forecasters said the most dangerous band of storms would probably arrive in Jackson around 9 p.m., but at approximately 6:40 p.m. the tornado warning sirens on campus began to wail.
Union's students have been instructed to immediately head to the lowest floor of whatever building they're in when they hear those sirens -- the school conducts tornado drills every year. Flynn went into one first-floor dorm room and found about 20 other students in it. Just before 7 p.m., a resident advisor entered the room and determined there were too many people packed into that room. So Flynn and four other girls raced across the hall into a bathroom, closed the door and huddled in the bathtub.
Moments later, "the building started shaking," says Flynn. "I called my mom, but then my ears started popping. And I heard glass shattering … and screaming."
Flynn says the next several minutes were a blur. Then, finally, there was quiet. She couldn't see much in the darkness, but all the girls were fine. The five of them joined hands and prayed. They were able to crack open the bathroom door -- and soon they saw a flashlight peering in, and heard a rescue worker asking if everyone in the room was OK.
The door wouldn't open completely, but the five girls managed to squeeze their way outside, flipping open their cell phones to use as torches to light their way. And Flynn will never forget her first thought when she emerged outside:
"The walls are gone."
---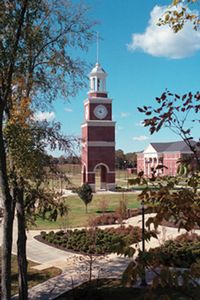 Union University
The center of Union University's picturesque campus in Jackson, Tenn.
Union University is a private liberal arts university founded in 1823, and it's the oldest institution affiliated with the Southern Baptist Convention, the largest Baptist group in the world. Union currently has 3,310 students, and it is regarded as one of the finest universities in the South.
Athletically, the school has two claims to fame. The first is Bear Bryant, the legendary football coach of the Alabama Crimson Tide, who got his first coaching job at Union. The second is the women's basketball team.
The Lady Bulldogs compete in Division I of the NAIA, and during the past 15 years they've been the association's most successful program. They've won 30 or more games 13 of those 15 seasons and captured national titles in 1998, 2005 and 2006. And this season they're undefeated and the top-ranked team in the country.
But Union made national headlines last week as a victim of the devastating tornadoes that swept across Alabama, Arkansas, Kentucky, Mississippi and Tennessee. Fifty-nine people died in their path, making it the deadliest tornado wave in the U.S. since 1985.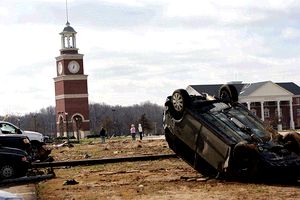 Rick Gershon/Getty Images
Here's the center of Union's campus after the storm.
The tornado that touched down on Union's campus at 7 p.m. on Feb. 5 was a category EF4 -- extremely dangerous -- with winds of about 170 miles per hour. It ravaged everything it touched on its diagonal path across campus. And smack in the middle of that path was Union's residence-hall area.
The university looks like a war zone now. Eighty percent of the school's dormitories were either destroyed or severely damaged. The parking lots were littered with what appeared to be wrecks from a demolition derby. A stone's throw to the left or right, you can see buildings that were practically untouched. Yet it looks as if precision bombs were dropped with pinpoint accuracy on these residence halls.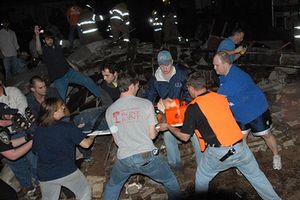 Morris Abernathy/Union University
Rescuers worked for several hours to pull out injured students who were buried under the collapsed dorms.
Fifty-one students were sent to the hospital, including 13 who were trapped under the rubble for several hours afterward. Five remain hospitalized with serious injuries -- including a men's golf team member and a men's soccer player -- but all are expected to pull through.
Stunningly, not a single life on campus was lost amidst all this chaos and destruction.
"You don't know why," says Union University president David S. Dockery. "One room's intact, the next one's reduced to rubble. I don't think there's any way to explain it. You just take hope in the fact that God spared lives on this campus.
"It's nothing short of a miracle."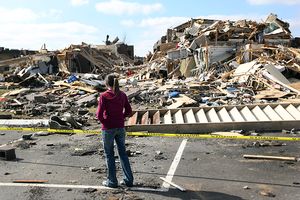 Rick Gershon/Getty Images
Union freshman Jessica Johnson takes in what happened to her dorm.
Still, Union is facing a massive rebuilding project. Nineteen of the 42 buildings on campus were either destroyed or suffered major damage. Another 12 have minor damage. The cost of rebuilding has been estimated at approximately $40 million -- about 20 times the amount of damage caused by the tornado in 2002.
Naturally, classes have been canceled. Fences have been built, cranes and bulldozers brought in -- the place now looks like a construction site. The Federal Emergency Management Agency is on the scene. But the university's own people have been pitching in as well. Union faculty, staff and students, assisted by the Tennessee National Guard and other volunteers, have been combing through the wreckage (where it's stable), room by room, trying to salvage as many of the students' belongings as they can.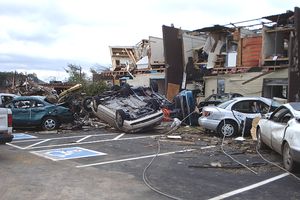 Jessica Bandy/Union University
The amount of cars totaled by the tornado was unfathomable.
The larger Jackson community has provided lots of support as well. Local residents have taken in displaced students and the Englewood Baptist Church, which owns the local Old English Inn, has volunteered to house 300 Union students until December. Offers of aid and assistance have been pouring in from around the country. For example, two other similarly-named schools -- Union College in Schenectady, N.Y., and Union University in Barbourville, Ky., have both sent several boxes of athletic gear to help clothe the students who lost most or all their wardrobes. And 2003 PGA Championship winner Shaun Micheel, a Memphis native, has pledged to donate $500 to Union for every birdie he makes in this week's Northern Trust Open -- plus he's trying to get several businesses to do the same.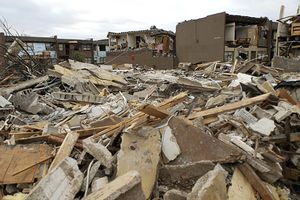 AP Photo/Christopher Berkey
It's simply hard to believe this much damage was done.
"It's been amazing," says Union athletic director David Blackstock, who's in his 34th year in that position. "We've heard from so many people and schools from all over the country who just want to help any way they can. Whenever there's a tragedy, I think everyone sort of steps back and imagines what it would have been like if it'd happened to them."
Speaking of athletics -- the Lady Bulldogs' home game versus Trevecca Nazarene University on Feb. 7 was understandably postponed. But coach Mark Campbell, who's in his ninth year as the head coach at Union, did gather his team together for a practice that day. They couldn't use their home gym, Fred DeLay Gymnasium -- it was spared by the tornado, but is being used to store all of the salvaged student-belongings -- so the team practiced at Trinity Christian Academy, a local high school, instead.
"It was good … it gave us a sense of normalcy," says Campbell. "Everyone seemed really glad to be together."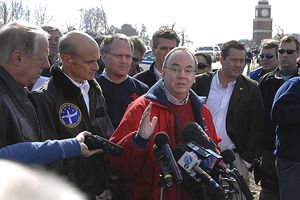 Justin Veneman/Union University
Union's president, David S. Dockery, addressing the media two days after the tornado.
"We are a really close team," says Flynn. "To see each other again was amazing. It puts everything in perspective."
Meanwhile, the school administration had to decide what to do about the Lady Bulldogs' next scheduled game -- at home, versus Cumberland University, on Monday, Feb. 11. After much thought and deliberation, Dockery and Blackstock decided to go ahead and play the game.
"We thought we were ready to begin focusing on the future," says Dockery. "Women's basketball is our most visible sport. I think the fact that it's basketball season allows our students and our friends in the community to rally around the team."
"We felt it was necessary," adds Blackstock. "Everyone was out of danger, and we began to see daylight after a terrible few days. It was time to get back to somewhere near typical."
GIVING TO UNION
If you're interested in contributing to the Union University Disaster Relief Fund, click here.
---
It was Jackson Christian School's gymnasium that hosted the Lady Bulldogs on Monday night -- but that didn't stop dozens of Union fans from showing up wearing their red "Fred Fanatics" T-shirts. Almost 1,000 people attended in all, and the Union side of the gym was packed with boisterous red-clad fans. They greeted their Lady Bulldogs with a huge round of applause when the players took the floor for pregame warmups.
And on the wall in one corner of the gym, someone had taped up a small sign for an esteemed Jackson Christian School alum. It read: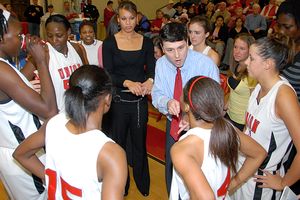 Union University
Union's head coach, Mark Campbell, says he's tried to keep things as normal as possible for his players. But it's not easy.
"Welcome home Lindsay Flynn."
The Lady Bulldogs looked like a very upbeat group during warmups, with lots of clapping and chatter. You'd have never known what they'd been through.
Before tipoff, professor Steve Beverly took the public-address microphone and offered a prayer. "Ladies and gentlemen, we are all thankful to be here tonight," Beverly began, followed by another round of applause.
The Lady Bulldogs won the opening tip, and were off to the races. They average 92 points per game and they like to get up and down the floor, inbounding the ball with lightning speed after an opponent scores. They employ a four-out, one-in approach. All of their perimeter players can shoot the ball and their center, 6-foot-4 Josephine Owino, originally from Mombasa, Kenya, is an adept scorer down low.
The Union bench stayed active too, chanting "DEE-FENSE" and counting down the shot clock for their teammates whenever they got the chance.
The Lady Bulldogs got off to a cold shooting start, and Cumberland looked a little quicker to the ball and the boards. But that didn't stop the Union crowd from cheering on their team -- or from getting on the referees. "Get some glasses, ref!" one fan yelled after a perceived bad call. Campbell wasn't too thrilled with the referees either, or with his team falling behind 26-16 midway through the first half to a team with a 13-12 record.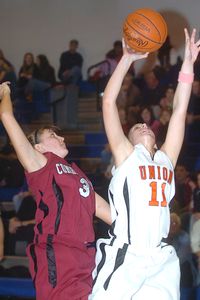 Katie Morgan/The Jackson Sun
Kaitlin Dudley, the Lady Bulldogs' second-leading scorer on the season, led the team with 20 points against Cumberland.
Union fought back to take a 38-36 lead at halftime. Then the Lady Bulldogs turned on the shooting touch in the second half, running out to a big lead. But the hot shooting wasn't what stood out most. Rather, when Kaitlin Dudley got knocked to the ground after a hard foul, she smiled. When Jessica Graves got called for a ticky-tack reach-in foul, she giggled. When Crystal Eason got a shot stuffed right back in her mug, she burst out laughing.
And with 2:09 remaining and the game in hand, Campbell emptied his bench -- meaning Lindsay Flynn got to play on her high school floor. With less than a minute remaining, Flynn lined up a 3-pointer … and drilled it, icing Union's 92-75 victory.
"It was so great out there," Eason said after the game. "It was a relief from everything outside, to be able to focus on basketball for a little while, even though that's not our main focus."
"I felt a little guilty preparing for this game," Campbell said. "But coming to a basketball game, it's like going to a movie. We have an opportunity to take people away from all of this for a little while."
The game meant a lot to the fans, too. Amos Davenport, who along with his wife has attended virtually every Union women's game the past 21 years -- and who spent several hours digging through the rubble Tuesday night -- was clearly moved. "I think it means total recovery," Davenport said. "We've gotta get over the past, and move on. This is part of it. It's a change of direction. A new beginning."
---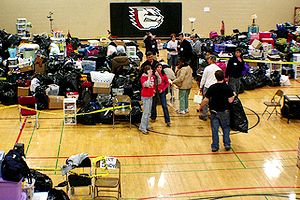 Kristi McMurry/Union University
Union's gymnasium is currently being used to store recovered student belongings. When students retun to campus, they'll be able to reclaim whatever was found.
The following day, Tuesday, Feb. 12 -- exactly one week removed from the tornado -- the Lady Bulldogs were again given a day off. After the game Monday night, Campbell told his players they could take the next day to rest. But he also told them that a lot of help was needed back on campus.
The players eagerly volunteered to pitch in.
So the Lady Bulldogs spent Tuesday at the gymnasium with several other fellow students, sorting through the latest recovered belongings. The gym was filled with all kinds of stuff. Bikes, soccer balls and bulletin boards. Microwaves, sewing machines and mini-refrigerators. Photo albums, textbooks and Bibles.
"It's good to be here," said guard Merideth Jacobs. "But seeing everyone's stuff, scattered everywhere … it's very overwhelming."
Lindsay Flynn got most of her clothing back. But she also lost a lot of things -- including her basketball playbook and the many notes she received from the children she mentored at an inner-city camp last summer.
"I just feel blessed more than anything," said Flynn. "I mean, how could no one have died?"
There are students who literally lost everything they owned on campus. But there were some incredible recoveries as well. For example, Union softball player Kristen Kirk had taken off her engagement ring and left it in her dorm room before the tornado hit. Somehow, some way, someone found it in the wreckage.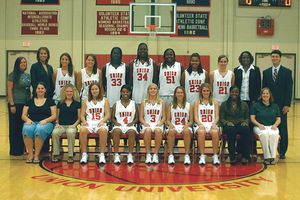 Union University
The 2007-2008 Lady Bulldogs hope to go undefeated and win another national championship, in spite of the disaster that befell their school.
A small miracle, in the shadow of a much larger one.
The school has announced that classes will resume Feb. 20. The hope is to finish the semester on schedule. Meanwhile, the Lady Bulldogs will continue to pursue an undefeated season and another national championship.
"I don't know if it will feel any different," said Jacobs, when asked how she'll focus on the rest of the basketball season. "I'm just so happy to be able to represent Union in this way."
"These girls are the biggest character team I've ever had," said Campbell. "We'll just have to get used to a new challenge. It'll make us tougher.
"I mean, what's a better way to learn about toughness than this?"
Kieran Darcy is an editor for Page 2. You can e-mail him at kieran.d.darcy@espn3.com.