PITTSBURGH -- This city is known for its aesthetically pleasing sports venues, PNC Park and Heinz Field, but perhaps its most unique playing field is located in a single-level white warehouse in Scott Township on the outskirts of the city.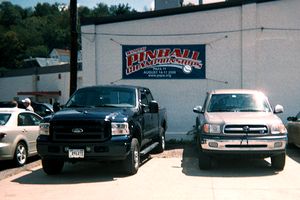 Kieran Darcy, ESPN.com
If not for the sign, you'd have no clue what treasure lies in this warehouse.
When I pulled into the parking lot on a recent Saturday morning, a guy was working a small barbecue near the front door and a few other people were sitting on plastic furniture, sucking on cigarettes or chattering on cell phones. I breezed past them toward the door, took a deep breath and ventured inside.
My ears immediately were assaulted by machines chirping and bells chiming. It sounded like a Vegas casino, except I wasn't looking at slot machines. No, they were pinball machines. I couldn't remember the last time I had seen one. But there they were, dozens upon dozens of them, as far as my eyes could see.
It appeared I had just arrived at pinball paradise.
I soon bumped into the particular pinball player I was looking for. Bowen Kerins is regarded as one of the best, if not the best, in the world. We talked for a few minutes, then he said he was going to play a game. I watched as he strolled to a nearby machine, Creature from the Black Lagoon, and pressed the start button.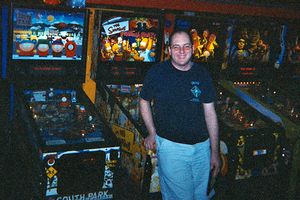 Kieran Darcy, ESPN.com
Bowen Kerins, one of the top pinball players in the world.
Kerins hunched over the machine, one hand firmly planted on each side, slapping the buttons on each side feverishly. He bobbed up and down and left and right, racking up millions and millions of points on a single turn.
And I wasn't alone. Within minutes, several people joined me, watching Kerins manipulate that little silver ball all over the game board. And these other onlookers kept oooohing and aaaahing and applauding.
Was I watching the pinball messiah?
---
Maybe it's been a long time, but if you're reading this story, you've likely played pinball at least once or twice in your life. But you probably don't know much about the game's history. Pinball is a direct descendant of a game called bagatelle, which was developed in the 18th century in France. In bagatelle, a billiard table was narrowed and pins were placed in different positions on one end of the table. A player used a cue to shoot a ball toward the other end of the table, using the pins to ricochet the ball into certain holes, which were the ultimate targets.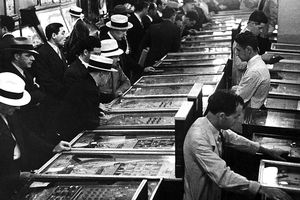 Getty Images
Here, men playing pinball at an arcade way back in 1935.
Bagatelle became popular in France and eventually spread to the United States during the Revolutionary War. In 1871, a British inventor, Montague Redgrave, applied for and received
a U.S. patent
for making several improvements to the game. Redgrave added a coiled spring and plunger to shoot the ball, decreased the size of the game, used smaller balls of marble-like proportions and added an incline to the playing field. This was essentially the birth of modern pinball.
Pinball continued to evolve during the 20th century, benefiting from numerous advances in technology. It enjoyed a boom in America after World War II and continued to grow in popularity during the 1960s and '70s. But when video games emerged into the mainstream in the 1980s, it spelled trouble for the pinball industry.
The game has suffered a relatively steady decline ever since. As The New York Times reported in April, there is only one company left in the world mass producing pinball machines, Stern Pinball Inc., which is based in Chicago. And even Stern, which once produced 27,000 machines per year, now is producing only 10,000 annually, many of which are destined for private home collections as opposed to public arcades.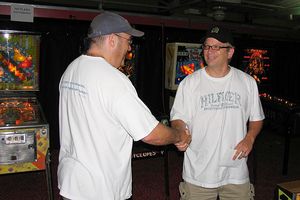 Courtesy of Jeff Rank
Kevin Martin, on the right, is the head of PAPA and the owner of every machine in that warehouse.
But there are some people trying to keep the game alive. Chief among them is Kevin Martin, the man in charge of
PAPA
, the Professional & Amateur Pinball Association. Martin, who used to work as a software engineer/game designer for Stern, knows the challenge of promoting the game.
"There's too much competition out there for the entertainment dollar in the marketplace now," Martin said. "Video games were just the first sign of a new wave of entertainment. Entertainment moved into the home with Nintendo and VCRs. People don't go out as much. And with the economy these days, it's cheaper to stay home and watch a DVD or play Nintendo than to go out and do things."
Pinball machines also are more complicated and more difficult to keep in working order than, say, pool tables or arcade video games. So places like bars, which used to feature pinball machines, have shied away.
"It's tough," Martin said, "because the thing that I love is a machine that is hard to maintain and that people don't have a lot of access to these days."
The primary way in which Martin and PAPA are trying to keep the game alive is by hosting an annual World Pinball Championship tournament, which Martin revived in 2004 after it had been dormant since 1998. Five days after PAPA 7 in 2004, the remnants of Hurricane Ivan flooded Martin's warehouse in Scott Township and destroyed all 232 of his pinball machines. He rebuilt his collection by the following year's tournament and now has more than 400 working machines. For PAPA 11, held Aug. 14-17, Martin expected more than 300 competitors, the most ever, and planned to give out more than $36,000 in prize money.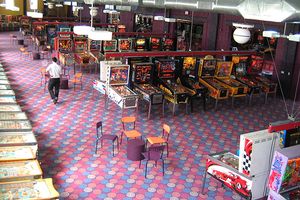 Courtesy of Todd Seaver
When you first walk in the warehouse, the amount of pinball machines inside floors you.
"It's become the biggest international pinball competition in the world," he said.
Between the operating costs and the prize money, Martin only breaks even hosting these tournaments, but he loves the fun.
"To see all these people come out and compete on this level -- they just can't do it anywhere else," he said. "I mean, there's people [coming] from all over the world. The Netherlands, Germany, Sweden, Canada. To bring those people together and allow them to really knock heads, in a serious competitive situation -- I just don't think that could happen otherwise."
Several former PAPA champions were slated to compete this year, including two-time winner Bowen Kerins.
---
Two weeks earlier, in a basement classroom of an engineering building at Boston University, Kerins was standing behind a desk, lecturing a group of high school math teachers.
"We're going to model the first-year algebra experience for you," Kerins told his audience. "Welcome to ninth grade."
This is Kerins' day job -- leading workshops for teachers about the math textbooks he co-wrote.
The 33-year-old native of Newport, R.I., has been a math whiz all his life. After graduating from Stanford in 1996, he returned to the East Coast, got a master's degree from Boston U. and worked as a high school math teacher in Massachusetts. Then, five years ago, he began working for Education Development Center Inc., helping design a new high school math curriculum and corresponding set of textbooks.
But Kerins' real passion is pinball. He started going to the local arcade with his father, who also was an avid pinball player. By the time he was 12, Kerins was beating his father regularly.
"He moved on to golf," Kerins said, chuckling. "And I just kept playing pinball."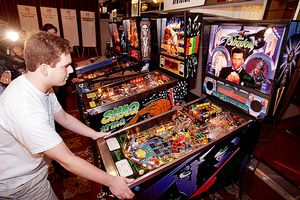 AP Photo/Ed Bailey
Kerins playing in the PAPA tournament in 1995, a year after he won his first world championship.
At Stanford, he joined a pinball league, and he entered his first PAPA world championship tournament in 1994, at the age of 18.
"I was just excited to hang out with my family in New York City and meet these great pinball players I had read about," Kerins said. "I didn't have any expectations."
Kerins won the whole thing.
He has attended every PAPA tournament since and has qualified for the finals (top 16) each time. But he's won the tournament only once more, in 2005.
"The competition has gotten a lot harder," Kerins said. "More players know about it, and everyone is continuing to get better."
What does he enjoy most about the game?
"I was really drawn by the mechanics of it," Kerins said. "There's this move where, if you can flip the flipper at the right time, you can stop the ball like a bunt. The ball just freezes there on the flipper. It looks like you violated a law of physics.
"And you're actually banging a ball into a target, as opposed to a video game and just seeing it happen on a screen. Something about that really appealed to me."
There are three primary skills that go into being a good pinball player, according to Kerins. First, you need to know how to aim, by pushing the buttons at the right time. Second, you need to be able to catch the ball, by using the flippers to stop the ball. And third, you need to learn how to physically nudge the machine, just enough to keep the ball in play.
"Moving the machine around is essential to playing at a high level," he said. "Otherwise, you'll quickly lose the ball down the sides or the middle."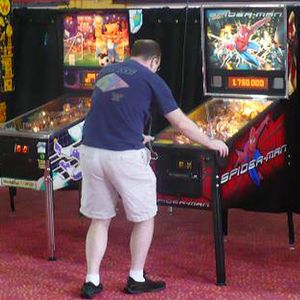 Courtesy of Virginia Hendricks
One turn on a pinball machine can take Kerins more than 20 minutes.
Kerins feels his math background has contributed to his pinball success as well.
"There are a lot of analytic things that go on," Kerins said. "It's a risk-and-reward game. You know, this shot is worth twice as many points, but you're three times more likely to lose your ball. You've got to assess what your best moves are and have the right scoring strategy."
Kerins even met his wife, Nancy, through pinball. They first bumped into each other at the Salem Willows arcade in Salem, Mass., where they played a few games together. Now they live two miles down the road and have a newborn son, Aaron.
After I spent the day with Kerins at Boston U., he was kind enough to take me back to his house and show me his basement, which is cluttered with pinball trophies, plus the three pinball machines he owns, set up side by side: World Cup Soccer '94, The Simpsons Pinball Party and Whitewater. Kerins played a couple of quick games that evening. His scores looked pretty good to me, but he wasn't very pleased.
"If I play that poorly in Pittsburgh, forget about it," Kerins said. "I'm dead."
---
Back to Saturday afternoon, the third day of PAPA 11, the last day to qualify for the finals. Kerins was starting to panic. He had been at the tournament since Thursday evening, and he had played several qualification rounds, but he hadn't made the top 16 yet. He had never failed to make the finals. But it had never taken him this long.
TILTING TOWARD THE FUTURE
Who's the tallest rising star in the pinball world? None other than former NBA center Todd MacCulloch.
MacCulloch, a 7-footer who played four seasons for the Philadelphia 76ers and the New Jersey Nets before being forced to retire in 2004 due to a chronic foot condition, was a pinball junkie while growing up in Winnipeg, Canada. He played the game whenever he could, at malls, arcades and bowling alleys around town. And when he signed as a free agent with the Nets in 2001 and got his first house, he began buying up pinball machines. His collection now is at 45 games.
MacCulloch says there are indeed some similarities between pinball and basketball.
"Hand-eye coordination is really important in both," he said. "And maintaining your focus is definitely important."
After doing some color commentary work for the Sixers following his retirement, MacCulloch now is living in Seattle, contemplating his next career move. In the meantime, he's played in several pinball tournaments. He competed in the European pinball championship in Stockholm in 2007, and he played in the PAPA tournament from 2005 to 2007. (He was forced to miss PAPA this year due to a prior engagement.)
Between his height and his foot condition, MacCulloch is forced to play pinball sitting on a stool. But that hasn't stopped him from becoming a pretty good player -- in fact, he currently is No. 85 in the world, according to the PAPA rankings. Ironically, MacCulloch's biggest challenge when it comes to playing pinball is a mental one.
"I've been in some pressure situations in big [basketball] games, and nerves wouldn't affect me," MacCulloch said. "But I've found that in pinball tournaments, I can't seem to keep those nerves at bay. My heart beats faster, my chest gets tight. Competition is competition, and I thought I'd respond well, but I haven't been able to rein that in yet."
MacCulloch has played several matches against two-time world champion Bowen Kerins.
"I got my butt kicked," MacCulloch said. "But I've tried to learn from him. It's something to watch him. It's like watching Jordan play basketball or Gretzky play hockey. He just sees the entire playing field, and he's in complete and total control."
Kerins, meanwhile, sees great potential in MacCulloch.
"He's got good coordination and good timing," Kerins said. "He's got pretty much the whole package to be a top player. He'll be a threat to win the whole thing in two-three years."
-- Kieran Darcy
The qualification process is as follows. Ten machines are set up for the players to choose from. Each player chooses five and plays one game on each -- three turns per game, that's it. The player's score on each machine is ranked relative to the scores of the rest of the field on that machine. And if a player's combined ranking on all five games places him in the top 16, he makes the finals on Sunday.
Dave Baach, who is employed year-round by Martin to maintain all the machines and prepare for the tournament, chooses which machines are used for tournament play.
"You have to pick games that are fair to players, with balanced scoring," Baach said. "Some games have a repeatable shot, like a right flipper loop that you can just hit incessantly. And we're not looking for somebody that can hit 100 loops in a row. We want fun games but fair play."
Kerins chose to focus on these five machines: Creature from the Black Lagoon, Getaway: High Speed 2, Dirty Harry, Congo and Tommy. Those were the ones he felt most comfortable playing. And finally, late Saturday afternoon, he strung together five good games and broke into the top 16.
In fact, he didn't just qualify. He qualified as the top seed in the tournament, something he'd never done before.
"After a whole day and a half of failure," Kerins said, "it all came together."
After that, he could relax for the rest of the day. He certainly had lots of options if he wanted to keep playing pinball. All 400-plus machines not used in the tournament still are turned on and made available for anyone to play. Lots of people come to PAPA not to compete in the tournament but to play for fun, because Martin opens his warehouse to the public only four days a year, during the tournament.
Inside his warehouse, you can find every kind of pinball game imaginable. Games affiliated with sports (NBA Fastbreak, Big Hurt Pinball), movies (Pirates of the Caribbean, Demolition Man), TV shows (The Simpsons Pinball Party, The Sopranos), music groups (Guns N' Roses, KISS) -- the list goes on and on. Basically, name something, and there's probably a pinball game associated with it (and Martin likely has it in his collection). He has antique games from decades ago, all the way up to the latest games being produced today.
That's one of the beauties of pinball, from talking to several competitors over the course of the tournament: variety.
"There are so many different games, with all sorts of different designs and layouts," said Brian Dominy of Ft. Lauderdale, Fla. "And even if you keep playing the same machine over and over again, no two games are exactly alike. You can play a game thousands of times and not see the same patterns."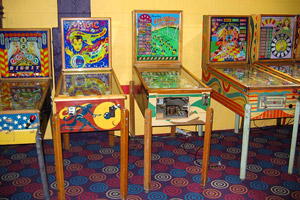 Courtesy of Todd Seaver
Martin has lots of older machines in his collection, as well as the most recent games.
On Sunday, the final 16 players -- including two international competitors, both from Sweden -- competed on five machines, again selected by Baach:
The Family Guy
,
Bram Stoker's Dracula
,
Dr. Dude
,
Whitewater
and
The Addams Family
. The competition began around 2 p.m., and after seven intense hours, the final 16 had been whittled to four.
The star-studded final four featured three former champions, including Kerins. Besides him, there were:
• Lyman Sheats Jr., a three-time PAPA winner, who works as a game programmer at Stern. Sheats carries a white hand towel with him every time he steps up to a machine. Instead of standing upright at the machine, he crouches, with his legs crossed, and places his face very close to the glass. He says it helps him see the game better.
• Keith Elwin, the winner of PAPA 6 in 1998. Elwin hails from Carlsbad, Calif., and he obviously has a good sense of humor. He was wearing a T-shirt with a self-deprecating quote attributed to GQ magazine on the back: "To win at pinball is to lose at life." (The back story: After winning the PAPA tournament in '98, a writer from GQ interviewed Elwin and asked him how one becomes a pinball champion. Elwin said he practiced five to six hours a day. The writer clearly didn't have much respect for Elwin's work ethic.)
• Josh Sharpe, the son of pinball legend Roger Sharpe, who was making his first appearance in the PAPA final four.
Kerins, as the top qualifier, got to pick the three machines the final four would play. He selected the three machines he'd been playing all day.
Whitewater was up first, with Kerins holding a bit of an advantage since he has a Whitewater machine at home. But all the machines used in the tournament are calibrated so they are much more challenging than they normally would be. Nevertheless, thanks to an outstanding second turn during which he scored a triple jackpot, Kerins blew away the competition and took first place on the machine, earning four points. Elwin received two points for finishing second, Sharpe one point for third and Sheats zero points for fourth.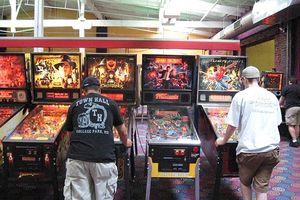 Courtesy of Brian Galasso
Baach has most of the pinball machines arranged by theme. Here, some movie-related machines.
Kerins definitely was the most animated of the four players in the final round, a sharp departue from the soft-spoken math lecturer. Before every turn at a machine, Kerins pops headphones in his ears and plays a song via his iPhone to pump himself up -- usually something loud, like "Welcome to the Jungle" by Guns N' Roses or other typical sports-arena music. And he mouths the words energetically as he listens.
He doesn't leave the earphones in while he plays, but he's still a ball of energy, often kicking his legs up, giving the machine two thumbs up after a well-struck shot and running away from the machine as if it was on fire after finally losing his ball.
"It's probably my approach to pressure," Kerins said. "In the classroom, there is so much going on that there isn't any pressure to feel. … But at the pinball machine, where it's just you and the game, it's pretty easy to outthink yourself, and most of the animated goofball stuff is just for relaxation.
"Some of the goofy stuff also helps to remind me that even though it's a competition, I'm having fun, and I might not get another similar moment of pressure-filled play for a long time."
Sheats bounced back to dominate on The Family Guy, and Kerins caught a huge break when Elwin, who went last, just missed eclipsing Kerins' score for second place. Thus, after two rounds, Kerins was sitting pretty, with a 6-4 lead over Sheats.
For Game 3, Kerins had selected The Addams Family. The situation was pretty clear. If he finished first on this machine, he'd be the champion; even if he finished second, he was guaranteed at least a tie for first place and the opportunity to play in a tiebreaker.
Kerins started out with a bad turn, accumulating only about 2 million points. He was so upset he ran back to the machine after walking away from it and shook it for a moment. Sharpe followed him and scored a little more than 12 million points. Sheats racked up 47 million, while Elwin had an even worse first turn than Kerins.
The second turn wasn't terribly good for any of the four competitors. After two turns, Kerins was at 9 million, Sharpe at 15, Sheats at 53 and Elwin at 23.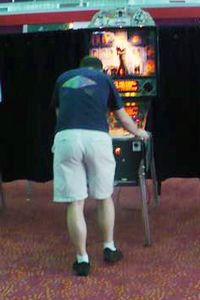 Courtesy of Virginia Hendricks
Kerins on the Addams Family machine, the one that would decide his fate.
So it all came down to the final turn. Kerins is known for coming through in the clutch. In the previous round, Kerins had played wonderfully on his final turn on this same Addams Family machine, propelling himself into the final four. But this time, barely a minute after removing his headphones and launching his ball …
… the ball suddenly disappeared from view.
There were audible gasps from the 40 or so people still gathered around watching after 10 p.m. "Oh my god," one spectator said. Shockingly, it appeared Kerins had just seen his championship hopes dashed.
Next up was Sharpe, who had a superb turn, skyrocketing his score to 175 million points, even though he already was mathematically eliminated from winning the tournament. Sheats then had a chance to win it all, but he came up short, finishing with 101 million.
Elwin had an awfully long way to go, starting at 23 million. But if he could eclipse Sheats' score and finish second on this machine, Kerins and Sheats would finish tied for first and play a tiebreaker. And if Elwin could somehow top Sharpe's score of 175 million, he would win the tournament outright.
And wouldn't you know, that's exactly what he did.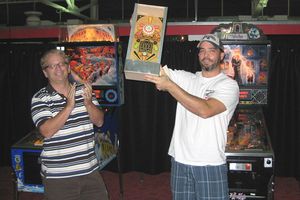 Courtesy of Pinballrankings.com
Keith Elwin (right) took the top prize this year, but Kerins still had a blast.
Elwin, on the final turn of the tournament, after four full days of competition, ran his score all the way past 190 million to claim his second pinball world championship and a $10,000 prize. Those who remained, some of whom were standing on chairs, watching Elwin's final turn in hushed silence, cheered wildly when it was over.
So, what does the future hold for the game of pinball?
"I don't know," Martin said. "I've wondered that for 20 years now. It always seems like it's slowly becoming less and less common. … But every time we have a juniors division [in the tournament], and every time people come here and bring their kids, the kids love it. You never hear kids come and say, 'Oh, this is stupid, I wanna play my PlayStation.' When they're actually doing it and seeing it, it's still very, very cool.
"Is that gonna save things? I don't know. It's gonna keep it alive in the consciousness. Maybe in a better economy, a different day, pinball machines will be big again. I hope, I hope, I hope."
As for Kerins, he was looking forward to flying home the next morning and seeing his wife and baby. And he seemed quite satisfied with his second-place finish and his check for $3,500.
"Hey, I got to play pinball for four days straight," he said.
Kieran Darcy is an editor for Page 2. You can reach him at kieran.d.darcy@espn3.com.