NEW YORK -- If you like sports, New York City is a magnificent place to live. Two local NBA teams, two MLB teams, two NFL teams and three NHL teams. Talk about being spoiled rotten.
I've lived in the New York City area almost all my life. Call me biased if you wish, but I believe it's the best sports city in America. The one thing the Big Apple is missing, though, is a big-time college football team. That's why I love when I get to travel to schools with premier football programs.
Three months ago, I visited Notre Dame. It was a fantastic experience, except I didn't get to go to a home football game this time around. I was actually working on a story about Notre Dame's interhall football program -- one of only two intramural 11-on-11 tackle football programs in the country.
While doing research for that story, I discovered that, according to the current Princeton Review college guide, Notre Dame ranks No. 1 in the nation in terms of the popularity of intramural sports. The guide also included a corresponding list, of colleges where intramural sports are least popular. And I was taken aback by the No. 1 school on this list.
The school was in my own backyard.
I had to see this for myself.
---
With the temperature a balmy 20 degrees Fahrenheit and the wind making it feel even more frigid, I wasn't surprised when I was the first person to arrive for the 10 a.m. campus tour at Eugene Lang College The New School for Liberal Arts. (That is the school's official name, seriously.) In fact, I was worried I'd be the only person to show up. But just before the clock struck 10, a young guy with braces carrying a skateboard under his arm entered the building and checked in at the front desk. "Thank heavens," I whispered under my breath.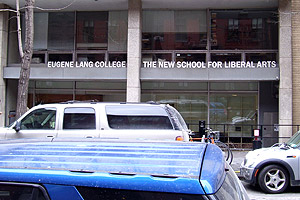 Kieran Darcy
Hey, they fit the school's whole name on the building!
A few minutes later, we were ushered into another room to view a short video. The New School was founded in 1919 as a university for adult education, a new concept at the time. In the 1930s it became a haven for European artists and intellectuals in exile from totalitarian regimes in Europe, and it has become well-known for its traditionally liberal-leaning faculty and student body.
The university has continued to grow in the ensuing decades. At present it includes eight schools, the most prominent of which is Parsons The New School of Design (notice a trend?), regarded as one of the world's top art and design schools. If you've ever watched the television show "Project Runway," you're familiar with Parsons.
Best Sports Schools
According to the Princeton Review, these are the top 10 colleges in the country when it comes to intramural sports participation:
1. University of Notre Dame
2. Whitman College
3. Pennsylvania State University -- University Park
4. Ripon College
5. Wabash College
6. University of Florida
7. Grove City College
8. Clemson University
9. Colorado College
10. Gonzaga University
Eugene Lang College is the undergraduate liberal arts school within The New School. It was established in 1985, thanks to a large endowment by American philanthropist Eugene M. Lang, and its stated mission is "to foster the highest aims of social justice, political responsibility, and cultural awareness." It currently has about 900 students, all of whom are encouraged to design their own majors (the average age is 20, but the enrollment is 68 percent female). Also, all classes are seminars. (In other words, there are no opportunities to hide in the back of large lecture halls. Yikes!)
After the video presentation, Skateboard Guy (whose real name is Nico) and I embarked on the actual campus tour. Our guide was a friendly Lang student named Andre Singleton. Within seconds of walking outside, Andre asked me what I was hoping to study at Lang. After a brief moment of glee because I had pulled off looking like an aspiring undergrad at age 30, I broke the news to Andre that I wasn't a prospective student -- I was a journalist, from ESPN, on a mission to find out how bad the sports scene at Eugene Lang College is. Andre immediately started laughing.
"Is it really that bad here when it comes to sports?" I asked Andre.
He paused for a moment. "Uh, yeah," he finally replied. "I mean … [thinking] … yeah."
"Does anyone even talk about sports around here?" I asked.
"Nah, not really," he answered. "It's just, people here are more into the liberal arts, and cultural stuff. Like, there's a lot of thespians."
Worst Sports Schools
According to the Princeton Review, these are the bottom 10 colleges in the country when it comes to intramural sports participation:
1. Eugene Lang College
2. Stephens College
3. College of the Atlantic
4. Sarah Lawrence College
5. Emerson College
6. New York University
7. Prescott College
8. New College of Florida
9. Hollins University
10. Suffolk University
Andre took Nico and me to several different buildings on campus. I use the word "campus" loosely, because the school doesn't really have a campus -- just several buildings in Manhattan's Greenwich Village, roughly between 11th-14th streets and Fifth-Sixth avenues (about 20 blocks from Madison Square Garden). Andre did show us Tishman Auditorium, where the television show "Inside the Actor's Studio" was taped from its inception until 2005. But we weren't shown any athletic facilities.
Why? Because the school doesn't have any.
"But we do get a discount on a membership at a local Y," Andre revealed.
There are no intercollegiate sports teams, either. But, as I discovered when we visited one of the college's computer labs near the end of the tour, the school is not completely devoid of sports activities. On a bulletin board near the entrance, a poster advertised a student ski trip to the Berkshires, as well as an ad for an indoor soccer league starting up in late February.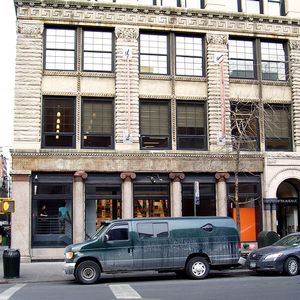 Kieran Darcy
The campus tour left from this building, one of several The New School owns in Greenwich Village.
"The school offers yoga and Pilates too," Andre added. "That's what people are really into."
When our tour ended, I couldn't resist asking Nico a question. He'd mentioned earlier that he was also considering applying to UMass-Amherst -- a large school, with lots of sports teams. Why, I wondered, was he considering Eugene Lang College?
"I don't know … I'm not sure what I want to study," Nico replied. "I don't think [the lack of sports] would bother me that much. I'd probably try to found an Ultimate Frisbee team or something."
With that, I left Nico, and spent the next several minutes pondering whether Ultimate Frisbee qualifies as a sport.
---
My next stop was the Office of Student Development and Activities, which, according to the school's Web site, "sponsors many organizations and leadership programs in addition to an extensive calendar of events, all of which promote community and collaboration among students." Surely, I figured, they must offer some sports-related programs or opportunities.
I entered the office, walked up to the receptionist and asked her whether they currently have any sports activities for students.
"Well, we've got a waiting list for Knicks tickets," she replied. "But that's about it."
Knicks tickets? Well, that's better than nothing. Although watching the Knicks in recent years could turn you off sports very quickly.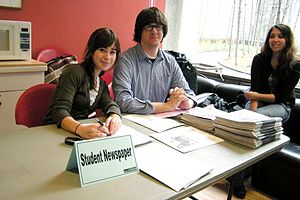 Rob Buchanan
The New School Free Press just added a sports page very recently.
I also looked online at a recent issue of the school newspaper, the New School Free Press. Sixteen pages -- but, sadly, not a stitch of sports-related content. I fired off an e-mail to the paper's editorial staff, to verify that the paper does not have a sports section or a sports editor. The managing editor, Josh Kurp, responded -- and to my surprise, he said the paper had recently added a sports section. "The sports page has now run three times," Kurp said, "and has included pieces on snowboarding, the popularity of soccer in the U.S., and a Super Bowl preview."
Not bad. I was beginning to feel a little more optimistic about the place.
Kurp also said he's a huge New York Mets and Carolina Panthers fan. Which begged the question, why did a sports fan like him decide to attend Eugene Lang College?
"I came to The New School because although I love professional sports, I'm not a big fan of college athletics," Kurp replied. "I also sort of like being one of the few sports fans at my school, because I can always surprise people in that I know things about the NFL or MLB. I also find it funny when people don't know the difference between 'points' and 'runs,' which, sadly, happens a lot."
Ouch.
---
Later in the day, I had an appointment with Neil Gordon, the dean of Eugene Lang College. Gordon has a Ph.D. in French Literature from Yale, so I was worried he might talk a little over my head. But it turns out Gordon actually likes sports and has been a proponent of adding them to the school's offerings.
"Over the past five years we've worked hard to find innovative ways of doing sports," Gordon told me.
I was eager to hear more.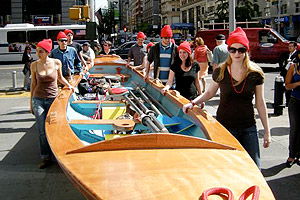 Rob Buchanan
Part of the challenge is to get the boat from the school to the Hudson River.
Gordon pointed out that the college offers classes in both running and bicycling -- classes that, in effect, field teams. But these "teams" work a little differently than your traditional college teams. "Generally when we do stuff, we look for interesting connections with our overall mission as a progressive university," Gordon said. "For instance, our bicycle team works with an organization that reclaims bikes and rebuilds them. And when we send kids bicycling, they do so in the consciousness that using alternative forms of transportation is also an act of social implications, besides just being exercise."
Gordon also mentioned a class the college offers in which students, over the course of a semester, build a large wooden rowboat. At the same time, they also learn about the history and politics of New York Harbor. And at the end of the semester, the students launch the boat into the Hudson River and row it. The class was conceived of by assistant professor Rob Buchanan, who continues to teach the course. "I'd been working with a group building these New York Harbor rowing boats, so I knew some of what was involved," Buchanan told me. "I figured, why don't we build a boat?"
Again I engaged in a fierce internal debate, trying to figure out whether this qualifies as a sport.
"We're not a jock school," Buchanan said (a sure-fire nominee for understatement of the year). "It's not competitive sports, but it is exercise; it's outdoors, in the city."
Can't argue with him there.
---
Rory Stuart is an accomplished jazz guitarist and composer, a faculty member at Mannes College The New School for Music (you're getting used to this now, right?) and the teacher/coach of the Lang marathon team. The "team" is actually a pass-fail class, in which students learn how to train to run a marathon. Stuart, a veteran of several marathons, has been teaching the class for the past four years.
"You've probably gotten the stereotype of the school that it's this nonathletic place," Stuart said to me. "You need look no further than my marathon classes to dismiss any myth that these students are not athletic."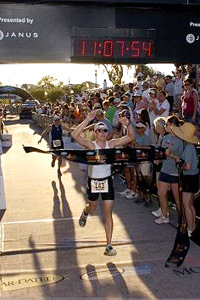 Terry Moore
Terry Moore -- a member of the Lang marathon "team" -- competed in an Ironman competition in Arizona last year.
The class was started in 2003 by associate dean Kathleen Breidenbach, a marathon runner herself. "When I arrived [at Lang], I looked around and said, 'You know, they have no athletics at all. We need to build something. How about a marathon team?'
"I was half-joking. But [the dean] said, 'That's a great idea!'"
Thus the marathon team was born.
In a typical class session, Stuart gives the students a brief lecture on some topic related to running, like breathing techniques, physiology, nutrition or injuries. Then he'll show them a DVD of a famous race or a great runner. There are also weekly mandatory group runs.
Not every student ends up actually running a marathon. But a number of them have, and some have run very good times. Last year, a student qualified for the Boston Marathon. And one of the students even entered an Ironman competition.
"I've had some students in this class that have done some pretty amazing things," Stuart said.
So much for the school not having any athletes.
---
The New School hopes to have more athletes in the years ahead. In December, the university hired its first Director of Recreation and Intramural Sports, Michael McQuarrie. McQuarrie was a coordinator of intramural programs at nearby St. John's University, and decided to take on the daunting challenge of building up the sports offerings at The New School.
'I've always tried to include the outsiders," McQuarrie told me. "I guess I was a bit of an outsider when I was young. … That's always been a goal of mine, in whatever I've been involved in -- to try to get the person on the outside involved, to the extent that they want to."
In addition to the indoor soccer league and ski trip mentioned earlier, McQuarrie is hard at work on other programs. His department is offering several dance classes this semester, including salsa and capoeira. And he's looking into adding a weekly or monthly bowling night, as well as a dodgeball competition, among other things.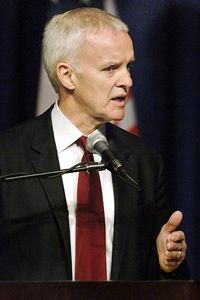 AP Photo/Bill Wolf
Bob Kerrey, the president of The New School, is under fire from the faculty and the student body.
"Things have gone surprisingly well at the beginning," McQuarrie said. "I honestly expected a little more resistance, in terms of people signing up. But everything's been at least 75 percent full. Granted, we're not aiming for the sky. But we have realistic goals, and we're trying to meet them."
There are big challenges ahead. In an ideal world, the school would like to add an athletic facility. But the economy poses a big hurdle. "Sports facilities are very, very expensive, and very hard to build from the ground up," Gordon said.
In addition, the university is dealing with another crisis, which has made headlines in New York City in recent months. Back in December, the president of The New School, former U.S. Senator Bob Kerrey, received a no-confidence vote from the university's faculty.
Nonetheless, the people I talked to plan to continue pushing for more athletic programs.
"Lang is a school full of individual nonconformists," Breidenbach said. "Each student tends to be the kind of student who, in their high school, was the quirky one, the offbeat one. Our school is made up of largely quirky, offbeat, individualistic students.
"Sports can really add something here. Athletics teach students about team-building. Plus, attending to your physical well-being contributes to your mental health. And that's important for everyone."
---
That was my experience at Eugene Lang College The New School for Liberal Arts. I must admit, I felt a bit like a foreigner while there. A stranger in a strange land. By the end of the day, I couldn't wait to go home, flip on the Knicks game and check some scores on ESPN.com. Ah, home sweet home.
But after further reflection, I felt something else, too. Appreciation. I mean, if everyone liked sports as much as we do, what a boring world this would be.
Some might call this school left-wing, or radical; others might call it progressive, or political-minded. I just call it different.
But is that such a bad thing?
I also felt hope. Hope that, while many of this school's students may never care about sports, the ones who do have a few opportunities and will have more opportunities in the future. I'm glad about that. I know from my own college experience the benefits sports can provide.
One thing's for sure: Eugene Lang College The New School for Liberal Arts is never going to provide New York City with its much-needed big-time college football team. But if the school ever fields an intercollegiate team in any sport at some point down the road, I have only one thing to say:
Good luck getting the school's full name printed on the uniforms.
Kieran Darcy is an editor for Page 2. You can reach him at kieran.d.darcy@espn3.com.