ESPN.com illustration
I am a die-hard New York Yankees fan, and I know I'm spoiled rotten. Born in May 1978, I was too young to remember the Yankees' World Series win that year. And they were a bad team for much of my childhood. But I know, I know … 13 straight years in the postseason, and four World Series wins in five years.
Yet, believe it or not, my favorite World Series memories are from a Series the Yankees lost.
2001 HIGHLIGHTS
Oklahoma defeats Florida State 13-2 in the BCS National Championship Game. … Tragedy strikes the Daytona 500, as Dale Earnhardt is killed in a crash during the final lap. … Duke defeats Arizona 82-72 to win the NCAA tournament. … Tiger Woods becomes the first golfer in modern history to hold all four major titles at once (dubbed the Tiger Slam) by winning the Masters. … Jennifer Capriati caps her remarkable comeback by winning her first two career Grand Slam titles, at the Australian and the French. … Ray Bourque finally wins a Stanley Cup, in his final NHL game, as a member of the Colorado Avalanche. … The Lakers defeat the 76ers in the NBA Finals, 4-1; that one loss to the 76ers was the Lakers' only postseason loss, and it came in overtime. … Former world No. 1 golfer David Duval wins his only major, the British Open. … Lance Armstrong wins his third consecutive Tour de France. … Danny Almonte throws the first Little League World Series perfect game since 1957. Weeks later, it is revealed that he was two years too old to play Little League. … The Seattle Mariners win 116 regular season games, tying the major league record (set by the 1906 Chicago Cubs). … Ichiro wins both the American League Rookie of the Year and the AL MVP. … Barry Bonds hits 73 home runs, breaking Mark McGwire's single-season record of 70. … In Game 3 of the ALDS, with the Yankees trailing the A's in the series 2-0 and facing elimination, Derek Jeter makes his incredible flip play to nail Jeremy Giambi at home plate. The Yankees go on to win that game 1-0, and the series 3-2. … The Diamondbacks beat Mariano Rivera and the Yankees in Game 7 of one of the most dramatic World Series of all time. … Michael Jordan makes yet another comeback to the NBA, this time with the Washington Wizards.
Puzzled? Let me explain.
As I've written about on Page 2 before
, I lost my father on Sept. 11, 2001. He grew up a few blocks from Yankee Stadium, worked in the Yankees' fan mail department as a teenager, and ingrained Yankees fandom in me.
Immediately after that wretched September day, sports receded from the spotlight -- in my life, and in all of your lives, too, I imagine. Major League Baseball stadiums were empty. The NFL canceled the following weekend's games. Sports, such a major component of our collective daily experience, more or less disappeared.
And rightfully so. Those ensuing days were a time for us to focus on other things. Like searching. And comforting. And praying. Games indeed should have been the furthest things from our minds.
A few days later, when the games resumed, they seemed different, didn't they? Less important, yet more important at the same time. Less significant, yet at the same time enriched with a new resonance.
I must admit, I wondered at first whether I'd ever care again about a sports team or a sporting event after the events of that day. When the games started again, I didn't watch much at first. I went back to work at ESPN three weeks later, but my heart wasn't in it. And a Yankees pennant drive, without my dad? That was almost too much to bear.
But, gradually, I began to tune in. I started caring again, little by little. I needed that distraction. I needed that release. We all did, didn't we?
There had been some great sporting accomplishments in 2001 before Sept. 11 -- such as Lance Armstrong's winning a third consecutive Tour de France, and Jennifer Capriati's winning her first two Grand Slam tournaments, and Tiger Woods' winning the Masters to complete the Tiger Slam. And there also were some great sporting accomplishments after Sept. 11 -- such as when the Seattle Mariners tied the major league record with 116 regular-season victories, and when Barry Bonds shattered the single-season home run record. (Steroids aside, that was still astounding.)
But best of all was the 2001 World Series, one of the most dramatic in baseball history. New York City's collective spirit was lifted from the depths of despair by the Yankees' run at another championship. Heck, I bet even some of you Yankees haters out there couldn't help but pull for the Evil Empire that fall.
My younger brother and I watched most of the Yankees' postseason games that year together, in the same family room where my father should have been watching with us. Early on, we talked about how sorry we were that he was missing all of this. But as time went on, we began talking about how much he'd be enjoying it instead. And we cheered, for what seemed like the first time in a very long time. I didn't quite realize it then, but sports was starting the healing process in us, in some small way.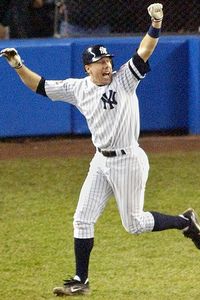 AP Photo/Bill Kostroun
The Yankees ultimately lost the 2001 World Series. But Yankees fans can cherish the memories of those dramatic home runs.
The Yankees lost the first two games of that World Series against the Diamondbacks. But they fought back to win a nail-biter in Game 3. And then came Games 4 and 5 … and Byung-Hyun Kim … and the dramatic blasts of Tino Martinez, Derek Jeter and Scott Brosius into the Bronx night, bringing the Yankees within one win of another title. And what I remember most is when my brother and I were leaping out of our seats, and slapping fives, and hugging each other tighter than we probably ever had before.
And in Game 7, when Mariano Rivera gave up that game-winning blooper to Luis Gonzalez? Honestly, it really didn't hurt that much. Maybe it was because I couldn't be mad at my dad's favorite Yankee. Maybe it was because I was still numb from all the previous pain that fall.
Or maybe it was because the Yankees already had given me more than I ever thought a sports team could.
In the end, 2001 was the year we saw sports get placed in the proper perspective, which is a good thing.
Even better, it was the year I think we all realized, in our own way, how great a gift sports can be.
Page 2's Most Memorable Sports Years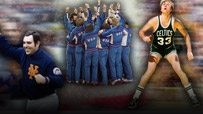 With 2008 already full of amazing moments, Page 2 is looking back at the greatest years in sports history.
THE YEARS
•
Jonah Keri on 1961: The year of the dynasty
•
Jim Caple on 1968: A year of unrest
•
Jim Baker on 1969: New York, New York
•
David Schoenfield on 1972: AL in trouble
•
Eric Neel on 1978: Greatest duel ever
•
Mary Buckheit on 1980: A miracle
•
Mike Philbrick on 1984: Bridging the gap
•
Paul Lukas on 1986: Three great weeks
•
DJ Gallo on 1994: The good old days
•
Scoop Jackson on 1998: Still resonates
•
Kieran Darcy on 2001: Darkness, and light
•
Patrick Hruby on 2004: End of exuberance
VOTE
•
PollCenter: Best year ever -- '80, '86, '98, '01 or '08?
ESPN Top Headlines