I know you guys already know this, but in case you've been hiding under a rock and neglected to check your local newspaper's sports section, or haven't caught any edition of "SportsCenter" since the Super Bowl, the I.C.C Cricket World Cup "kicks off" today in the Caribbean.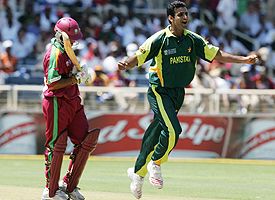 AP Photo
Can you ever get enough cricket? Of course not.
Contested over a zippy and action-packed 40-something days, at unfinished stadiums from Jamaica to St. Kitts, cricket's Technicolor-outfitted bat-and-bowl-a-thon features teams from all over the world -- or at the very least, parts of the world historically forced to play the game at the point of a musket by the English.*
*The only exception to this is the Dutch, who have absolutely no reason to be playing cricket at all.
So I know you've already entered your office pools and worked up your brackets; I know you know all the players and have mastered the difference between a straight drive, an off drive, a cover drive, a square cut, a late cut and a thick edge to third slip; I know you haven't quite gotten over the shock of the talented U.S. team buckling under the intense media pressure and not even qualifying for the big dance.
ICC Cricket World Cup
The group stage of the ICC Cricket World Cup opened Tuesday and continues until March 25. The Super 8 stage runs from March 27 to April 21. The semifinals will be played April 24-25, and the finals will be Saturday, April 28, in Barbados. Follow all of the action on cricinfo.com . Michael Davies will provide weekly coverage of the tournament here on Page 2.
For another look at the basics of cricket, check out our E-ticket video from August 2005.
But here's my preview anyway:
The Rules
If there's anyone out there who still doesn't know how to play this game? Come on, where have you been?! This is the 2007 equivalent to not knowing how to play Texas hold 'em circa 2004.
Like Robin Williams once said, cricket is just baseball on Valium.
The biggest international matches are contested over five days, the teams both wear white trousers, white shirts and white sweaters and a large percentage of the games end up with no result. At the Cricket World Cup they're playing the bastardized one-day version of the game in brightly colored outfits (the Dutch wear bright orange -- natch) and the games are extremely fast-paced (read: only five times slower than baseball) and controversial (almost always end up with one team winning and one team losing -- purists hate that).
There are 11 players on each team. Some are specialist batters or batsmen. Some are specialist pitchers (bowlers). Most valuable in the one-day game are all-rounders, players who can bat and bowl (like Andrew "Freddie" Flintoff of England). There's also a catcher (wicket keeper) whose job is basically to be shorter than everybody else and to verbally abuse the opposing batsmen at every opportunity.*
*In a bizarre twist to the rules enacted just this year in the wake of the success of the Harry Potter novels, the wicket keeper can also win the game at any moment by catching the opponent's Golden Snitch.
The wicket keeper is also the only one who gets to wear gloves. The others have to field the ball (as hard as a baseball, and traveling faster) with their bare hands. This is the one aspect of the game seemingly beyond the grasp of any American I have ever taken to see cricket, even among those who have mastered the intricacies of the L.B.W. (Leg Before Wicket) rule. This is also why Americans will never really take to the game, until we take back the colonies (one reality show at a time) and force you to play the game at the point of a musket (the Iraq war has been tough on us, those are basically the only weapons we have left, and maybe a couple of WWII Spitfires and amphibious landing craft).
Other than that, the object of cricket is to score more runs than your opponent and do so in a somewhat gentlemanly fashion without exerting too much effort. Well, the gentlemanly and effortless part only really applies to the English who are particularly strong in the effortlessly gentlemanly department. Just not so good at scoring more runs than their opponents.
If you want to understand more, just type "rules of cricket for small children, parrots or Americans" into your favorite search engine and prepare to be utterly confused. A better bet might be to sign up for DirecTV's Cricket Ticket or watch online at Willow.tv (Pakistan and the West Indies are playing as I type this). You will still be confused, but it's an absolutely thrilling way to pass eight and a half hours.
Groups and Teams
Group A
Australia: They're aggravatingly good and the favorites. But they're like the cricket equivalent of the German football/fussball/what you call "SahKa" team for me. They all have stupid nicknames like Ponty, Gilks and Mutton and I'll be heavily cheering against them.
South Africa: Unfortunately, the second-best team in Australia's pathetically weak group is playing horrible cricket right now. South Africa is not helped by the fact that its roster of medium-paced bowlers is getting slogged all over the Caribbean in warm-up matches on fields (wickets) which seem to be favoring slow, spin bowling.
Scotland: I lived in Scotland for four years and didn't see cricket once. Last summer I saw five cricket games going on at the same time in a single park off the Long Island Expressway in Queens. Even if the Scots are any good (which they're not), not sure how they'll recover from the shock of feeling warmth and seeing that big, shiny, yellow thing in the sky which hurts your eyes when you look right into it.
Netherlands: I went on some school trips to play cricket against Dutch teams in the early 1980s and even though they were really good on the pinball machines in the clubhouse, spoke English perfectly and had incredibly fit girlfriends, they couldn't play cricket at all. Nothing much has changed.
Group B
Sri Lanka: Conditions in the Caribbean certainly seem to favor the talented Sri Lankans -- it's hot, humid, wet and the pitches are slow and unpredictable. Also, no one's actually sure where their country is or who they are so when you suddenly find yourselves being beaten by them you start thinking: "What the heck? We're being beaten by Sri Lanka, and we're not even sure what that is!?"
India: They quite like cricket in India, and a few hundred million might be expected to tune in for their opening match against Bangladesh on Saturday.
Bangladesh: I have never seen Bangladesh play but the cab driver who picked me up at Newark the other day and took me into lower Manhattan assured me they're going to win the whole thing.
Bermuda: Without any doubt, my favorite team in the tournament. They're part-timers, amateurs, school teachers, office workers and in the case of 280-pound Dwayne Leverock -- large policemen. Unfortunately they have no chance of winning.
Group C
New Zealand: Often confused by Americans with Australians which annoys them no end. Most fun to do it on purpose when you have already been told five times where they're from. Also fun to hear a New Zealander say "deck chairs" -- especially a lady. Really good at rugby, pretty good at cricket, wear black a lot which can be a problem in the heat.
England: The New York Knicks of world cricket. Have plenty of talent, were losing everything a few months ago and now seem to be finding a way to win occasionally. Secret to their success will be fan favorite Monty Panesar, a slow, left-arm spinner who throws a mean, sliding knuckleball! Their fans, the "Barmy Army" will travel in large numbers to the Caribbean and are odds-on favorites to win the World Cup of Beer and Rum Consumption.
Kenya: I didn't even know that they play cricket. Should be entertaining.
Canada: If Steve Nash is playing, they'll pass the cricket ball well and shoot better than you'd think from the outside. If he's not they'll lose a lot, maybe even to Kenya.
Group D
Pakistan: The most unpredictable team in world cricket -- who knows, they might turn up dressed as pirates -- but certainly capable of thrashing anyone. Missing some players but should make it into the second phase, "The Super 8," with ease. If they end up playing India, expect war, and not much customer service on your PC help line.
West Indies: The host nation should be the favorites, other than the fact that no host nation has ever won the Cricket World Cup and these guys are more unpredictable than the Pakistani squad. These guys should an advantage though, eating their familiar food and drinking their regular Red Stripe, playing on the dodgy pitches in the unfinished stadiums they're used to. Their fans will win the World Cup of Continuous Drum Beating and Dancing. No contest.
Zimbabwe: The fact that they're still even playing cricket is remarkable enough. Also, they're capable of being quite good. If the Windies and Pakistan aren't careful, this could be the surprise team in the group stage. Or otherwise, I might not know what I'm talking about.
Ireland: This might be a misprint. Ireland can't possibly be in the Caribbean for the Cricket World Cup. According to the Harry Potter books though, they're very good at Quidditch.
Tournament format: It goes on forever and I don't understand it. But the final is in Jamaica on April 21. And, that's OK guys, I'll take one for the team and fly down for that.
Three Great Quotes I Couldn't Find A Way To Get In …
It is not true that the English invented cricket as a way of making all other human endeavours look interesting and lively; that was merely an unintended side effect. I don't wish to denigrate a sport that is enjoyed by millions, some of them awake and facing the right way, but it is an odd game.
-- Bill Bryson, "Down Under"
Cricket is battle and service and sport and art.
-- Douglas Jardine, captain of England, 1931-34
When's the game itself going to begin?
-- Groucho Marx, watching a match at Lord's, attributed in The Guinness Dictionary of Sports Quotations
Michael Davies is a British-born television producer who has covered two FIFA World Cups for ESPN Page 2. Last year his projects for ESPN included the critically acclaimed documentary "Once In A Lifetime" about the N.Y. Cosmos and the not-so-critically-acclaimed World Series of Darts.