Commentary
The world's best 79-year-old athlete?
Originally Published:
March 26, 2010
By
Lynn DeBruin
| Special to Page 2
Forget 60 being the new 40. Lyle Langlois makes 80 look like the new 40.
Truth is, the soon-to-be octogenarian has been running circles around men less than half his age for years.
[+] Enlarge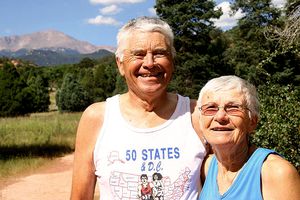 Lynn DeBruinLyle Langlois, with his wife Kay, has accomplished some incredible athletic achievements.
The retired computer professor (Glendale College) from Arizona, who has a second home in Colorado, has run a marathon in every state, completed an Ironman, bicycled across the country four times, and in mid-March attained yet another goal -- finishing 100 races between ages 70 and 80, including about 30 triathlons.
He's already bicycled the circumference of New Zealand's South Island, run around the Sea of Galilee and ascended 14,110-foot Pikes Peak in Colorado seven times.
That's where he'll celebrate the big 8-0 in June, ascending to a bed-and-breakfast at 10,200 feet with a legion of family and friends.
Right there with him will be third wife Kay Martin, who stole his heart when he saw the petite, gray-haired lady cross-training via what athletes call "the brick:" biking then running in the same workout. "It's like the chicken and the egg. Do we do it because we're healthy or are we healthy because we do it? I don't know which, but it works," said the Kansas-born Langlois, who is seven years older than Martin.
The couple most recently backpacked together up Machu Picchu in Peru (country No. 64 on his list) and hiked halfway up the Matterhorn. In April, they are headed back to Costa Rica for a zip-line adventure.
Tan and fit, with a ready smile and a quick wit, Langlois knows how to live life to the fullest. He was creating bucket lists before the term was even coined.
One of his first involved riding all the subways of the world -- a quest that has taken him from Hong Kong to Cairo, but still has plenty of stops left to make.
Another was to finish a marathon in all 50 states -- a goal he accomplished in Burlington, Vt., at age 70.
To this day, Langlois still counts qualifying for the Boston Marathon as one of his greatest accomplishments, right up there with being married for 42 years and setting up small trusts for each of his 13 grandchildren. "If I ever write my memoirs, the opening line will be, 'I took three wives to Africa' -- in different decades of course," he quipped.
[+] Enlarge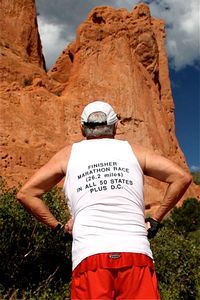 Lynn DeBruinLanglois is still looking for mountains to climb as he prepares to turn 80.
Widowed after 42 years, Langlois remarried in 1997 to a vivacious woman he met while bicycling in Phoenix. Her life ended tragically in 2002 after she was hit by a motor scooter while biking in Vietnam during one of their many adventures.
Though he had lost a soul mate, he kept riding and racing, and eventually met Martin, leaving his number on her windshield after a workout several years ago.
Martin, a former nun but also a widow, jokes that she finally found a man who could keep up with her. So far, they've met each other's challenges. They've done the Milford Trek in New Zealand, the bike-and-barge in Amsterdam, and together backpacked the last 300 miles of the Pacific Coast Trail -- completing what has been a 22-year, 3,000-mile quest for Langlois.
Ironically, Langlois failed his first racing goal, when at age 50 he tried to complete a marathon in Honolulu in less than four hours. A year later, in a Tucson marathon, it was mission accomplished.
Not bad for a guy who started this wild journey the year he turned 50, running a mile a day every day in January, then two miles a day every day in February, three in March and four in April, until he was ready to give marathon races a shot.
Some think he's crazy, but others are inspired.
Recently, he raised some eyebrows when he walked into a Colorado bike shop and picked out his 80th birthday present -- an 18-pound carbon fiber road bike.
"It's nice," Martin said. "But he isn't going to be able to beat me."
Lynn DeBruin, formerly of The Rocky Mountain News, is a freelance writer for Sports Media Exchange, a national freelance writing network.