Commentary
Rockies beer vendor is the 'Earthman'
Originally Published:
April 13, 2010
By
Lynn DeBruin
| Special to Page 2
DENVER -- He was there in 1999 when the naked nut jumped out of the left-field stands and started chasing Dante Bichette.
He was there at the height of the Blake Street Bombers, during all the last-place finishes, and the exhilaration of a World Series run -- enduring searing heat, icy drizzle and everything in between.
He's a former fish cutter, hot-tar roofer and microchip maker who has worked at Coors Field since it opened.
[+] Enlarge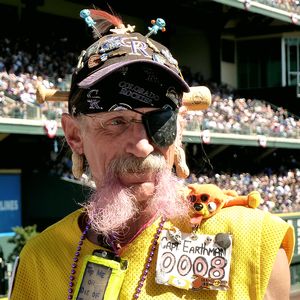 Lynn DeBruinPatrons get thirsty watching ballgames at altitude, so Brent Doeden keeps them plied with cold beer.
"I'm Captain Earthman, just visiting the planet, blending with the humans," quips Brent Doeden, a 53-year-old beer vendor who has almost become as much a part of the show as the Rockies.
While selling beer and red ropes candy is part of his job description, making kids and adults laugh is part of his nature.
"Somebody told me something the other day that made me stop in my tracks," Doeden said. "Out of the blue, I'm being hugged by a man and this woman, two humans. They looked at me and said, 'We weren't sure you were going to be here. Now that we see you, we know it's baseball time. Welcome back.'
"I'm thinking, 'Wow, that's really cool when somebody says it's just not baseball without you.'"
Doeden is as unique as his getup: fish-net biking gloves, peanut shell earrings, a hat with a bat through it, stuffed alien on his shoulder, and the New Balance shoes he uses to climb 1,500 steps a game.
Anyone who's been to the left-field bleachers at Coors Field knows the pony-tailed comedian with a gray Fu Manchu mustache.
He'll launch a chorus of "Happy Birthday" for someone celebrating the big day, spray patrons with water to cool them off, and tie children to railings using red licorice.
"I usually give away more licorice than I sell," said Doeden, a father of six and grandfather of six, with a wife and home in the suburbs.
Then, of course, there's the cell phone that's strapped around his neck, with a number that matches the one he has on his business card.
On a normal day, he'll get 15-20 calls. During big games, it might be 30-50, with beer-drinking fans in one section urging him to head their way -- even if he happens to be working Red Rocks Amphitheatre, which is 20 miles away, that night.
[+] Enlarge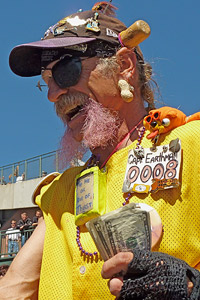 Lynn DeBruinDoeden and his eclectic alter ego, Earthman, have worked Denver sporting events since 1986.
It got so wild during the 2007 NL Championship Series that he had to turn off the phone in the third inning.
"Way too many people have this number," he said. "It's kind of scary sometimes, but I love it."
That is, as long you're not sissy-sippin', as his badge and business card say.
"This is a pro game. You want to sissy-sip, go watch the Sky Sox down in Colorado Springs," he said.
Like the Rockies, Earthman has come a long way.
"I used to be bratwurst boy," he said of those early days at old Mile High Stadium when he was low man on the concession totem pole. "It was fun being bratwurst boy. I made, like, $18 in commission and six bucks in tips [a night]. I rocked."
Until he found out other vendors were making lots more.
"But I stuck it out," he said.
And now, after working two All-Star games and 85 percent of all Rockies home games, he's hoping to work a second World Series.
Not bad for a guy who stumbled into the job by accident in 1986.
He had been working as a babysitter when he needed a part-time job. So he went to Mile High Stadium and was hired as a soda vendor.
"I walked into the stairwell, and there were like 700 people sitting there in the east stands," he said. "I had a tray of sodas and said something stupid. But they all cracked up and bought all my sodas. I've been hooked since."
Lynn DeBruin, formerly of The Rocky Mountain News, is a freelance writer for Sports Media Exchange, a national freelance writing network.