Commentary
Tim Tebow gets Broncos fans to recycle
Originally Published:
May 17, 2010
By
Lynn DeBruin
| Special to Page 2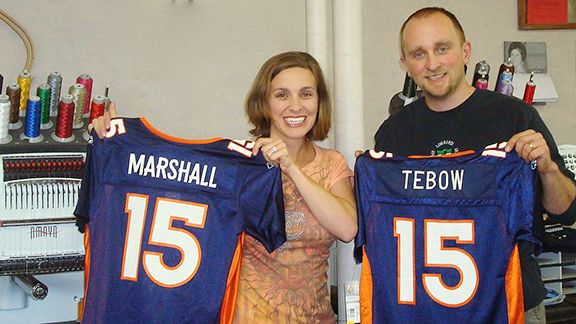 Daniella Lombardi Grieve for ESPN.comDaniella Lombardi Grieve and brother Dominic Lombardi show off "before" and "after" No. 15 jerseys.
ARVADA, Colo. -- They've been asked to embroider saddles, leather chaps and even the occasional "Broncos Suck" Raiders jersey.
But Lombardi's Upholstery and Embroidery has never seen anything like this before.
"We've just been bombarded," said Daniella Lombardi Grieve, whose family owns the business in this northwest Denver suburb.
She was talking about the Tim Tebow craze that hit in late April after the Denver Broncos drafted the former Heisman Trophy winner in the first round.
Dominic Lombardi said the business has fielded more than 100 calls -- some from as far away as Europe -- asking whether they can stitch Tebow's name over Brandon Marshall's name on their jerseys.
The price, $25 plus shipping, is a bargain considering NFLShop.com and FansEdge list "replica" jerseys at $80 and up, and "authentic" jerseys are $144 to $285 on the Broncos' website.
It's an even better deal given that outdated Marshall jerseys were selling for as little as $7 at Sports Authority after the draft.
At $25 plus shipping, Grieve isn't making much of a profit on the jerseys. "Our family are diehard Broncos fans, and we had this idea as public service to all the other Broncos fans out there with Marshall jerseys. … It makes us feel good to know that Broncos fans' hard-earned money is not going to waste," she said.
"The No. 1 thing people have said is they're going from a complete A-hole [Marshall] … to somebody who seems to be able to do no wrong," Lombardi said.
He said parents have told him they'd much rather have their children wearing a jersey bearing the name of a man they can look up to, as opposed to Marshall.
Even though Marshall was a Pro Bowl receiver, he was equally known for his bellyaching, selfishness and off-field incidents, which earned him a trade to Miami in exchange for draft picks in April.
Lombardi already made alterations to some shirts for his sons and some friends. But he's been waiting to fill the dozens of outside orders until he is 100 percent certain there's no problem with NFL licensing or the Broncos.
He doesn't expect any quarrels with the team.
"I've spoken to some people who are saying the Broncos wouldn't mind having all the Marshall jerseys out of their stadium," he said.
Though the Broncos officially declined to comment on the changes, Joanna Hunter of the NFL's Communications and Public Relations Office said the owner of a shirt is free to decide what goes on it.
Now it's just a matter of finding the quickest, easiest way to fill the orders.
"The season doesn't start until September, but people really are excited and want the jerseys right away," Grieve said, noting that most of the calls so far have been from out of state, from Alaska to Florida.
Tebow jerseys have been flying off the shelf in retail stores. In the four days after the Broncos drafted the all-everything University of Florida quarterback, he led all players -- rookies or otherwise -- in jersey sales.
One Denver-area Sports Authority store said it was on its fourth shipment of Tebow jerseys and had only XXL in stock.
While many fans are excited about trading in their Gators orange and blue for Broncos orange and blue, Grieve is excited about the business, and about the "recycling" effort.
And in today's economy, she said, it's nice to do something that will save hard-core Broncos fans some money.
It's hardly a strange request for a business that has seen it all.
"People come in and think they can get anything and everything embroidered," Lombardi said. "But it has to be hooped and stuck into the machine."
Often, requests get weeded out because of cost.
"Some think they can get 'Broncos Suck' on their Raiders jersey for $5. But it's a little more expensive than that," he said.
Only time will tell if the Tebow jerseys end up being collectors' items -- or relegated to the recycle bin again.
Lynn DeBruin, formerly of The Rocky Mountain News, is a freelance writer for the Sports Media Exchange, a national freelance network.