Page 2
EDITOR'S NOTE: Here at Page 2, we think we know what we're talking about when it comes to athleticism and sports. But if you promise not to tell, we'll share a little secret with you: We aren't elite athletes. (Except in our dreams, of course.) So to get the straight skinny about the way this world works, we rounded up the Real Thing -- athletes, active and retired, including some currently in the employ of ESPN. We asked them a number of questions about sports and about their peers. Through the course of our three-week package on Athleticism and Sports Degree of Difficulty, we'll let ... The Athletes Speak.
Today's question: WHY IS YOUR SPORT THE MOST DIFFICULT TO PERFORM?
Here's what they told us.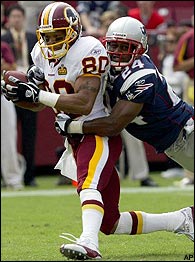 When the mental aspect requires understanding Dan Snyder, it's even tougher.
Laveranues Coles, wide receiver, Washington Redskins
"Because it's a sport where, even on such a big field, there aren't many open spaces. I mean, you can be so-called 'in the open,' but you never really are. The athletes are so fast and they close the gap so quickly. You're under physical (duress) every play. And that's not even taking into account the mental aspect of it. That's just as hard."
Zdeno Chara, defense, Ottawa Senators
"You have to perform skating on a blade that's a couple of millimetres wide. There's speed, physical play, fighting. Everything is involved."
Chad Senior, Modern Pentathlon. Senior finished sixth in the modern pentathlon in the 2000 Sydney Olympics
"If for no other reason than it's got to be the most frustrating sport out there. I really, objectively, can't think of a sport that can reach the frustration level that you get in pentathlon. There's so many things that can go wrong. (For example,) you can have the greatest day of your life, like I did in Sydney; and then you get on the horse, and the crowd scares the horse and he doesn't want to jump. It could have been me; I was pretty nervous. But the combination of me and the horse was not good. I was done after that."
Tony Gwynn, former outfielder, San Diego Padres; baseball coach, San Diego State University; ESPN baseball analyst
"A lot of people play baseball, but it is the hardest to excel at. Not many people throw a 90-mph fastball, and not many are willing to put their bodies in front of a ball hit at them at over 100 miles per hour. And not many would have the guts to stand in there and hit a round ball with an oblong bat. You don't necessarily have to be an athletic wonder to play baseball, but there are so many varied skills and mental challenges that make baseball a tough game."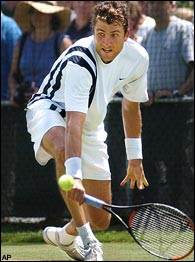 Justin Gimelstob's hand-eye coordination is so superior he doesn't have to look at the ball.
Justin Gimelstob, ATP Tour (tennis)
"It's one of the sports that combine all the things. It has the hand-eye coordination of golf, or the endurance training of marathon running, the fast-twitch muscles of sprinting ... the scheduling, the competition, the individuality of boxing and golf. I mean it's just incredible. I could make a great case for tennis as the most challenging sport."
Mark Webber, Formula One driver
"Formula One isn't the most difficult sport to perform. But it does involve danger; and as such, requires large reserves of physical and mental strength, the ability to handle pressure and be accurate, and to make decisions in a fatigued state."
Seth Kelsey, ranked No. 1 in U.S. in men's épée (fencing)
"It's most difficult because the slightest hesitation or the slightest mistake and you'll lose a point. And oftentimes, it'll come down to just one touch. You control every part of your body at all times. Otherwise, it's over."
Tom Tolbert, former NBA forward, ESPN basketball analyst
"Sorry, I can't tell you that basketball is the most difficult sport. How can I say it's tougher than hitting a 3-and-2 split-fingered fastball from Roger Clemens, or dropping back as an NFL quarterback and having two seconds to throw before getting drilled by a 300-pound defensive tackle? I wouldn't even begin to try to make a case that basketball is the hardest to play. Each sport presents its own unique challenges, and basketball isn't easy -- we've seen guys try to jump over from the NFL or other sports and not be able to cut it. Basketball's unique challenges include being able to switch seamlessly from offense to defense (and vice versa), as well as the athleticism and skills to be able to hold your own in numerous facets of the game like defense, ball-handling, rebounding and shooting."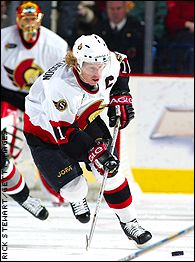 The Senators need Daniel Alfredsson to back up his words.
Daniel Alfredsson, right wing, Ottawa Senators
"You've got to have it all -- hand-eye coordination, you're skating on a slippery surface at the same time people are trying to hit you. It's got speed, intensity and physical play."
Jason Taylor, defensive end, Miami Dolphins
"Because once you get a month into the season, you're performing hurt every day for the next three months. If you can't play hurt, well, you can't play, period. And there are so many little, incidental ways to get hurt, like someone stepping on your foot in practice or unintentionally rolling up the back of your leg after a play ends. This is a tough sport for tough people. And tough-minded people. There are days you absolutely talk yourself out of bed. I don't know any other sport where the players are expected to rise to such high levels when they're never 100 percent physically."
IndyCar driver Tony Kanaan
"You depend on so many things. In most other sports, it is more about your individual physical condition and your talent. In this sport, you can have talent and you can be fast. But, if you don't have a good car, a good engine and a good team behind you, it is really difficult to perform."
Keith Brooking, linebacker, Atlanta Falcons
"I think just the physical nature of it. People are going so hard, so fast, and they're so big ... it's like a train wreck every play, you know? Fans who have never been very close to the game, if they were to stand on the sideline for a while, they'd probably get sick just at some of the sounds and stuff."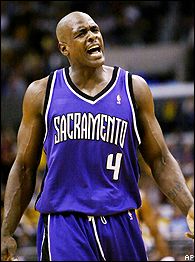 Webber had to take a defensive position after the Kings struggled.
Chris Webber, forward, Sacramento Kings
"In basketball, you have to play so many different positions. It's not like football or baseball where you can specialize in a certain area. In basketball, you have to play all over the court, and that's what makes it one of the toughest sports."
Barry Melrose, former NHL coach, ESPN hockey analyst
"What separates hockey is that it requires all the skills of other sports to be done at full speed, on ice, while controlling the puck and fighting off body checks. Not many people can go the length of the ice with a man on their back and still keep the puck on their stick, then unload a 90-mph slap shot or have the body control to deke a goalie and lift the puck over him. Doing all that is hard enough on a wooden floor or grass field, but making it happen on ice is what makes hockey the most difficult sport to perform."
Sean Salisbury, former NFL quarterback, ESPN football analyst
"Football may not be filled with the slim and sleek bodies like basketball players, but could they come over and play football?? No! It'd be extremely difficult to imagine someone from another sport taking the punishment that a player like Brian Dawkins metes out. Football requires a physical and emotional toughness that isn't seen in many other sports, and that's why it's the toughest."
Dexter Coakley, linebacker, Dallas Cowboys
"To me, it's the mental things that make football so tough. I mean, the physical, yeah, that's a grind. But you are constantly being mentally tested in our sport. Even when you're not playing. In meetings. In film sessions. In practices. You can't be dumb and play this game, I know that."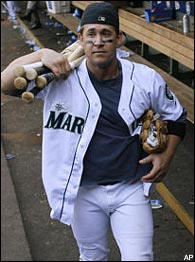 Playing 162 and then not making the playoffs has gotta stink too.
Dany Heatley, right wing, Atlanta Thrashers
"A combination of the physical nature of the sport. The force on your body for 82 games. We're playing three, four times a weeks sometimes. I think it's the fastest of any sport. It's on ice so you have to be one of the best skaters in the world to even play the game. Plus, there's the playoffs which make the Stanley Cup the toughest trophy to win."
Bret Boone, second base, Seattle Mariners
"Of course, I'm biased and all these other sports are going to say this guy is crazy. But we're the only sport that plays every single day. And you don't get a break. You stink, guess what, you're going out there again tomorrow. You stink again, guess what, you're going out there again. Again. Again. Again. There's no place to hide. From a mental side, I can't imagine anything being harder.''