Page 2
EDITOR'S NOTE: Here at Page 2, we think we know what we're talking about when it comes to athleticism and sports. But if you promise not to tell, we'll share a little secret with you: We aren't elite athletes. (Except in our dreams, of course.) So to get the straight skinny about the way this world works, we rounded up the Real Thing -- athletes, active and retired, including some currently in the employ of ESPN. We asked them a number of questions about sports and about their peers. Through the course of our three-week package on Athleticism and Sports Degree of Difficulty, we'll let ... The Athletes Speak.
Today's question: WHO IS THE BEST ALL-AROUND ATHLETE IN YOUR SPORT?
Here's what they told us.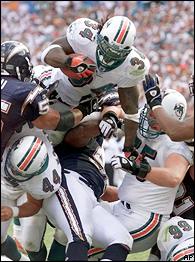 Now that Ricky Williams shaved his head, will his athletic powers come to an end?
Jason Taylor, defensive end, Miami Dolphins
"I'm not sure people know how good an all-around athlete Ricky Williams really is, but the guy can do a lot of things well. The perception kind of is that he's a power running back, very strong and durable, but maybe not too flexible. But when you're around him, when you see him at practice every day, you appreciate how naturally things just come to him. Maybe it's just because I see him more often, I don't know, but I've definitely come to appreciate him as an excellent athlete."
Dexter Coakley, linebacker, Dallas Cowboys
"Maybe if (Vick) hadn't been hurt last year, I'd say him, but I'm going to stick with (Donovan) McNabb of the Eagles, probably because I see him twice a year and I know the kind of things he can do. Unless you've been on the field with him, it's hard to imagine how well he moves. I know how fast Vick is, but Donovan can run, too. He will get himself into position to make plays. He gets out of trouble. I wouldn't doubt that he could line up and play safety if they asked him to, because he's bigger than most people realize, and he plays with a tough-guy mentality."
Teemu Selanne, right wing, Colorado Avalanche
"Chris Drury. He was a great baseball player and probably could have kept playing it, right?"
Mark Webber, Formula One driver
"Michael Schumacher, because he works harder in all aspects than anyone else."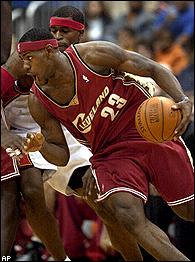 If only Ricky Davis appreciated LeBron's great athletic abilities.
Steve Nash, guard, Dallas Mavericks
"LeBron James. Speed, explosiveness and agility -- he has the whole package."
Zdeno Chara, defense, Ottawa Senators
"Niklas Lidstrom of the Detroit Red Wings. Defense is such an important position in our game. Every time he's on the ice, he makes it look so easy. He's so comfortable in his skates."
Keith Brooking, linebacker, Atlanta Falcons
"The guy whose locker is across the room there, (Michael) Vick, is the best all-around (football) athlete. He does things, even in practice, where you rub your eyes and think, 'How the heck did he make that move?' Even on tape sometimes, you can slow (the tape) down, and you still can't see how he did some stuff. He'd be good at anything he tried. The guy is just The Natural, you know."
Seth Kelsey, ranked No. 1 in men's epee (fencing)
"Pavel Kolobkov, from Russia. Mentally, incredibly tough. And he combines that with physical strength and endurance to make fencing look almost effortless. Makes touches appear that you didn't even think were possible."
Tony Kanaan, Indy Car driver
"Today, Michael Schumacher. All-time, Ayrton Senna. As far as why, I think the results speak for themselves. With what they accomplished, you can't argue against them."
Tom Tolbert, former NBA forward, ESPN basketball analyst
"First, my disclaimer is that each person has a different criteria for determining who is the best athlete. It's hard to define. My criteria is a combination of skills like running, agility, dexterity, jumping, quickness and speed. In the NBA, the best athlete is Kevin Garnett, because he's a 7-footer and does things no other 7-footer can. With few exceptions, everybody in the NBA is a great athlete -- Kobe Bryant and Tracy McGrady are among the best -- but Garnett fits my criteria best. Lots of NBA guys are great athletes at 6-7 or 6-8, but to do what Garnett does at 7-feet tall is absolutely incredible. Of all the other 7-footers who have played in the NBA, the only one who compares is David Robinson. At 7-1, Robinson was a special athlete. He was probably faster than Garnett. With a 32-inch waist and broad shoulders, he jumped out of the gym, he ran like a deer, could beat most guards up and down the court, and had unbelievable quickness. Robinson might be the best athlete I've ever seen. He has to be the greatest athlete I've ever played against."
Sean Salisbury, former NFL quarterback, ESPN football analyst
" That's a toss-up because there are some fabulous athletes in football. Terrell Owens, Randy Moss, Tony Gonzalez, John Lynch and Michael Vick all could go to another sport and dominate. I've seen Owens bowl, play basketball and football and he's darn good at every one. Moss was named West Virginia's player of the year in basketball twice while in high school and was pretty good in baseball. Gonzalez could probably play for a couple NBA teams if he dedicated himself to the sport. Lynch had a 95-mph fastball and threw the first pitch in Florida Marlins history. That brings us to Michael Vick, who if taught could probably dominate any sport he put his mind to."
Chris Webber, forward, Sacramento Kings
"Tracy McGrady and AI."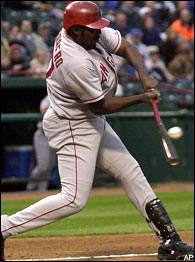 Vlad's also got the smarts to leave Montreal for California.
Tony Gwynn, former outfielder, San Diego Padres; coach, San Diego State University; ESPN baseball analyst
"Vladimir Guerrero. He does everything well. Vlad hits, fields, has a great arm and runs the bases well. He's not a small guy (6-foot-3, 220), so being able to do all those things is impressive. Vladimir lets it all go and plays hard at all times. Alex Rodriguez is very athletic, too, but he plays a much more controlled game now than early in his career."
Laveranues Coles, wide receiver, Washington Redskins
"Probably (Randy) Moss, I'd guess, because he is so explosive, but also so flexible. You watch him adjust to the ball, slow down, or speed up if he has to. Making those kinds of adjustments when you're looking back and you've got (defensive backs) clawing at you, that takes great concentration and athleticism. And Moss, well, he does it naturally. He has great body control. He's really blessed in that regard."
Justin Gimelstob, tennis
"(Pete) Sampras and (Roger) Federer, for similar reasons. They make it so easy, and their athleticism is what made it so easy for them to do what they do. They never look out of position. They are so smooth and explosive. Just strong and quick and athletic."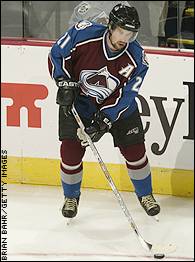 One more time: Peter Forsberg has everything.
Barry Melrose, former NHL coach, ESPN hockey analyst
"Peter Forsberg, Colorado Avalanche. Peter has everything a hockey player needs, from natural talent to skating, speed, hands, scoring touch, smarts (he's the son of a coach) and, perhaps most importantly, guts and heart. There are plenty of talented players who never achieve much because they lack toughness or bravery; and with Peter's ability to overcome injury and play a physical game, he is as close to the perfect hockey player as there is."
Daniel Alfredsson, right wing, Ottawa Senators
"Peter Forsberg. He's got everything."
Tony Azevedo, water polo
"This is a tough question because there are so many great athletes in our sport. When you divide up the players, I guess it comes down to two categories -- the bigger, stronger athletes compared to our smaller, smarter ones. When comparing the big guys in water polo, you have to put Chris Humbert at the top, considering he was recruited to college for basketball and baseball. But then again, you have smaller guys out there who don't have the muscle but somehow manage to excel over 6-foot-10, 250-pound players like myself and Wolf Wigo. In the end, though, the greatest athlete in our sport (is) Terry Shroeder. His record speaks for itself."
Chad Senior, modern pentathlon (sixth in 2000 Summer Olympics)
"I always tell people it's very simple for me in any given competition to have three solid events. Four gets a little more difficult, and five is pretty damn hard. So it's not predictable like a swimming race or a track race. In this sport, there's probably 15 guys that on any given day that can win. You can't really predict it. Even if you are the best, you never know what kind of horse you're going to end up with."