By Jim Caple
Page 2
As a University of Washington alumnus, I've long known and appreciated the legendary history of the Husky rowing program. I remember watching the 1936 eight-man team walking onto the field to a standing ovation at a 1979 football game, and my father proudly telling me how that crew went to Berlin and won the Olympic gold medal. The 1948 Husky four-man crew did the same at the 1948 London Olympics, and the 1952 crew won the bronze at Helsinki.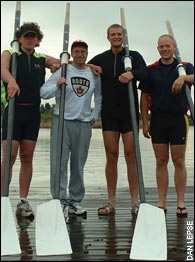 From left to right: John Heylin, Jim Caple, Adam van Winkle and Trevor Connell.
These days, the U.S. mixes and matches its Olympic crews from across the country, but the Olympic legacy lives on at Washington. Current men's coach Bob Ernst coached the women's eight to the gold medal at the 1984 Olympics.
Thus, when it came time to attempt another sport for Page 2's Degree of Difficulty project, I leapt at the chance to work out with the Husky crew.
Rowing is an exhausting sport, one that demands enormous reserves of strength and endurance. Rowing 38 strokes per minute over the course of a 2,000-meter course will leave even the fittest athletes as drained as if they'd just spent the past 24 consecutive hours listening to talk radio.
But for me, the toughest part was just getting up in the morning to join them on the water. I went into sportswriting in part because I usually don't have to get up early. I also normally work until three in the morning. So joining the crew at 7:30 a.m. after they'd already held their morning workout (they're on the water by six) was daunting enough.
* * * * *
The crews are just finishing up when I arrive at the dock. After some quick introductions, I slip into a four-man shell with Husky rowers Trevor Connell, Adam Van Winkle and John Heylin. We slowly push off from the dock and start rowing out onto Lake Washington.
The boat we are in is a Pocock shell, which is the Stradivarius of the rowing world, as much a part of Seattle engineering and craftsmanship as the Boeing 747. For almost a century, some of the finest crews in the world have rowed in Pocock shells. Taking my seat in one is like getting behind the wheel of Jeff Gordon's Chevrolet.
At 5-foot-10, 175 pounds, I am not exactly built for crew -- the typical Husky varsity rower is around 6-4 and 215 pounds. Rowers are so trim and muscular that a sculptor friend of mine occasionally hires rowers to pose for him. But with assistant Colin Sykes providing able instruction from a motor launch, I get by. I learn the basic stroke technique and how to use my arms and legs most efficiently. I learn to twist the oar slightly in the oarlock so I can dip it in and out of the water as smoothly as possible. And I sort of learn to coordinate my strokes with the rest of the crew. It isn't easy to keep it all straight, and we aren't even rowing hard.
A good crew pulls with such power and synchronicity that if a single rower falls out of rhythm with the rest of the boat, the force of the oar whipping back can literally fling him out of the shell. We never go fast enough for this to be a concern; but when I do fall out of beat, I can feel the oar pressing against my chest so hard that it's as if Kathy Bates is sitting on it.
We row out into the lake until I get the hang of things, then row back at a brisker pace. There is no way I could have kept up had the crew rowed at anywhere near a racing level -- they average about 15 miles per hour in a 2,000-meter race -- so they take it very easy on me. I cannot gain an appreciation for how exhausting and painful the sport can be, but that's all right. I've spent hours on my rowing machine at home; I know how draining it can be.
And I also know that it doesn't begin to capture the pain or the intensity of keeping up with an elite crew in an actual racing shell. At home, I can always stop when I get too tired -- a luxury not available to rowers during a workout.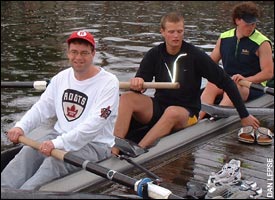 Jim Caple (left) is plenty happy to see the dock.
But more importantly, I do gain an appreciation for the appeal of crew. For exercise, I run; and it is never a pleasant experience. What with the constant pounding on the knees and the physical exertion, the only thing I think about when I run is how much farther I have to run before I can stop. There is a different feeling entirely in rowing. You're on a lake, gliding smoothly across the water, seemingly speeding along faster than the morning commuters on the bridge. I feel as much a part of the lake as the geese who paddle along, though I don't leave my droppings all over the dock. It's as peaceful a feeling as I've enjoyed in sports.
There is a quote from George Pocock posted in the UW shellhouse that captures the spirit of rowing: "Harmony, balance, rhythm. There you have it. That is what life's all about.''
I know what he means.
Although I doubt I would feel the same way if the coxswain was insisting that we finish up a long, draining workout at a vomit-inducing 42-stroke pace.
Jim Caple is a senior writer for ESPN.com.