By Jim Caple
Page 2
The Olympic gold medalist in the decathlon is considered the world's greatest athlete, but that's strictly an honorary title, like Mr. October or Sexiest Man Alive.
If America's Tom Pappas wins the decathlon in Athens this summer, will he really be the world's greatest athlete or is it like the restaurant near my house that claims it serves the world's greatest hamburger? Don't get me wrong -- it's a good hamburger. But the best in the world? Who did the research? What were his qualifications? And where does he find pants that fit him?
Who is the world's greatest athlete? A few years ago, we might have said Carl Lewis, who won four gold medals in the 1984 Olympics, nine overall and went undefeated in the long jump for an entire decade. But then he got old, and worse, we saw him throw out the ceremonial first pitch at a baseball game last year, a performance so laughable it made Tim Robbins in "Bull Durham" look like Roger Clemens.
Now we can only speculate.
The world's greatest very well might be Pappas but could he hit a nasty 92 mph slider at the knees? Could Alex Rodriguez go a single round against the heavyweight champ? Could Lennox Lewis hit a double-teamed Randy Moss on a 40-yard fly route against a full blitz? Could Moss land a quad toe/triple toe/triple loop combination without wobbling? Could Michelle Kwan get the biscuit past Kevin Weekes on a breakaway? Could Weekes return a 150-mile smash from Andy Roddick? Could Roddick climb a Cat 1 mountain on his bike and then brave the 70 mph descent? Could Lance Armstrong descend that mountain if it was frozen and he were on skis and going 80 miles per hour? Could Hermann Maier take a pole from one of the slalom gates on the Super G course and hurl it like a javelin 230 feet?
The more athletes you consider the more that you see the question of world's greatest athlete requires agreement on another question: What is the most important element in athletics, anyway?
Is it strength? Endurance? Speed and quickness? Hand-eye coordination? The ability to withstand physical pain and mental stress? Ability to block out nerves and fear to focus on the task at hand when 50,000 fans are screaming? A combination of all those? If so, what combination?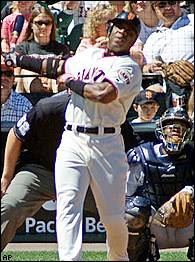 No matter the count, Barry Bonds is always in control.
While we're at it, what is the toughest sport to play? Football? Hockey? Lacrosse? Do some sports require high levels of pure skill while endurance sports can be mastered through training and dogged determination? Are basketball players the greatest athletes or are their skills largely a function of height? Are rowers great athletes if their cardiovascular and strength tests score off the charts but they perform their sport sitting down? Are NASCAR drivers athletes if they're not only sitting down, but sitting down inside a car?
Do swimmers sweat and we just can't tell?
What's the toughest thing to do in sports? Hit a major-league fastball? Ride a 1,200-pound thoroughbred? Return a punt in the NFL? (Speaking of which, it's a good thing the NFL got rid of that halo rule, because obviously returning punts -- standing poised for the ball while 260-pound players who can bench press 400 pounds and run 4.6 40s prepare to smack you as hard as they can from a running start -- had become far too easy.)
And finally, is David Wells an athlete, and if so, can we go on his training program?
| | |
| --- | --- |
| | We expect you to argue over a lot of it. We asked players in the Mariners clubhouse this spring what they thought was the most difficult thing to do in sports, and as you might expect, the immediate consensus was hitting a major-league pitcher. But then one player said that the pole vault ... and someone said that hockey. And soon they were intensely debating the question. |
Those are the sort of questions we asked ourselves over a meal many months ago, and in the best tradition of sports arguments, the argument didn't end with last call (there's one of us at Page 2 who still stubbornly insists that curling is harder than you think). Instead, it's grown into this, the Ultimate Sports Degree of Difficulty project. Over the next two weeks or so, we'll try our best to answer those questions and determine the most difficult sport in the world and the best athlete in sports.
We put a lot of thought into this, even after we left the bar.
We polled Olympic trainers and multi-sport athletes. We created a spreadsheet ranking 60 sports and breaking each into 10 categories of athleticism. We asked players who they thought were the greatest athletes and what the most amazing thing they ever saw another athlete do (we heard a lot of Bo Jackson stories). We set up a bracket for you to select the best athlete in the world. We pieced together the body parts of various athletes into one ultimate athlete who could not only excel at every sport imaginable, but could pass the drug test afterward.
We also tried some sports ourselves, stepping in against a major-league fastball and working out with the U.S. modern pentathlon team (we now have a much greater appreciation for those guys).
We're so bruised, sweaty and exhausted you would think we had just gotten out of two-a-days with Bill Romanowski. But we're ready to begin the project with the best athlete bracket and our first question: What is the greatest athletic feat in history?

Was it Roger Bannister breaking the 4-minute barrier in the mile? It could be but if it was so difficult, why did someone else do it just 46 days later and so many thousands after that? Was it Bob Beamon breaking the long jump by more than two feet? It could be -- it would be like someone suddenly running a 3-minute mile -- but if it was the greatest of all time, then what does that say about Mike Powell, who broke Beamon's record? Was it Michael Jordan's gravity-defying slam from the foul line? Maybe, but how do you measure such a thing quantitatively?
Or was it something entirely different, something performed far from the TV cameras? J.T. Snow says he saw Bo Jackson snatch flies out of the air with his bare hand and also throw a baseball from the outfield to a construction worker straddling a beam on top of the stadium's upper deck. "I don't know what was more impressive," he says, "Bo's throw or the guy catching it."
We'll draw some conclusions about these questions over the next couple weeks and maybe surprise you with some of the answers. We know you won't agree with everything. We expect you to argue over a lot of it. After all, we asked players in the Mariners clubhouse this spring what they thought was the most difficult thing to do in sports, and as you might expect, the immediate consensus was hitting a major-league pitcher. But then one player said that the pole vault -- sprinting as fast as you can while carrying a really long pole and sticking it into a small holder in the ground and using it to fling yourself up to 19 feet in the air -- probably wasn't real easy, either. And then someone said that hockey -- skating backward on defense -- looked kind of tough, too. And pretty soon they were intensely debating the question.
And 30 minutes later, they were still at it.
If we can inspire as much debate over the next couple weeks from you, we'll consider the project a success.
That is, we will just as soon as our knees stop groaning.
Jim Caple is a senior writer for Page 2. He claims he once made a spectacular, over-the-shoulder catch of a deep drive in an intramural softball game, whipped around and threw out the runner at second base.