By Jeff Merron
Page 2
The best athletes of all time -- it's been done, but we're doing it again. These guys were simply built for sport, guys who did -- or could have -- succeeded in just about any sport they chose.
10. Lou Gehrig
The Iron Horse was 6 feet and 200 pounds of pure muscle -- in columnist Jim Murray's words, "a symbol of indestructibility -- a Gibraltar in cleats." Gehrig was strong and tough enough to play fullback and linebacker at Columbia in the early 1920s, and his sheer durability, exemplified by his consecutive games streak, is unquestionable.
Degree of Difficulty
Check out more Page 2 content:

WHAT IS THIS?


Check out Jim Caple's essay

BRACKETS


Vote: Best female athlete in the world

THE BIG GRID

Coming up: Page 2's panel ranks 60 different sports in order of most difficult.
Coming up: Basketball: Underrated or overrated?

THE ATHLETES SPEAK


Coming up: Hardest thing to do in sports? Most impressive feat you've seen? And more ...

PAGE 2 TRIES ...


Coming up: Surfing, water polo ... and a surprise

LISTS


Coming up: Feats we'd like to see
Gehrig's ability to simply pound the ball is well known, but some little-discussed aspects of his game are telling. He had good speed -- in fact, he had 163 career triples (he led the AL in 1926 with 20 three-baggers).
Oh, we forgot to mention -- Lou could also pitch. He was Columbia's ace, going 6-3 his sophomore season before signing with the Yankees. In a game against Williams College he struck out 17 batters. The week before, in a winning effort against CCNY, he struck out 11 in seven innings while going 4-for-4 at the plate with four runs, a double and a stolen base.
9. Gordie Howe
Howe could do it all on the ice -- skate, shoot, pass, fight and score. And he could do it for much of his life, having entered the NHL in 1946 as an 18-year-old rookie and not retiring until 1980, as a 52-year-old icon (and one of the top scorers on the Whalers).
Among Howe's accomplishments upon retirement: most lifetime goals (1,071), most lifetime assists (1,518), most All-Star appearances (29) and most MVP awards (7).
If you think those hockey skills aren't transferable, consider this: Howe often took batting practice with the Tigers, and was so good that Al Kaline thought if he had put his effort into the American pastime, he would have been great at it.
8. Michael Jordan
We've seen so much of Jordan on the basketball court -- he was super-quick, probably high-jumped six feet without even trying, long-jumped 20 or so feet despite pausing to slam home dunks, could see things nobody else could ... an incredible defender ... etc., etc. Which is why he remains the greatest basketball player of all time.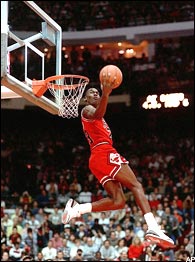 People will remember Michael Jordan's high-flying dunks forever.
But don't forget what he did in baseball -- after not playing since high school, he spent a season with the Double-A Birmingham Barons and hit .202 with 51 RBI and 30 stolen bases in 127 games. Some people mocked him for this performance -- MJ couldn't hack it even in the minors, they said -- but putting up those mediocre numbers is pretty impressive for a 31-year-old Southern League rookie. And, proof of what he could simply will himself to do. Last, and maybe least, there's MJ's golf game. As far as we can tell, he's got between a four and seven handicap, can drive the ball a mile, and is a formidable opponent against good amateur golfers.
7. Jackie Robinson
Robinson, who, as you know, would eventually settle on baseball as his career sport, was the first UCLA athlete ever to letter in four sports. As a Bruin, Robinson was an All-American running back, a point guard who twice led the Pac-10 in scoring, and the 1940 NCAA champion in the long jump, flying 25' 6 1/2".
And in baseball, he could do it all -- hit for power, hit for average, steal bases with the best of them and stretch doubles into triples. We could say more about Jackie's strength, speed, stamina and extraordinary character, but geez, you know it already. If you don't, that's a shame.
THE FIVE GREATEST FEMALE ATHLETES
1. Babe Didrikson
2. Jackie Joyner-Kersee
3. Serena Williams
4. Marion Jones
5. Martina Navratilova
6. Rafer Johnson
Johnson won the silver medal, despite an injured knee, in the 1956 Olympic decathlon. Four years later, he won the the gold medal in Rome, in a thrilling finish against his friend and training partner C.K. Yang. Back in 1960, the Olympic gold in the decathlon really meant you were the world's greatest athlete. And Yang, a former world record holder, was incredibly tough competition.
But we need more to bolster Rafer's case for this list. He ran for nine yards a carry in high school, which earned him a football scholarship offer from UCLA. This he turned down, because his eyes were already on the decathlon, in which he set a world record as a college freshman.
While a prep, he also excelled in basketball, and even though his eyes were clearly on the track and field prize, he did play hoops for UCLA -- under John Wooden.
5. Wilt Chamberlain
Wilt's hoops bona fides are so well known that we'll skip them, except to note that in addition to all of his scoring marks, he remains the only center to lead the NBA in assists. But on to his other athletic exploits (yeah, yeah, we could mention his 20K as proof of his athleticism, but this is a family site).
If you couldn't tell Chamberlain was strong, fast and agile from his basketball playing, you could look to his track and field performances. As a prep, he set Pennsylvania state records in the shot put and the 110-meter hurdles, and his scholarship to Kansas was for both basketball and track. He earned the track portion by winning three straight Big Eight high jump titles.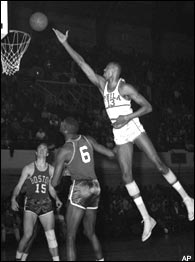 Wilt Chamberlain put up some hoops stats that nobody could dream of duplicating today.
After he retired from basketball, the Dipper transformed himself into a world-class volleyball player. For fun, he ran marathons. He also turned down offers to play pro football and box professionally.
4. Bo Jackson
An MLB and NFL all-star -- are you kidding? Could climb tall walls and summit with spectacular catches and could win the Heisman at his "hobby" sport.
To be more precise: in eight major-league seasons, Bo hit .250 with 141 HRs and 415 RBI, and was so good that he returned after surgery, and playing with a prosthetic hip, hit 29 homers in his final two seasons. In four part-time NFL seasons with the Raiders, he played only 38 games but ran for 2,782 yards, an average of 5.4 yards per carry.
Bo's best baseball season came in 1989, when he hit .256 with 32 homers, 105 RBI and 26 stolen bases. He was named MVP of the All-Star game, and five months later, after he rushed for 950 yards in just 11 games for the Raiders, was named to the Pro Bowl team.
3. Dave Winfield
Winfield could do it all on the baseball field -- hit for power, run (three times he finished in the top eight in triples, and in four seasons he stole more than 20 bases), and field, winning the Gold Glove seven times. Winfield, who played for the University of Minnesota, was the Gophers' best hitter and pitcher, not a shabby achievement considering Minnesota made it to the semis of the 1973 College World Series. After 22 major-league seasons -- he never played in the minors -- Winfield was elected to the Hall of Fame in 2001, his first year of eligibility.
But there's more. He was also good enough to play pro basketball, drafted by both the Atlanta Hawks and the Utah Stars after starring as a power forward on Minnesota's Big Ten championship team. And he was such a great athlete that even though he never played a single down in college, the Vikings selected him in the 1973 draft. No other athlete has ever been drafted in all three pro sports.
2. Jim Thorpe
After the 1912 Olympics, in which Thorpe won the decathlon and pentathlon, King Gustav V of Sweden called him "the greatest athlete in the world." True.
Thorpe could do it all in track and field, and he was the best football player of his era, leading the Carlisle Indian School team to the 1912 national college championship and the Canton Bulldogs to three unofficial pro titles between 1916 and 1919. Thorpe was an awesome runner, a tenacious tackler, and drop-kicked 50-yard field goals with ease. Thorpe also played baseball, putting in six major-league seasons with the Giants, Reds and Braves and hitting a career .252.
In 1950 Thorpe was named the best athlete of the first half of the 20th century.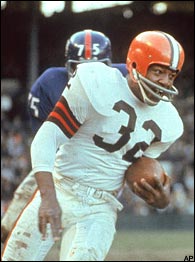 Jim Brown was one of the greatest running backs ever, and tops our all-around athlete list.
1. Jim Brown
Brown was one of the greatest NFL running backs of all time, an All-American lacrosse player who was one of the finest ever, averaged 38 points per game in high school basketball and lettered in hoops at Syracuse, finished fifth in the 1956 national decathlon championship, was offered a minor-league deal by the Yankees, and could have been a pro boxer after he retired.
Also receiving votes:
Jerry Rice
Bob Gibson
Kirk Gibson
Charlie Ward
Deion Sanders
Bob Mathias
Danny Ainge
John Elway
Eric Heiden