By Jeff Merron
Page 2
They're the best single displays of athleticism in history, accomplishments that were, in a word, unbelievable. They were also over in seconds or minutes, sending us to the super-slo-mo as we rubbed our eyes. No ... way ...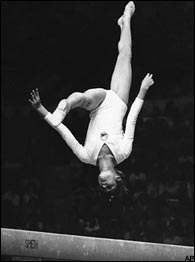 Pure, fearless athleticism.
10. Nadia's Fifth 10
Comaneci scored seven jaw-dropping perfect performances during the 1976 Olympics. Her best came on the balance beam, when she scored her fifth 10 during the all-around. Newsweek's Neal Amdur described it as "a near-miraculous ... performance that left many wondering if one perfect effort can be described as even more perfect than four earlier ones." It was a spectacular, risky, and flawless display of pure, fearless athleticism.
9. The Wizard of Oz takes the stage
On April 28, 1978, Padres rookie shortstop Ozzie Smith, in only his 10th major league game, moved toward second off a hard-hit Jeff Burroughs grounder, then switched directions quickly, barehanded the ball with his right hand, fell face-first into the dirt, returned to his feet, and threw Burroughs out at first. Smith would later say it was his best defensive play ever.
8. Vick's 46-yard run OT run
With the Vikings and Falcons tied at 24 in OT, Atlanta QB Michael Vick dropped back and rolled left, then took off, eluding Minnesota defenders Nick Rogers, Lance Johnstone, and a diving Greg Biekert for a game-winning 46-yard TD run. It capped a great running day for Vick, who ran for 173 yards on 10 carries, the most by a QB since the 1970 merger.
Rogers was in awe. "He runs a 4.2 in the 40, man,'' he said. "Wide receivers don't run that." Bradford was also awed: "He's like Marshall Faulk at quarterback. He's pretty magical.''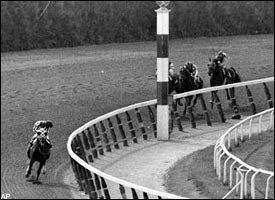 Jockey Ron Turcotte takes a look at the competition as Secretariat rides to victory.
7. Secretariat devastates the field at Belmont
Before the start of the Belmont Stakes on June 9, 1973, Secretariat already had Kentucky Derby and Preakness tucked under his saddle, and was an extraordinary 1-10 favorite to win the third leg of the Triple Crown. In the mile-and-a-half race, the horse, with Ron Turcotte in the saddle, simply crushed the competition, setting a track record by more than two seconds and winning by an amazing 31 lengths.
6. Maradona dusts stunned English defenders
Argentina vs. England in the 1986 World Cup quarterfinals in Mexico City. You've heard about the "Hand of God" goal that Maradona scored in this game, six minutes into the second half. But less than four minutes later Maradona took the ball at around midfield, and, running down the right side of the field, eluded five defenders with extraordinary ball handling and great moves and fakes, and finally, from near the penalty area, blasting the ball past goalie Peter Shilton.
"Today, Maradona scored one of the most brilliant goals you will ever see," said English coach Barry Robson. "I didn't like the second goal, but I did admire it. It was a miracle goal." Maradona's two scores lifted Argentina past England, 2-1.
5. Gary Anderson's long vault
In the first game of the 1986 season, the Chargers faced the Dolphins at home in San Diego. With the Chargers on the Miami 18, Anderson grabbed a swing pass from Dan Fouts and, running down the right sideline, took off at the five-yard line and leapt far over Dolphins safety Bud Brown and two other defenders, soaring about six feet in the air and finally landing about three yards deep in the end zone.
"I have been trying to figure out where is that phone booth that Superman comes out of," said fellow Chargers running back Lionel James. "Gary runs like a locomotive, is faster than a speeding bullet and dives better than Greg Louganis. I gave him a 10-1/2 because he had no splash."
4. Jordan's underhand scoop twists Lakers
Game 2, 1991 NBA finals. Against the Lakers in Chicago, early in the fourth quarter, Jordan throws a no-look pass to Levingston on his left, then, driving the lane, takes a return pass, dribbles once, and in a tangle of Lakers and Bulls, launches with the ball high in his right hand as if to dunk over A.C. Green, then switches direction midair, moves the ball to his left hand, and while on his way down scoops a reverse off the glass. Was it Jordan's best ever? He ranked it among his greatest moves, and we've only got room on this list for one of MJ's acrobatic feats
3. Franz Klammer's blazing run
Klammer, the favorite to win gold in the downhill at the 1976 Innsbruck Winter Games, was the last of 15 skiers and knew he had to have a wicked fast run to beat Bernhard Russi's leading time. One third down a course made treacherously icy by the 14 skiers before him, the Austrian Astronaut trailed Russi. But then he turned on the burners, skiing recklessly, almost crashing a few times, taking the tightest line possible down the course, and finally winning by 33 hundredths of a second. "I gave myself terrible frights," Klammer told the Washington Post. "I almost fell several times. I was thrown into the air so often I was sure I was going to fall."
2. Willie Mays makes "The Catch"
Game 1, 1954 World Series, Cleveland vs. New York Giants, Indians' slugger Vic Wertz at the plate with men on first and second. Wertz was already 3-for-3 on the day when he blasted lefty reliever Don Liddle's pitch 460 feet to right center at the Polo Grounds. Mays took off, and, as the New York Times' John Drebinger put it, had his back to the plate and was "traveling on the wings of the wind" when he hauled in the drive deep, pivoted 90 degrees counterclockwise, and followed with a perfect throw to the infield that held the score at 2-2 and allowed the Giants to win in extra innings.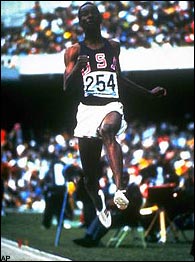 Bob Beamon walking on air.
1. Bob Beamon shatters world record in long jump
On October 18, 1968, at the Mexico City Olympics, Bob Beamon, 22, long jumped an amazing 29 feet, 2 1/2 inches, breaking the existing world record by 21 3/4 inches, and becoming, in the process, the first jumper to sail past both the 28- and 29-foot barriers.
His record stood until 1991, when Mike Powell leapt two inches further, and it still stands as the second-longest jump in history.
Although many say that Beamon's jump was greatly aided by Mexico City's high altitude, this argument doesn't withstand the most basic scrutiny: the silver medalist finished 28 inches behind Beamon.
A couple of notes from the inimitable David Wallechinsky: Beamon had never had sex the night before a competition; at Mexico City, he did. Also, after he set the mark he experienced a "cataplectic seizure" that rendered him dizzy nauseous, and unable to stand without assistance.
Also receiving votes:
Too many to list!