Commentary
Why the Globetrotters selected Messi
Originally Published:
June 23, 2011
By
Patrick Dorsey
| Special to Page 2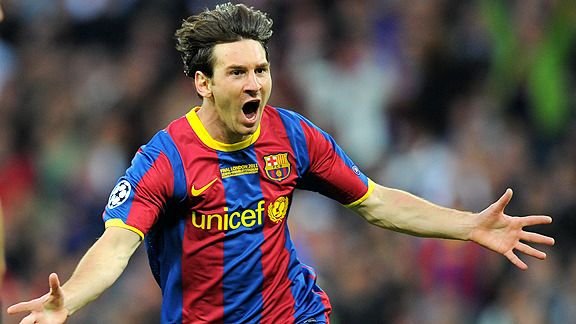 LLUIS GENE/AFP/Getty ImagesLionel Messi probably looked like this when he found out he was drafted by the Harlem Globetrotters.
Lionel Messi ... Harlem Globetrotter?
OK, probably not.
But the international soccer sensation was selected earlier this week by the legendary organization in its fifth annual draft, held just days before the top NBA prospects heard their names called by David Stern.
And don't tell "Sweet" Lou Dunbar, the club's director of player personnel, that selecting Messi -- or American goalkeeper Tim Howard (in 2009) or 7-foot-9 Chinese player Sun Ming Ming (2007) -- was a stunt pick.
"They're real good athletes," said Dunbar, who spent 27 years as a Globetrotters player. "Sometimes you see guys get drafted in football and they've never played a down. ... [This is] kind of the same concept. With these guys, maybe it's a possibility that they become a Globetrotter."
Here's betting Messi, who turns 24 Friday, won't make the leap from Champions League-winning FC Barcelona -- at least not for a long while.
But that's not to say the five-year-old draft isn't (mostly) serious. Throughout the season Dunbar and the scouting staff search worldwide for talented players, potential entertainers, "guys with good character" (Dunbar's words), and all-around good athletes ("If you're a good enough athlete, we can teach you to handle the ball," he said).
Finally, around the time of the NBA's selection show, the group gets together for one final conference call.
And unlike the NBA draft, there's no clock on the picks.
"It can go on forever," Dunbar said.
And why, exactly, do they have a draft?
"We're a professional team. So [we asked ourselves], 'Why not draft players?'"
One thing they don't do: Talk to players in advance. They decide first, then reach out to the selections -- as Dunbar says has been done for this year's six picks: Messi, 7-8 giant Paul Sturgess (Mountain State University in West Virginia), 2011 college slam dunk champion (and YouTube sensation) Jacob Tucker (Illinois College), 2011 college 3-point champion Andrew Goudelock (College of Charleston), 2011 dunk semifinalist Darnell Wilks (Cincinnati) and, using what they called a "future discovery clause," 12-year-old Washington kid Jordan McCabe, himself a Web hit for his skills.
The picks (Messi included) are invited to the team's minicamp in August. The annual training camp will be held in October, and this year's North American tour launches Dec. 26.
And although Dunbar is confident some will heed the call -- salaries are not discussed publicly, but Dunbar says it's a full-time gig -- he understands if it takes a while. After all, former Michigan big-time dunker Brent "Thunder" Petway was picked in 2007, tried his hand in the D-League and overseas, then became a Globetrotter last year.
"We also know that these young guys are chasing the dream of being NBA players as well, so we have to be realistic about it," said Dunbar, who himself dreamed of the top league before becoming a Globetrotter. "So we put a shout out there to these guys ... [and tell them] the Globetrotters is a good home for these young men."
You listening, Leo?
Former draft picks currently with the Globetrotters: Anthony "Ant" Atkinson ('07); Petway ('07); William "Bull" Bullard ('08); Tay "Firefly" Fisher ('08).
Other notable former selections: Sun Ming Ming ('07; very large man and occasional Jimmy Kimmel guest); Patrick Ewing Jr. ('08; needs no explanation); Sonny Weems ('08; rotation player with the Raptors); Taylor Griffin ('09; Blake's brother, played eight games with the Suns in 2009-10); Tim Howard ('09; helping U.S. to berth in CONCACAF Gold Cup final); Mark Titus ('10; famed Ohio State benchwarmer and creator of the Club Trillion blog); Anthony Johnson and Shaunte Nance-Johnson ('10; husband-and-wife basketball-playing duo from the University of Montana).