Commentary
What's secret to twins' sports success?
Originally Published:
May 27, 2011
By
Patrick Dorsey
| Special to Page 2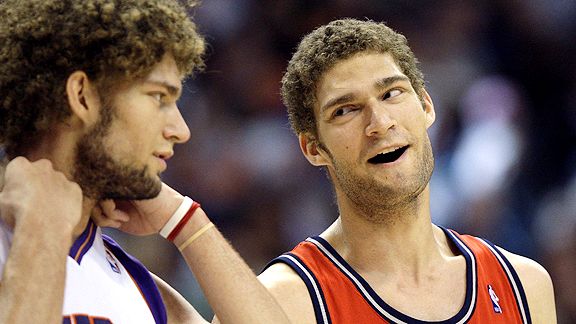 AP Photo/Ross D. FranklinTwin brothers Robin, left, and Brook Lopez have different types of games -- and different hairstyles.
Let's rewind a bit. Back to the 2008 NCAA tournament, second round, Stanford versus Marquette. The indispensable Lopez twins -- Brook and Robin, now NBA starters -- were in second-half foul trouble. And with Cardinal coach Trent Johnson ejected, it was assistant Doug Oliver's time to decide.
Oliver left them on the bench. Together. Minute after minute. Just biding time. He knew it could bite him. He knew there'd be questions from fans and the media -- "Why didn't you at least put in one?" But he and his fellow assistants weren't going to separate the two 7-foot sophomores, even if it meant letting a six-point lead turn into a one-point deficit.
"We knew they played so much better together," Oliver, who's now an assistant at UC Irvine, told Page 2 this week.
In hindsight, it was a close call -- but it worked out. With 9 seconds left and flanked by Brook, Robin hit a game-tying free throw to send it to overtime. There Brook nailed the game-winning jumper with 2 seconds left, Robin on the court with him.
Behold, the power of twins.
And behold it today. Exponentially.
In hockey, the Vancouver Canucks are Stanley Cup finals-bound thanks mostly to two players: the Sedin twins, Daniel and Henrik, who finished first and fourth, respectively, on the NHL points list this season.
In college basketball, Kansas' inseparable Morris twins, Markieff and Marcus, guided the Jayhawks to consecutive No. 1 NCAA tournament seeds and are near-locks to be first-round picks in the 2011 NBA draft.
Even overseas, another set -- Brazilian footballers Fabio and Rafael Pereira da Silva, known simply as Fabio and Rafael -- helped push Manchester United into the weekend's Champions League final against Barcelona.
And the list goes on.
So here's the question: What's with all the twin power out there?
The answer: Well, there's a lot of answers.
TWO OF A KIND
When you look at the science, it makes sense that identical twins would be good -- almost equally good -- at whatever sport they choose.
After all, it's in their DNA. Literally. They share the same genes, 100 percent down the line.
"Genetic factors underlie so much of our mental abilities, our personality styles, the kinds of things that we like, how our bodies are put together," said Dr. Nancy L. Segal, professor of psychology at California State University Fullerton and author of "Entwined Lives: Twins and What They Tell Us About Human Behavior."
"[So] it's really not terribly surprising that you can find a lot of identical twins in the same sports and doing very, very similarly in those sports."
Even when choosing activities, scientists say identical twins can be drawn to the same ones because of their genetic makeup. If they grow up together, food and training usually match, so they grow similarly. And often, if they don't make an effort to differentiate themselves physically, they're treated the same or nearly the same by teammates, the opposition, even coaches -- sometimes for simple aesthetic reasons.
Take Oliver, who also coached the Collins twins -- the NBA's Jarron and Jason -- for a year at Stanford.
"Sometimes," Oliver said, "I had a hard time telling them apart."
TWO OF A KIND?
That wasn't the case, Oliver said, with the Lopez twins. They famously sport unlike hairstyles, with Brook close-cut and Robin rocking a Sideshow Bob coif.
They also displayed differing skills, with Brook offensively charged and Robin a banger.
[+] Enlarge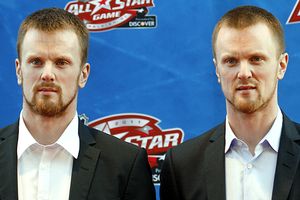 AP Photo/Karl B. DeBlakerHenrik, left, and Daniel Sedin are a formidable tandem for the Canucks, with Henrik leading the league in assists and Daniel ranking fourth in goals scored.
But although some twins enjoy confusing people with their looks, it's much less common for them to share sports attributes.
With the Collinses, Jarron was Brook to Jason's Robin. In the Sedin pair, Henrik sets up the goals (a league-leading 75 assists) while Daniel scores them (in fourth with 41). ESPN NBA draft analyst Chad Ford sees Markieff Morris as a future post player and Marcus as a possible wing. The tennis-playing Bryan twins feature one righty (Mike) and one lefty (Bob). And let's not forget former running back Tiki Barber and defensive back Ronde.
"No one can be exactly the same," Segal said.
That goes especially for fraternal twins, who are vastly different from identical twins because they don't share the same DNA, making them more like non-twin siblings than their identical counterparts.
More, but not completely.
A SPECIAL RELATIONSHIP
The Sedins, Collinses, Bryans and Barbers all are thought to be identical. The Lopezes, meanwhile, have told reporters that the verdict is unknown (although identical is likely). But the Morrises -- who, Ford wrote, share everything from a class schedule to tattoo designs -- have insisted they're fraternal.
No matter what, there's another element to their dual sports success: each other.
"You always have someone to play with," said Dr. Joel Fish, sports psychologist, director of the Center for Sport Psychology, author of "101 Ways to be a Terrific Sports Parent" and himself father to a boy-girl pair of twins. "So from a younger age, you're always competing."
Sometimes, Fish said, all that competition can form intense and even unhealthy rivalries among twins identical and fraternal.
But more often, the relationship is supportive -- so much so that many don't even want to go against each other, like when the Sedins threatened not to play if drafted separately in 1999.
If they get their wish, no matter the level, that tends to only help the twins excel.
"If one of the twins is a little better," Segal said, "the other one probably figures that they could do it, too, so it eggs them on to do a little better."
"[Twin success] has to do a lot with someone always having your back," said Christina Baglivi Tinglof, also a parent of fraternals who has written extensively on the subject and runs the website Talk About Twins. "You have a partner who's going to look out for you."
Add to all this the increasingly accepted idea that repetitions correlate with ability, and it's no wonder twins who practice together often display what Segal calls "a shared understanding" when playing.
But wait. Is there something even deeper at work there?
A 'SIXTH SENSE'?
Canucks player Alex Burrows, jokingly to The Seattle Times, about the Sedin twins: "They communicate like dolphins."
Former Canucks general manager Brian Burke, to The Wall Street Journal: "They've got this sixth sense or a radar."
Even a hockey message board shows this funny/uncanny YouTube clip on a thread titled "Sedins have ESP."
Could they?
Depends on whom you ask. Many, such as Segal and Tinglof, dismiss the idea due to lack of scientific evidence and offer logical alternatives: shared DNA, time spent together, etc.
However, there are theories -- many of them physics-based -- that promote the idea of telepathy and suggest scientific reasons for why twins might display this ability more than your average pair of humans.
Dr. Diane Hennacy Powell -- a practicing psychiatrist, a former Harvard faculty member and author of "The ESP Enigma: The Scientific Case for Psychic Phenomena" -- is among the believers and, when it comes to identical twins, suggests that because the pair shared a fertilized egg, they carry a closeness that could extend beyond our four known dimensions (the three space dimensions, plus time).
Powell knows this sounds out there but points to a 1979 University of Minnesota study of twins raised apart (on which Segal worked) -- cases of "unbelievable parallels in their lives, and things that you couldn't really explain by just genetics" (e.g., giving their dogs the same name, choosing the same clothing and others).
And when it comes to sports, Powell said, it only makes sense that twin pairs playing together could communicate faster than is thought to be humanly possible.
"The [time] in which telepathy seems to be the strongest is when people are emotionally charged ... and when they're engaged in something that's not about thinking," Powell said. "And sports is a perfect example of that."
KEEP 'EM TOGETHER
OK, so we're not here to hash out the telepathy debate. That's for scientists to decide, and there remains much skepticism on the subject.
What is hardly debatable: Twins can be pretty good, and they're even better together.
That's not to say they have to stay a pair. On a youth level, Fish suggests parents might be better off splitting twins so they can develop separate identities, while Tinglof said the idea of twins staying together beyond their younger years "makes me a little nervous" in terms of mental development.
Higher up, plenty of twin tandems have succeeded separately. Although they play on the same team, the da Silva twins rarely have seen the field together this year -- and that doesn't seem to be bothering Manchester United. Even those Lopezes, whom Oliver so steadfastly kept together at Stanford, are doing quite well as pros on the Nets (Brook) and Suns (Robin).
Still, there's just something special about these pairs when kept intact. Just check the Sedins. Or the Bryans. And maybe, if they get their wish to be drafted together, the Morrises.
Plano (Texas) Senior High School's Bob Weir, the 2009 National Federation of State High School Associations' boys' soccer national coach of the year, says he has coached about 15 pair of twins, some high-achieving.
So yeah, he knows how it goes.
"They worked well with everybody and worked well together, too," Weir said. "They were all very competitive, and [their] work habits in practice … were some things that the others could look at.
"[They] worked out well."
Twin power, indeed.