By Wayne Drehs
ESPN.com
CHICAGO -- When she was given the signal late Wednesday afternoon, Cathy Lowman pulled out her massage table, lit a half dozen scented candles and began the strangest eight minutes of her life.
Without cracking a smile, the certified massage therapist wrapped her hands around the condemned, an authentic Rawlings Major League Baseball, and began to rub.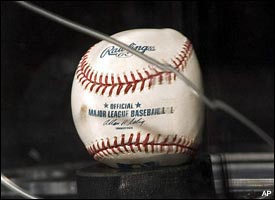 The BALL lies in state, pondering its final moments.
"Oh, Mr. Ball," she said, her hands crossing the seams of the famous Steve Bartman baseball that would be demolished to shreds some 27 hours later. "I hear you've been in a lot of trouble. I feel a lot of tension. I'm going to give you the maximum care today."
She didn't laugh. She didn't grin. She didn't break down at all over the pure ridiculousness of what she was doing. She just kept rubbing. With three just-as-serious security officers hovering over her, she used massage oils to improve the ball's, um, circulation.
"I can actually feel your energy calming down," Lowman said a few minutes later, the oils apparently doing the trick. "That's amazing to me, Mr. Ball. Everything's going to be OK. I think you're ready for your final mission."
It's amazing what 95 years of World Series misery will do to people. They start to believe balls are humans. They start thinking that wizards, warlocks, billy goats and black cats control the fate of their favorite baseball team.
They center their hatred on one particular baseball, a combination of twine, leather and red stitching that didn't bounce their way one chilly October night. They insist that to exterminate the bad mojo, they must execute the ball.
So that's what they do. They gather rock stars, movie stars and an Academy Award-winning special effects guru, and they throw a party. They put up a tent, get some spotlights, invite 1,000 friends and a national television audience; and they demolish that ball and end that curse. Once and for all.
JUDGEMENT DAY
CHICAGO -- From the moment he announced plans to destroy the famous foul ball that Cubs' fans believe cost them the 2003 National League pennant, Grant DePorter, managing partner for Harry Caray's restaurant, was inundated with e-mail suggestions about how to do it. Over 25,000 fans sent ideas through the restaurant's website. Here are a few of the more interesting ones:

1. Use Harry's glasses to ignite the fire that will melt the ball. Collect the ashes and have Bartman fly over Yankee Stadium and scatter the ashes, transferring the curse to the Yankees.

2. Slice the ball into thin pieces, cover it with milk, sugar and flour, bake it at 350 degrees and feed it to a billy goat. When it passes through, the curse will be gone forever.

3. Have Academy Award nominee and die-hard Cub fan Bill Murray dress up in full Ghostbusters gear and completely obliterate it.

4. Get a pyrotechnics company to load the ball into a launcher with a colorful display of fireworks and blow it into smithereens. Once the ball is launched and destroyed in a colorful burst, a full fireworks show can ensue, choreographed to, "Take Me Out to the Ballgame."

5. Soak the ball in liquid nitrogen and smash it into a million or so pieces. The pieces should be collected, ground up into dust, suspended in a cloud of oxygen and ignited. There will be nothing left but some water, carbon dioxide and a little ash.

6. Sneak into Yankee Stadium, under cover of night and bury the ball in centerfield. Transfer the curse to the Yankees!

7. Grind the ball into a fine powder. Then hold a night where the restaurant serves a spaghetti dinner to Cubs fans who pay to attend. The powder is mixed into the spaghetti sauce and within a day or two the curse would be "eliminated."
"One of my favorite things about the movie 'Ghostbusters' was teaching people that we create our own monsters," said Cubs' fan Harold Ramis, who played Egon in the 1984 comedy and was one of the lucky few to get a ticket to the execution on Thursday. "And that's what this curse is. With some creativity and a little ingenuity, we can handle anything."
Or just blow it up. A day after Lowman's delicate massage, the only remnants of the most famous baseball in Chicago sports history is a pile of smoky string. After weeks of run-throughs, after practicing with a blow torch, a wood chipper and liquid nitrogen, Hollywood special effects artist Michael Lantieri used a specially-created, no-smoke, detonation device to pulverize the ball into worthlessness.
After which, a group of Cubs' fans huddled in a circle outside the party tent and chanted, "The ball is dead. The ball is dead."
"It was like Game 6 all over again," said Grant DePorter, managing partner for Harry Caray's restaurant, which purchased the ball for $113,824.16 in December. "Only this time, we won. It sends a message: If anybody wants to interfere with the Cubs going to the World Series in the future, they can just look at what's left of this ball."
It also sends another message: Cub fans are not normal. And as if it isn't odd enough that DePorter paid over $113,000 to annihilate a baseball, as if it isn't bizarre enough that a ball had overtaken the Sears Tower as this city's hottest tourist attraction, the owners of the twine and leather sphere pampered the ball in its final hours as if it were J-Lo.
Besides Lowman's massage and a guard platoon of the three suit-clad, secret-service-like officers and seven other uniformed cops, there was one final trip to Wrigley Field on Wednesday, to say goodbye. There was a last meal of lobster, filet and a cold bottle of Budweiser. There was a final night in the chic Amalfi Hotel, where the ball was given its own floor and where fans were able to follow, "Infamous Foul Ball Viewing" signs to pay their last respects.
Then there was the party. Think midsummer street fest with a twist of New Year's eve and a hint of pep rally. Think charity shindig ("Destroy the Ball - Find the Cure") -- all proceeds went to the Juvenile Diabetes Research Fund.
City streets were blocked off. Buses re-routed. Billy Corgan of the Smashing Pumpkins collaborated with Rick Nelson of Cheap Trick to perform, "I Want You To Want Me." Dutchie Caray, widow of Cubs broadcaster Harry Caray, sang, "Take Me Out to the Ballgame." Eli's Cheesecake baked a medicine-ball sized replica of the condemned orb, using 50 pounds of cream cheese, four dozen eggs, 20 pounds of sugar and 20 pounds of buttercream frosting to create, "The Damn Ball Cheesecake."
The voice of Wrigley Field, Wayne Messmer, sang the National Anthem. Eight half-sober Cub fans competed in a Harry Caray sound-a-like contest. And a local Reverend blessed the Cubs 2004 season.
As if that isn't enough, Chicago Mayor Richard M. Daley, a noted Sox fan, wrote a proclamation recognizing the event. And the State of Illinois House of Representatives passed a resolution Thursday declaring that the curse is now over.
All this for a ball.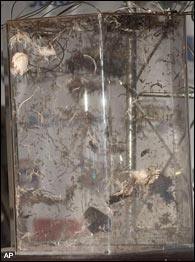 Like the Cubs 2003 season, the BALL goes up in smoke.
"To me, it's just funny," said Corgan, who said he uses Tivo to keep track of the Cubs when he's on the road. "But I love the fact that we've turned this into something that's so Chicago. It takes a lot of courage and a lot of humor to pull something like this off. I don't think any other city could do it."
Call it corny. Call it mystical. Call it a great cause. Or call it great PR. Even Bill Veeck would have been proud of this one.
Consider the Amalfi's room service attendant, who played along about as well as Lowman did with her massage. He served the lobster dinner Wednesday night.
"Good evening, Mr. Ball. Welcome to the Amalfi Hotel," he said as he entered the room. "Where would you like your dinner?"
Silence.
"Oh, over here? Great. Here you go -- your surf and turf from Harry Caray's restaurant. Anyting else, Mr. Ball?"
Silence.
"Alrighty then, have a great night. Enjoy your stay."
At that point, the cell phone of one of the three earpiece-wearing security officers rang.
"I'm working," the guard said to the voice on the other end. "What am I doing? Man, if I told you what I was doing right now, well, nevermind. We don't need to go there."
And then there was the media. Lots of it. The group that followed the ball from the restaurant to Wrigley Field, back to the restaurant and then to the Amalfi on Wednesday made the pack of paparrzzi trailing Britney Spears look trivial.
"Who the hell is that?" said Chicagoan Nancy Beard after the mob nearly trampled her outside the Wrigley Field marquee.
"The ball," a stranger told her.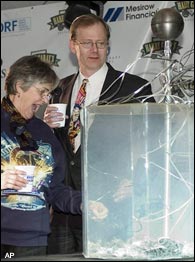 Harry Caray's widow Dutchie declares the BALL, and the curse, dead.
"THE ball?" she said.
"Yeah," the guy shot back. "THE ball."
"Wow," Beard replied. Then she ran to catch a peek herself.
Before its demolition, DePorter insured the ball with a $1 million policy, the benefactor being the Juvenile Diabetes Fund. Inside the lobby of Harry Caray's restaurant, 13 surveillance cameras kept an eye on the ball inside a reinforced glass case. Two alarms were wired directly to local police stations.
Bartman, through a family spokesman, declined an invitation to attend the event and refused to release any sort of statement. But he was more than represented. From look-a-like costumes and "Death to Bartman" signs to a competitor in the Harry Caray sound-a-like competition who read a poem for the notorious Cubs fan.
Steve Bartman, Steve Bartman
Next time you're in the front row box,
do it on the South Side -- Cheer for the Sox.
Thursday night's destruction was the spectacular finale to a strange and chaotic final 24 hours for Mr. Ball. He never spoke. He never stood up, never begged for forgiveness. He never admitted guilt. And now he's gone.
All in the name of a curse. Will it actually work? The additions of Greg Maddux, Derrek Lee and LaTroy Hawkins to an already-potent 2003 Cubs team say yes. But Sam Sianis, whose family reputedly put a curse on the Cubs when the team wouldn't let its goat, who had a ticket, into the 1945 World Series, isn't so sure.
"Absolutely not," Sianis said. "Blowing up a ball makes no difference."
Wayne Drehs is a staff writer for ESPN.com. He can be reached at wayne.drehs@espn3.com .