By Wayne Drehs
ESPN.com
A little less than two weeks from now, doctors will wheel Eileen Bangaoil into an operating room, surgically insert a cadaver's ligament into her left knee and rebuild her ACL.
It's nothing unusual for someone who spent their childhood twisting and tumbling through the air with little regard for human limitations. But what is strange is that her ligament snapped like a twig in practice more than a year ago.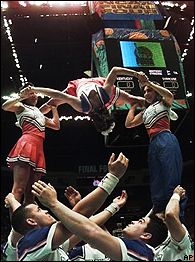 Before Orangemen gave fans something to cheer about in the NCAA Tournament tiele game a year ago, the cheerleaders were the main attraction.
In 10 football games, 21 basketball games and countless public appearances since, she's gritted her teeth and played through the pain.
"Exercise, ice and a lot of Advil. And do everything you can to keep it stable," Bangaoil said, explaining a regimen that any sore-armed pitcher or gimpy-kneed offensive lineman might use.
So go ahead, tell Bangaoil that cheerleading isn't a sport. Tell her that the last year she spent downing Advil and bathing her knee in ice has been a waste. That putting off ACL surgery so she could help her UCLA team finish third at the United Spirit Association's Collegiate Nationals two weeks ago was meaningless.
Forget that the seasons of high-profile male athletes Jason White, Willis McGahee and Aaron Boone crumbled to nothing when their ACLs shredded. Instead, just tell Bangaoil what you really think -- that she's not an athlete. That she's nothing more than a glorified sex object, there to smile, look pretty and entertain the men.
And then watch out for her coach.
"Try it for one day. Honestly. There's no way," said Mollie Vehling, UCLA's spirit squad advisor, a fancy name for cheerleading coach. "That shocks me. You can't just go out there and act stupid. It's a dangerous activity. And there's absolutely no way that if you did it for one day you wouldn't come back saying it's a sport."
The argument whether cheerleading should be granted sport status is one that has escalated into a fierce debate over the past year. In July, the University of Maryland became the first Division I-A school to recognize competitive cheerleading as a varsity sport and count it toward the its Title IX requirements. The move is one that drew praise from some, but criticism from others.
At one end of the argument are coaches like Vehling, who points to the gruesome injuries, the long hours, the agonizing training and those ultra-intense competitions as proof that cheerleading is much more than a stage for the prettiest girls on campus to flash their bloomers.
But there are those who say that, at best, cheerleading is a school activity with gifted young athletes. They say that national cheerleading competitions, in which teams choreograph high-risk routines for high-pressure performances that are measured against those from other schools, aren't enough to make it a sport. Included among them is some of their own, like Texas coach Jeff Dieta.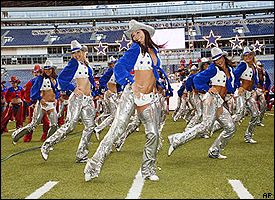 The Cowboys' cheerleaders have become as recognizable as the team's players on the field.
"A sport exists primarily for the sole purpose of competing. And we don't meet that definition," Dieta said. "It's an athletic activity. The kids are athletic. It just doesn't fit the definition of a sport. We're more ambassadors for the school."
Then there's former Stanford and professional basketball player Mariah Burton Nelson, a nationall renown professional speaker on women's sports issues. She thinks cheerleading should be abolished. Period.
"I respect that they are athletic. I realize it requires strength, stamina and balance," said Nelson, an author of five books, including "We're All Athletes." "They tell you it's not about looks, but what they're really doing is showing off their bodies, showing off their underwear and shaking their breasts around. It's quite embarrassing when I go to games with children and see how sexualized the routines have become."
For 28 years, the U.S. Department of Education's Office of Civil Rights, which oversees Title IX compliance, warned schools not to include "drill teams, cheerleaders and the like" as athletic programs to balance the books on Title IX.
But by consulting with the OCR and then splitting its cheerleading squad into two entities, the Terps were able to circumvent the edict. The school now has two cheerleading teams: One a more traditional group that cheers at basketball and football games; the other a 22-member team that performs only at intercollegiate cheerleading competitions.
That's the group that counts for Title IX. It receives the same benefits that are afforded to any other student-athlete, including scholarships, academic advisors, strength coaches, on-site trainers, locker rooms and media training.
Head coach Lura Fleece said she answers 50 to 60 e-mails a week from high school cheerleaders inquiring about the Maryland program. She's also heard from other coaches, cheerleaders and administrators interested in creating a similar program at their schools.
"It's been phenomenal. Better than I ever expected," said Fleece, who sits in athletic department meetings alongside Gary Williams and Ralph Friedgen and even has her own recruiting budget. "Within five years, this is going to be the norm. Just because it makes sense."
It's a long way from the early 1970s, when Tex Schramm introduced the Dallas Cowboys Cheerleaders as a sideshow to titillate the team's male fan base. Today, competitive cheerleading is one of the fastest-growing activities in the country. More than 200,000 high school and college cheerleaders attend offseason All-Star camps to improve their skills. Twenty-two different states high school governing bodies recognize cheerleading as a varsity sport.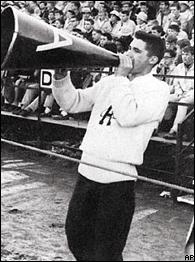 George W. Bush has been blowing hot air to anyone who would listen since his prep days at Phillip Andover.
Notable cheerleading alumni include Cameron Diaz, Hale Barry and Sandra Bullock to Samuel L. Jackson, Ronald Regan and George W. Bush.
Although appearance is still important -- UCLA, for example, has hair and makeup consultants -- today's cheerleaders say its more about who can out-perform the competition than who's dating the starting quarterback.
"There are kids 4 years old doing things that you could never imagine," said Lauren Gryskiewicz, the head coach at Georgia Tech and a veteran cheerleading judge. "Standing back-tucks, stunting. They're trying things in the pee-wee and mini divisions that we did in high school. It's getting more and more creative.
"People that are older, they think back to what cheerleading was like in school and they cling to some of those stereotypes. But they don't see what's going on. They don't see the changes."
So do cheerleaders deserve the same respect as those athletes on the football field and basketball courts? Ask most college cheerleaders today and they'll admit that standing on the sidelines, screaming through megaphones and pumping their fists in the air is nowhere near a sport. But the yearly competitions, they'll say, are as challenging as any other sport they've played.
"It's kind of like running an all-out sprint for two-and-half minutes," said Georgia Tech senior King Harrison, who played basketball and soccer in high school. "The only difference is you have to hold two 50-pound weights above your head."
There's more than a matter of respect at stake. Officially classifying cheerleading as a collegiate sport would lead to more money, better coaches, cheerleading-specific trainers and a more balanced playing field.
As it stands now, the National Cheerleading Association and the Universal Cheerleading Association, not the NCAA, governs cheerleading. Each has its own training camps, clinics and competitions and profit largely on the sale of uniforms, workout clothing and equipment.
While there are schools like Kentucky, a 13-time national champion, offering scholarships and other benefits that most student-athletes receive, there are schools like UCLA, where cheerleading is classified as a school club considered closer to Bruins for Jesus than the Bruins' basketball team. There are no scholarships. No free books. No on-site trainer. Not even early registration to schedule classes around practices. Most cheerleaders need jobs to support themselves, a rules violation for athletes of NCAA-sanctioned sports.
"There are so many resources that could be available -- preventative care, having regular access to a student trainer. Just to have a physical therapy aspect would really help," Bangaoil said.
How would it change things for Veiling if UCLA adopted cheerleading as a sport, as Maryland did?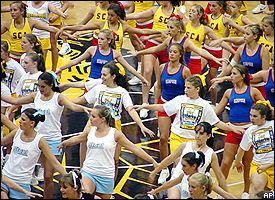 Cheerleading camps have become big business in recent years.
"I'd have a whole different demographic to pick from," Veiling said. "At Kentucky, those guys can hold three girls with one hand. My boys are not so huge -- they're electrical engineers. They don't make the crowd nervous anymore, but you just can't do the same program. If we could recruit, if we had scholarships, you could find the better athletes."
And perhaps avoid more injuries. According to the University of North Carolina's National Center for Catastrophic Sports Injury Research, each year more females are severely injured in cheerleading than athletes in any other sport.
When Gryskiewicz was a student at Florida International, the squad didn't have protective mats and was practicing on the gym floor when one of her teammates fell on her head during a stunt, fracturing her skull. Her eyes rolled to the back of her head, her ears started to bleed. Once she was in the hospital, she needed a respirator to breathe.
"It was the most awful thing I have ever heard and seen. She was in the hospital for a long, long time," Gryskiewicz said. "Needless to say, the school suddenly found the $5,000 to get us some mats."
At one competition, Gryskiewicz said she saw a male cheerleader tear his bicep straight from the bone, the muscle rolled up into his armpit like a window shade. Though such injuries are rare, they happen. Day to day, there are bumps, bruises, sprains and injuries related to repetitive. There are scratches, cuts and burns as well.
BE OF GOOD CHEER
Are you ready for ESPN.com's Cheerleader Challenge? Starting Thursday, 16 of the top cheerleading squads in the nation will vie for our title, with your votes determining the winner. To view all the matchups, you'll need ESPN Motion. If you don't have Motion yet, click here to download it.
"Right now, we're the sport with the most people in the training room everyday," Georgia Tech sophomore Susanne Nelson said. "So I don't know how you can say it isn't a sport."
How this all plays out is anyone's guess. Fleece said most schools are keeping an eye on her program and watching its development before making a move of their own.
As for Bangaoil, she has three months of gruesome rehabilitation in front of her before her knee will even be functional after surgery. She'll barely be ready for the fall football season and even then, far from 100 percent.
None of this bothered her, though, until she watched the 2003 Heisman Trophy ceremony and saw the profile of White, the Oklahoma quarterback who tore his ACL twice in as many years.
"I watched (it) and now I keep thinking to myself, 'Oh my gosh, look what he had to go through,' " Bangaoil said. "It doesn't look like fun."
Someone reminded her of what she's been able to do despite the injury, hinting that the cheerleader has a high tolerance for pain.
"You're right," she said. "Maybe it won't be that bad."
Wayne Drehs is a staff writer for ESPN.com. He can be reached at wayne.dresh@espn3.com.
Wayne
Drehs
CHEERS FOR CHEERS