By Wayne Drehs
ESPN.com
His bags are packed. His cell phone is turned off. And his plans are made. But Mark Roberts won't say where he's going.
"Somewhere where people can't get in touch," he says. "Cloak and dagger. I'm going for a wander. Who knows where?"
Perhaps Florida.
Jacksonville.
The Super Bowl.
Roberts won't say. But that's where the smart man puts his money. After all, he formally introduced himself to American pop culture at last year's Super Bowl, dropping his drawers before the second-half kickoff and parading around midfield in nothing but a G-String.
Sure, Janet Jackson's Nipple-gate stole some of his thunder, but Roberts parlayed his Super Bowl streak into his own 15 minutes of American fame. And he'd be lying if he told you he didn't crave more.
"It was one of the most fantastic experiences of me whole life," Roberts says. "I was just overwhelmed by the way the American people took to me. Everyone I met -- in L.A., Houston, New York -- I never got any negative vibes from anybody. The great people of America took it as they should -- with laughter.
"Everybody loved it -- except for the NFL."
Just before he went incommunicado, we reached Roberts with a phone call to his home in Liverpool, and asked for an update on his last 12 months.
In June, an all-female Houston jury found Roberts guilty of misdemeanor trespassing for his Super Bowl antics. The charge carried a maximum sentence of six months in jail and a $2,000 fine. While the league pushed for jail time, Roberts said, the jury fined him $1,000.
"My fate was in the hands of all these women," Roberts says. "The judge was a woman. My lawyer was a woman. The jury was all women. Lucky enough, they saw the funny side of this. Even the judge told them they made the right decision -- jail wasn't the right thing."
Roberts said that after the verdict was read, the jurors returned to a side room where they broke out in laughter.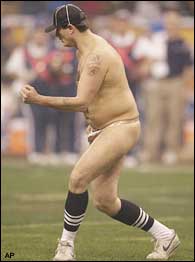 Mark Roberts doesn't need to pack much.
"The judge had to excuse herself, and she took me in there and everyone was just laughing. They knew what I had done. They had been holding that inside. So we took photographs outside the courthouse. It was fantastic."
Roberts was already known throughout Europe and the UK for his streaks, which now number more than 380. But he had never streaked on U.S. soil. He planned to attempt a streak at Super Bowl XXXVII in San Diego, but his tickets fell through.
Last year, he says, everything came together. An online casino paid for his game ticket, airfare and hotel in exchange for a slab of advertising space on his front and backside. He used a Velcro officiating outfit to sneak onto the field, and ripped off the uniform just before kickoff to start the third quarter. He performed an Irish jig in front of Carolina kicker John Kasay, and was dodging security officials when New England Patriots linebacker Matt Chatham flattened him with an elbow.
Looking back, Roberts says it was worth it.
"I'm worldwide now," says Roberts, who has streaked everything from Wimbledon and the British Open to the Commonwealth Games and the UEFA Cup Final. "Some of the events I did in the past put me on the map, but the Super Bowl -- that put me on the moon. It's been fantastic."
Since the game last February, the goofy-looking 40-year-old from Liverpool, the guy who takes his clothes off and runs around naked for a living, has partied with P. Diddy and Stevie Wonder. He's been a guest on "The Jimmy Kimmel Show" and "The Best Damn Sports Show." He's been profiled on "SportsCenter" and "Real Sports." He's signed a book deal. And there are rumblings about a motion picture.
He was even asked to speak during the Rock the Vote Awards in Hollywood.
OWN A PIECE OF THE STREAKER
Want to own your own piece of Mark Roberts' Super Bowl streak?

The Velco officiating uniform he wore to sneak onto the Reliant Stadium field, along with his ticket stub, the charge sheet from his arrest in Houston and a video of the Super Streak all will be part of a Super Bowl package scheduled to go up on eBay this Friday.

Half of the proceeds from the auction, which is set to end on Super Bowl Sunday this year, will go to help the victims of the tsunami in southeast Asia.
"I kept thinking, 'What the hell am I going to say to the youth of America?" Roberts says. "I had something like, 'If I can rock your nation by taking me clothes off, you can rock your nation with the click of a pen.' But the powers that be thought better of it. They were concerned I was going to streak. I never got on stage."
Roberts was in Athens for the Summer Olympics and had planned to streak the 100-meter men's final until another streaker -- "an amateur," as Roberts puts it -- jumped off the three-meter board during the men's diving final. After the stunt, the Russian, Chinese and U.S. teams struggled in their final dives.
Shortly thereafter, Roberts got a phone call to the effect that if he appeared at the Games, he was going to spend "a few years" in a Greek jail. He packed his bags and returned home.
"After the gun went off for the (100-meter) final, I was going to start the race. I would have been behind them. They never would have known what was going on," Roberts says. "This guy, he ruined it.
"And he ruined the whole medals. He ruined people's lifelong dreams. That's not what I'm about."
Instead, he says it's about making people laugh. Getting the world to lighten up. Even moreso in the post-9/11 era.
So ... next week, Super Bowl. Jacksonville, Florida. Will there be a repeat appearance?
"Florida?" Roberts says. "What gives you the idea I'd be going to Florida?
"I don't know anything about that."
Wayne Drehs is a staff writer for ESPN.com. He can be reached at wayne.drehs@espn3.com .
Wayne
Drehs
UNDERCOVER STREAKER