By Wayne Drehs
ESPN.com
EDITOR'S NOTE: ESPN.com's Wayne Drehs is spending the week behind the scenes with the unsung people in Jacksonville who make the Super Bowl what it is -- the party planners, the limo drivers, the beer distributors and, yes, the bouncers who muscle the rest of us out of the really cool shindigs. He begins his series on Super Bowl Lives with his account of a day on the front lines of the beer war.
JACKSONVILLE, Fl. -- The cream-colored Volvo weaves back and forth in its prescribed lane, its driver's head on a never-ending swivel in search of the enemy.
"YES! YES! YES!" he yells, still looking at the restaurant. "You see those Miller Super Party umbrellas over there? Those were Bud umbrellas yesterday. That's one of our guys taking care of business. Taking the gloves off and doing what it takes to win.
"W-I-N. That's the goal."
Forget Patriots vs. Eagles, Playboy vs. Maxim or even FOX vs. ESPN. The biggest war being fought on the streets of this city this week just might be Miller vs. Bud. And Rigdon, a sales director for Champion Brands, North Florida's distributor for Miller and 26 other beers, is on the front lines.
He and his staff of over 50 representatives have spent the week combing the aisles of over 2,500 Jacksonville-area grocery, liquor and convenience stores. They've rolled into restaurants and bellied up to bars; and at every stop along the way, they had one simple goal: to get their product and their signage out in front of the competition.
"You drive around town and you see one of their trucks at an account and you're like, 'Uh oh. What are they doing?'" Rigdon says. "Then as soon as they leave, you turn around and go back. It's a cat-and-mouse game."
What's at stake? The impulse buy. Market research shows that approximately 30 to 40 percent of beer purchases are based in large part on extravagant store displays. So at grocery stores and liquor stores all across Jacksonville, Rigdon and his team have spent the last month trying to one-up the team from Anheuser-Busch.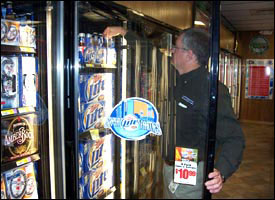 Dave Rigdon, sales director for Champion Brands, makes sure the Miller Lite logos on a six-pack of bottles are facing forward. Miller's Super Bowl logo is also seen on the cooler's glass.
When Rigdon drives by a gas station with a window that features two neon Anheuser-Busch signs, he phones the office.
"We need to get another neon over here ASAP," he says.
When he spots a pair of Bud reps during a family dinner at a hot wing restaurant on Saturday, he buys himself the two biggest Miller Lites he can find and parades them around the room so that everyone, Bud reps included, can see the labels.
But the work he does one day can be torn down the next.
"The guys who don't know any better, the guys who are new in the business, they'll just walk in here and tear the other guys' stuff right off the wall," says the general manager of one local bar. "This is serious stuff to a lot of people."
Just last week, the coupons were removed from all the Miller Lite cases at an area grocery store.
"Common sense tells you it was them," Rigdon says.
Them. Spend five hours with Rigdon and not once does he refer to the competitor by name. The closest he comes is calling them "A-B." Anheuser-Busch controls approximately 53 percent of the Jacksonville market. Rigdon's Champion Brands, which distributes Coors, Miller, Heineken and Amstel Light, among others, has the remaining 47 percent.
This week, over 100,000 visitors are expected in town, and over 72 officially-sanctioned Super Bowl parties will be held. Demand for beer is estimated to increase at least 20 percent over the busiest time of a normal year, the holidays. Rigdon and 200 other Champion employees have put in 70-to-80-hour weeks since Christmas. His cell phone rings so much that twice this week, he's picked it up to make a call and somebody has already been on the line.
Factor in the arrival of brewery VIPs from all over the world, including Heineken's top dogs from Amsterdam and Dos Equis' leaders from Mexico -- all here both to party and check up on Champion -- and the ante is raised yet again.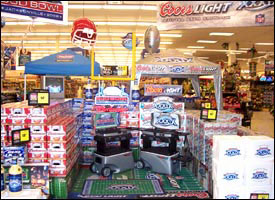 When a Champion sales rep saw that Bud was dominating the front of this store display, he matched them item for item, all the way from the sign on the ceiling to the mat on the floor, with displays from Coors.
"People don't understand -- it's ugly," Rigdon says. "It's dollars. If the competitor gets their product out in front of yours, they're taking money out of our pocket. They're taking food off our table. So it gets pretty emotional out there. Sometimes even ugly."
Just a few weeks ago, Rigdon and an Anheuser-Busch rep showed up at an account at the same time. The A-B rep was upset that the store was littered with Miller Lite flags. He expressed his frustration to Rigdon.
"I told him he needed to stop yelling at me and take up his complaint with the store manager," Rigdon says. "That's who gave us the approval. So he shot back, 'Well, it's gonna be a long f-ing month for you guys. Hope you're ready.' And I told him we certainly were."
All across the Jacksonville area, Champion has used flags, stickers, neon signs, inflatable chairs, picnic tables, umbrellas, grills, refrigerators, tents, televisions, spotlights, movies and blow-up footballs to generate jaw-dropping store displays.
Anheuser-Busch's primary displays are goal posts. Convince a store manager that he can put up two goal posts -- and make a football field between them -- and there's a monster slab of space around which to stack cases of Bud and Bud Light.
"It's actually pretty genius," Rigdon says. "It's worked well for them."
Still, driving around Jacksonville on Tuesday morning, Rigdon can't help but smile. The plan Champion began developing over a year ago, after watching the Houston market handle last season's Super Bowl, is working. Just after 8 a.m., he isn't 15 steps into his first store, a Winn-Dixie supermarket, when he comes upon a monstrous Miller display. Ten feet further is a Coors tent display. Anheuser-Busch's in-store presence isn't revealed until Rigdon reaches the last shelf of the store's last aisle.
"This is what we like to see," Rigdon says. "In this store, the competitor is getting obliterated. Just trounced. It's not over. It's still early. But somebody in that other office is going to have a sit-down if they see this."
Unlike several other products, beer wholesalers are not permitted -- by law -- to pay stores for prime store placement. So they entice managers with other benefits, like parties and event tickets. When a store display includes a prop like a grill or refrigerator, the manager keeps the item. Some might give it to an employee, some might raffle it off to the public, and some might keep it for themselves.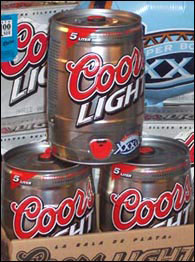 Companies use several methods, including unique packaging, to promote their items. Here's a 5 liter mini-keg of Coors Light.
In some ways, Rigdon is an underdog in this game. Anheuser-Busch is the largest distributor in the country -- the Yankees of the beer game, if you will -- and bought exclusive advertising rights on the FOX broadcast of the Super Bowl. And Coors, as the official beer sponsor of Super Bowl XXXIX, is the only brewery allowed to use the Super Bowl logo, and thus gets prime placement in several stores. To get the necessary exposure for Miller products, Rigdon and his staff have to be creative. In addition to the attention-getting devices, they offer everything from coupons to special Super Bowl-only 30-packs.
As he walks through the stores, Rigdon notes everything. Where are his displays? Where are the A-B displays? Why does this display not have a price? Why is that display not neatly stacked? Who's winning? Each corner he turns, there are nerves.
"You never know what you're going to find," he says.
His phone never stops ringing with the buzz from other reps at other stores. Bud has introduced 16-oz. 8-packs to the market. A store manager is upset that the video playing in the Miller display contains too much "girlie action" for his customers.
He doesn't worry about the 8-packs. ("Probably a Dale Jr. promotion," he says.) And the offending DVD is replaced. Still, the work never stops. His cream-colored Volvo might as well be fire-engine red for all the flames he will put out this week. But this is how people get promoted. This is how people get raises.
By winning.
"Will we win every store?" Rigdon asks. "No. But we're going to make damn sure we win as many as we can.
"It's not over. This thing won't be done until Sunday. But every head-to-head victory gets us closer to that ultimate goal -- winning the Super Bowl."
Wayne Drehs is a staff writer for ESPN.com. He can be reached at wayne.drehs@espn3.com .