By Wayne Drehs
ESPN.com
Bill Curry was minding his own business that day, getting dressed in the Baltimore Colts locker room, when a teammate, not far away, started groaning that he wasn't playing because he was black. The starter in front of him was white.
That's when, Curry remembers, Hall of Fame tight end John Mackey piped up from the other end of the room. "You're not playing because you're fat," Mackey said. "It has nothing to do with being black. Shut your mouth, get in shape and you'll play." Beyond the racial implications, the message, Curry said, was clear: This is a team. Despite the racial harmony that may or may not exist outside this locker room, despite different backgrounds, religions, abilities and personalities, this group operates as one.
"I'm amazed that we don't have it more. It's a fascinating question. But that team culture almost always seems to overcome any irrational behavior."
-- Dr. Jack Stark
It's a team-first, me-last culture that is still engrained in our sports culture today. And it's the reason, Curry and others believe, that attacks like the one that happened to Northern Colorado punter Rafael Mendoza -- allegedly at the hands of a teammate who wanted to take his place on the field -- don't happen more often. "If you do something to undermine a teammate in order to gain a competitive advantage, the penalty is absolute ostracism at best," said Curry, an ESPN analyst who played nine seasons in the NFL as an All-Pro center. "At worst, somebody will kill you. "Those aren't good options." Yet there is so much to potentially gain, only beginning with money and fame. For college athletes, there is perhaps no other time when they will face a higher stress level in their lives. According to research by Dr. Jack Stark, the team psychologist at Hendrick Motorsports and formerly of the University of Nebraska, 40 percent of college students are dealing with some sort of psychological issues. Factor in the pressure to maintain a scholarship, not to mention to potentially play at the next level and, well, there's a lot going on in a 20-year-old Division I left tackle's head. "I'm amazed that we don't have it more," Stark said. "It's a fascinating question. But that team culture almost always seems to overcome any irrational behavior."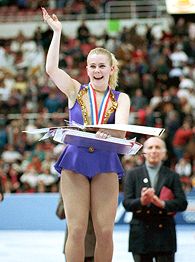 AP Photo/Lennox McLendon
Tonya Harding's role in an attack on rival Nancy Kerrigan might have been a factor in Harding's 1994 U.S. title.
During the Huskers' 1995 national championship season, Stark said he spent significant time with quarterback Brook Berringer, who led the Huskers to seven straight victories in place of injured quarterback Tommie Frazier, only to see a healthy Frazier get the starting nod that year in the Orange Bowl.
Stark said Berringer's frustration could have divided the team, but he never made an issue of it outside of Stark's office. "I spent a lot of time with Brook that year. He was bummed about it, really upset," Stark said. "But publicly, he was a soldier. He did things the right way. He told himself and told me, 'I'm not going to let this be a distraction.' And there was such a team culture there, he just embraced it." This is not to say altercations between teammates don't happen. Put any group of guys in a room for eight months and demand that they get along and there are going to be dustups. Florida Marlins pitcher Scott Olsen got into a pair of fights with teammates this season. Former San Francisco Giants teammates Jeff Kent and Barry Bonds stood toe-to-toe in a dugout in 2002. A year later, former NFL linebacker Bill Romanowski pretty much ended the career of Raiders teammate Marcus Williams with a punch that shattered Williams' eye socket. Last March, New England revolution forward Clint Dempsey was suspended after punching teammate Joe Franchino during an exhibition. And last year, Chicago Bears center Olin Kreutz broke the jaw of teammate Fred Miller in an off-the-field field incident. This doesn't even begin to take into account the unreported scuffles that happen each year at training camps. But as for intentionally attacking other athletes with the goal of knocking them out of competition, you have to go back to Tony Harding and Nancy Kerrigan. And they weren't teammates. Even the jaw-dropping 1991 story of Wanda Holloway, who tried to orchestrate the murder of Verna Heath, the mother of her daughter's junior high cheerleading rival, doesn't exactly fit. Simply put, teammates purposely sabotaging other teammates doesn't happen, some experts say. "It's simply the moral behavior that human beings and athletes have," said Dr. Paul Dennis, who has spent 17 seasons as the player development coach for the Toronto Maple Leafs. "Most athletes have well-adjusted mind-sets to cope with the pressure. They're not threatened by teammates or anyone else. In the odd case where this does happen, it's because the player has lost it. He's just snapped." But Dr. Richard Lustberg, a noted sports psychologist from New York, isn't buying in. He believes vicious altercations between teammates happen more often than we care to know about. They're just covered up.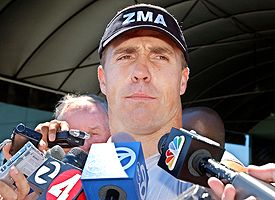 AP Photo/Paul Sakuma
Bill Romanowski's training-camp fight with Oakland Raiders' teammate Marcus Williams in 2003 landed him in court.
"You think if Reggie Bush and Matt Leinart ever went at it, USC would have held a press conference to tell everyone?" Lustberg said. "The way college sports is today, they hide everything. I'm telling you -- this sort of thing happens more than most people realize. Just on a smaller level."
ESPN analyst and 12-year NFL guard Mark Schlereth disagrees. For much of his career in Denver, Schlereth was backed up by David Diaz-Infante. Teammates would even joke that Infante was the "stunt guard," filling in for Schlereth throughout the week but then stepping aside on Sunday when the games again counted. But Infante was Schlereth's closest friend on the Broncos. The two are still close today. "He spent every day when I was in Denver trying to take my job," Schlereth said. "But it didn't matter. When you get to that level of competition, there is such an understanding for how you got there and what you're trying to accomplish, it doesn't breed contempt. It breeds respect." Which is what makes the allegations in the Mendoza stabbing all the more peculiar. The accused, Mitchell Cozad, was a first-year walk on with the Bears. Head coach Scott Downing is in his first year as head coach. And the alleged incident occurred two games into the season. Maybe the team had yet to gel. Maybe that locker-room culture had yet to develop. Or maybe, just maybe, there's no explanation at all. "Incidents like this are complete aberrations," Dennis said. "It's inconceivable that it could happen any more than it does. These are simply people with mind-sets that just aren't normal."
Wayne Drehs is a senior writer for ESPN.com. He can be reached at Wayne.Drehs@espn3.com.
Wayne
Drehs
TEAMMATE TURMOIL