Jonathan Papelbon barely had time to celebrate his final strikeout of the 2007 World Series before the drumbeat began.
"Unstoppable Red Sox Move Closer to Dynasty," blared the headline from The New York Times. "Red Sox May Have a Dynasty in the Making," trumpeted USA Today. The ESPN family also joined in. "Red Sox looking like a dynasty," read a headline on ESPN. The "Baseball Tonight" crew, various ESPN talk show hosts and pundits all threw around the d-word like a slice of pepperoni in Fenway's box seats.
THE FAILED DYNASTIES
Jonah Keri examines five teams that looked like potential dynasties and what went wrong:
1980 Expos: Team of the '80s

Led by Gary Carter and Andre Dawson and four young starters, the Expos were dubbed "The team of the '80s."
1986 Mets: The ballad of Doc and Darryl

The Mets rolled to 108 wins and the World Series title, but a team filled with young stars won just one more division title.
1990 Reds: The Nasty Boys

They were World Series champs and every key player was younger than 30, but this group never won again.
1993 White Sox: The Big Hurt, the strike and the white flag

They had the game's best hitter and a dynamic young rotation. But it all fell apart after the strike.
1995 Mariners: Ringless in Seattle

Junior, A-Rod, Big Unit, Edgar, Buhner ... and not even a trip to the World Series.
They might be on to something, of course. The Red Sox have plenty of front-line talent in David Ortiz, Manny Ramirez, Josh Beckett and Papelbon. Able veterans litter the roster, led by Mike Lowell, Kevin Youkilis and Jason Varitek. Rising stars Dustin Pedroia, Jacoby Ellsbury and Clay Buchholz -- along with the combination of Daisuke Matsuzaka and Hideki Okajima -- provide long-term talent. The Sox have the moneymaking machine of Fenway Park and the lucrative marketing and media contracts needed to support a big payroll at the major league level and aggressive spending on drafting, player development and foreign talent. They feature one of the smartest front offices in the game. With two World Series titles in the past four seasons, they're already close to becoming a dynasty, given the parity that has reigned for most of the decade.
But the rush to anoint the Red Sox ignores what has happened in baseball in the course of a generation: In the past 30 years, only one team has achieved enough success to earn the label of a true dynasty -- the 1996-2000 Yankees. Just as the Big Red Machine was finishing off back-to-back World Series titles in 1975 and '76, the end of the reserve clause and the ensuing boom in free agency was gearing up. As a result, teams haven't been able to hoard talent the way they once did. Just a few months ago, the Red Sox tried to acquire Johan Santana, only to see their flirtation with the game's best pitcher come up empty. With expansion, the spread of savvy front offices across baseball and plain old luck also conspiring against potential dynasties, you have a sport rife with parity and lacking big, bad dynasties.
"There's too much movement now," former Reds reliever Rob Dibble says. "Chemistry is a big deal. You need to come up with the same guys, stay with them, get to know their tendencies and their inside jokes. Otherwise, it doesn't work."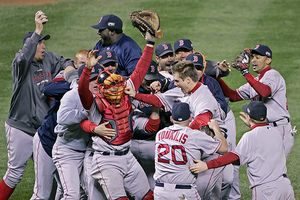 AP Photo/Ed Andrieski
The Red Sox have two World Series championships in four seasons. Are more titles on the way?
Dibble knows something about the challenge of building a dynasty. In 1990, he was a member of the Cincinnati Reds team that won the World Series. Joined by Randy Myers and Norm Charlton, Dibble helped form the Nasty Boys bullpen, a collection of hard-throwing young relievers who -- along with Barry Larkin, Jose Rijo, Eric Davis and other young stars -- figured to form the nucleus of a Reds team that could reel off multiple championships. It didn't happen. Injuries and bad luck conspired against the team, and management soon took it apart.
"Once you break a link in the chain, it's never as strong as it once was," Dibble says. "Free agency has ruined the game."
Forgive Dibble if he sounds like the lords of the realm who still keep Marvin Miller out of the Hall of Fame. It's not that he begrudges players the opportunity to choose their employer and make a healthy living. It's that, as a fan of the game, he misses those Mount Rushmore-level teams of the past, the ones you either respected or hated, but could never ignore. Although teams such as the Yankees, Red Sox and Mets pull in and spend more money than their lower-revenue counterparts, bigger dollars haven't translated into the kind of juggernauts that once littered baseball's landscape, teams such as Casey Stengel's Yankees, Branch Rickey's Cardinals and John McGraw's Giants. Actually, Dibble was born in 1964, too young to remember any of those teams, barely in middle school when the Big Red Machine was winding down. He might pine for the powerhouse teams of the past, but more because of what he has read and heard than what he has seen with his own eyes.
BASEBALL DYNASTIES
It's difficult to define a dynasty, let alone pinpoint exact years, but here are baseball's top dynasties:

New York Giants: 1904 to 1924
Ten NL pennants, three World Series titles, only one losing season.

Chicago Cubs: 1906 to 1910
Four pennants in five years, two World Series titles.

Philadelphia A's: 1910 to 1914
Four pennants in five years, two World Series titles.

New York Yankees: 1921 to 1928
Six pennants and three World Series titles in eight seasons.

St. Louis Cardinals: 1926 to 1946
Nine NL pennants, six World Series championships.

New York Yankees: 1936 to 1964
Twenty-two AL pennants and 16 World Series titles in 29 years.

Baltimore Orioles: 1966 to 1983
Seven division titles, five 100-win seasons, six World Series trips, three championships.

Cincinnati Reds: 1970 to 1976
Five NL West titles in seven years, four World Series, two championships.

Oakland A's: 1971 to 1975
Five consecutive division titles and three consecutive World Series titles.

New York Yankees: 1996 to 2000
Four World Series titles in five years.
From 2000 to 2006, Major League Baseball crowned seven different champions: the Yankees, Diamondbacks, Angels, Marlins, Red Sox, White Sox and Cardinals. Buzz past the Yankees' run to 1995, and you find a similar mishmash of teams in the winner's circle -- East Coast, West Coast and in between; big markets and small; expansion teams and old-time clubs. Bud Selig's oft-repeated mantra has come to fruition, for long-suffering White Sox fans, short-suffering Marlins fans and many of moderate suffering. "The most important part of our sport are the two words that I use at owners' meetings," Selig told a University of Wisconsin crowd last year. "Our job is to provide hope and faith -- hope and faith that your team has a chance to win."
The incredible challenge of building a dynasty can be seen best by examining several of the potential dynasties of the past 30 years. The two teams that arguably came closest were the 1991-2005 Braves and the 1995-2001 Indians. The Braves won 14 division titles and five NL pennants in that 15-year stretch (but only one World Series). The Indians claimed six division titles and two AL pennants in their seven-year run (but lost both World Series). The 1988-1992 Oakland A's probably fall into this murky area too. If a team wins four division titles in five years and makes the World Series three years in a row but wins it all only once, is it a dynasty?
How do we evaluate a team with that kind of track record? Do we chalk up the shortfalls to the vagaries of short playoff series, which often result in the best team's not winning it all? Or do we attribute the playoff losses to some kind of fundamental team flaw?
Instead of splitting hairs over how to define the respective streaks of the A's, Braves and Indians, we delved into five other teams from the 1980s and '90s. All five had big expectations; two even won a World Series. But all five teams veered off track, failing in their quest to become a dynasty.
With the help of five central figures, we can gain insight into what made these teams tick, where they fell short and what those failures might predict about the future of the Red Sox.
Jonah Keri is a regular contributor to Page 2 and the editor and co-author of "Baseball Between the Numbers." You can contact him here.