In 1983, the New York Mets' roster looked like the island of misfit toys.
Here were Tom Seaver and Mike Torrez, battling valiantly to lead a rudderless pitching staff in the twilight of their careers. There were starting middle infielders Jose Oquendo and Brian Giles, one a teenager rushed to The Show years before he was ready, the other a living embodiment of the Peter Principle, an everyday player for a big league team only because no one else was qualified for the job. George Foster still had power, but he'd become a .240 hitter in his mid-30s. Dave Kingman hit .198. Rusty Staub could still hit, but he was 39 and the end was near. Ron Hodges was a walks machine at catcher; he also might have had less power than any other player in the league.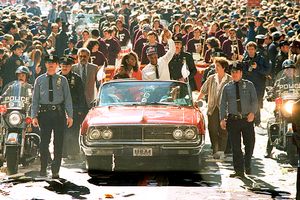 AP Photo/W. Funches
Mets fans believed Darryl Strawberry and teammates would be celebrating several more World Series titles after 1986.
Still, there were glimmers of hope. Former NL MVP Keith Hernandez was an on-base champ and Gold Glove machine in the prime of his career, acquired in midseason for spare parts. The bullpen featured the deadly combination of Jesse Orosco and Doug Sisk, a dominating duo also completely wasted on a 68-win team. The Mets were building a farm system they hoped would usher in the team's first run of success in a decade. Ron Darling and Rick Aguilera would team with Dodgers-bred lefty Sid Fernandez to spearhead the rotation. Roger McDowell would bolster an already strong bullpen. Lenny Dykstra and Wally Backman would set the table for the run producers. Key trades and free-agent signings would expedite the process, with the team bringing in Gary Carter, Bobby Ojeda, Ray Knight, Howard Johnson and others.
But those in the know knew that the future of the franchise rested on two sets of shoulders no team in baseball could match. One was a 21-year-old rookie, and 1980 No. 1 overall draft pick, getting his first taste of the big leagues and thriving. The other was an 18-year-old farmhand destroying minor league hitters and waiting for the call. To be amazin' again, the Mets would need Darryl Strawberry and Dwight Gooden to fulfill their superstar destinies.
In 1984, the franchise began its ascent. After crushing 26 homers, slugging .512 and winning the rookie of the year award in '83, Strawberry followed with another 26-homer season, showing increased strike zone awareness in the process. He also stole 27 bases and scared the bejeezus out of anyone who even thought about running on his rocket arm. But it was Gooden who stole the show. At 19, the fire-breathing righty went 17-9 with a 2.60 ERA and an obscene 276 strikeouts in 218 innings, winning his own ROY award and just missing a Cy Young to boot. Beyond the numbers and awards, Gooden generated more buzz than anyone in the game.
1986 METS AT A GLANCE
Record: 108-54, World Series champs
Runs scored: 783, 1st in NL
Runs allowed: 578, 2nd in NL

Key hitters
Darryl Strawberry, 24 (.259/.358/.507); Keith Hernandez, 32 (.310/.413/.446); Gary Carter, 32 (.255/.337/.439); Lenny Dykstra, 23 (.295/.377/.445), Wally Backman, 26 (.320/.376/.385)

Key pitchers
Dwight Gooden, 21 (17-6, 2.84); Ron Darling, 25 (15-6, 2.81); Sid Fernandez, 23 (16-6, 3.52); Bob Ojeda, 28 (18-5, 2.57); Rick Aguilera, 24 (10-7, 3.88)

Dynasty potential
Coming off a World Series win, the Mets looked unbeatable: The rotation was young and powerful (with David Cone arriving in '87); Howard Johnson was about to blossom into a 30-30 player; Dykstra was a great leadoff man; Kevin Mitchell was on the team; and minor league player of the year Gregg Jefferies was in the pipeline.

What went wrong
1. Doc and Darryl. They had their moments, but they didn't fulfill their Hall of Fame potential.

2. Carter and Hernandez. Both didn't have much left in the tank after '86, and the team couldn't find replacements.

3. Dykstra traded. Shipped to Philly along with Roger McDowell for Juan Samuel in 1989; the trade proved disastrous.

4. Jefferies didn't develop. Two-time minor league player of the year couldn't play shortstop and didn't become the hitting star most envisioned.
"He was as dominating a pitcher as anyone I'd ever seen," marveled Carter, who caught for Gooden the next season after a blockbuster trade with the Expos.
The additions of Gooden, Darling and Fernandez to the pitching staff suddenly gave the Mets a stable of arms few teams could match. A full year in New York from Hernandez and breakout seasons from Backman and third baseman Hubie Brooks solidified the infield. In just one season, the Mets went from a 68-win also-ran to a 90-win contender. They were even better in '85, storming to a 98-64 record. Strawberry struggled with injuries, but still wreaked havoc with 29 homers and a .277/.389/.559 line in 111 games. Carter whacked 32 homers and knocked in 100 in his first year in Flushing. Darling went 16-6 with a 2.90 ERA, and Fernandez flashed a 2.80 ERA, striking out more than a batter an inning. Meanwhile, Gooden enjoyed one of the best pitching seasons in major league history: a 24-4 record, 1.53 ERA and 268 strikeouts.
If the wild card existed in the '80s, the Mets very well might have fulfilled their potential as a dynasty: They owned the third-best record in the NL in '84, the second-best in '85. Both times they fell short, finishing behind the 96-win Cubs and 101-win Cardinals, respectively.
In 1986, the Mets ruled the sport. They won 108 games, the most wins by a team since Cincinnati had won that many in 1975. Strawberry and Gooden were great again. But so were about a dozen other Mets. If Hernandez and McDowell had done nothing that season other than practice spitting on Kramer and Newman, they still would have won 100 games. Of course, they needed help from Bill Buckner and Calvin Schiraldi to get past the Red Sox. But when the Mets hoisted the World Series trophy that year, the best team had won.
"My goal was to be part of a World Series team," Carter said. "When I came to the Mets, they were already a team with a lot of potential. After that '86 season, we saw a chance to become really great -- maybe even a dynasty."
THE FAILED DYNASTIES
Jonah Keri examines five teams that looked like potential dynasties and what went wrong:
1980 Expos: Team of the '80s

Led by Gary Carter and Andre Dawson and four young starters, the Expos were dubbed "The team of the '80s."
1986 Mets: The ballad of Doc and Darryl

The Mets rolled to 108 wins and the World Series title, but a team filled with young stars won just one more division title.
1990 Reds: The Nasty Boys

They were World Series champs and every key player was younger than 30, but this group never won again.
1993 White Sox: The Big Hurt, the strike and the white flag

They had the game's best hitter and a dynamic young rotation. But it all fell apart after the strike.
1995 Mariners: Ringless in Seattle

Junior, A-Rod, Big Unit, Edgar, Buhner ... and not even a trip to the World Series.
In '87, the Mets again played second fiddle to the Cardinals, finishing second with 92 wins. The team still had a young core, with Carter, Hernandez and Mookie Wilson the only three over-30 players in the everyday lineup or the starting rotation. But injuries and some surprisingly bad seasons by key players held the team back. Carter went from superstar to over-the-hill; Darling, Fernandez, Orosco and McDowell saw their ERAs balloon, far more than that season's supposed juice ball might've suggested; Ojeda missed most of the season with elbow problems.
Most troubling of all were Gooden's missteps. While Strawberry enjoyed his best season yet, his running mate got into trouble off the field. In the offseason, Gooden got into several jams, including a police beating involving himself and nephew Gary Sheffield. Gooden entered a drug rehab program just before Opening Day and missed the first two months. He pitched well when he returned, compiling a 15-7 record and a 3.21 ERA. Still, at 22, Gooden was walking the tightrope between franchise savior and time bomb.
Gooden regressed even more in 1988, posting a park-adjusted ERA that was just 2 percent better than league average while watching his once unfathomable strikeout rate dwindle. But the Mets' front office pushed the right buttons elsewhere. Two years after being acquired from Kansas City, David Cone matured into the new ace of the staff, going 20-3 with a 2.22 ERA. Kevin McReynolds, also acquired after the '86 season via trade, hit 27 homers and knocked in 99. Homegrown lefty Randy Myers became the new dog in the bullpen, saving 26 games to go with his 1.72 ERA. The Mets won 100 games, claiming the best record in the NL and positioning themselves for another title run.
Carter remembers the Mets' supreme confidence heading into the team's NLCS matchup with the Dodgers. New York had won 10 of 11 games against L.A. that season, holding the Dodgers to just 18 runs all told. The Mets expected to steamroll that anemic lineup and return to the World Series. When Gooden bested Orel Hershiser in Game 1, their confidence grew.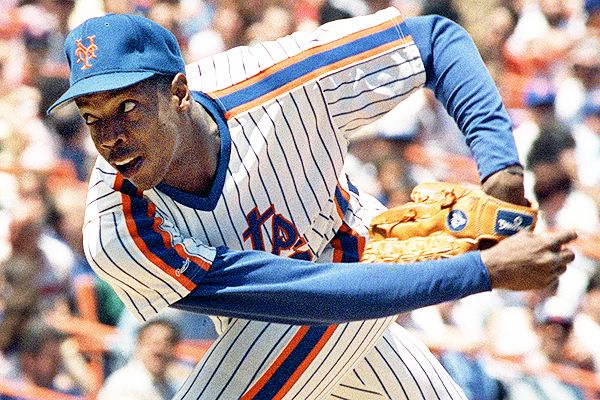 AP Photo/Ed Bailey
Dwight Gooden would win 194 games in his career, but never matched his brilliance as a 20-year-old.
"It seemed like a done deal to get there," Carter said.
It wasn't. The Dodgers stormed back, trading punches with the Mets throughout the series and taking it to a seventh game. When L.A. struck for six runs in the first two innings off Darling, it was over -- Hershiser was coming off a season for the ages, and he wasn't about to blow this one. Nine shutout innings later, the Mets' season was over.
The team was never the same after that. Carter, Hernandez and Wilson stopped being productive regulars, eventually losing their jobs. Darling never quite returned to his early-career form. A midseason 1989 trade sent Dykstra and McDowell to Philadelphia for Juan Samuel, who bombed with a .228 average and soon was traded himself. Top prospect Gregg Jefferies didn't reach the stardom expected of him and eventually was traded with McReynolds to the Royals for Bret Saberhagen, who spent most of his Mets career on the disabled list. By 1993, the Mets were the laughingstock of baseball, losing 103 games.
"All in all, to have only won once was disappointing," Carter said. "We thought we could become one of the greatest teams of all time."
The biggest flameouts were the two men who were supposed to carry the franchise to dynasty status. Strawberry hit just .225 in 1989. Though he bounced back in 1990, that only made him more attractive as a free agent for the soon-to-be-disappointed Dodgers. Injuries wiped out what should have been the prime of Strawberry's career. Later reports confirmed that his own struggles with drug abuse probably played as big a role in his demise.
Gooden's collapse was even harder to take. Although Strawberry produced until the end of his 20s, Gooden was done as an elite pitcher after his 26th birthday. Drugs had sucked the life out of his career. Given what we now know about young pitchers' arms, overuse at a young age probably hurt a lot, too. Gooden showed flashes of effectiveness as the years went on. But the difference between late-career Gooden and early-career Doc was like seeing Nolan Ryan turn into Steve Trachsel: Even when the results were there, you no longer were looking at the same person.
Jonah Keri is a regular contributor to Page 2 and the editor and co-author of "Baseball Between the Numbers." You can contact him here.