The 1990 World Series shaped up as a classic David vs. Goliath battle. The big, bad A's of Rickey Henderson, Jose Canseco, Mark McGwire, Dave Stewart and Dennis Eckersley looked primed to build a dynasty by making quick work of the upstart Reds and winning their second straight World Series. Four games later, Cincinnati completed one of the most shocking World Series sweeps in history. Suddenly, an unknown, young Reds team looked like a dynasty in the making.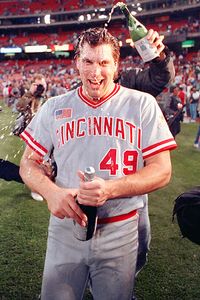 AP Photo/Rusty Kennedy
Rob Dibble and bullpen mates Randy Myers and Norm Charlton led Cincinnati to the 1990 World Series championship.
This wasn't a star-laden team by any means. But the Reds had no obvious weaknesses. The rotation that year included four above-average starters, including ace Jose Rijo, who went 14-8 with a 2.70 ERA. The offense featured plus players at six of the eight starting positions. Above all, there was the bullpen. If you didn't outscore the Reds in the first six innings, forget about winning. Rob Dibble, Norm Charlton and Randy Myers constituted the deadliest combination of 95-mph (or better) fastballs, swaggering attitude and occasional mullets in the game. So much so that the trio earned a nickname derived from a pre-wardrobe malfunction Janet Jackson: the Nasty Boys.
"That was a very unified bullpen," Dibble recalled. "We knew how good we were, and it was fun to actually torture hitters on other teams. It was a blast, I never had so much fun. It wasn't just baseball, it was like you were in Little League again."
Dibble said the team's best quality that season was its unselfishness. Although the roles in the bullpen were defined pretty clearly -- Tim Birtsas and Tim Layana in the middle innings, Charlton and Dibble setting up and Myers closing -- no one begrudged an occasional save going to someone else, just as no one worried about who got the game-winning hit. When the 1990 season was threatened by a lockout, the players convened on the campus of Florida Southern, near the Reds' spring training site, to train on their own. Players who had come up together in the minor leagues -- Dibble, Charlton, Chris Sabo, Barry Larkin, Eric Davis -- worked out together every day while other teams scrambled to get their players in game shape amid another looming work stoppage.
1990 REDS AT A GLANCE
Record: 91-71, World Series champs
Runs scored: 693, 5th in NL
Runs allowed: 597, 1st in NL

Key hitters
Eric Davis, 28 (.260/.347/.486); Barry Larkin, 26 (.301/.358/.396); Chris Sabo, 28 (.270/.343/.476); Paul O'Neill, 27 (.270/.339/.421)

Key pitchers
Jose Rijo (14-8, 2.70); Tom Browning (15-9, 3.80); Randy Myers (31 saves, 2.08); Rob Dibble (8-3, 1.74); Norm Charlton (12-9, 2.74)

Dynasty potential
Every key member of the team was younger than 30; the bullpen was unhittable; Jose Rijo was one of the game's top pitchers; Jack Armstrong had started the All-Star Game; rookie first baseman Hal Morris hit .340.

What went wrong
1. The starting pitching. Rijo actually remained healthy and dominant through 1994. The problem was finding help behind him as Armstrong imploded and Browning had just one more good year.

2. Eric Davis. Injured in the 1990 World Series, Davis was never healthy until 1996.

3. Career years. In retrospect, despite their youth, several Reds just weren't great players (Morris, Sabo, Mariano Duncan).

4. Bad trades. O'Neill for Roberto Kelly … Kelly for Deion Sanders.
Aside from off-field warm-and-fuzzies, the common link between many of the Reds' best players was their age. Every significant Reds player -- all eight starting position players, the top four players off the bench, the top four starting pitchers and top five relievers -- were all under 30 on Opening Day. Even the manager was new, with Lou Piniella joining the team after three years with the Yankees.
Among position players, 28-year-old Davis possessed the most raw talent, using his electrifying skills to put up big numbers when he wasn't fighting injuries. Shortstop Larkin, 26, hit .301 in 1990, still a down year by his standards compared with the performances that ensued the next two seasons. Third baseman Sabo, 28, smacked 25 homers; 27-year-old second baseman Mariano Duncan hit an impressive .306/.354/.476; 25-year-old Hal Morris took over the first-base job by hitting a gaudy .340. Paul O'Neill, 27, was a fixture in right field, hitting .270 with 16 home runs.
The pitching staff also appeared to have time on its side. Tom Browning tossed 227 2/3 innings of slightly above-average ball. Rijo evolved into the staff's ace with 148 ERA+ (adjusted ERA compared with league average of 100) that ranked second-best in the NL. Jack Armstrong started in the All-Star Game with a monster first half (11-3, 2.28), and Danny Jackson had a 3.61 ERA. Myers, who was 27, saved 31 games and struck out 98 in 86.2 innings, with a 2.08 ERA. Fellow 27-year-old Charlton yielded just a 2.74 ERA in 154 1/3 innings alternating between the rotation and the bullpen. Dibble, 26, was the most impressive pitcher on the staff, striking out 136 batters in 98 innings while sporting a microscopic 1.74 ERA.
THE FAILED DYNASTIES
Jonah Keri examines five teams that looked like potential dynasties and what went wrong:
1980 Expos: Team of the '80s

Led by Gary Carter and Andre Dawson and four young starters, the Expos were dubbed "The team of the '80s."
1986 Mets: The ballad of Doc and Darryl

The Mets rolled to 108 wins and the World Series title, but a team filled with young stars won just one more division title.
1990 Reds: The Nasty Boys

They were World Series champs and every key player was younger than 30, but this group never won again.
1993 White Sox: The Big Hurt, the strike and the white flag

They had the game's best hitter and a dynamic young rotation. But it all fell apart after the strike.
1995 Mariners: Ringless in Seattle

Junior, A-Rod, Big Unit, Edgar, Buhner ... and not even a trip to the World Series.
Armed with what looked like a great core of young talent and coming off their impressive World Series win, the Reds entered 1991 feeling optimistic. A month into the season, the team was 13-10 and tied for first place -- right where everyone expected. The Reds struggled through a tough May before bouncing back, sparked by a five-game winning streak in late June. On July 5, Cincinnati was 44-34, within striking distance of the NL West lead. Then everything went south. The Reds dropped 10 in a row.
Almost everyone shared the blame. Myers, Dibble and Charlton were still very good, though not as dominant as they'd been in 1990. Beyond the Nasty Boys, it was ugly. Davis struggled through more injuries than ever, playing just 89 games and hitting an abysmal .235. Duncan also tanked, posting a .288 OBP and losing his hold on an everyday job. Rijo had a huge year, going 15-6 with a 2.51 ERA and finishing fourth in Cy Young voting. But the rest of the rotation stunk, with incumbents such as Browning (14-14, 4.18) and Armstrong (7-13, 5.48) and newcomers such as Scott Scudder (6-9, 4.35) failing to deliver even league-average performances.
Asked to explain what happened in '91, Dibble just shrugged.
"I have no idea," he said. "We had a lot of injuries in '91, but we had a lot in 1990, too. We were in the NL West at the time, so we had to play some good teams like the Braves, Dodgers and Padres, with the Braves just starting their run. Maybe we did too much in the offseason. Everyone was doing card shows and charity basketball games and cashing in on newfound fame. We thought our stuff didn't stink."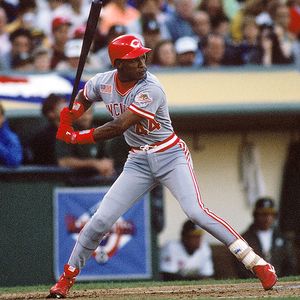 Otto Greule Jr/Getty Images
Eric Davis homered in his first World Series at-bat in 1990, but a lacerated kidney suffered in the series derailed his career.
Bad luck played a role, too. The Reds scored eight more runs than they allowed in 1991, suggesting the profile of a .500 team -- instead they won just 74 games. Armed with the same core of talent, plus new faces via trades, free agency and the still-productive farm system, the team figured to bounce back in '92.
That's just what happened. As tantalizing as Davis' talent was, the Reds knew they needed a more reliable option in the outfield; Bip Roberts (acquired for Myers) added a new dimension to the team, hitting .323 with a .392 OBP and 44 steals. Reggie Sanders finished fourth in rookie of the year voting with a .270/.356/.462 performance. Greg Swindell posted a 134 ERA+ in 213 2/3 innings as the team's new No. 2 starter behind Rijo. Dibble and Charlton became the new co-closers with Myers gone, saving 51 games and striking out 200 batters between them. The Reds won 90 games, enough to win the wild card, had it existed at the time, but well behind the 98-win Braves. By '93, Piniella was gone, as were many of the central figures on the 1990 team. That was that.
Nearly two decades later, it's clear what the Reds' shortfall was: They just weren't all that good. Larkin is a player who deserves a spot in Cooperstown one day, but Davis was the poster boy for those teams, a player with all the talent in the world whose inability to stay healthy eventually sapped his ability. Players such as Duncan, Sabo and Armstrong had career or near-career years in 1990, then soon fell off the map (in Sabo's case after an even better season in '91 that was wasted on a losing team). Rijo was one of the best pitchers of the early '90s, but the team was never able to fill the rotation behind him.
Expecting a team to become a superpower based largely on a trio of relievers was and is unrealistic. The Nasty Boys produced one championship, a best damn sports dude and a ton of unintentionally hilarious T-shirts. That's a pretty good legacy -- just not a dynasty.
Jonah Keri is a regular contributor to Page 2 and the editor and co-author of "Baseball Between the Numbers." You can contact him here.