By Gregg Easterbrook
Special to Page 2
Ten of the league's 32 head coaches are new, prompting reader Chris Sypolt of Seattle to propose that all people wearing an NFL headphone hold the title interim head coach. As in, "Interim head coach Gary Kubiak of the Houston Texans said today ..."
Seven of the 10 new faces are coordinators becoming NFL head coaches for the first time: Brad Childress (Vikings), Scott Linehan (Rams), Eric Mangini (Jets), Rod Marinelli (Lions), Mike McCarthy (Packers), Sean Payton (Saints) and Kubiak. If the history of promoted coordinators holds, the majority of this group will be fired soon. After all, six of the seven new coordinators becoming first-time head coaches were hired to replace former coordinators who became first-time head coaches and then were fired.
Previous TMQs have detailed the marketing dynamic behind the cashier-o-rama that is the NFL coaching guild. Two-thirds of NFL clubs do not make the playoffs, meaning two-thirds of fan bases end the season hopping mad; since most ticket sales occur in the offseason, teams that missed the playoffs must do something each offseason to give customers a reason to believe next season will be better; firing the head coach is the easiest dramatic action an NFL owner can take. In a nutty way, it is economically rational for NFL owners to give coaches a quick hook. But this begs the question: Why do owners who have just fired a coach for marketing reasons so often hire coordinators who have never been head coaches before? The reason is the supply of experienced NFL coaches is limited, while most big-college coaches do not want NFL jobs. You might assume the typical football-factory college coach longs to ascend to the NFL. Most do not, and longevity is a prime reason. In the last 15 years, average annual turnover among NFL head coaches has been 20 percent, compared with less than 5 percent among Division I-A head coaches. Coaching tenure in the NFL is maybe three years; in Division I-A, more than a decade. At the NFL level, all clubs have similar talent (the talent differential between the Super Bowl winner and the league's worst team is just not that much), while 20 of 32 fail to make the postseason. At the Division I-A level, recruiting advantages mean the football factories possess a
huge
talent edge, while every last one of the top 32 teams heads to a bowl game. An orangutan could compile a winning record and become bowl-eligible at Ohio State, Florida State, Texas and many other football-factory colleges. Not only are the teams stacked in big-college football, the schedules are stacked: National title contender West Virginia plays seven home dates and five road games this season, for example. The cupcake teams that allow themselves to be clobbered at football-factory stadia for money reasons -- West Virginia will host Division I-AA Eastern Washington -- have just shy of zero chance of winning, giving every big-college coach several annual guaranteed Ws. In the NFL, by contrast, there are no pushover opponents: Even a cellar-dwelling NFL team is always a threat to beat an NFL division leader. Big-college coaching is a very sweet deal, plus coaches get treated like little gods, whereas at the NFL level the knives are always out. In recent years, only a handful of football-factory coaches have been willing to accept offers to work in the pros. NFL owners always say they aren't pursuing college coaches because college coaches might not transition well to the professional environment. But the more basic reason is that most big-college coaches don't want NFL jobs. If you had a sure thing at a football factory, would you exchange it for a job with 20 percent annual turnover? In other football news, it's late August -- which means there's not much time left for fans to pretend they believe their teams' annual summer promises. Here are three of the most annoying NFL summer clichés:
"This year we're really going to run the football." All teams claim this during training camp, though most will panic and go pass-wacky by the end of the first quarter in Week 1. Why do NFL coaches always seem apologetic about passing? Most analysts believe passing success ties more closely to victory than rushing numbers. Check the past 20 Super Bowl winners. Only two -- the Ravens in 2001 and Giants in 1991 -- used run-focused game plans.
"We will play aggressive, attacking defense." Has any coach ever promised to a docile defense? Just once I'd like to hear an NFL coach say in August, "We're going to play a soft zone and drop back into coverage."
"We're going to take it one game at a time." There is no other way to take it.
And now Tuesday Morning Quarterback's NFC preview:
Arizona
I've been flirting with making the same mistake every football pundit made last year at this time -- saying something nice about the Arizona Cardinals. Chain me to the mast before I surrender to the Sirens! Or preferably surrender to
the Cards' cheerleaders
. A year ago, football experts from Merrill Hoge, Joe Theismann and Steve Young of ESPN to John Clayton and Len Pasquarelli of ESPN.com to Mark Maske of the Washington Post to Peter King and Michael Silver of Sports Illustrated to Clark Judge and Pete Prisco of CBS Sportsline, predicted the Cards would have a playoff season. Instead it was cover-your-eyes as usual for Arizona fans.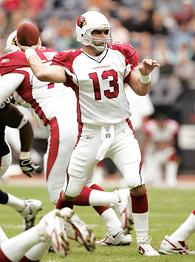 Stephen Dunn/Getty Images
If the 2005 trend holds, expect Kurt Warner and the Cards to chuck it up often in 2006.
This summer many are pointing to the fact the Cactus Wrens were the sole club last year to finish in the Top 10 in both offense and defense, and wondering if this means things finally will come together in the desert. Yes, I actually considered joining the list of the gullible who have made favorable forecasts for the Cardinals. But then I checked the record books and noticed this team has two postseason victories in 86 years of existence. Plus, the Cards wear quite silly-looking high-school-inspired uniforms. I'll play the percentages and say Arizona will get under .500 yet again.
Counting sacks and scrambles, Arizona coaches called 757 passing plays last season and only 360 rushes, the 68 percent passing ratio making Arizona's the least balanced offense in the league. Yet even though the Cards passed so much, meaning defenses were expecting the pass, Arizona's rushing attack was still pitiful. The team finished last in average yards per rush at 3.2. If you've got the defense expecting pass and still have the least productive rushing game in the NFL, that is not very good. The Cards' impressive new rolling-field stadium has opened, and initial reviews are very favorable. But why isn't this facility named Pat Tillman Field? You get the creepy feeling the NFL has backed off from Tillman's memory now that we know
he was killed by friendly fire
, rather than charging up a hill, and now that the Army, which lied about how Tillman died, seems to want to pretend Tillman never existed. But the sad circumstances of Tillman's death do not in any way detract from his patriotism. And remember Tillman died in Afghanistan, not Iraq. Whatever the morals of the Iraq war might be, our presence in Afghanistan is clearly justified as self-defense; on the day of his death Tillman was an honorable soldier fighting on the side of right. Come on Arizona, name the place Pat Tillman Field.
John Sciulli/WireImage.com
She gets $50,000 for attending your party and $100,000 for not attending.
Not only is the new stadium impressive, the seats are sold! All Arizona home games for 2006 are sellouts; this will be the first season since the Cards came to Arizona in 1988 that all games will be shown on local television. (To top it off, while most NFL facilities charge you $20 to get out of your car, at Arizona parking is free for season-ticket holders.) Excitement over the new stadium and the arrivals of Matt Leinart and Edgerrin James probably drove sales. Or maybe it was Paris Hilton strutting at Matt Leinart's post-draft celebration at Caesar's Palace in Las Vegas. Surely, Leinart was the first person ever to celebrate after being drafted by the Cardinals. According to Paola Boivin of the Arizona Republic, Hilton "danced seductively" at the party while "an all-girl band wearing black bras and leather boots swung from the ceiling on red feather boas." Feather boas can support the human body?
TMQ continues to not understand why Paris Hilton is considered a beauty. I'd take any fit, athletic, alluring member of the Arizona cheer-babe squad over Hilton any day of the week. Here's
Kayla of the Cardinals' cheerleaders
, an elementary school teacher. I suppose I should just give up wondering why no teacher I ever had looked remotely like this.
Atlanta
At this point, the Falcons' faithful must accept that Michael-Mike Vick is an average quarterback and unlikely ever to be more. His Pro Bowl invitations stem from publicity, not performance. Vick has thrown just 51 touchdown passes in 51 career starts. Last season, he finished 25th among NFL quarterbacks in passer rating, trailing Josh McCown.
Dale Zanine/US Presswire
Why hasn't Atlanta had more recent success? Because Michael Vick is overrated.
Vick's running ability is impressive: The Falcons led the league in rushing last season both because Vick gained ground and because defenses were so focused on stopping Vick's rushes, they allowed Warrick Dunn to run for 1,416 yards. You'd figure a team that leads the league in rushing and has a Pro Bowl quarterback would finish better than 8-8. But Vick is a Pro Bowl QB strictly on paper. On the field, he's average, and while to be an average NFL QB is an accomplishment -- lots of highly drafted, highly paid gentlemen wish they could say they became average NFL QBs -- there now seems little reason to believe Vick carries any chance of greatness.
Executive Vice President-Head Coach Jim Mora -- that's his title! -- seriously mismanaged the end of Atlanta's 2005 season. Going into the Falcons' 15th game, Atlanta was in the rare situation in which a tie would have kept the team's playoff hopes alive. Mora did not know this. Atlanta took possession on its own 16 with two minutes remaining in overtime. Rather than run into the line three times and drill the clock to cause a tie, Falcons' coaches called three consecutive passes; two clanged to the ground incomplete, Atlanta punted and City of Tampa had enough seconds to get into position to kick the winning field goal as time expired. That Atlanta entered this game unaware of the playoff permutations was inexcusable. Each week in December the NFL devises a playoff permutations grid that allows teams to calculate the consequences of every possible combination of wins, losses and ties in every game. The grid is not hard to use and is not super-secret, it's public information posted on NFL.com. Yet no one in Atlanta's overcrowded management suite -- see below -- bothered to check the Falcons' circumstances coming into the game. You've seen the highlight clip of Mora bellowing angrily into a cell phone on the Falcons' sideline as his players line up to boom the fateful season-ending punt that could have been avoided. Mora is shouting, "WHAT???? I should have played for a tie???? Why didn't you tell me????" Why didn't you think of this yourself, Mr. Executive Vice President-Head Coach? Atlanta front office note No. 1: The Falcons have a CEO, a president-general manager, three executive vice presidents, six regular vice presidents, two coordinators, one controller, an executive director, four senior directors, nine regular directors, three managers and someone who has both director and coordinator in his title. Yet none of these 32 fancy-pants-title folks checked the playoff permutations grid. Surely, they were all too busy engaged in bureaucratic turf fighting. Atlanta front office note No. 2: These 32 fancy-pants officials have made some puzzling decisions. Two of last three years, Atlanta traded its No. 1 choice for a veteran who was demanding a mega-contract from his original team. In both cases, the Falcons swapped a mid-first-rounder, which would have been used on a rookie who would have signed for a manageable bonus, for someone to whom they gave a cap-paralyzing mega-contract. Now, Atlanta has shipped another draft pick, probably a third, for veteran receiver Ashley Lelie, who wants a new contract. Lelie had one touchdown reception in 2005, despite playing for the red-hot Broncos. A sizeable chunk of this season's Atlanta salary cap will be tied up in payments to recently acquired high-priced veterans whom their previous teams wanted to get rid of. When a team wants to get rid of a player, usually there is a reason.
Rene Macura/AP Photo
He may have a pistol in his pocket, but no extra ammo clips.
Will "24" Do An Extra Episode If a Disaster Begins on the Day That Daylight Savings Time Ends? Now that Keifer Sutherland has won an Emmy for "24," maybe Fox will debut a new show called "365" that is nothing but Sutherland all day long every day. According to the internal reality of the show, Sutherland has single-handedly prevented an assassination, saved Los Angeles from a nuclear bomb, saved Los Angeles from another nuclear bomb, saved Los Angeles from an unstoppable bioweapon, saved Los Angeles from nerve gas, rescued the Secretary of Defense from terrorists, prevented the meltdown of a nuclear reactor, recovered the missing presidential briefcase of missile-launch codes, faked his own death, and done all these things in just five days.
Sure, Sutherland was able to stop the reactor disaster by stealing back from terrorists a government-built device that sends a signal that causes nuclear reactors to melt down. Probably you'd think it would make absolutely no sense for the government to build a device that sends a signal that causes nuclear reactors to melt down -- that's why you are not a super-spy and Keifer is. And sure, Sutherland has the advantage of carrying one of those pistols that never runs out of ammunition no matter how many times it is fired. There sure aren't any spare magazines in the pockets of his extra-tight jeans! (Note to ESPN.com Art Department, have just created an excuse for you to show a beefcake photo of Keifer's buns in jeans.) Sutherland's gun also can be fired repeatedly in small, enclosed spaces without his ears being damaged, another big plus. But what TMQ really likes about this show is that every time a nuclear warhead or bioweapon is about to destroy California, Sutherland must act alone because
everyone else in the entire United States government is busy
. "Hello Jack? Terrorists just stole an experimental wormhole generator and they're about to use it to rip the fabric of space-time, making the entire West Coast disappear. Would you mind handling this alone? Everyone else in the entire United States government is in a meeting today."
Carolina
The Panthers made the NFC title game last season, and are a popular choice to advance again this season. Carolina was third in defense, played well on special teams, outscored opponents by an average of a touchdown per game and kicked the tails of the Giants and Bears on the road in the postseason. The Panthers were especially good in the fourth quarter, outscoring opponents 125-72. That Carolina ran out of gas in the title contest at Seattle does not diminish an excellent season.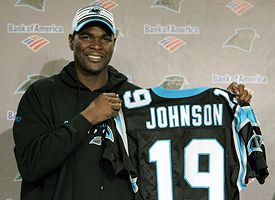 Chuck Burton/AP Photo
By calling Keyshawn's number, the Panthers will take some pressure off Steve Smith.
Here's the only downside: Of the Panthers' 11 regular-season wins, just two came against other playoff teams (the Patriots and Bucs). Look at the rest of Carolina's schedule -- Arizona, Buffalo, Detroit, Jersey/B, New Orleans twice -- there were enough cupcakes to make a "Saturday Night Live" video. The Panthers ended the season performing really well in the playoffs. Whether that was a hot streak or means the team has advanced to elite standing will be determined this fall.
Steve Smith was unstoppable last season, particularly when opponents didn't try to stop him. The decision first by Jersey/A and then Chicago coaches to single-cover Smith was inexplicable, and proved the key factor in these teams' home playoff defeats. Smith had 45 percent of Carolina's receiving yards in 2005, an NFL record for highest share of receiving yards by one player. But if the ball didn't get to Smith, it didn't get to anybody: Ricky Proehl, Carolina's second-most productive receiver, had just 441 receiving yards. Having seen Smith rip up the Giants' and Bears' single coverage, the Seahawks basically played Smith box-and-one, shutting him down in the NFC Championship Game. Yet Jake Delhomme did not respond by looking for flanker Keary Colbert, who at least three times in the title game was streaking uncovered, his arm raised, as Delhomme forced the ball unsuccessfully toward Smith. Now that Keyshawn Johnson has arrived in Charlotte, presumably there will be more balance in the Cats' passing game. It is essential that Delhomme spread the ball around. Every competent defensive coordinator will have looked at tape of how Seattle frustrated Smith, and emulate the tactic. Panthers note No. 1: Now that oft-injured power back Stephen Davis has departed, Tim Biakabutuka remains Carolina's all-time leading rusher -- with just 2,530 career yards. Panthers note No. 2: Increasingly, NFL teams seek offseason revenue by renting stadium facilities for corporate meetings. At Bank of America Stadium,
corporate groups can rent a meeting room
with full-sized goal posts, play host to a luncheon in a replica Panthers' locker room (no replicas of moldy towels, one hopes) or convene in a "simulated" press box. The food in the simulated press box looks pretty good, so I guess it's not that realistic.
Chicago
The Bears defense allowed just 195 points in 2005, among the most impressive achievements in the league last season. Now factor in that the Bears' defense also scored 35 points (crediting point-afters to the D) and the net allowed by Chicago defenders was a spectacularly low 10 points per game. It ended badly as Chicago, playing at home in the divisional round, allowed Carolina 29 points. The Ming Ding Xiong ("Bears whose outcomes are decided by fate" in Mandarin) had a bye week while Carolina was performing on the road at Jersey/A, yet the Panthers seemed more ready for the game. The Giants had tried to cover Smith one-on-one and paid the price, especially on stop-and-go moves; inexplicably, Chicago gave no safety help to the corners covering Smith, who bit repeatedly on the stop-and-go. An inglorious end to a season that saw Chicago win its division with cupcake help, finishing 2-3 against other teams that made the playoffs.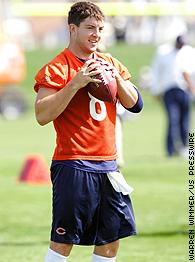 Warren Wimmer/US Presswire
Rex Grossman and the Bears would like to forget the 2005 QB ratings.
As to the Chicago offense -- Ye gods! Subtracting for points scored on defense and special teams, the Bears generated just 14 points per game on offense, which is awful. Bears quarterbacks threw more interceptions than touchdown passes, also awful. Kyle Orton was hardly the only problem. Offensive performance did not change much when Rex Grossman stepped in, and both quarterbacks finished the season with identically bad 59.7 passer ratings. Now Brian Griese takes over, and though he is a career 79.6 passer, last season he threw as many interceptions as touchdown passes. Maybe that's what drew the Bears to him.
Chicago note No. 1: Soldier Field fans were treated to the NFL's lowest scoring games, an average result of 19-8. Why is it Chicago's field perennially makes both the Bears and their opponents struggle to attain points? Are there kryptonite deposits beneath the stadium? Chicago note No. 2: Prosecutors charged the cleaning lady of former Bears cornerback Jerry Azumah with stealing $251,000 from him. The Chicago Tribune headline: FORMER BEAR TAKEN TO CLEANERS.
Wacky Food of the Week
Reader Lysa Whitt points out this delight served at Mulligan's, an Atlanta tavern: "
A hot dog wrapped by a beef patty
that's deep fried, covered with chili, cheese and onions and served on a hoagie bun, topped with a fried egg and two fistfuls of fries." The tavern also offers a double cheeseburger served between two Krispy Kreme donuts. Apparently, Mulligans does not want its patrons to survive for return visits.
Kevin Mazur/AP Photo
Once the world's most handsome man, now looking for work as a restaurant greeter.
Dallas
Remember when the Cowboys were a monster team? If you do, then you probably remember when Robert Goulet was synonymous with beefcake. The Dallas Cowboys, who took home three Lombardi Trophies in the mid-1990s, have not won a playoff contest since 1996 and are 40-57 in the 21st century.
The Cowboys' decline has been strangely unemotional. Dallas has fielded three consecutive strangely unemotional coaches -- Chan Gailey, Dave Campo and Bill Parcells. All seemed unfazed by letdown after letdown; Parcells gives the impression of being annoyed that he must attend Cowboys' games. Fans have been strangely unemotional: There's been no rending of garments, no gnashing of teeth, no Texas angst. Owner Jerry Jones has been strangely unemotional, enduring disappointing season after disappointing season without tirades, seemingly not even particularly concerned. Even
the cheerleaders
no longer look like the league's hottest. They look bored and late for something they would rather be doing. Into this strangely unemotional landscape we introduce -- Terrell Owens.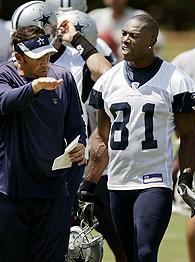 Tony Gutierrez/AP Photo
Love him or hate him, Terrell Owens is etching his name in the history books.
TMQ is sick of T.O.'s act and does not know anyone who isn't. Yet maybe this guy is what the Cowboys need to reconnect with their emotional selves. Dallas seems to lack enthusiasm about football, and who would have thought that would ever be said about a Texas city? Owens isn't exactly what the doctor ordered, more like what the meshuggener ordered. Perhaps he can light the fire in Dallas, if only by making the rest of the team want to perform in order to shut him up. Of course, first he must make the team. When Owens signed his Cowboys' contract, he released a rap song in which he boasted, "I got what I wanted up front, 10 mil," the amount he demanded in Philadelphia. Actually, Owens got only half upfront. He must be on the Dallas opening-day roster to receive the second $5 million, and with Owens, nothing is certain until it happens.
Maybe Someday I'll Be Called "Puckish"
Last week, the United Kingdom's Independent newspaper ran
a retrospective of obituaries of renown cricket aficionados
. Prominent was Sir Arthur Conan Doyle, but also among them was my distant relative Basil Easterbrook, 1920-1995, an English cricket and football (that is, soccer) writer. "Easterbrook was a much-loved member of the press corps with a puckish humour," reads the obit. Let's hope mine is as favorable. Oh, and in my obituary, please spell "debonair" correctly.
Detroit
It has been asked before but bears repeating -- what bizarre Rasputin-like hold does Matt Millen have over the Ford family, owners of the Lions? In 2001, the Lions hired Millen, a broadcaster with no management experience of any kind, to be the team's president and CEO. He started at the top in both positions, rather than learning first. Since the point Millen took over, the Lions have the worst record in the NFL at 21-59. And Millen did not accede to a faltering team: The club he inherited had gone 9-7 and missed the playoffs only when an opponent hit an improbable 54-yard field goal on the final play of the final regular-season game. Weirdly, the team's
official bio
says of Millen, "With a paramount desire to steer the Lions' franchise in a new direction ... Lions' chairman and owner William Clay Ford appointed Matt Millen to the position of president and CEO (on) Jan. 9, 2001." Millen has steered the Lions in a "new direction" all right -- from winner to laughingstock! Yet the Ford family recently awarded Millen with a contract extension. Thank goodness Millen has nothing to do with the production of Ford's cars. Maybe the Fords should hire Carlos Ghosn to run the Lions. And if Web site management is any indicator of larger problems, the Lions are even worse than feared. Millen's official bio on the team's site boasts of his genius in drafting Joey Harrington, Charles Rogers and Mike Williams.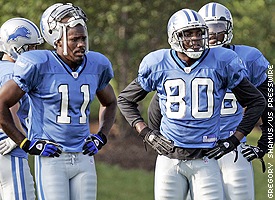 Gregory Shamus/US Presswire
Charles Rogers, right, is one of Matt Millen's many draft picks who have failed to catch on.
Horrible drafting has plagued the Lions under Millen, and let's briefly review how horrible. In 2002, Detroit used the third overall selection of the draft on Harrington, since run out of town on a rail. In 2003, the team used the second overall selection on Rogers, who has 36 receptions in three years -- which would be an OK figure for a backup tight end, but not for a wide receiver taken second overall. In 2005, Detroit burned the 10th overall selection on Williams, who is third string and might be waived were it not for the salary-cap penalty this would cause.
Who was selected by other teams shortly after these blown picks? In order to take Harrington, Detroit passed on Dwight Freeney, Levi Jones, John Henderson and Roy Williams. To take Rogers, Detroit passed on Kevin Williams, Jordan Gross, Troy Polamalu, Terrell Suggs, Byron Leftwich and Andre Johnson, who made the Pro Bowl at Rogers' position. To take Williams, Detroit passed on the next two guys selected, DeMarcus Ware and Shawne Merriman. In each of these years, choose any name from the list of players Detroit passed on, and the Lions might be a different team today. Hmmm -- suppose Millen did have something to do with the production of Ford's cars. Here would be Millen's business plan for the current Ford corporate predicament.
Cancel production of all hybrids and high-mileage cars, commit to manufacturing an ultra-large SUV called the Godzilla.
Reject the Nissan alliance and form a joint venture with Fiat.
Close Ford Motor Credit. As the company's profitable division, it is a constant distraction.
Cancel the beautiful new Mustang, Ford's hottest-selling product. It's retro -- we need to steer in a new direction!
Hire lots of older workers and give them guaranteed pensions and health-care benefits.
Green Bay
"Everybody keeps talking about lack of talent on the Packers. I've been around less, I'll say that." -- New Green Bay coach Mike McCarthy to Tom Silverstein of the Milwaukee Journal.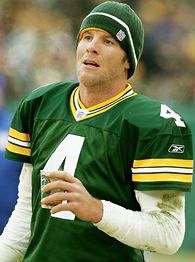 Jonathan Daniel/Getty Images
Won't anybody out there protect this man? Maybe Jack Bauer is available.
Well then. There's a ringing endorsement! One of my favorite sports quotes comes from the hapless former Buffalo Bills coach Hank Bullough, who preceded Hall of Famer Marv Levy. Bullough said, "We keep beating ourselves, but we're getting better at it." McCarthy's "I've been around less talent" has the same warm, hopeful quality.
The Packers finished first in pass defense in 2005, so there's a temptation to say that at least McCarthy has some defensive talent to work with. But the Jets finished second in pass defense, the Saints third, the Browns fourth -- losing teams tend to have good pass-defense stats because opponents are ahead in the second half and attempt few passes. The Bears, at fifth overall, were the sole winning team of 2005 with a top-rated pass defense. The four championship-round teams finished ninth in pass defense (Carolina), 16th (Pittsburgh), 25th (Seattle) and 29th (Denver). The championship-round teams were usually ahead in the second half, and so got thrown on more often. Talent is especially a concern on the offensive line. If Brett Favre is to have any victories in his victory-lap season, he needs to remain upright. Yet new Green Bay general manager Ted Thompson has shown little interest in offensive line issues. Arriving in the winter of 2005, Thompson's first big decision was to make no attempt to resign the Packers' stellar guards, Mike Wahle and Marco Rivera. Yes, Green Bay had salary cap problems, but a general manager concerned with the survival of an aging star quarterback would have found a way to keep one or the other. This winter, Thompson let center Mike Flanagan walk as a free agent, while signing no important free agent for the offensive line. Favre might get hit a lot or forced into a lot of ill-advised releases to get rid of the ball. But, I've been around offensive lines with less talent, I'll say that. Packers note No. 1: Green Bay is the sole NFC team with a winning road record in the past decade. Packers note No. 2: Thompson's title is "executive vice president, general manager and director of football operations." Imagine trying to explain to Alfred P. Sloan or Arthur D. Little why modern executives need such puffed-up titles to make themselves feel important. Packers note No. 3: Green Bay is the NFL's only publicly owned franchise, making its annual report the best window into NFL club finances. For their last fiscal year, which was basically the 2005 season, the Packers disclosed operating revenue of $208 million, up from $200 million the previous year, and profits of $18 million, down from $25 million. Don Walker of the Milwaukee Journal Sentinel reported that last season's total player costs for the Packers were $103 million, while the salary cap was $86 million that year. (Player health care and pensions do not count against the cap.) Total operating expenses, meaning player costs and all other costs, were $188 million. The team created a fund against future increased health-care costs and future costs of firing coaches, explaining why profit was somewhat lower than it otherwise might have been. So the Packers are now saving against the cost (contract buy-outs) of firing coaches. So should every NFL team!
NASA/JPL-Caltech/GALEX
Every year it's farther away -- sort of like the day you pay off those credit cards.
News from Space This column often observes that every time instruments or research techniques improve, the universe is seen to be bigger and life to be older. The universe just grew again, this time by about 15 percent. Researchers led by Krysztof Stanek of Ohio State -- he's one of the hot names in astronomy -- demonstrated that a galaxy called M33 is 3 million light years away, not 2.6 million light years as had been believed since the 1950s. This is telling because M33 is known to astronomers as the Triangulum Galaxy, and used as a yardstick for measuring cosmic distances. If it's 15 percent farther away, that might mean everything in deep space is 15 percent farther away, and thus the universe 15 percent larger and 15 percent older than assumed. Stanek's finding further suggests the Hubble Constant, used to measure intergalactic distance, might be off in a manner that systematically understates the magnitude of the distant cosmos. Should Stanek prove right, that would get us up to roughly 60 billion galaxies in existence for 16 billion years, as opposed to the current consensus guess of about 50 billion galaxies formed 14 billion years ago. And just wait till the next advance in instruments.
Jersey/A
The Jets are moving their team headquarters to New Jersey, ending the last major tie of either "New York" team to New York. "We're the only NFL team left in the state," Melvin Fowler of the Buffalo Bills said last month. A reader offers, in haiku, this slight correction, since the Giants still hold summer camp at the University of Albany:
Gotham's ties not torn:
Jersey/A yet practicing
Yon upstate New York.
-- Wray Blattner, Dayton, Ohio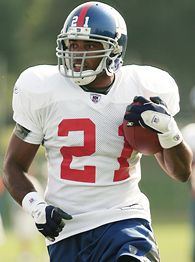 Nick Laham/Getty Images
Tiki Barber is the toast of the town ... no matter which town we're talking about.
John Branch of the New York Times recently reported that few "New York" Giants live in New York, either. One of the few is Tiki Barber, and exposure to New York culture seems to have worked well for him. Barber is known to this column as TTNY, The Toast of New York, for his combination of on-field performance and all-around good-guy achievements in Manhattan philanthropy, society-set life and news reporting. Note of Barber that his media appearances, with Fox News, have to do with news, not sports-yak. A fair number of professional athletes become involved in soft-media stuff such as reality shows and celebrity reporting, how many go into news commentary?
Anyway, because
the Office of Management and Budget
recently divided the nation into Core-Based Statistical Areas, Barber could be TTNYNJCBSA -- The Toast of the New York-New Jersey Core-Based Statistical Area. With government flair for brevity, the Census Bureau now calls the same region the New York-Newark-Bridgeport-New York-New Jersey-Connecticut-Pennsylvania Combined Statistical Area. Using airport codes, this makes Tiki TTLGAJFKTEBEWRBDRNYNJCTPACSA. Or one could employ the agency's jaunty shorthand and call Barber TT408, The Toast of Census Bureau Region 408. Whatever you call him, Tiki Barber is a mensch. Giants note: Eli Manning took every snap at quarterback in 2005. At least Jersey/A got its money's worth on that monster contract!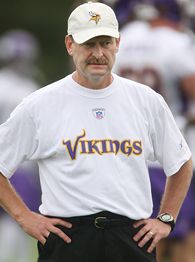 Tom Dahlin/WireImage.com
First-time head coach Brad Childress takes over in Minnesota for the fired Mike Tice, another former first-time head coach.
Minnesota
It's sink or swim for the Vikings staff in 2006. Minnesota has a new head coach who has never been a head coach, assisted by an offensive coordinator who has never been an offensive coordinator and a defensive coordinator who has never been an defensive coordinator. Disarray extends to other areas. Last season, the Vikings finally had a half-decent year on defense -- then promptly allowed four defensive starters to depart in free agency. The flame-out of Koren Robinson coupled to the nothingburger first season of highly drafted Troy Williamson leave the Vikes weak at wide receiver. Since management unloaded Randy Moss, the Minnesota offense has sputtered, finishing in the bottom third statistically last season. The running back situation isn't encouraging either.
The Vikings got into the playoff picture in 2005 by taking seven of its last nine games, but only two victories came over teams that finished with a winning record. On the season, Minnesota went 2-5 against opponents with winning records, and one of those wins came in a meaningless regular-season finale contest against a Bears team that already had locked its seeding and was resting starters. Given Minnesota's novice coaches and roster holes, it's unrealistic to expect much more than a rebuilding season. Vikings fade-out note: In the past decade, Minnesota has winning records in September, October and November and a losing record in December. And this season the NFL plays five December games. Vikings front office note: Minnesota sets some sort of record by having three people with the title "owner" -- Owner/Chairman Zygmunt Wilf, Owner/President Mark Wilf and Owner/Vice Chairman Leonard Wilf. Vikings cheerleaders note: Minnesota's cheer squad might not rival Philadelphia or Washington for dance complexity, but certainly offers lots of northern beauties. Here are the
Vikings cheerleader veterans
in a pose that includes only slightly fewer women than TMQ's standard fantasy.
New Orleans
Sports teams can have rebuilding years but this is ridiculous -- New Orleans is rebuilding an entire city. The Saints were 3-13 last season, playing a regular away slate plus games in San Antonio and Baton Rouge. Considering NFL teams were .410 on the road in 2005, New Orleans' all-away finish seems less bad. Meanwhile, Tuesday Morning Quarterback continues to be amazed by the New Orleans-Jersey/A link. Last season the Giants were, before Katrina, the first team scheduled to appear at the Saints. This game was held in the Meadowlands, making the Giants the sole club in NFL annals to play nine regular-season home games, and helping grant the Giants the standings edge that gave them the NFC East title over Washington. (Had the Giants played the Saints in New Orleans in 2005 and lost, the Redskins would have won the division by tiebreaker.) A schedule formula determined years ago called for New Orleans to play at the Meadowlands in 2006. I remain scandalized that this game has not been shifted to New Orleans, paying back the Saints for one aspect of their 2005 handicap and paying back the rest of the league for the standings gift Jersey/A was granted in 2005. The Giants are the sentimental-favorite club of most NFL staffers at league headquarters on Park Avenue. You've got to suspect that if any other team except the Giants had been involved in this pairing oddity, that team would be playing seven home dates in 2006 and traveling to New Orleans for the Saints' extra home game.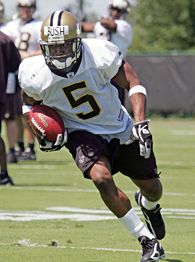 Sean Gardner/Getty Images
The NFL should have just let Reggie wear No. 5 in the regular season.
New Orleans had a decent defense in 2005, though its return on recent draft investments has been small. The Saints have invested four recent No. 1 picks on their defensive line (Charles Grant, Will Smith and two No. 1s traded for Jonathan Sullivan) yet in 2005 were 27th against the run and 31st in sacks. New management has cut the losses: In June, New Orleans traded Sullivan and Courtney Watson, total investment two recent No. 1s and a recent No. 2, for a couple of backups. Meanwhile, New Orleans added Drew Brees and Reggie Bush. Brees is a quality performer; Bush has as much chance as anybody to be that rare impact rookie. New Orleans might benefit from a fantastic 12th Man effect. When the team returns to the Superdome on Sept. 25th -- and oh look, it's on ESPN -- the crowd energy and emotion will be poignant. Last season everything that could have gone wrong did go wrong for New Orleans. This year the Saints will have more wind at their backs than any professional sports team in memory.
Reggie note: Many cannot understand why Bush is forbidden to wear No. 5. Offensive linemen must be numbered from 50 to 79 in order to help officials enforce the eligibility rule. Otherwise, who cares which player wears what jersey number? The NFL once forbade Brian Bosworth from wearing No. 44 at linebacker in Seattle, and this year will allow linebacker Julian Peterson to wear No. 44 for the same team. How silly it is to say the number system is critical in one case and can be waived in another! Except for offensive linemen, any player should be allowed to don any digits. That's the way it is in college, and the earth is not rent asunder. The NFL is at heart a form of entertainment, and watching Reggie jitterbug in No. 5 would provide maximum entertainment.
Superdome note: Superdome roof repairs included a daily helicopter-delivered catered meal atop the crown so workers did not have to climb down 21 stories of catwalks during their lunch break. Mary Foster of the Associated Press reported that contractors built "a small village" on the Superdome roof, including restrooms, safety equipment and pads onto which supplies were lowered from helicopters.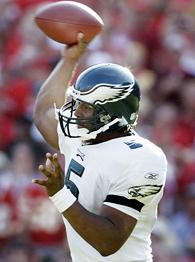 McNabb's arm might fall off if he has to keep throwing so many passes.
Philadelphia
My first Tuesday Morning Quarterback NFC preview, seven years ago, began by complaining that the Eagles were complacent about the running back position. I used the same item pretty much word-for-word in August 2001, 2002, 2003, 2004 and 2005. I've now simply placed the item into my AutoText: "Once again the Eagles seem content to enter the season without a power back and without depth at running back." Maybe a team that passed on 57 percent of its plays in 2005 doesn't care about the running game. But wait -- that figure is for passes when Philadelphia led in the second half. That's right, when leading in the second half, the Eagles nevertheless threw more than they ran. Counting sacks and scrambles, last season Philadelphia coaches called 721 passes and 365 rushes, the 66 percent pass ratio trailing only Arizona for the league's least-balanced attack. Perhaps Philadelphia coaches say to themselves, "We're got to pass, we have nobody who can run the ball." Then get somebody who can run!
Now the Terrell Owens business is over for the Nesharim -- Eagles in Hebrew. (Philadelphia is the sole NFL team whose logo faces right to left, as does Hebrew.) Philadelphia fans wish the 2005 season had been one of those science-fiction shows where incredible things happen and then at the end, everyone wakes up to discover it was just a dream. Well, 2005 was plenty real for Philadelphia. But the Eagles remain one of the NFL's best clubs of recent outings, and TMQ thinks football pundits are selling them short by speaking as if their run is over.
Beefcake note: The same agent represented Philadelphia's No. 1 draft choice, defensive tackle Brodrick Bunkley, and fifth-round selection, athlete/male model Jeremy Bloom. The agent told the Philadelphia Inquirer he gets more media calls about Bloom.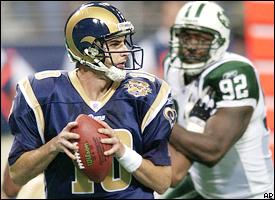 Getty Images
The Rams are Marc Bulger's team now.
St. Louis
The Rams had a rare three No. 1 draft choices in 2001, and all of them are gone. St. Louis' middle-round picks from that draft are gone, too. You can't whiff an entire draft without starting a cycle of decline, and that is what has happened to the former Super Bowl victors. Les Mouflons (Rams in French) had only one win over a playoff team in 2005, while losing twice to the lowly 49ers. Kurt Warner departed two years ago; Isaac Bruce and Marshall Faulk are shadows of their old selves; Richie Incognito is listed as a 2006 starter, and I bet you don't even know who he is. OK, sportswriters -- the season hasn't even started and that joke has now been used up.
Marc Bulger finished strong last year with a 94.4 rating, and ESPN.com's KC Joyner says Bulger was the league's most accurate passer -- impressive since Bulger threw deep so much. Otherwise The Greatest Show on Turf will likely this year be A Show That Happens to Occur on Turf. And the Rams' defense last season was pliant, which even the defensive-minded Jim Haslett probably cannot fix in just one year.
Les Mouflons note: The Rams' colors are, officially, New Century Gold and Millennium Blue. In 2101, will they change the name to Old Century Gold?
Fox Calls Bill O'Reilly "A Former Thinker" Fox Sports' own bio describes football pundit John Czarnecki as "a former sportswriter."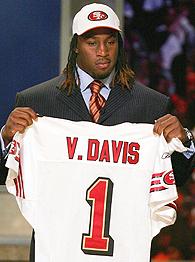 Ezra Shaw/Getty Images
Vernon Davis showed his tremendous potential at last year's combine.
San Francisco
When you finish the season last in offense and last in defense, you've got problems. Given how bad San Francisco was statistically in 2005, it's vaguely amazing the Squared Sevens won four games. Among its many lasts, San Francisco ended the season last in passing offense. The Niners have thrown draft picks at this problem, using the first overall selection of 2005 on a quarterback and three of their four top picks in 2006 on receivers. The fix might or might not work, but at least San Francisco management has taken action regarding the passing attack -- though TMQ continues to feel the chain of events that led San Francisco to spend that first overall pick on Alex Smith, then to pass on California golden boy Matt Leinart in the 2006 draft, is one Niners fans will be ruing for years to come.
But while there's hope on offense, defense is another matter. San Francisco also finished last in passing defense. This finish was especially dreadful considering the Niners lost 12 games and were blown out six times, meaning opponents held comfortable leads and threw little after intermission. Denver finished 29th in pass defense in 2005, but as Aaron Schatz of footballoutsiders.com has noted, much of the surrendered yardage came after the Broncos attained big second-half leads and removed starting defenders from the contest. Green Bay finished first in pass defense in 2005 because opponents were way ahead in the second half and didn't attempt many throws. So the fact that San Francisco finished 4-12, facing opponents who threw little in the second half, yet ended up last in passing defense, is pitiful. What did San Francisco do to shore up its secondary? The Niners did not draft any cornerbacks and signed only one, Walt Harris. Meanwhile, San Francisco lost its best defensive performer, Julian Peterson, to free agency. Ye gods.
Radio City note: During the NFL draft at one point I stood next to San Francisco's first selection, Vernon Davis, who is astonishingly large and sculpted. I said to him, "What does the sky look like on your home world?" Davis laughed, but maybe he was just being polite.
Harry How/Getty Images
Will Alexander suffer from the Madden curse?
Seattle
Traditionally the Super Bowl runner-up plays host in one of the NFL's headliner games on opening weekend. This September the Seattle Seahawks open at -- umm, Detroit. In the NFL's return-to-action weekend Atlanta, Carolina, Indianapolis, Jersey/A, Miami, Minnesota, Oakland, Pittsburgh, San Diego and Washington appear in an unprecedented bonanza of nationally televised games -- while Seattle at Detroit will be beamed solely to Wayne County and King County. On opening weekend four teams that did not make the playoffs in 2005 will perform in nationally televised prime-time games, while Super Bowl entrant Seattle isn't seen. Over the season's early weeks, 14 teams appear nationally in prime-time contests, including seven clubs that did not make the playoffs, before the Blue Men Group take their first night-game bow at Chicago on October 1.
But the league isn't mad at Mike Holmgren for criticizing the officials. Heck no!
In 2005, Shaun Alexander set an NFL record with 28 touchdowns, and what really impressed the determined TMQ readers who reviewed miles of tape was that 15 of these touchdowns came on untouched runs. Only two other NFL players, Larry Johnson and LaDainian Tomlinson, had 15 touchdowns last season; Alexander had 15 touchdowns on which no one so much as brushed him! Now Hawks fans are worried that Alexander is on the cover of the new Madden video game, and previous cover boys Eddie George (2000), Daunte Culpepper (2001), Marshall Faulk (2002), Michael Vick (2003), Ray Lewis (2004) and Donovan McNabb (2005) all promptly got hurt or had off years. But Alexander will continue to run behind one of the league's best offensive lines. Steve Hutchinson is gone to Minnesota, but the Tuesday Morning Quarterback Non-QB Non-RB NFL MVP of 2005, tackle Walter Jones, returns. And attention must be paid to Seattle's other tackle, Sean Locklear, whom KC Joyner rated the most efficient blocker in the NFL in 2005. Come on Seahawks, you know the league front office wants you to go away. Drive them crazy and return to the Super Bowl!
Seattle Seahawks
Sea Gals to sport new "Hello, Sailor" look this fall.
Cheer-babes note: Reader John Elkin of Vancouver, Wash., commends to our attention the minimalist new warm-weather uniforms the Sea Gals will debut in 2006.
Urban renewal note: Seattle plans to move its headquarters to Renton, Wash. The facility under construction will have a 120,000-square foot office, locker room and medical complex, plus an indoor practice field. It's on Lake Washington, on 20 acres owned by Hawks owner Paul Allen. He would give up Lake Washington real estate! Much of the Lake Washington shoreline is already developed, and remaining virgin real estate is extremely valuable. But Allen has had trouble developing this particular parcel, which is adjacent to an old Superfund site that once held toxic waste. Most studies show that Superfund sites pose no threat to public health. Now, if the Gatorade begins to glow …
Tampa
The Buccaneers lost a lot of close games in 2004 and won a lot of close games in 2005. Many NFL games are close -- last season 45 percent were decided by a touchdown or less. And of course you prevail in a lot of close games if you have the league's No. 1 defense. For Tampa it all boiled down to a strange home loss in the first round of the playoffs. The Bucs' defense held the visiting Redskins to just nine first downs and 120 yards of offense, but Tampa succumbed owing to killer turnovers and two missed fourth-down tries in the fourth quarter. The game, of course, was close.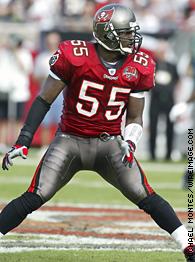 Canton will welcome this man one day.
One auspicious sign for Tampa's upcoming season is that linebacker Derrick Brooks took a pay cut in order to close out his career with the Bucs. This means the defense is likely to play well again -- more than any other person on the roster, Brooks makes the Tampa 2 defense work with his combination of speed and field sense. That Brooks stayed home also strengthens his eventual Hall of Fame bid. The Canton electors tend to look askance at performers who are in it strictly for the money, while rewarding those who show loyalty to their city. It is a wise policy, and one more star players approaching the ends of their careers should be aware of. Playing every down with the same team gets you valuable bonus points in the Canton ballot. Compare to, say, Ted Washington. By performance he is among the best defensive linemen ever. But he's squeezed so many helmets over his head -- San Francisco, Denver, Buffalo, Chicago, New England, Oakland and now Cleveland -- after complaining so often about his paycheck that Canton electors should turn thumbs down. Brooks, by contrast, is now sure to be fitted for a garish yellow sportsjacket.
Washington
Once again the moment midnight of free agency arrived, Chainsaw Dan Snyder revved up his turbocharged checkbook. Once again the Redskins snagged what seems on paper the league's best free-agency haul, including big-name players Adam Archuleta, Andre Carter and Antwaan Randle El. Chainsaw Dan granted these and other newly acquired gents contracts with a paper value of about $130 million, including about $35 million in bonuses or other guarantees. Only about $13 million of the bonuses and guarantees count against this year's cap, meaning some $22 million in accounting charges are being delayed to future years -- nearly insuring another Washington cap crash in the future.
Gerald Herbert/AP Photo
Randel El will be expected to put up bigger numbers in Washington.
Were the acquisitions worth it? Archuleta has enjoyed mojo publicity, but in 2005 looked like an average safety playing for a 30th-ranked defense. Carter was chosen high in the draft, but in 2005 looked like an average defensive end playing for the 32nd-ranked defense. If Archuleta and Carter are so good, why were the defenses they played on two of the league's three worst? Randle El is cool and widely admired, but in 2005 had just 35 receptions and one touchdown. Other Chainsaw Dan acquisitions included quarterback Todd Collins, receiver Brandon Lloyd and power back T.J. Duckett. Collins was once a fair-haired boy but has thrown one touchdown pass in the last eight seasons. Lloyd and Duckett are underachievers whom their previous employers wanted to unload; Washington gave both money and a bushel of mid-round draft picks to acquire them. While the Redskins were spending freely for those whom other teams wished to discard, Washington failed to re-sign two of its own free agents: Robert Royals, last year the best blocking tight end in the NFL, and safety Ryan Clark, who had a Pro Bowl-caliber season. It might turn out that after spending a huge amount in money and draft choices, the Redskins will wish they had simply kept together the squad that finished strong last season.
Meanwhile the Skins, who have had the fewest draft picks since 2000, already have traded away their second, third and fourth choices of 2007, and even traded away a 2008 pick! In Washington, the "the future is now" formula has been in practice so long it should be changed to "the past was then." Washington had no first-round selection in 2006, and quarterback Jason Campbell, taken in the first round in 2005, might not contribute this season, meaning no young-talent infusion. Sooner or later the Skins' profligate ways will catch up with them.
Redskins victories note: Washington has the best current opening-day streak, with four consecutive wins.
Redskins staff note: Joe Gibbs' staff includes three former head coaches: Joe Bugel, Al Saunders and the tastefully named Gregg Williams. Williams in turn has three assistants who have been defensive coordinators: Greg Blache, Jerry Gray and Dale Lindsey.
Redskins titles note: Several teams now have gentlemen bearing the title Assistant Head Coach, among them Mike Sherman in Houston and Marty Mornhinweg in Philadelphia. Assistant Head Coach is not simply an honorific for former head coaches working as assistants, as Jim Fassel, Jim Haslett, Mike Martz and others who once were bosses do not now carry this title in their assistant roles. At Miami, Dom Capers sounds even better as Special Assistant to the Head Coach. But no sideline tops that of the Redskins, which has both an Assistant Head Coach, the tastefully named Gregg Williams, and the league's only Associate Head Coach, Saunders. What's next for Washington -- a Provost and a Dean of Players?
Reader Animadversion: Got a complaint or a deeply held grievance? Write me at TMQ_ESPN@yahoo.com. Include your real name and the name of your hometown, and I may quote you by name unless you instruct me otherwise. Note: giving your hometown improves your odds of being quoted.
Next Week Still America's only all-haiku NFL season predictions.
In addition to writing Tuesday Morning Quarterback, Gregg Easterbrook is the author of "The Progress Paradox: How Life Gets Better While People Feel Worse," and other books. He is also a contributing editor for The New Republic, The Atlantic Monthly and The Washington Monthly, and a visiting fellow at the Brookings Institution. Sound off to Page 2 here.