By Gregg Easterbrook
Special to Page 2
Recently I forecast each NFL team's final record, bearing in mind this column's motto: All Predictions Wrong or Your Money Back. See, TMQ is free. So if one of my predictions was actually correct you would receive -- oh, never mind.
Now, for my off-price generic forecasts. First, I predict that every NFL team will end the 2006 season with the same record as it did in 2005. Obviously this won't be right, but will it be closer than the countless pseudo-scientific forecasts floating around? I bet if you analyzed the last, say, 20 years, endlessly predicting every team would finish with the same record as the previous season would do you better than actually thinking about your prediction.
Next, let me issue a generic final score prediction: Home Team 20, Visiting Team 17. This score happened four times in 2005, representing the most common generic outcome. I predict Home Team 20, Visiting Team 17 will happen more than any other outcome in 2006. This forecasting formula has the virtue that you don't need incredible insider information -- or even need to know who's playing.
Next let me offer my off-price ultra-generic private-label prediction: Home Team Wins. The home team won 59 percent of the time in 2005. Many paid professional football pundits, gentlemen who yak about the NFL for a living, barely bested 59 percent in their 2005 picks: Jay Novacek of MSNBC came in at 63 percent, for instance. Simply pick the home team in every contest and you are likely to be right about six times out of 10. I'll offer Home Team Wins even though, so far this season, the home team is just 17-15. The Law of Large Numbers says this effect will wash out and the home team will assert itself as the season progresses.
Now to my Super Bowl pick. In each of its previous six years of existence, TMQ has offered the generic forecast, "The team goin' to Disney World will come from among the group that did not make the cut for 'Monday Night Football.'" Two of the first three years I made this generic prediction, I was right -- the Ravens in 2000 and Patriots in 2001, Super Bowl victors, did not appear on "Monday Night Football." (The Rams won in 1999 after not appearing on Monday night, but there was no TMQ that season.) In 2003, my prediction came oh so close -- Carolina, not a Monday night baby, lost the Super Bowl on the final snap. Two years ago, my prediction came oh so close -- Pittsburgh and Atlanta, half of the conference championship round, were not Monday night babies. Last year was a washout, with all championship-round teams being Monday night entrants. Anyway, my generic formula is 2-for-6 in forecasting Lombardi Trophy winners. Remember, invariably I am picking losing teams the league braintrust believes have absolutely zero chance.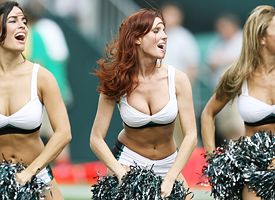 Tom Briglia/WireImage
Some parts of the Eagles' organization went all-out at the Linc on Sunday; it's just that none was the team.
This year the hill has never been harder to climb. With more "Monday Night Football" diversity, the list of non-Monday teams has dwindled to Buffalo, Cleveland, Detroit, Houston, Kansas City, San Francisco and Tennessee. That's a sorry, no-account bunch. Perhaps I should abandon my generic Super Bowl prediction. Yet, the football gods sayeth thus to mortals: Dance with the one what brung ya. A lackluster guy takes you to the dance, but he picks you up in a washed car and brings you a nosegay. At the dance there's some flashy guy who makes a move on you. But if he's so great, why doesn't he already have a date? Dance with the one what brung ya! This is football wisdom at its most primal. Thus I will not stray from my generic prediction: Buffalo, Cleveland, Detroit, Houston, Kansas City, San Francisco or Tennessee will win the Super Bowl. If the league braintrust thinks they are all awful, one of them must be good. I'll stand with my generic Super Bowl forecast, even though the teams in question are, at this writing, 2-12.
In other football news, fortune favors the bold! Trailing Buffalo 13-0 in their home opener, the Dolphins faced a fourth-and-1 on their own 40 at the end of the third quarter. As the punt unit trotted onto the field, TMQ thought, "This has got to be a fake. No self-respecting high school team would punt in this situation." I was sure the up-back would creep toward the line as if counting defenders, then put his hands under center, take the snap and plunge straight ahead. Skies darkened and lightning flashed above my house as the football gods showed their displeasure when the Miami punter swung his leg. As punishment for this ultra-fraidy-cat call, the football gods caused the punt to be blocked; Miami went on to lose 16-6. Down by two touchdowns at home, one yard to go on your own 40 -- you can't seriously be punting! Which leads to the question of whether football teams should ever punt -- a question that will be the subject of an upcoming column.
In more news, it must be election time, since Washington, D.C., looks awful. Flash back to last season. The Redskins won six straight to finish the regular season, making the playoffs and averaging 27 points a game during that run; their season ended with a loss in the divisionals at Seattle, and there's no shame in losing on the road to the eventual Super Bowl entrant. Since things were good at the end of 2005, stay the course, right? But every offseason, Chainsaw Dan Snyder must make dramatic changes, if only to get his name in the papers. So Chainsaw Dan declared dramatic changes -- new offensive coordinator, new offensive system, new receiver corps, departure for Robert Royal, the league's best blocking tight end (the Redskins' runners really miss Royal), other changes. Two games into 2006, Washington has two Ls and one offensive touchdown. As Tuesday Morning Quarterback noted in its NFC preview, by the time this season is over, Redskins fans might wish Snyder had simply done nothing in the offseason, leaving well enough alone.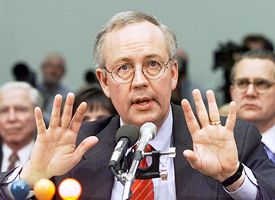 Doug Mills/AP Photo
"Mr. Chairman, $40 million is a perfectly legitimate budget for investigating Reggie Bush."
And in other news, why isn't Kenneth Starr investigating Reggie Bush? Who paid for that room-service cheeseburger? Come on, don't tell me you've already forgotten who Kenneth Starr is.
Stat of the Week No. 1: In their home openers, the Broncos, Bucs, Dolphins, Lions, Packers and Raiders scored a combined 21 points.
Stat of the Week No. 2: Atlanta, Baltimore, Chicago and San Diego have won their initial games by a combined 216-29.
Stat of the Week No. 3: The Raiders and Bucs have been outscored 96-9.
Stat of the Week No. 4: Through the first six quarters of the new season, Chicago outscored its opponents 50-0.
Stat of the Week No. 5: Oakland and Tampa have yet to record a touchdown, while Denver and Detroit have scored just one touchdown.
Stat of the Week No. 6: Baltimore and Atlanta have not given up a touchdown.
Stat: of the Week No. 7: Warrick Dunn of Atlanta has more rushing yards than 26 entire NFL teams.
Stat of the Week No. 8: Michael Vick of Atlanta has more rushing yards than 11 entire NFL teams.
Stat of the Week No. 9: At 1:17 p.m. Eastern on Sept. 17, Green Bay scored for the first time in the 2006 season. At 2:21 p.m. Eastern on Sept. 17, Oakland scored for the first time in the season. At 2:31 p.m. Eastern on Sept. 17, Tampa scored for the first time in the season.
Stat of the Week No. 10: Stretching back to last season, 2005 playoff teams Carolina, Tampa and Washington are on a combined 0-9 streak.
Stat of the Week No. 11: Stretching back to 2004, the Colts are on a 23-0 streak in regular season games that matter to the standings or playoff seeding. (Reader stat submitted by Kevin Daly of Indianapolis.)
Stat of the Week No. 12: In prime time television games against Pittsburgh, Jacksonville is 5-1.
Cheerleader of the Week: James Denas of Cincinnati nominates Liz of the Ben-Gals, who holds a degree in computer engineering and works in the IT department of an Ohio utility company. Liz's mother and sister were also Cincinnati Bengals cheerleaders, Denas reports. According to her team bio, Liz's advice to aspiring cheerleaders is to smile. Existential angst is not a career plus in the cheering profession!
Not Another Punt! I Can't Look! The punt-happy Jaguars, who took themselves out of last season's key showdown against Indianapolis by punting in Colts territory, faced a fourth-and-2 on the Pittsburgh 39, game scoreless, and launched a mincing fraidy-cat punt (after trying to draw the Steelers offsides, a tactic that has not worked in the NFL since 1963). Next possession, game still scoreless, Jacksonville faced a fourth-and-1 at midfield and launched a mincing fraidy-cat punt. Two possessions later, Jax faced a fourth-and-4 on the Pittsburgh 48 and boomed a punt. Finally in the fourth quarter, Jacksonville led 3-0 and faced a fourth-and-6 on the Pittsburgh 37 -- you just cannot be punting from the opposition's 37! Boom goes the punt into the end zone for a ridiculous net of only 17 yards in field position.
Four preposterous punts in the same game -- yet the Jaguars prevailed. Holy mackerel, did Jacksonville play defense! The Jags held Pittsburgh to an average of just 3.2 yards per play, well below the NFL average of about 5 yards. You'll watch a lot of football (note: a good idea) before you see harder hitting on defense or better pursuit. Sports radio yaks a lot about "statement" games, which rarely actually happen. Last season, Jacksonville had two chances to play a statement game, against Indianapolis in December and against New England in the playoffs, and honked both. But this time Jacksonville seemed totally determined to make its statement, and did. Plus, because Pittsburgh was one play away from the lead until the final moments, this was a rare example of a low-scoring game that was exciting from start to finish. And it ended before midnight Eastern! What more could a football addict ask?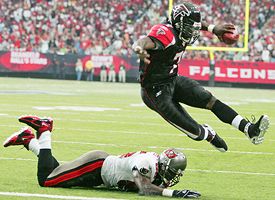 Michael Conroy/AP Photo
Maybe this is the year Michael Vick emerges as a true NFL superstar?
Sweet Team of the Week: Atlanta out-rushed City of Tampa by 266 yards, one week after out-rushing Carolina by 187 yards. Ye gods. Remember, Carolina and Tampa have good defenses. It sure seems to be working to let Vick be himself -- forget about trying to make Vick a pocket passer, let him drive defenses to distraction by running and complete the occasional pass as an afterthought. On Sunday, Atlanta used a modified version of the college option play: Vick was reading the defensive end to decide whether to hand off up the gut or keep it and run wide. TMQ can't remember how long it's been since an NFL team featured a college option look. If this level of rushing superiority continues -- offensive line play has been tops for the Falcons too -- Atlanta might be the team that no one wants to play in 2006. Worrisome note No. 1: Atlanta's stand-in place-kicker Michael Koenen is 2-for-8 on field-goal attempts. Worrisome note No. 2: On Sunday, both Vick and cornerback DeAngelo Hall held the ball up and waved it around as they ran in the clear. No. Oh, no.
Sweet Play of the Week: Recovering the fumble on Carolina's botched trick play (see below), Minnesota faced a fourth-and-5 on the Panthers' 16 with eight minutes remaining, trailing 13-6. Since a trick play just failed, there isn't going to be another trick play, right? That's what the Cats were thinking. Fake field goal, and the kicker, Ryan Longwell, throws the touchdown to backup fullback Richard Owens, who lined up as a tight end. Tuesday Morning Quarterback likes fake field-goal attempts and wishes the pros would use them more often. Meanwhile, Carolina violated the Iron Law of Kick Defense, which is to expect a fake whenever it's fourth-and-5 or less -- since the offense needs only a few yards to retain possession. To make matters worse, Carolina had blocked the previous Minnesota field-goal attempt. When you just rejected an opponent's kick, you should be doubly on guard against a fake kick in a short-yardage situation.
Sweet Block of the Week: Laveranues Coles of the Jets could not have made his sweet 46-yard catch-and-run touchdown against New England without a perfect downfield block by Chris Baker. Often in broken-field-running situations, blockers end up whiffing because they stand around trying to figure out where the runner is going, or charge too far downfield as if they themselves had the ball. In the open field, every blocker should simply eliminate the man closest to him, and let the runner make the decisions about where the play will go. Baker smartly eliminated the closest man, who was behind him -- which turned out to be the key to the touchdown, because Coles cut back.
Sweet 'N Sour Play of the Week: Thin air makes it hard to sprint, and also makes you drowsy; everyone in the stands and on the field was having trouble remaining alert with the score Chiefs 6, Broncos 3 late in the fourth quarter at 5,280 feet in Denver. With six minutes left, Denver had a first-and-goal on the Kansas City 1. Loss of yardage, incompletion, incompletion, field goal forces overtime. Just a wink of the eye ago, Denver was beating New England in the playoffs and boasting about the Super Bowl; since then the Broncos have lost two of three and scored just two touchdowns in nine quarters of home-field play. On third-and-goal on the 4, the Denver coaches called a jump-ball fade pattern to Stephen Alexander, a tight end; Kansas City had Alexander double-covered. That was sweet for Kansas City. But a fade to a tight end? That was sour for Denver.
Sweet Defensive Play of the Week: Trailing Dallas 17-10 late in the third quarter, Washington faced a third-and-9 on the Cowboys' 21. Dallas blitzed six, and Washington kept seven back to block; yet with seven blocking six, the Cowboys' rushers almost immediately put pressure on Mark Brunell. Three receivers out in the pattern against five in coverage meant the safeties were free to double, and Dallas played the down perfectly, doubling both receivers Brunell looked toward. The Nanticokes' quarterback heave-hoed deep to H-back Chris Cooley; interception, Dallas scores on the ensuing possession and the game turns from tense to a walkover. One can wonder why, trailing by seven points, with plenty of time and the ball on the opponent's 21, Brunnell launched a daffy heave-ho into double coverage rather than throw the ball away and allow a field-goal attempt on the next down. As this column often points out, sometimes the smartest play a quarterback can make is to throw the ball out of bounds. But then everything is out of whack for the Redskins' offense.
Sour Play of the Week No. 1: With Baltimore leading 16-3, Oakland faced a third-and-10 on its own 4. Novice quarterback Andrew Walter sprinted backward into the end zone, safety, and any remaining drama expired. A week ago in a similar situation, novice quarterback J.P. Losman sprinted backward into the end zone, safety. Novice quarterbacks: Don't sprint backward into the end zone! At the beginning of the Oakland play, Raiders' center Jake Grove was knocked down. Check the tape. For the entire play, as Walter drove desperately to avoid being sacked for a safety, Grove just sat on his keister watching, doing nothing, not making the slightest attempt to get up and help his quarterback. Wasn't Art Shell going to restore pride to Raiders football? If Shell tolerates this kind of lack of effort, Oakland will get even worse.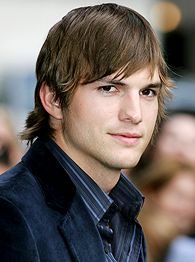 James Devaney/WireImage
Playing TMQ: Kutcher's most challenging role. Wait -- that statement is true.
In NBC's Tuesday Morning Quarterback Series, I Am Played by Ashton Kutcher While the Broncos' Cheerleaders Play My Interns: NBC's upcoming series about high school football, "Friday Night Lights," will air on Tuesday nights. Doesn't this mean that when NBC makes a series based on Tuesday Morning Quarterback, the show will run on Friday?
Sour Play of the Week No. 2: Minnesota trailed 13-6 and lined up to punt to the Panthers with 10 minutes remaining. The Carolina coaches called the throwback play, in which the return man fields the ball and heaves a cross-field lateral to the opposite side. Chris Gamble of Carolina fielded the punt and got spun around; as he came out of the spin he heave-hoed wildly to the opposite side of the field -- fumble, Minnesota recovers and scores on the next possession to tie the game. Who's to blame here? On all trick plays that involve anyone other than the quarterback throwing the ball, the coaching standard is that the player is told: Throw it only if everything is perfect, the receiver is totally alone and you are not under pressure. Any situation other than perfect, just run with the ball and we don't care if you take a loss. Gamble seemed so intent on heaving the ball into the air that I got the impression he had not received that key bit of trick-play coaching, that you only throw if everything about the play is totally perfect.
Sour Game Situation: Chad Johnson of the Bengals got popped hard and staggered off the field woozy with two minutes remaining against Cleveland. Many in the sports-yak world have wondered what he was doing on the field with Cincinnati leading 34-10 and two minutes to play. But wait, Carson Palmer was also on the field, and Rudi Johnson, and the Cincinnati starting offensive line. What were any of these guys doing on the field with two minutes left in a rout? For that matter, why was Cincinnati passing? Two minutes remaining, a 34-10 lead and the first team is still on the field, heaving passes, trying to run up the score. The football gods will exact vengeance for this.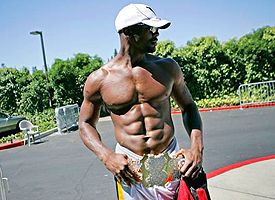 Deanne Fitzmaurice/San Francisco Chronicle
Since he refuses to play, Jerry Porter has time to work on his six-pack.
Beefcake of the Week: Jerry Porter of the Raiders might be refusing to play, and soon might be joined by 52 other gentlemen. But though he's refusing to put on pads, he is happy to remove his shirt. Here, for female and nontraditional male fans, is a recent beefcake photo of Porter.
Buck-Buck-Brawckkkkkkk No. 1: Trailing Indianapolis 17-0, Houston faced a fourth-and-2 on the Colts' 25. In came the field goal unit. TMQ's law is Kick Early, Go For It Late. Standard exception: Unless way behind. Plus the Texans were the worst team in the league last season -- what has Houston got to lose??? As the field goal boomed, TMQ wrote the words "game over" in his notebook.
Buck-Buck-Brawckkkkkkk No. 2 Trailing Atlanta 14-0 and not having scored a touchdown in 2006, City of Tampa faced a second-and-goal on the Falcons' 1 with one second remaining in the first half. In came the field goal unit. Yes, I preach Kick Early, Go For It Late. Exception: Unless you haven't scored a touchdown yet this season! In 2005, Jon "Once I Was A Teenaged Coach" Gruden ignited a Bucs' rally for a playoff run by going for it in a similar high-pressure situation against Washington. This time he timidly sent on the kicking team, and the Bucs never threatened again.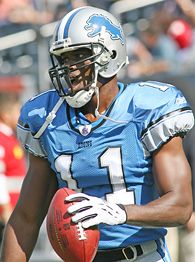 Don Lansu/WireImage
Can't wait until Roy Williams guarantees a Super Bowl victory for the Lions.
Stop Me Before I Blitz Again! Philadelphia rolled up eight sacks against the Giants by frequent blitzing, and several times blatant holds by G-Men offensive linemen weren't called; had officials not decided on Sunday to waive the offensive holding rule regarding the Giants, Philadelphia would have led by a greater margin than 24-7 at the start of the fourth quarter. Nonetheless, by the fourth quarter Jersey/A had adjusted and the Philadelphia blitz began to backfire. In overtime, Philadelphia had Jersey/A facing third-and-11 on the Eagles' 31; an incompletion have would meant a 48-yard field-goal attempt for Jay Feely, who is not a distance kicker. Surely Eagles' coaches have read the analysis in Pro Football Prospectus 2006, which shows in great detail that while six-man blitzing is effective, seven-man and eight-man blitzes backfire. There's the snap, and as seven Eagles crossed the line I said aloud to Spenser, my youngest, "That's it, Giants win." Thirty-one yard touchdown to Plaxico Burress.
Get That Segway Off My Sidewalk! Last week, Segway recalled 23,000 of its annoying self-propelled scooters after revealing the machines' software "can unexpectedly reverse the direction of the wheels which can cause a rider to fall." The Consumer Product Safety Commission advised Segway owners to stop using the machines. So the Segway spontaneously shifts into reverse -- and TMQ would like to see the whole product category shift into reverse. The Segway is the SUV of the sidewalk. The manufacturer claims Segways have environmental benefits, and gullible journalists echo this assertion. But the heavy, motorized Segway is usually used in lieu of bicycles. How, exactly, does it benefit the planet to replace pedaling atop a few pounds of metal with riding a device containing a large amount of resources and powered by centrally generated electricity? Segway even sells a trail model -- now that's really green, encourage people to stop hiking and ride through in the wilderness instead. Segways do have some reasonable roles: for getting around factories and resorts, for police patrols. But the promotion of the Segway as a tool of urban commuting is ridiculous, as it places on crowded sidewalks a 105-pound metallic battering ram going 12 miles an hour. Being hit by 105 pounds of metal moving 12 mph is equivalent to being popped by an NFL linebacker. Some localities have outlawed Segways from sidewalks. All should, as these machines are dangerous to pedestrians and, in my observation, within cities are operated mainly by rich twits (a Segway costs about $5,000) who expect everyone else to jump out of their way.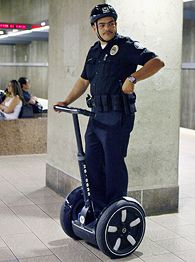 Ric Francis/AP Photo
Policeman preparing for a low-speed chase.
On the heels of the recall comes word that Segway is offering a new model with no steering wheel. That's right, no steering wheel; the thing is supposed to "intuit" where its rider wants to go. "The LeanSteer frame and handlebar tilt left and right in response to your body's natural inclination to lean in the direction you want to travel," Segway claims. Your body's "natural inclination to lean in the direction you want to travel"? I walk a lot, and my body does not lean in the direction I want to go. Segway's manufacturer can't even keep the product from going into reverse by mistake, and now the company wants to put models without steering wheels on crowded urban sidewalks? No thanks.
Note That It Was Not a Money-Back Guarantee Roy Williams of the Lions would be the perfect spokesman for the Segway! Let's hope he never guarantees that a new Ford car will sell.
Kenneth Starr, Scotland Yard, CIA, Mi6, United Nations, Komitet Gosudarstvenno- Bezopasnosti, Impossible Mission Force and International Court of Justice at the Hague Launch Investigations into Who Paid for Reggie Bush's Mother's Manicure: Last week Yahoo! Sports ran a report asserting Reggie Bush and his family "appear" to have taken about $100,000 worth of housing, gifts and travel expenses while Bush was playing at USC. If true this would violate NCAA rules, and might lead to the revocation of Bush's Heisman Trophy. Two points suggest themselves:
• Of course NCAA players should follow the rules -- but the rules are two-faced. Football-factory programs seek money at every turn; there are few limits on how boosters can give cash and favors to schools and coaches. If schools were subjected to anything like the strictures on players, many NCAA coaches and athletic directors would be banned and many seasons of top 25 universities would retroactively be forfeited. Suppose the worst thing Reggie Bush does in his life is arrange a less-than-kosher vacation for his mother. In that case, I like Reggie Bush.
• When prospective agents dangle favors to sign football players, it is the shoe contracts and other endorsements, not the NFL deals, being lusted after. NFLPA rules generally limit agents to a 3 percent commission, one of the lowest such fractions in the agency profession: The standard literary agent's commission for authors is 15 percent, for instance. That means the agent of an NFL player receiving a $10 million bonus takes a $300,000 commission, and only a few players per year get a check in the $10 million range. The more common case, a three-year veteran earning the league third-year minimum of $500,000, would produce a $15,000 commission to the agent. For shoe contracts and product endorsements, by contrast, there are no rules, just whatever the player, corporation and agent mutually agree upon. Because there are no limits on what adidas or Pepsi pay Bush's representatives, it was Bush's marketing deals that made agents salivate. There was no frantic scramble among agents to represent D'Brickashaw Ferguson, though Ferguson went in roughly the same place in the draft and his NFL bonuses are in the same class as Bush's. But Ferguson is an offensive tackle unlikely ever to be a national marketing figure, leaving his financial value to agents far lower.
The Story of the Tampa-Atlanta Game: Trailing 14-3, the Buccaneers had first-and-10 on their 31 with 9:34 remaining in the game. Incompletion, incompletion, incompletion, punt. So far Chris Simms has no touchdown passes and six interceptions. Who is the Bucs' backup quarterback? Why, Bruce Gradkowski, of course.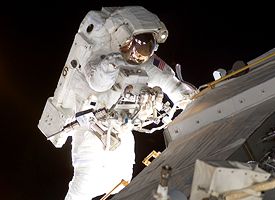 NASA/WireImage
"Damn. Houston, I just let go of my Gatorade and it floated away."
Future Historians Blame 21st Century Bolt for Decision to Evacuate Earth: Astronauts last week accidentally let go of two bolts during spacewalks to unfurl a new solar array on the International Space Station. Each weighing about two ounces, the bolts floated away. Don't you just sense that centuries from now, a starcruiser jumping to quadraspace will hit one of the bolts and vaporize the upper atmosphere of Earth? At extreme speeds, contact with even tiny amounts of matter would cause calamitous releases of energy -- one of the challenges that will face future starship designers.
Trust Us, We're Experts: Sports Illustrated predicted Carolina and Miami will meet in the Super Bowl. So far those teams are a combined 0-4.
We're All Professionals Here: Sack, lost fumble, run for no gain, sack: the first four Houston offensive snaps against Indianapolis.
We're All Professionals Here No. 2: Miami staged a 14-play, 80-yard drive that resulted in no points. Through the preseason and two regular-season games, Daunte Culpepper has one touchdown pass in 112 attempts.
A Tale of Three Quarterbacks: Vince Young might not be ready, but can anyone tell me what Kerry Collins, in off the street, is doing starting for the Flaming Thumbtacks while the pretty decent Billy Volek is exiled to the inactive list? Collins threw six completions and two interceptions. The first Tennessee possession, with Collins at the helm: incompletion, incompletion, incompletion, punt. Not that long ago the Titans were one of the league's most feared teams, building up to four playoff trips in five seasons and a Super Bowl appearance; then Tennessee suffered a salary cap crash caused by trying to keep the Super Bowl cast together as long as possible. Now it's no longer funny. Since the start of the 2004 season, Tennessee is 9-25. The Titans are regularly blown out, and seem destined for an awful season even if Young plays and improves.
A Tale of Two Other Quarterbacks: As for Drew Brees and Philip Rivers, both looked great on Sunday -- they combined to throw 51-for-76 for 586 yards, three touchdowns and one interception.
This Week's "Stargate" Complaint: Many readers, including Nisim Estrada of Avondale, Ariz., wrote to note that Sci-Fi Channel just announced it plans to cancel "Stargate SG-1," the longest-running science-fiction series ever in American television, while keeping the plodding spinoff "Stargate Atlantis" in production at least one more season. The news poses a challenge to "SG-1" writers, since scripts for the current season already should be complete and are said to end with a cliffhanger that sets up a final season that now will not happen. (This is the reverse of the challenge the writers faced two years ago, when they set up a series-finale episode only to be renewed at the last moment.) Yes, many recent "Stargate SG-1" episodes have been weak, and it's clear producers are desperate for ideas. Yet TMQ does not understand why "SG-1" should be canceled, considering it's not exactly as if Sci-Fi Channel is sagging under the weight of programming anyone wants to watch. For 10 years, "Stargate SG-1" has been mainly entertaining, and its recent 200th episode, devoted to the show making fun of itself (characters transformed into puppets, among other things) was really clever.
Sense of humor has been the best quality of "SG-1"; if you listen carefully almost every episode contains a self-mocking reference. In this, "Stargate SG-1" follows the lead of the original Kirk-and-Spock "Star Trek," which had more jokes than its excessively serious successors. The decline of humor in the "Star Trek" serials was, I've always thought, a reason for their ratings deterioration. This makes it especially irritating that "SG-1" might end while the plodding "Atlantis" continues. Since a promising first season, "Stargate Atlantis" has offered clunker episode after clunker episode -- the past two have been egregious. The initially intriguing "Stargate Atlantis" premise of 100 people volunteering for a one-way trip to another galaxy had tension and interest. Now that, inexplicably, the portal between Earth and the distant galaxy can be used at any time, the interest is gone, while "Atlantis" has become a repetitive outer-space soap opera. ("Look, the Wraith are attacking again!") Why save the monotonous "Atlantis" at the expense of wise-cracking "SG-1"?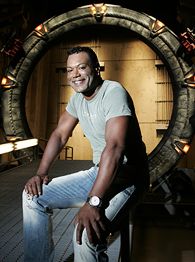 Richard Lam, AP Photo/CP
He wore alien makeup for 10 seasons, and all he got was this lousy T-shirt.
If these shows are winding down, I'd better get in my Stargate complaints in while I still can. Here is generic Stargate dialogue that could be inserted into any episode, at any point:
ANY CHARACTER: We've got to tell the Asgard what the Gou'ald said to the Tokra about the Ori.
ANY OTHER CHARACTER: But the Jaffa don't want the Tau'ri to know what the Athosians found out about the Genii.
COLONEL CARTER: The gate-room plasma generator has gone into neutron overload! It's causing a baryonic antidecompensation feedback loop that will release 100,000 terrajoules of dark energy and fold the entire Earth into a single wave packet! (She pushes a bunch of buttons really fast.) OK, everything's fine now.
Here's another Stargate complaint I need to get on the record while there's time. In the world of "SG-1" and "Atlantis," it is the present day, yet the world already has built four capital starships -- the Prometheus, Daedalus, Korolev and Odyssey -- using designs given to the Air Force by friendly aliens. These enormous faster-than-light vessels are capable of reaching other galaxies, whereas Captain Kirk's Enterprise could travel only within our own Milky Way. Gigantic starcruisers flown by the U.S. Air Force did not show up in the Stargate serials until recent seasons. Obviously the scriptwriters need material, but TMQ liked the original Stargate premise better. The original premise was that archeologists in Egypt discover an entry point for an ancient network of gates that allow instantaneous travel across the cosmos; a handful of Earth's best step through the gate, having no idea what's on the other side and able to take along only that which they can carry. That premise forced plots to focus on contact with strange distant societies and to emphasize the small, halting nature of the human presence. Now that Earth has a fleet of gigantic starships, both Stargate shows depict humanity as a central player in grand events spanning several galaxies. The shows now present United States military units swanning about the universe like cosmic Rambos, easily defeating super-advanced aliens who have possessed light-speed technology for thousands of years. And now armed with starships, both shows have switched from plot-driven scripts to computer-animated space battles. ("Shields at 40 percent!")
Be these things as they may, Tuesday Morning Quarterback wonders -- even if friendly aliens gave us starcruiser plans, could we manufacture the ships? Merely having the plans would not be the same as having the construction base. If someone from the future had materialized in the 18th century workshop of the Scottish prodigy James Watt and handed him a set of plans for a Boeing 747, the inventor of the steam engine hardly would have been able to manufacture a jetliner. Then there's cost: imagine the cost overruns if Halliburton got the contract for starship assembly. In the "Stargate" shows, Earth's starcruisers are depicted as roughly the size of a Nimitz-class supercarrier. Currently the United States is able to build Nimitz-class aircraft carriers at the rate of about one every five years, at about $8 billion per broken champagne bottle. And aircraft carriers do not have hyperdrive or transporter beams! (Though, they do have movie theaters.)
If it takes five years for the actual United States to build one somewhat advanced aircraft carrier, how could the United States of the "Stargate" reality have built four enormous super-advanced starcruisers in just a couple seasons? To top if off, in "Stargate" the fact that Earth has acquired starships is ultra-secret. So where did the money come from? Hundreds of billions of dollars would be involved, and not even Congress could lose track of that much money. Meanwhile thousands of workers and huge industrial facilities would be entailed. Take a look-see at these photos of construction of the Ronald Reagan, the most recently christened U.S. aircraft carrier. There could be four construction projects of this magnitude going on simultaneously and no one would notice?
Berman-Jackson Lives! One consequence of the new set of NFL master contracts that moved "Monday Night Football" to ESPN and the Sunday night game to NBC was the end of the old ESPN "Primetime" highlights show. For 19 years this show ran at 7:30 Eastern on Sunday night, with Chris Berman and Tom Jackson delivering rapid-fire highlights and analyses of games. But the contracts now give an exclusive to NBC on Sunday during prime time. When the end of "Primetime" came last January, a smart guy writing for NFL.com eulogized the program by calling it "hands-down the best show of its kind in the business," also saying the Berman-Jackson format had "a huge positive impact on the expanding popularity of professional football," allowing any fan to become an instant expert on the day's action. But all good things must end, and "Primetime" ended.
So after Week 1, I click on the kitchen television at 6:15 Monday morning and there are Berman and Jackson showing NFL highlights and talking too fast to be understood, just like always. Huh? What? It turns out the spirit of "Primetime" lives on in a new production called "The Blitz." This show comes on during "SportsCenter" on Sunday nights, starting at roughly 11 Eastern -- by contract, the NBC game must end first -- and is repeated overnight and through Monday morning. The new show isn't exactly "Primetime" reborn: because it's part of "SportsCenter," topics other than football are discussed. But if, like me, you have a 19-year addiction to the Berman-Jackson football worldview, they haven't vanished! Tune in "SportCenter" around 11 Eastern -- just in time for that evening glass of port in California -- or set your recorder while you slumber. The start time is quirky. This Sunday baseball ran late, meaning Berman and Jackson did not begin in earnest until a little after midnight Eastern. Also meaning they are such football nuts they are willing to be in the studio working after midnight! It's good, indeed, that this pair is back doing what they do better than anyone else.
Best Purist Drives: Buffalo ran on eight consecutive downs during one drive, six consecutive downs during another drive; both possessions resulted in field goals.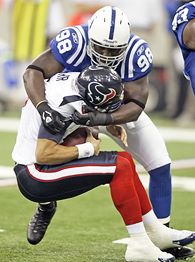 Michael Conroy/AP Photo
Something you can rely on seeing multiple times every week -- David Carr getting sacked.
Houston Texans Sack-O-Meter: David Carr has now been sacked 217 times in 61 career starts.
Cowboys to Install Electronic Stability Control in Terrell Owens: While Segways continue to ricochet down sidewalks out of control, there was great news last week regarding auto safety. The Department of Transportation announced a proposal that would make electronic stability control, which significantly reduces the odds of spin-out and roll-over, will be required on all cars, SUVs and pickup trucks beginning with the 2009 model year. Considering the high-profile public razzle over the federal airbag requirement, the news about electronic stability control received remarkably little notice -- though airbags save 1,000 to 2,000 lives per year and ESC is expected to save as many as 10,000 lives annually. Why wasn't the most significant auto safety advance in 20 years front-page news? Possibly because it is a federal safety regulation, thus conflicting with the preferred media storyline of a sinister George W. Bush rolling back federal health and safety regulations.
Though the Bush White House deserves applause for the new rule, which will add a couple hundred dollars to the price of a new vehicle, it continues to drive me crazy that the DOT will not mandate two safety measures that are essentially free -- daytime running lights and heated side mirrors. Canada mandates both, at a cost of perhaps $5 per new vehicle. Studies show that daytime running lights reduce accident frequency and severity, while heated side mirrors improve the driver's ability to see other cars. Heated side mirrors have traditionally been viewed as a luxury option. They are a safety device, and everything that rolls down the road should have them.
Wacky Food of the Week: Reader Todd Harmon of St. Louis reports the Gateway Grizzlies minor league baseball team sold a bacon cheeseburger served between slices of a Krispy Kreme donut. Don't the Grizzlies want their customers to live long enough to attend next season's games? "Our doughnuts have been used in such things as wedding cakes, bread pudding, fondue, and now as a hamburger bun," a Krispy Kreme spokeswoman said.
Sominex Presents the NFL Game of the Week: Denver 9, Kansas City 6, in overtime.
Last Year It Was Green Bay Over New Orleans by 52-3, This Year ... : As the New Orleans Saints defeated the Green Bay Packers at Lambeau Field -- note to copy desk, please check statement for factual accuracy -- one bright spot for Green Bay was a touchdown catch by Greg Jennings, a rookie wide receiver. Jennings blew past New Orleans corner Mike McKenzie, who was making the high school mistake of "looking into the backfield," trying to guess the play rather than cover his man. After the play Spenser, my 11-year-old, asked, "When is it OK for the cornerback to look into the backfield?" Easy answer: Never! Cornerbacks look into the backfield out of sloth; they want to see that it's a run and they don't have to do anything on this down. Simple rule for cornerbacks not wishing to be beaten for touchdowns: Never look into the backfield.
Bills Try Innovative New Tactic -- Put Everyone on IR: Last week Buffalo general manager Marv Levy placed veteran leader Troy Vincent, who has a minor injury, into an injured reserve category which specifies that he cannot return to the Bills in 2006, but can become a free agent once healed. The result is that Buffalo will pay Vincent his $2.6 million salary for the season -- as a vested veteran, his 2006 contract terms became guaranteed when he was on the opening-day roster -- yet may join another team this fall. Vincent might even end up playing against the Bills, with Buffalo paying him to do so! It might be that the Bills think Vincent's 15-year career is finished, and have essentially given him a $2.6 million severance in respect for his accomplishments. (Vincent is president of the NFLPA and among the league's most-admired people.) The alternative explanation is that Levy is lining up excuses -- "We were clobbered by injuries, no wonder we went 4-12." Setting expectations low is a time-honored exercise in the NFL. Early on, every coach complains about what a killer schedule his team faces, though it cannot be that everyone's schedule is harder than everyone else's. Complaining is part of the expectations game: if the team does poorly then the killer schedule can be blamed, whereas if the team does well, the coach must be a genius for overcoming the killer schedule! If by December the Bills are in the doghouse, listen to see if Levy says, "Well, if we hadn't lost Troy after the first game …"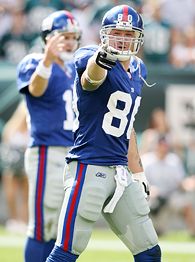 Evan Pinkus/WireImage
Opponents just love when Jeremy Shockey performs the first-down signal.
Best Use of TMQ: Last week Tuesday Morning Quarterback chided Jeremy Shockey for failing to lunge out of bounds on the Giants' last-gasp drive against Indianapolis. Sunday, Giants trailing by three with 15 seconds remaining in regulation, Shockey caught a sideline pass in Philadelphia territory and hurled himself out of bounds, stopping the clock and setting up Jersey/A's tying field goal. Jeremy, it pays to read TMQ!
This Fulfills My Obligation to Say Something About the San Francisco-St. Louis Game: First-overall draft pick Alex Smith has now thrown twice as many touchdown passes in 2006 (two) as he did in 2005 (one).
Negative Ads Backfire!: TMQ lives in Montgomery County, Maryland, and last week in the county primary, a Howard University professor named Isaiah Leggett won the Democratic nomination for county executive. In keeping with the rule that most local elections are decided by the primary, this makes it close to certain Leggett will be the county's next executive. As someone who had a green LEGGETT sign on his lawn for weeks, I think two things about this vote are worth noting. (Not that you could stop me.) First, Montgomery County is mainly white, yet an African-American is poised to run its government -- and race was a total non-issue in the campaign. Let's hope this represents a harbinger of how American politics eventually will be. Second, negative political ads backfired! Leggett's opponent was the favorite, and his fundraising went much better than Leggett's: The opponent raised $2.2 million, a huge amount for a county primary. Flush with cash, he ran television attack advertising against Leggett. The nastiness of the ads seemed to swing the race to Leggett, who is well-known to be a lovely person; in fact, the strongest objection to his candidacy was that he's too mannerly and academic for high office. Polls consistently show that voters are disgusted by attack ads, yet they vote for candidates who run them. Maybe if a new standard were to develop -- of understanding that the kind of politician who runs attack ads is the kind of politician who runs attack ads -- the civility level of campaigns would rise.
Obscure College Score of the Week: Bucknell 20, Cornell 5. The Big Red faithful lament -- if only we'd gotten eight more safeties! Located in Lewisburg, Pa., Bucknell is too renown to qualify as an obscure college. But the school has a little-known quality with regards to modern sports: It both plays Division I and graduates its athletes. Bucknell sent its men's basketball team to the NCAA tournament last March, where the Bison were the sole tourney college that had graduated all scholarship athletes in the most recent NCAA ranking. Bucknell won the clever athletics-and-academics bracket recently assembled by Inside Higher Education. Bucknell's Sean Conover, a rookie defensive end on the Tennessee Titans' practice squad, was busy last spring because before reporting to the Titans he put on a funny-looking gown and graduated. Bucknell often leads Division I schools in athletes' graduation rates, and is fourth all time in total Academic All-American honors dispensed by ESPN The Magazine. Attention other universities -- it is not impossible to have major sports programs that graduate their athletes, you just have to care about education. Cornell note: though this school (the most beautiful campus in academia and TMQ's favorite Ivy) costs $45,767 a year, its athletics department's Web site nonetheless has pop-up ads.
Bonus Obscure College Score: Ursinus 6, LaSalle 2. The Explorers' faithful lament -- if only we'd gotten three more safeties! Located in Philadelphia, LaSalle University has a faculty member who is an expert on Robin Hood.
Bonus Combined Obscure Scores: Saint Francis of Indiana and Saint John's of Minnesota beat Pikeville and Augsburg by a combined 123-0. Running up the score is not saintly behavior!
Running Up the Score Watch: TCU held the boastful Texas Tech to a field goal in a 12-3 victory. Two years ago, Texas Tech relentlessly ran up the score on the Horned Frogs, notching 70 points; TCU had been smarting for vengeance, and by the hammer of Grabthar, they were avenged! Meanwhile Mount Union College -- year-in, year-out home of the worst sportsmanship in Division III -- relentlessly ran up the score on Otterbein, winning 71-14.
I'd Be Willing to Run Pfizer for Only $129,000 Per Day: Much news and sports commentary focuses on the ever-larger paychecks of professional athletes. But even Peyton Manning is a day laborer compared to the modern Fortune 500 CEO. In May, Exxon Mobil shareholders passed the first resolution in company history to be enacted over opposition of the board of directors; at issue was shareholder fury regarding the $168 million retiring CEO Lee Raymond awarded himself in his final year. "There's some unhappiness about the way Raymond's compensation was handled," new Exxon Mobil CEO Rex Tillerson dryly told a news conference. During the summer Hank McKinnell was ousted as CEO of Pfizer. Over his last five years at the helm, he got $162 million, even as Pfizer earnings faltered. Carol Hymowitz of the Wall Street Journal reported that the head of Pfizer's "compensation committee" defended McKinnell's windfall on grounds of market forces in executive pay -- which in this context appears to mean, "CEOs at other companies are picking shareholders' pockets, too." There just wasn't anybody who would have taken the Pfizer job for less than $162 million? McKinnell's pay for his tenure atop Pfizer equates to $130,000 per work day.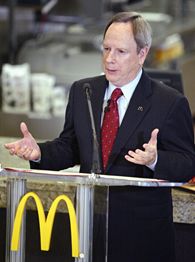 M. Spencer Green/AP Photo
Mr. Skinner doesn't go too crazy with his own pay -- but $3.4 mil ain't bad.
Not all Fortune 500 CEOs are glorified pickpockets. For instance, James Skinner, the CEO of McDonald's, paid himself $3.4 million in 2005, as McDonald's income was rising. (All pay figures in this item fold together salary, bonus, stock options and stock grants.) A year's pay of $3.4 million is a lot, but a CEO who makes good strategic decisions for a large firm easily could be worth that amount to shareholders. Contrast to Home Depot CEO Robert Nardelli, who is under pressure to resign owing to what the Louisville Courier-Journal earlier this month called "a firestorm over his pay and the Atlanta company's lagging stock price." During the past five years Nardelli has earned from the company $245 million -- $196,000 per work day -- though Home Depot's stock price has stagnated. Whether it's fair to judge a CEO by stock price is an open question. Economic theory says stock prices represent the market's guess about a corporation's future value: that is, what future buyers will be willing to pay for the shares. CEOs have no control over what investors guess regarding their company's future, while pressuring them to prop up stock using short-term gimmicks leads to accounting scandals. Corporate executives are more fairly judged by sales and profits than by stock prices, and in the case of Home Depot, those numbers are strong; that the stock price is stagnate reflects the market's guess about the company's future, namely that it is unlikely to expand much more. But sympathizing with the pressure Nardelli is under is no justification for him being wildly overpaid, at shareholder and worker expense. And please don't tell me the prevailing prices for executives justified Nardelli's huge number, because this requires you to argue that there was not one single qualified manager willing to run Home Depot for less than $245 million. "You're only offering $244 million? Forget it!"
Bad enough is the matter of executives insisting what they receive be called "compensation." Workers get wages, white-collar employees get salaries and executives get "compensation," as if they were lofty philantrophists. Keep in mind Orwell's maxim that we cannot think clearly about things unless we call them what they are. By insisting their pay be referred to using a silly euphemism, executives make it harder to think clearly about their excesses. The media go along with this exercise in weasel-wording. Fannie Mae CEO Franklin Raines paid himself $64 million from 2001 to 2003, about $85,000 per work day, during a period Fannie Mae was engaged in "fraudulent accounting," according to a recent report of the Office of Federal Housing Enterprise Oversight. Raines, the report said, manipulated Fannie Mae earnings so the numbers would trigger his maximum bonus milestones. Yet even when reporting on the federal document accusing Raines of fraud, news organization called the $64 million Raines' "compensation," as if for a noble deed.
Next, consider that executive income usually is rubber-stamped by boards of directors whose members may be engaged in self-dealings with the firm, or who have a self-interest in rising CEO pay. As Julie Creswell noted in the New York Times, "Five of the six active Home Depot board members are current or former chief executives of public corporations … CEOs benefit from one another's pay increases, because compensation packages are often based on surveys detailing what their peers are making."
Suppose I was placed on a committee that would vote on Peter King's salary. Suppose King would be paid with someone else's money; that there would be no penalty to me no matter how much I voted to lavish on him; and that my next ESPN contract offer would be based on a survey of what football columnists, including King, are earning. I'd vote King a huge increase -- maybe to $196,000 a day! This is the situation boards of directors are in when they award wheelbarrows full of shareholders' cash to CEOs. The board members know the more they inflate CEO pay, the more they themselves will be able to pilfer from their own shareholders. In June, a New York state judge ruled a shareholders' lawsuit against Viacom could proceed. The suit alleges the board of directors breeched their fiduciary duty to shareholders by paying Viacom's top three executives $160 million in 2004, or about $213,000 per work day per executive. In 2004, Viacom lost a gasp-inducing $18 billion. From the directors' standpoint, inflating the checks of the top managers had little downside. In most circumstances, company-paid liability policies effectively render directors immune from any legal consequences of their decisions, while overpaying executives adds to the arguments board members use to demand additional millions from their own corporations.
Recently the Business Roundtable released a study purporting to show that CEO pay rose 9.6 percent annually from 1995-2005, while stockholder returns rose 9.9 percent in the same period. So things aren't so bad, eh? The Business Roundtable said the study "sets the record straight." The Business Roundtable is, by its own description, "an association of chief executive officers of leading U.S. companies." As Gretchen Morgenson, dean of Wall Street journalists, laid it out in the New York Times, the study systematically understated the income of CEOs in two ways. First, the numbers exclude dividends received by CEOs on restricted stock holdings, and this is often a big chunk of executive income. Second, Morgenson wrote, "The study counts only the value of the options and restricted stock received by executives on the dates the awards were made."
That renders the study about as truthful as an Enron balance sheet. Suppose I award you an option for a share of Tuesday Morning Quarterback Enterprises, on a day the stock is selling for $10. Naturally the value of my company skyrockets -- based on hat and T-shirt sales, perhaps. The stock price hits $50, you exercise the option, sell the share at $50 and realize a $40 gain. According to the Business Roundtable you made $10. Include the value of gains on stock options and restricted grants, Morgenson found, and CEO pay increased far faster than shareholder returns in the last decade. Now guess who the chairman of the Business Roundtable was when the "sets the record straight" study was being prepared: Hank McKinnell of Pfizer. How does it serve the interests of CEOs for their trade association to be blatantly dishonest toward the public about CEO pay? Unless the Business Roundtable is saying that CEOs as a group wish to deceive the public.
Reader Animadversion: Got a complaint or a deeply held grievance? Write me at TMQ_ESPN@yahoo.com. Include your real name and the name of your hometown, and I might quote you by name unless you instruct me otherwise. Note: Giving your hometown improves your odds of being quoted.
Next Week: The Stargate commandos use the wormhole to travel to a mirror universe where "Star Trek" has not been canceled and the other three promised "Star Wars" movies are actually being made.
In addition to writing Tuesday Morning Quarterback, Gregg Easterbrook is the author of "The Progress Paradox: How Life Gets Better While People Feel Worse" and other books. He is also a contributing editor for The New Republic, The Atlantic Monthly and The Washington Monthly, and a visiting fellow at the Brookings Institution. Sound off to Page 2 here.