By Gregg Easterbrook
Special to Page 2
There are 44 seconds remaining at Lambeau Field. The Packers, trailing 23-20, are on the St. Louis 11-yard line, close to a dramatic last-second win. The crowd roars at military afterburner decibels. Brett Favre takes the snap, he drops back, and -- fumbles, St. Louis ball, game over.
At the risk of quoting myself -- Oscar Wilde said, "I often quote myself, it adds spice to the conversation" -- let me reiterate what I wrote about Favre a year ago: "We'd like to think stellar athletes go out in glory, and occasionally this happens. Yet in many cases legendary athletes depart on a bummer note. In Dan Marino's final game, the Dolphins lost 62-7. In Larry Bird's final game, the Celtics were knocked out of the playoffs as Bird played poorly. On Jim Kelly's final snap, he fumbled in opposing territory late in the Bills' only playoff defeat in Ralph Wilson Stadium history. In Jerry Rice's final game, he had no receptions as his team lost in the playoffs. In Michael Jordan's final game, his team lost by 20 points.
"For more than a decade, Favre has been a joy to watch and a darling of the football gods. But now his powers are declining, and when great athletes begin to lose abilities they once had, many find this hard to face. For the great athlete, everything in life has been an upward arc -- through youth, college, the pros and finally national renown, things just keep getting better. Then suddenly things stop getting better and performance begins to decline. In Kelly's final season, he threw a bad interception at the goal line in a close loss and came off the field repeating aloud over and over, 'I don't understand it.' The phrase 'I don't understand it' must run through the heads of many stellar athletes as their abilities deteriorate and the curtain call approaches. This thought must be running through Favre's head now."
Steve Levin/WireImage.com
We were quarterbacks once, and young.
We idealize the story of the gifted young athlete rising to acclaim, because it's a story in which everything gets better and better: humble roots, initial success, finally fame and wealth. We don't like to think that such stories end with the athlete in decline, because this means the promise of youth has worn out and reminds us that we all ultimately face mortality.
Soon novice Green Bay head coach Mike McCarthy will face a dilemma he surely dreads: whether to bench his famed quarterback. Favre has 403 career touchdown passes, and needs 18 more to take the all-time touchdown pass record away from Marino. Since the Packers are unlikely to have a winning season, surely most of the state of Wisconsin wants to see Favre play every snap of his farewell year and bring home the all-time record. But a case can be made for handing the ball to Aaron Rodgers, Green Bay's quarterback of the future, and letting Rodgers get some experience so that 2007 might be a winning season for the Packers. Marino's final season was a playoff year, so he set the touchdown pass record honorably in sports terms, in the course of propelling his team to a postseason berth. If Favre stays on the field merely to break a record, Packers fans will be glad, but the record could have some of the feeling of a stunt. Should the Packers be 2-6 a month from now, the dignified thing would be for Favre to remove his helmet and hold the clipboard for Rodgers.
In other quarterback news, the MAC rules! Reader Jeff Yoders of Chicago notes that with Toledo alum Bruce Gradkowski starting for the Bucs on Sunday, that makes five Mid-American Conference quarterbacks starting in the NFL. The others are Ben Roethlisberger from Miami of Ohio, Chad Pennington and Byron Leftwich from Marshall, and Charlie Frye from Akron. (Marshall left the MAC a year ago, but was a member when Pennington and Leftwich played there.) For years the MAC was derided as a second-tier organization, yet what football-factory conference has done as well recently sending quarterbacks to the big leagues? And of course, the MAC's Roethlisberger wears the latest Super Bowl ring.
Here's the only thing that worries me about the MAC: It seems to have disappeared from midweek games on ESPN. Tuesday and Wednesday night MAC games are, in some ways, my favorite football broadcasts of the year. They're in the middle of the week, when there are no other football distractions. They feature teams with rockets on their helmets playing teams with names like Ohio University of Miami at Ohio of Ohio. And, since they're college games, I don't have to take notes! But the MAC is strangely absent from the airwaves on Tuesdays and Wednesdays this season.
And in more quarterback news, since the moment Roethlisberger took the field to start in February's Super Bowl, he has thrown nine interceptions and no touchdown passes, while compiling a 38.3 passer rating. If every pass a quarterback throws clangs to the ground incomplete, he gets a 39.6 rating. Sure, Roethlisberger just won the Super Bowl and is 28-7 as an NFL starter. But the Steelers have lost three straight. How long till the Condiment Coliseum crowd starts chanting for Charlie Batch?
Stat of the Week No. 1: Chicago has outscored its opponents 156-36.
Stat of the Week No. 2: Stretching back to last season, since the day they won the NFC South, the Buccaneers have lost five straight.
Stat of the Week No. 3: In their two most recent meetings in New Jersey, the Giants have outscored the Redskins 55-3.
Stat of the Week No. 4: Seattle has a winning record despite being outscored.
Stat of the Week No. 5: Jeff Wilkins of St. Louis is on a pace to kick 58 field goals; the record for a season is 40.
Stat of the Week No. 6: Minnesota's defense outscored its offense Sunday.
Stat of the Week No. 7: (College edition.) There were eight missed field goal attempts as North Texas defeated Florida International in seven overtimes. Four of the seven overtimes were scoreless.
Stat of the Week No. 8: Since losing Randy Moss as a target, Daunte Culpepper has averaged 0.7 touchdown passes per game. In the three previous years, he averaged 1.8 touchdown passes per game.
Stat of the Week No. 9: Chicago has allowed 10 points or less in nine consecutive regular-season home games. In the one home playoff game during that span, Chicago allowed 29 points.
Stat of the Week No. 10: The Chicago Bears are the highest-scoring team in the NFL.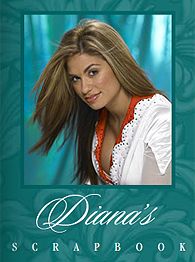 MiamiDolphins.com
Diana the premed cheer-babe offers this relationship advice to women: Find a guy who likes relay Yahtzee, the only sport that's not on TV.
Cheerleader of the Week: Reader Rafael F. of Miami nominates Diana of the Dolphins cheerleaders, a premed student at Florida International University. You don't bump into premed cheer-babes every day. According to her team bio, Diana's hobbies include "going to the beach, interior decorating and offering relationship advice." You can imagine her relationship column. "Dear Diana, my boyfriend is a nice guy, but all he wants to do on weekends is watch football. Plus when he stares at the babes on the Miami Dolphins cheerleader calendar, he gets this faraway look. What should I do?"
Sweet Play of the Week No. 1: Blocking was great as Reggie Bush ran a fourth-quarter punt back 65 yards to allow the United States Saints to defeat Tampa. Earlier, Deuce McAllister ran for 57 yards after Bush lined up as a wide receiver and ran a fake end-around, drawing the Bucs' defense. Note to ESPN fact-checking department -- please verify that it's really true the Saints are 4-1.
Sweet Play of the Week No. 2: Game scoreless, St. Louis lined up heavy right on the Green Bay 6. Quarterback Marc Bulger and tailback Steven Jackson went right; the Rams' offensive line "slide" blocked right; suddenly Bulger stopped and zipped the ball to Torry Holt running a post from the left side, open because both safeties bit on the misdirection.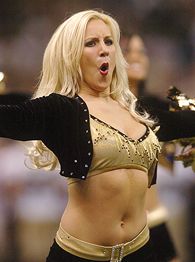 Steve Grayson/WireImage.com
The football gods, who approved of scantily clad cheerleaders, are smiling on the Saints.
Sweet Play of the Week No. 3: Detroit trailing Minnesota 3-0 late in the first half, the Lions faced a third-and-7 on the Vikings' 8. Jon Kitna trotted up to the line and seemed to be looking around at the position of Minnesota's defensive backs; then he quick-snapped the ball and ran straight ahead on the naked quarterback sneak. Touchdown, because most Minnesota defenders hadn't even finished lining up. Note: Lions fans are complaining today about the illegal block penalty that nullified a long kick return touchdown that would have given Detroit a commanding lead. But the illegal block was the reason the play became a touchdown.
Best Purist Drive: On Tennessee's opening possession, the Titans rushed seven consecutive times to move 88 yards for a touchdown.
Sour Play of the Week No. 1: Game scoreless, Pittsburgh faced a fourth-and-6 on the San Diego 42. The Steelers lined up in punt formation, then punter Chris Gardocki split out as a wide receiver and the ball was direct-snapped to cornerback Bryant McFadden, who lost 2 yards. The fake failed because the Bolts were playing the fake. How could Pittsburgh expect to fool San Diego with a fake punt here? Well-coached special teams always assume a fake when a team lines up to punt on short yardage in opposition territory.
Sour Play of the Week No. 2: Trailing Minnesota 19-17 with 1:47 remaining, the Lions faced a fourth-and-10 at midfield. Kitna rolled left, tried to buy time and then, about to be tackled, heaved the ball up; interception returned for a touchdown, game over. On the play, Detroit's offensive linemen made their initial blocks, then just stood around watching Kitna scramble, making no attempt to help their quarterback with the game on the line and still wholly winnable. Blocking was also terrible on the sack that led to a Kitna fumble into the end zone, giving Minnesota an earlier touchdown. No Lion so much as touched Vikings defensive tackle Pat Williams, who knocked the ball loose.
Sour Play of the Week No. 3: With Jacksonville leading 21-0, the Jets stopped a third-and-goal from their 7, seeming to force a figgie attempt that would keep their dim hopes alive. But linebacker Jonathan Vilma was called for roughing the passer -- first down. Jax touchdown three snaps later, and TMQ wrote the words "game over" in his notebook. Often pass rushers who have failed to get the sack want to take out their frustrations by putting a lick on the quarterback. But Vilma used the body-slam move, which is specifically prohibited and impossible for officials to miss. What a dumb play.
Chuck Rydlewski/WireImage.com
NFL Commissioner Roger Goodell orders investigation of Chicago Bears' touchdowns.
Sweet Player of the Week: From the Buffalo 8-yard line, Bernard Berrian ran a perfect slant pattern, touchdown. Later he ran a perfect out-and-up for a 62-yard gain. Berrian is averaging 21.7 yards per reception. A red-hot wide receiver for the Chicago Bears?
Sour Player of the Week: Cleveland trailing Carolina 14-3, the Browns had the ball at midfield with 13 seconds remaining in the first half. Extremely highly overpaid, underproductive, highly drafted tight end Kellen Winslow made no attempt to block, and simply turned around and watched as Cats defenders sacked Charlie Frye and caused a fumble. Later, in the fourth quarter, Carolina led 20-12, but the Browns had advanced to the Panthers' 29. Frye underthrew Winslow, and the extremely highly overpaid, underproductive, highly drafted tight end simply watched the interception, making no attempt to break up the pass. Note: Carolina is 3-2 despite converting just 19 percent of its third downs, the worst such rate in the league.
A Tale of Two Fades: "Dad, why don't you like the jump-ball fade at the goal line?" So asked Spenser, the Official Youngest Child of TMQ, as we watched the games on Sunday. The jump-ball fade at the goal line is one of the trendiest plays in football. But if this play is such a great idea, why don't teams do it anywhere else on the field? Why strictly at the goal line? Even when the matchup is a tall receiver against a short corner, the jump-ball fade seems as likely to fail as succeed -- and at the goal line, teams should be using high-percentage plays. Anyway, the Ravens and Broncos conducted a clinic on this Monday night in the rain in Denver. Game tied at 3, Baltimore faced a third-and-9 on the Denver 10, and threw a jump-ball fade to the 6-foot-6 Clarence Moore; the 6-foot Champ Bailey outjumped Moore for the interception. With Denver leading 6-3 with two minutes remaining, the Broncos faced a second-and-goal on the 4, the call was a jump-ball fade to the 6-foot Rod Smith covered by the 6-1 Chris McAlister; Smith outjumped McAlister for the game-icing touchdown. So in two demonstrations of this play, the tall receiver failed and the average-height receiver succeeded. What does that prove? I have no idea.
This morning Denver ranks 12th in defense by the NFL's "total defense" metric, but second by the more important metric of points allowed. Everyone knows the Broncos have surrendered only one touchdown in four games. They've been stingy with field goals too, allowing a spectacularly low 8.5 points per game. Note that Denver's defenders have not been flashy -- the Broncos' defense is close to the bottom of the league in both takeaways and sacks. And note that Denver is blitzing a lot less than last season, which seems to help. Denver is getting its great defensive performance the old-fashioned way, by tackling really well and covering really well. Old-fashioned defense has more staying power than blitz-happy defense, so this would seem to be a good sign for the Broncos' 2006 prospects.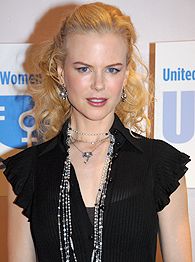 Kevin Mazur/WireImage.com
I've called you all here to announce that I want privacy.
Nicole Kidman Called a Press Conference To Declare She Did Not Seek Publicity: "She says she was unfairly branded as a publicity seeker." So wrote Damon Darlin of the New York Times, describing former Hewlett Packard CEO Carly Fiorina. Where does Fiorina complain of being unfairly branded as a publicity seeker? In her book about herself, whose cover is her own picture. Darlin reports that the new book, "Tough Choices," consists mainly of Fiorina praising herself. Write a book of self-praise with your picture on the cover -- yes, there's a way to prove you are not a publicity seeker. (We "sign" a book of self-praise is better phrasing, since it's unlikely Fiorina did the writing.) In the current ethos, saying you don't seek publicity has become a form of self-promotion; celebrities and the wealthy go on "Larry King Live" to assert that they don't want attention. My all-time favorite was a 1999 Newsweek cover about Nicole Kidman, in which she complained bitterly that she didn't have enough privacy. Not only had she agreed to be on the cover of Newsweek to declare her desire for privacy, but what was she doing the week the story ran? Performing nude in a play in London.
Fiorina's book is one of many examples of the author-on-the-cover trend in publishing. Former Citigroup CEO Sanford Weill also has a new as-told-to book, and also features his own visage on the cover. Usually authors-on-the-cover are celebrities whose faces are recognizable; since neither Fiorina nor Weill have known faces, my bet is they campaigned for author-on-the-cover out of vanity, since it implies celeb status. Here are TMQ's Iron Laws of Author-on-the-Cover: First, books whose "authors" are on the cover are almost never actually written by the person presented as author. Second, the larger the author-on-the-cover photo, the worse the book.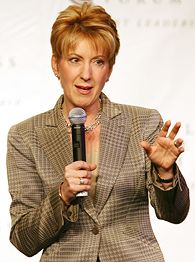 Topic/WireImage.com
Fiorina was paid $57 million and claims she was mistreated; does she have the same agent as Terrell Owens?
CEO self-pity note: Fiorina also complains of being insufficiently appreciated by the Hewlett Packard board. For her five years as CEO, she was paid about $36 million; when she was forced out, she got a $21 million severance payment, plus $50,000 to spend on "career counseling." But they didn't appreciate me! Maybe the Hewlett Packard board wasn't kneeling when it handed her the money.
Matt Leinart Omen? Alex Smith, first overall choice of the 2005 draft, did not throw a touchdown pass until his seventh start. Matt Leinart, who would have been the first choice in 2005 if he'd come out, threw for a touchdown on his second pass attempt as a pro. In that Chiefs-Cardinals game, check the late fourth-quarter 78-yard screen pass to Larry Johnson that enabled Kansas City to pull out the win, and note that it's a weakside screen. Coaches usually call screens to the strong side, but TMQ always has preferred weakside screens. There are two fewer people (one less defender and one less blocker) on the weak side for the runner to avoid. And though this game was announced as a sellout in the desert, there were many empty seats as Neil Rackers honked a field goal to try to tie the game on the final play. Hey Arizona fans, stick around for the ending!
Why Tactics Matter: After Week 2, TMQ noted that trailing Seattle 21-3 in the fourth quarter, Dennis Green kept calling runs as if trying to kill the clock. Sunday, the Cardinals entered the fourth quarter leading the Chiefs 20-10 -- and in the final quarter called 19 passes and four runs, repeatedly stopping the clock and allowing Kansas City time for its comeback.
Hidden Plays: Hidden plays are ones that never make highlight reels, but stop or sustain drives. Tennessee leading the Colts 13-7, the Flaming Thumbtacks faced second-and-6 on their 13 with 11:27 remaining. Vince Young threw for a first down, but tight end Bo Scaife was called for holding. Pushed backward, the Titans ended up punting two plays later, Indianapolis returning the kick to the Tennessee 43 and setting up the touchdown drive that swung the game to the Colts.
When Researchers Projected Magnetic Fields Into Dick Cheney's Brain, He Became Friendly: Economists call it the Ultimate Game, and have long contended it proves Homo sapiens insufficiently logical. Here's the situation. Two strangers are brought together by a third person who holds $1,000. He tells them the money is theirs to divide on these terms: Stranger A must propose how to split the $1,000, and Stranger B must either accept or reject A's offer. That concludes the game, no second round. Classical economists maintain Stranger A should say, "I propose that I get $999 and you get $1," and Stranger B should immediately respond, "I accept." Pure economic theory says A should maximize his gain by shafting B out of every possible farthing, while B should calculate that since his sole choice is between $1 and nothing, $1 is better. Yet researchers have played this game with volunteers in many nations, and it never works the way theory says. The bare-minimum offer is always rejected. Generally, A must offer at least 30 percent or B says no and both players get nothing. Classical economists have long harrumphed that B's response when the game is played with real money shows human beings are too emotional and insufficiently focused on maximizing outcomes.
This pot was stirred last week when researchers led by Dario Knoch of the University of Zurich reported that using magnets to disrupt the right prefrontal cortex of volunteers playing Stranger B caused them to become much more willing to accept low offers. Now, if someone was using magnetic waves to scramble parts of your brain, your bargaining skills might decline, too. ("Herr Professor Doktor, ve haff discovered zat when ve knock der volunteers unconscious mit ein sledgehammer, zey refuse to aufgeparticipatehaffen* in the experiment.") But I think tests like the University of Zurich study only point to the Ultimate Game being so flawed that it mainly shows us faults of classical economics.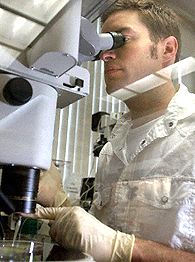 Josh Reynolds/AP Photo
Eureka! I've discovered a way to get funding for ridiculous studies!
First, the game assumes money is superior to all other forms of possessions, including psychological well-being. But the world doesn't work that way. If I am Stranger B and accept the $1 offer, I have a dollar bill but also feel like a total dupe: And how can being made to feel like a dupe be worth a mere dollar? Any small-percentage offer accepted by B would make B feel unhappy and taken advantage of, while rejecting the small-percentage offer gives B the pleasure of feeling retribution was achieved against A. Once the offer gets up to around 30 percent, then the value of the money might equal whatever unpleasant thoughts B will experience when seeing A cackling and counting a larger pile of loot. Reactions like rejecting very low offers do not, as classical economists maintain, show that B fails to understand economics. They show that B understands money is not everything!
Next, people in the B role might derive long-term benefits from refusing low offers, and these benefits might exceed the value of the money forgone. In his important new book "The Origin of Wealth," Eric Beinhocker speculates that the kind of circumstances in which B refuses a too-low offer are "the cornerstone for social cooperation that is essential for wealth creation." In order for the free market to serve the overall welfare of society, Beinhocker maintains, all must mutually agree not to participate in arrangements that exploit those with weak bargaining positions. Society must be structured such that A would feel ashamed of offering only $1 to B, and would offer a fair sum in order to feel good about the transaction. If parties in strong positions offer fair sums, the result is mutually beneficial trading for everyone, including the strong. (Are you listening, Wal-Mart?) "The Origin of Wealth" is a major new book that ought to be commanding significant attention. Beinhocker, a management consultant for McKinsey & Company, argues persuasively that market economics is not a war of all against all. Market economies do best, Beinhocker says, and the welfare of society rises most, when people voluntarily take each other's interests into account.
Finally, TMQ contends economists misunderstand their own Ultimate Game because the focus of discussion is always on what Stranger B will accept. The key to this puzzle is not B but Stranger A -- who is a total, utter idiot for offering only $1 because this insures A gets nothing! Offers in which A seeks to claim the lion's share are irrational on A's part, because such offers will fail. I would argue there is only one wise offer for A to make: that they each get $500. A 50/50 split is sure to be accepted, thus insuring Stranger A of pocketing $500. A fair-minded person playing the A role would offer a 50/50 split because it is fair; economically this is also the logical move, because it guarantees a successful transaction. By focusing on whether B will accept an inequitable offer, economists skip over how dumb it is for A to make such an offer. By contrast, fairness leads to benefits for both parties, which is the big point of "The Origin of Wealth."
(*Note: Tuesday Morning Quarterback has long contended that any verb can be converted into pseudo-German using the formula aufgeXXXXXhaffen. Thus to jog becomes to aufgejoggenhaffen, etc.)
We're All Professionals Here: Andrew Walter of Oakland committed turnovers on consecutive downs, throwing an interception that led to a San Francisco score and losing a fumble on the Raiders' first snap after the kickoff. Marques Tuiasosopo then came on for Walter and threw two interceptions in nine pass attempts.
We're All Professionals Here No. 2: On the opening possession of the Bills/Bears collision, Buffalo drove to second-and-1 on the Chicago 42. The Bills threw incomplete, then rushed for no gain, then committed a penalty on a botched fourth-down try, then fumbled the snap on a botched fake-punt attempt; Chicago ball on the Buffalo 40. Later, on a second-quarter possession, the Bills lost yardage on three consecutive downs. Tactics note: Seven of J.P. Losman's first 11 passes were thrown toward Lee Evans. When his 12th pass also went toward Evans, three Chicago Bears were covering the gentleman. Interception.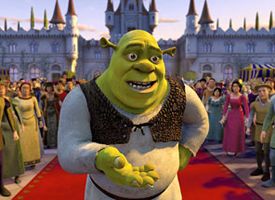 Dreamworks
In "Shrek VI," he searches the kingdom for a real animator.
But Then, Hollywood Is Hanging By Its Fingertips: Divorced by computer-animated special effects from such tedium as laws of physics, modern moviemaking now offers far too many scenes of heroes hanging by their fingertips from the tops of skyscrapers and other impossibly tall objects. "You can't be a Hollywood star anymore unless you've hung by your fingertips off the top of something in a totally unrealistic way," I wrote in 2004, yet "the scenes are monotonous because they are so obviously fake." My guess is that not one single actual person has ever hung by his fingertips from the top of a skyscraper, but Tom Cruise, Hugh Jackman, Sylvester Stallone and many other box-office names recently have done so. Or to be precise, have been made to appear to have done so. In the chick flick "Kate and Leopold," two characters had a relationship talk while hanging by their fingertips off the edge of the Brooklyn Bridge. Even King Kong hung by his paw-tips from a cliff, while holding Naomi Watts, in the recent Peter Jackson remake.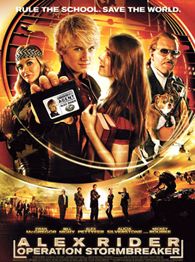 MGM/The Weinstein Company
The video game was released before the film -- never a good sign.
The most preposterous hanging-by-the-fingertips scene yet comes in "Stormbreaker," which opens in most cities Friday. Teen Brit secret agent Alex Rider (played by Alex Pettyfer) hangs by one hand from the top of a London skyscraper while holding Sabina Pleasure (Sarah Bolger), who's dangling in the air, with his other hand. Rider is shown supporting the body weights of two people solely by gripping a rope with one hand; this would be physically impossible even for someone with the strength of a champion weightlifter. Scenes like this aren't "spectacular," they're stupid, because they are OBVIOUSLY phony. Here, I break down how many special-effect scenes of recent action movies are physically impossible. My contention is that Hollywood special effects were much more fun when they had to be done by stunt people. Now that they're simulated by computers and obviously fake, who cares? Note: TMQ believes the first football-themed James Bond movie should be called "Tiebreaker."
Also crossing over from fun to boring is computer animation. There have now been about 15 consecutive computer-animated movies in which celebrities do voice-overs for sassy, wisecracking animals loose in the city or suburbs. The first eight or nine of these all-but-identical movies might have been amusing; the most recent bunch belly-flopped at the box office. Gee, wonder why?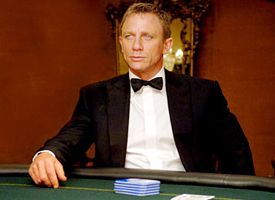 MGM/Columbia Pictures
In his football-themed movie "Tiebreaker," James Bond drinks blueberry-almond martinis.
Terrell Owens Humiliation Analysis: Drew Bledsoe threw toward Owens 13 times. The results: two interceptions, three dropped passes, three receptions for 45 yards, no touchdowns. On both interceptions, the ball was underthrown and Owens, rather than fight to break up the pass, passively watched it get picked off. After the second interception Owens passively watched, he screamed at teammates and assistant coaches on the sideline. The guys on the sideline were not the ones who could have broken up the pass. Actual Owens statement at the postgame press conference: "Maybe I need to work harder."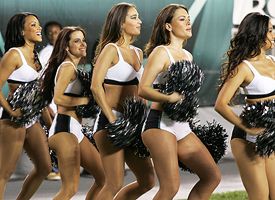 Tom Briglia/WireImage.com
The Eagles pass too much and blitz too much, but at least take some of TMQ's advice.
Dallas-Philadelphia Endgame Analysis: One thousand one, one thousand two, one thousand three, one thousand four, one thousand five, one thousand six, one thousand seven, one thousand eight, one thousand nine. Drew Bledsoe held the ball for nine seconds before being sacked with 1:57 remaining, and Dallas trailing 31-24. Ummm -- don't blame that sack on the offensive line. Now it's fourth-and-18 for the Cowboys on their 37 with 47 seconds remaining, and rather than hurry to the line, Dallas calls its final timeout. Terry Glenn runs a square-in-up, and Philadelphia explicably falls for it, playing the short pass. There are 47 seconds left in the game, where oh where might the pass go? Maybe up the field! Glenn is behind everyone and running for the tying touchdown; Eagles' safety Michael Lewis commits deliberate pass interference. Now it's first-and-goal Dallas on the Philadelphia 6 with 35 seconds remaining. Why not surprise Philadelphia with a run? Instead incompletion then an interception returned for a 102-yard touchdown. Using the last time out may have helped Dallas come up with the play that converted the fourth-and-18, but meant that at the goal line, the Cowboys were locked in to passing. Philadelphia was dropping seven men into coverage, and made Dallas pay.
'Tis Better to Have Rushed and Lost Than Never to Have Rushed At All: Trailing 21-17 early in the second half, the Philadelphia Nesharim faced third-and-inches and threw & incompletion, punt. Run the ball for an inch already! Philadelphia is TMQ's bete noire: pass-wacky and blitz-happy, yet constantly winning. Basically, the Eagles ruin all my theories, though their cheerleaders do compensate for a lot. Throwing little dinky-dunk passes when the length of the football is needed is going to come back to haunt this team, you mark my words.
Shiloh Nouvel Jolie-Pitt Will Grow Up Wishing She Was ESPN "SportsCenter" Jolie-Pitt : The Associated Press reported that in the last 12 months, at least four babies have been named ESPN, including ESPN Real, born last week in Biloxi, Miss. Parents Leann and Rusty Real will pronounce the boy's name "Espen." Weirdly, ESPN Real sounds like a name destined for fame.
Luckily for the Giants, They Don't Get Along: In its final month of the 2005 season, Washington averaged 30 points per game. So during the offseason, Chainsaw Dan Snyder decreed that the Skins' offense needed a makeover. He hired a new offensive coordinator who installed a new system, plus invested huge amounts of money and multiple draft choices to acquire glamour players Antwaan Randle El, Brandon Lloyd and T.J. Duckett. Sunday, the Redskins scored three points as Randle El, Lloyd and Duckett combined to gain exactly 10 yards. Is it just impossible for Snyder to leave well enough alone? Had Washington's owner simply done nothing during the offseason, flying to some private island he owns or perhaps to some small country he owns, lying on the beach drinking blueberry-almond martinis, it's likely the Washington offense would be performing better. Trading third-round draft picks for Lloyd and Duckett was especially puzzling. The Niners had lost interest in Lloyd -- he's talented but self-centered -- and Duckett always has talked a lot better than he plays. Since arriving in Washington, Duckett has complained nonstop; there's a reason the Falcons did not want him in their locker room anymore. To free up money for these no-accounts, Snyder released Walt Harris and Robert Royal, two accomplished veterans playing well for their new teams. Sunday, the Redskins couldn't even block. Michael Strahan got his first sack of the season as very highly overpaid right tackle Jon Jansen blocked no one at all, leaving reserve tight end Christian Fauria to deal with Strahan.
As for the Giants, they spent their bye week bickering in public -- always a good sign! Tuesday Morning Quarterback's longstanding belief is that because the Giants represent the boroughs of New York City, which is the world capital of arguing, the G-Man franchise always performs well when its players and coaches are quarreling. When the Giants are peaceful? Fuggedaboudit.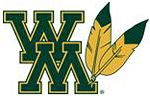 The College of William & Mary
Freeze! NCAA Thought Police! Put your hands up and keep those feathers where we can see them!
NCAA Postpones Discussion of Literacy Rule to Spend More Time Objecting to Feathers: Often the NCAA looks the other way as big schools make only token attempts to educate D-I football and men's basketball scholarship athletes. But put a feather in your cap and you're asking for trouble! Recently the NCAA ruled that the feathers on the William & Mary athletic logo must be removed because they are offensive. We're not talking about disparaging caricatures of American Indians, which are indeed offensive; the William & Mary logo contains only images of feathers. Has the NCAA actually found one single person anywhere on Earth who claims to be offended by a drawing of feathers? Maybe birds were offended! Then again, the NCAA has a reason to want to get even with William & Mary: This academics-oriented college plays in Division I and graduates its athletes, thus creating uncomfortable comparisons for the NCAA's money-factory schools. In the most recent NCAA stats, William & Mary graduated 98 percent of its Division I-AA football players and 92 percent of its Division I men's basketball players. Hey sports studs, want to attend a major university without going to class? Chances are you will get away with it. But should you draw a feather, the wrath of Khan will descend upon you.
The Football Gods Chortled: "Eric Parker is a sure-handed receiver, he never drops the ball" -- Al Michaels on Sunday night, referring to the San Diego receiver. Parker dropped the next pass thrown to him.
TMQ in the News: I can now lay claim to the distinction of being the first ESPN columnist quoted in the scholarly journal Arms Control Today.
Miami Quarterback-O-Meter: Miami quarterbacks Daunte Culpepper and Joey Harrington, both high No. 1 draft choices, have combined to throw two touchdown passes in five games. Harrington's first interception against New England was ghastly; he telegraphed the pass so badly he practically slapped a shipping label on it. The second interception was not Harrington's fault; it bounced cleanly off Wesley Welker's hands. Don't overlook that the Miami defense played an outstanding game on the road; the Dolphins sure are down at 1-4, but maybe not out.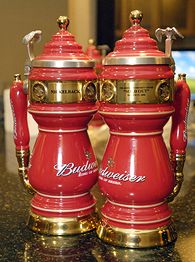 Frank Mullen/WireImage.com
Roll-out of Budweiser's broccoli-based health beer is due soon.
Wacky Beer of the Week: Award categories at the recent Great American Beer Festival in Denver included "coffee-flavored beer" and "fruit and vegetable beer." Mesquite-flavored beer was also entered.
Adventures in Officiating: Three snaps after Harrington's second interception, pass interference against Will Allen put the ball at the Marine Mammals' 1, setting up the Patriots' icing touchdown. Yes, Allen collided with the receiver, but Allen had turned around and was trying to intercept the ball. The defender can collide with the receiver if in the act of playing the ball. On Maurice Jones-Drew's 4-yard touchdown run that put Jax ahead of Jersey/B 21-0, replay review focused on whether the ball broke the plane, which it did. But Jones-Drew's knee was down! Often in goal-line situations, everyone including the zebras focuses on the position of the ball. Once the knee is down, the position of the ball is not supposed to matter.
Reverse Discrimination in the NFL? A study published in the Journal of Law, Economics and Organization contends NFL teams discriminate against African-Americans on draft day. The study, by Michael Conlin of Michigan State University and Patrick Emerson of the University of Colorado at Denver, looking at many years of the NFL draft, compared how high black and white players were selected to how many games each eventually started. Obviously there are white NFL draft choices who are fabulous and black draft choices who are terrible. But on the whole, Conlin and Emerson found, white players were favored in the draft, tending to be selected higher than seemed justified by their professional performance, as judged by eventual starts.
"The results provide strong evidence that hiring discrimination is prevalent among NFL teams," the authors found, "hiring" in this sense meaning drafting. Pro football front offices, the study speculates, tend to overestimate the potential of white collegians and underestimate the potential of African-American prospects. Once rosters are set, Conlin and Emerson found, discrimination disappears -- coaches play the best performers regardless of race, and the value of contract offers to established veterans has no racial component. Race-blind drafting, in turn, seemed related to winning: "We find some evidence that teams that [favor whites during drafting] win fewer games in subsequent seasons."
Tuesday Morning Quarterback had an objection to the methodology of the study, in which draft-class analysis stopped at 1991. This was done so that enough time had passed that all drafted players had completed their careers, allowing their starts to be totaled. But the result is that Conlin's and Emerson's numbers come from the period when African-American college quarterbacks were objects of active bias. Bias against black quarterbacks is now over, and thus the whites-favoring draft phenomenon for this position should be less today than in the period the researchers studied. Equally, it seems fair to say that in decades past, NFL front offices sought white high draft choices on the theory that many white fans were biased against blacks, so white stars were needed to attract suburbanites to games. Today, spectator prejudice against African-American players no longer seems an issue in any part of the country. Fans just want their teams to win, and there no longer seems any pattern of white fans preferring to root for white players. Still, the study offers numerical substantiation that race remains more of an issue in the NFL than most of us would care to think.
Looking for an academic study of the NFL that's not upsetting? Here, three researchers require 29 pages to show that losing coaches get fired.
Obscure College Score of the Week: New York Maritime 66, Walter Reed 6. There's a famous military hospital called Walter Reed, but according to the College Board database, no institution of higher learning by that name. So who exactly was New York Maritime playing against? New York Maritime's athletic teams are the Privateers. Don't navies want to sink privateers? Course options at Maritime include Collision Avoidance.
Obscure College Score of the Week No. 2: Wisconsin-La Crosse 28, Wisconsin-Platteville 21. Four interstate games took place Saturday, as Wisconsin-Eau Claire beat Wisconsin-Falls River, Wisconsin-Oshkosh beat Wisconsin-Stout and Wisconsin-Whitewater beat Wisconsin-Stevens Point. According to the school's Web site, there are an incredible 180 events scheduled at Wisconsin-La Crosse today, including the mysterious "Inside Iraq Promotion."
Obscure College Score of the Week No. 3: Nebraska Wesleyan 19, Doane 0. Reader Barbara Grunwald of Clovis, Calif., a Nebraska Wesleyan grad, notes her school boasts of being "Ranked the number one liberal arts college in Nebraska by U.S. News." She adds, "Of course, we won't discuss how many liberal arts colleges there are in Nebraska."
Running Up the Score Watch: Last Tuesday, TMQ covered the insipid stunt pulled by Matewan High of West Virginia, which ran up the score to 64-0 over Burch High, a tiny rural school, so a Matewan tailback could claim a record 658 yards gained in a game. Three days later, the Washington Post provided detail on just how bad Matewan's bad sportsmanship was. Despite an insurmountable lead, Matewan coach Yogi Kinder had his team use a hurry-up, no-huddle throughout the second half in order to run up the score and compile yards. This, against an overmatched little school that had not scored a point against Matewan in seven years, and could barely dress enough players for the game. I've heard many stories about high school coaches who were egotistical jerks, but Yogi Kinder tops them all. It is not just blowing smoke to say that high school sports exist to teach fair play and competitive ethics. Instead of setting a good example, the football staff at this high school made the town name "Matewan" nationally synonymous with "bad sportsmanship." Meanwhile, let's not let Paul McCoy, the kid who ran for the 658 yards, off the hook just because his coach lacks standards. Paul, you participated in a cheap, shoddy spectacle you knew was intended to humiliate a weak opponent.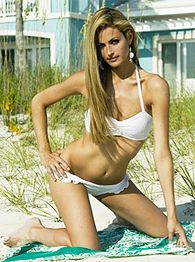 MiamiDolphins.com
Bonus Coverage: Miss January from the Dolphins' cheerleader calendar. Can fold-outs be far behind?
And where was the guy in the white cap while all this was happening? The National Federation of High Schools 2006 Football Rules Book states, in Section 9, Article 3, "Neither team shall commit any act which, in the opinion of the referee, tends to make a travesty of the game." The head official present was derelict in not stopping the turning of the game into a travesty. Rule 9.3 is the most sweeping in football -- violation can be punished by "any penalty the referee considers equitable," from multiple flags per down to forfeiture of the contest. Yet the officials did nothing, allowing the integrity of the game to be mocked. Holy mackerel, what an all-around embarrassment. Headlines said ALL-TIME HIGH SCHOOL RUSHING RECORD. They should have read, ALL-TIME LOW POINT FOR HIGH SCHOOL SPORTS OCCURS IN WEST VIRGINIA TOWN. Football gods note: Bad sportsmanship is always punished. On Friday night, Matewan was held to seven points and defeated by Tug Valley, a high school Matewan, the local power, had never lost to before.
Running Up the Score Justified: In Virginia prep action Saturday, West Potomac High School beat West Springfield 81-74 in four overtimes. The game featured 21 touchdowns, two field goals, two deuces and 19-for-19 PAT kicking. Imagine how it feels to be on a football team that scored 74 points and lost.
Reader Animadversion: Got a complaint or a deeply held grievance? Write me at TMQ_ESPN@yahoo.com. Include your real name and the name of your hometown, and I may quote you by name unless you instruct me otherwise. Note: giving your hometown improves your odds of being quoted.
Next Week: West Potomac High School challenges the Chicago Bears to an exhibition match.
In addition to writing Tuesday Morning Quarterback, Gregg Easterbrook is the author of "The Progress Paradox: How Life Gets Better While People Feel Worse" and other books. He is also a contributing editor for The New Republic, The Atlantic Monthly and The Washington Monthly, and a visiting fellow at the Brookings Institution. Sound off to Page 2 here.